LG Electronics Canada (LG) is pleased to announce the new line of laundry appliances is now available for purchase in Canada.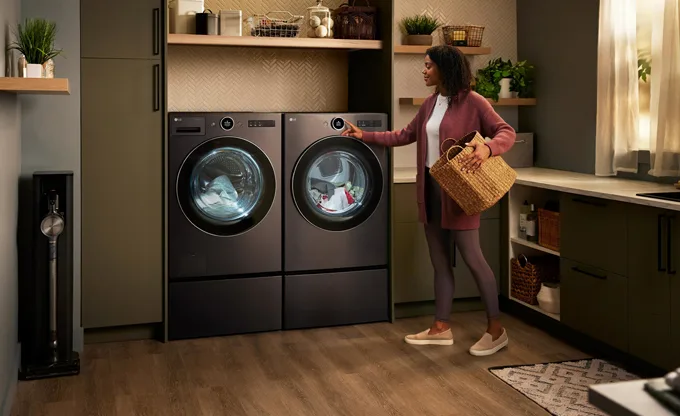 With innovative technology and intuitive design to suit a variety of needs, this year's products include a range of features to help Canadians get "In the LG Zone" to make magic happen in the laundry room.
The LG AI Front Load Washer and AI Front Load Dryer (LG Front Load Laundry Pair) feature an award-winning flat-front design with a black steel finish and tinted, tempered glass doors.
Streamlined controls feature an LCD Digital Dial Control that provides information at every turn, as well as an LED Touch Button Panel that is as easy on the eyes as it is easy to use.
Beauty and brains come together with these new machines. Built-in sensors use artificial intelligence (AI) to detect fabric texture, soil level, and load size, then automatically select the right wash motions, temperature and more for advanced fabric care.
These smarts even extend to detergent: ezDispense 2.0 stores up to 31 loads of detergent and automatically dispenses the optimal amount for a cycle based on the weight of the load.
This prevents overuse while maximizing wash performance for an efficient take on laundry.
Nothing says laundry day magic quite like saving time, and with the LG TWINWash Pedestal Washer and Storage Pedestal, Canadians can do just that. Larger, heavier garments and linens can go for a spin in the LG AI Front Load Washer on the top, while smaller pieces get clean simultaneously in the LG TWINWash Pedestal Washer down below — enabling two loads of laundry to run at once and effectively cutting laundry time in half.
The Storage Pedestal serves as extra drawer space below the dryer and can hold cleaning cloths, dryer sheets, and more, minimizing laundry room clutter and keeping laundry-related items within easy reach.
A great purchase option for Canadians looking to save space or reinvent the laundry room without compromising performance, the slim-but-mighty LG WashTower with Heat Pump Dryer punches above its weight by offering full-sized capacity and features in a sleek, single-unit design that takes up half the floor space.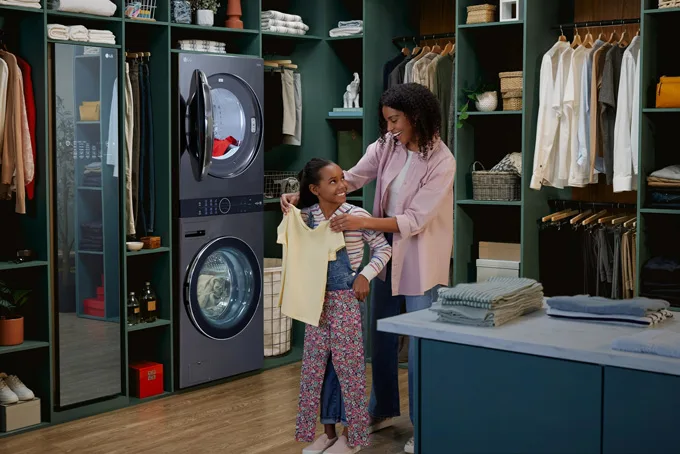 Unlike conventional stacked pairs, LG's exclusive Centre Control panel is perfectly positioned with both washer and dryer controls at just the right height, making tackling the laundry pile a breeze for the whole family.
New to Canada this year is the LG WashTower with DUAL Inverter Heat Pump technology, which uses less than half of the energy to dry every load.
Not only does this ENERGY STAR-certified dryer feature LG's most energy-efficient ventless drying system, but the lower temperatures are easier on clothes and can help them look their best for longer. And with no need for venting, this dryer is easy to install and is virtually maintenance-free.
The LG WashTower with Heat Pump Dryer is also as intelligent as it is efficient: LG's AI Direct Drive technology uses AI to determine the weight and fabric softness of each new load to select the optimal wash pattern, improving wash performance which helps to extends the life of clothing.
Both the LG WashTower with Heat Pump Dryer and the LG Front Load Laundry Pair are compatible with the LG ThinQ app, which enables users to download custom cycles, remote start the washer and dryer from another room, and monitor time remaining.
With these latest laundry appliances, design, intuitive technology and efficiency come together to deliver on LG's vision to create Innovation for a Better Life for consumers and elevate the laundry experience from aesthetic to use.
For more information on and where to purchase, please visit LG.ca.