Last year, Starbucks USA launched the Mercato menu featuring a new selection of grab-and-go salads, hearty sandwiches and sides.  One of the items on the Mercato Menu was the Za'atar Chicken & Lemon Tahini Salad.  According to the company, the salad features slow-cooked herbed chicken with Za'atar spice, ancient grains, chunky cucumber tzatziki, marinated carrots, chopped romaine and lemon tahini dressing.  When I was in Seattle this past March, I decided to grab the Za'atar Chicken and Lemon Tahini Salad to try.
Taste 
I have had all the Starbucks Canada salads before (see post here) so it was very interesting to try a new variety that is not available in Canada.  Too bad the Za'atar Chicken & Lemon Tahini Salad isn't available in Canada because I loved it!  I thought this North African-inspired salad had bold flavours (sweet and tangy) compared to all the other salads I have tried.
While the salad was tasty in general, I found the tzatziki tasted more like plain yogurt rather than actual tzatziki.  The Starbucks tzatziki seemed to lack some taste from herbs and looking at the list of ingredients on the Starbucks website, it seems that there are no herbs incorporated into the sauce.
The chicken was shredded quite thinly, but it was very tender.  The ancient grains added some nutty flavours to the salad and a nice textural contrast.
Nutrition
Each salad has 340 calories, 25 grams of fat, 21 grams of protein and 44 grams of carbs.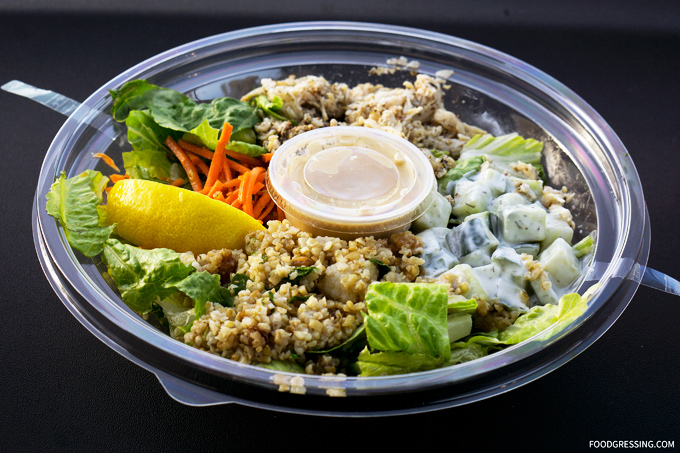 Bottom Line
I was impressed with the Za'atar Chicken & Lemon Tahini Salad and wish they would carry this at Starbucks Canada locations.  In the meanwhile, I'll look to have it again on my next visit to the US.  Rating: 4/5