Owner and chef Teague Moriarty is pleased to announce Harrison Cheney as the new Executive Chef of Sons & Daughters, the Michelin-starred restaurant located in San Francisco's Nob Hill neighborhood.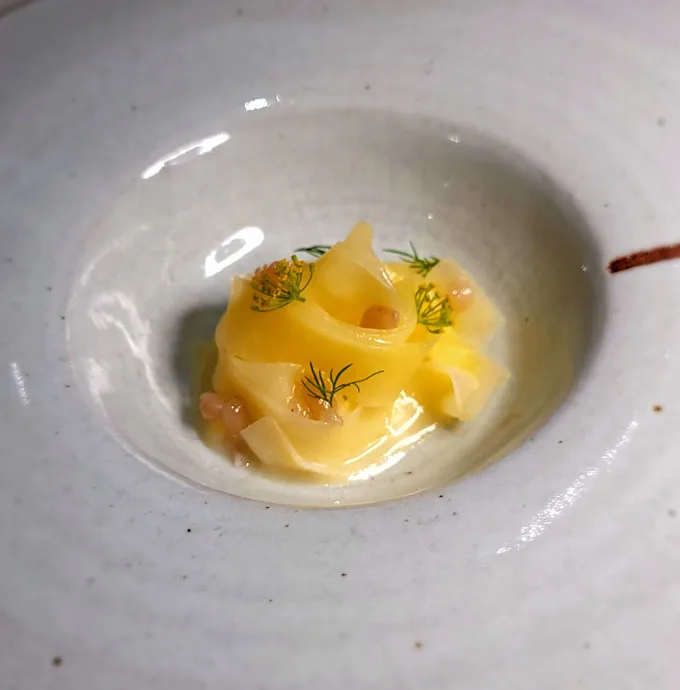 Sons & Daughters opened in 2010 and Moriarty will be stepping away from the kitchen completely and has appointed Cheney to lead the restaurant team.
Cheney joined Sons & Daughters in October 2022 and was appointed as Executive Chef in January 2023, and in the interim spent time taking the reigns and creating a new menu that reflects the restaurant's ethos and his own culinary background.
Sons & Daughters is an elevated, intimate 16-seat Michelin-starred restaurant within walking distance of downtown San Francisco. Earning 3.5 stars from the San Francisco Chronicle under Moriarty's tutelage, Sons & Daughters offers a 14-course tasting menu in an intimate setting. "I'm proud to pass the torch of the restaurant's culinary direction to Harrison," says Moriarty. "His artistic approach, dedication to guest satisfaction, and attention to detail perfectly complement our team at Sons & Daughters."
Cheney is an established up-and-coming chef, having spent a quarter of his culinary career at two Michelin-starred Gastrologik in Stockholm. "My goal is to showcase ingredients in a way that is approachable yet elevated," says Cheney. "I enjoy choosing humble ingredients and refining them for our guests at Sons & Daughters."
His pedigree also includes working with acclaimed Michelin-starred chefs Phil Howard at The Square in London and Michael Tusk at Quince, and at The Ledbury at Notting Hill.
Cheney's thoughtfully composed menu showcases modern, progressive dishes that imbue Nordic influence through acidity and balance, and highlights the abundance of locally sourced, seasonal Northern California products that is anchored in classic cooking techniques.
New dishes include Laurentian Rutabaga with cured Wagyu fat; Sprouted and Toasted Buckwheat with chestnuts and white Alba truffle; and Cured Mt. Lassen Trout with seasonal barigoule.
Cheney is joined by 2022 StarChefs award-winning Pastry Chef Michelle Fried, who has held positions at Eleven Madison Park and Saison.
Chef Fried creates thoughtful, beautifully-plated desserts that feature ingredients from all over the globe, such as Koji Ice Cream with passionfruit and pink peppercorn and Royal Tioga Cherries with chocolate mousse, chocolate shortbread, fig leaf ice cream, and absinthe.
Rounding out the food and beverage team, Beverage Director Lorraine Castillo of nearly five years guides a program that showcases an extensive selection of both classic and New World wines as well as sake that pairs well with each plate to enhance the experience.
Sons & Daughters is focused on sustainability by working directly with local growers, farmers and purveyors, minimizing food waste by using every part of the product and composting, and implementing mixed recycling – all with the goal of reducing the restaurant's environmental footprint. Diners can anticipate a warm, welcoming atmosphere and high attention to detail when dining at Sons & Daughters.
As an industry leader, Moriarty's goal upon reopening Sons & Daughters in the Fall of 2020 was to change the way his establishment was run and implement a sustainable, humane business model for a thriving restaurant, and saw the pandemic crisis as an opportunity.
In 2021, he sought to ensure his staff was compensated with higher salaries to align with the cost of living in the Bay Area, offer benefits to include two weeks of paid vacations, unlimited sick pay, and fully-paid health insurance, and split 50% of the profits.
Tipping was replaced with an 18% service charge, which contributes to these salaries and benefits as the industry looks ahead to the future of fine dining. As a Northern California native with roots in Santa Cruz, Moriarty's accolades also include recognition as a "Rising Star Chef" by the James Beard Foundation, 2012 San Francisco Chronicle "Rising Star Chef", "30 Under 30 in SF" by both Zagat and Forbes Magazine, and Sons & Daughters was recognized as "Best Restaurant in SF" by GQ Magazine.
The restaurant features a smaller team that showcases a luxurious experience in an intimate setting that focuses on hospitality. After a complete major remodel of the kitchen and dining room in 2020, the restaurant features a new interior design with a larger stove, new flooring, painting, tables, banquettes, and increased wine storage.
The menu at Sons & Daughters is priced at $225 per person served over the course of two and a half hours with an optional beverage pairing for $165 per person.
Sons & Daughters is located at 708 Bush St. San Francisco, CA 94108, and is open Wednesday through Sunday for dinner starting at 5:30 p.m. Reservations can be made on Tock and for more information, please visit www.sonsanddaughterssf.com, follow @sonsanddaughterssf on Instagram, and like on Facebook.