As part of its ongoing mission to support and increase visibility for the LGBTQ+ community, the SKITTLES brand is celebrating Pride 2023 by elevating LGBTQ+ stories through teaming up with Audible, actor and comedian Cameron Esposito's QUEERY podcast, GLAAD, and the five talented artists who designed SKITTLES' 2023 Pride packs.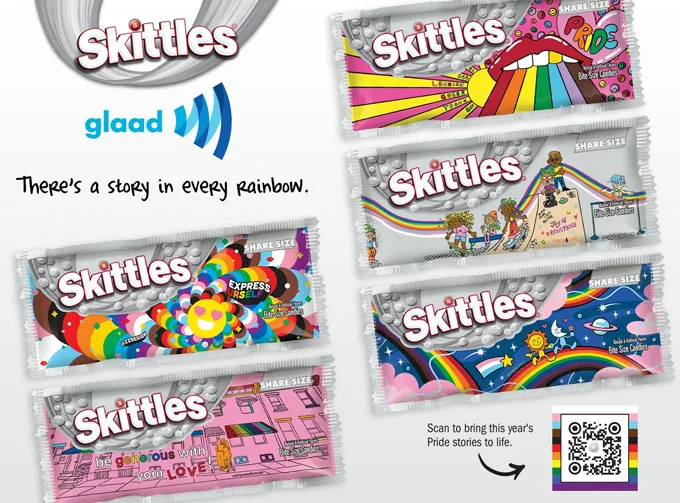 Consumers can scan the QR code on any SKITTLES Pride pack, which will direct fans to a free collection of LGBTQ+ stories on Audible, upcoming special edition Pride episodes of Cameron Esposito's QUEERY podcast and other meaningful stories of Pride.
The SKITTLES Pride Audible collection, which features Audible Originals and excerpts from classic LGBTQ+ titles, is available to stream for free from now until July 31 and can be discovered through the QR code on pack or at SKITTLES.com/pride.
The SKITTLES Pride collection was curated by multiple teams at Audible including Editorial, Marketing, and Content in collaboration with GLAAD.
Categories of programming include Queer Fiction; Real People, Real Voices; and Audible Theater Originals.
Audible's June "5 Listens" was curated by the five LGBTQ+ artists who designed this year's SKITTLES Pride packs: Zipeng Zhu, Symone Salib, Mady G, Bianca Xunise, and Shanée Benjamin.
Free titles in the collection include Audible Originals like Sorry Charlie Miller and The Inheritance, plus excerpts from important LGBTQ+ literature such as Giovanni's Room and Girl Woman Other.
To further elevate voices and stories in the community, SKITTLES is partnering with actor and comedian Cameron Esposito to develop special Pride edition episodes of her QUEERY podcast, highlighting the individual stories of the artists who designed the 2023 SKITTLES Pride Packs, and other LGBTQ+ storytellers.
Fans can explore the episodes – which roll out starting in early June – and submit their own stories of Pride for a chance to be featured in a podcast episode by visiting SKITTLES.com/pride.
Earlier this month, SKITTLES unveiled five unique, colorful Pride packs designed by artists within the LGBTQ+ community.
For every SKITTLES Pride pack purchased, SKITTLES will donate $1 (up to $100,000) to support GLAAD's ongoing efforts to uplift and support the LGBTQ+ community.
Beyond Pride month, SKITTLES supports GLAAD throughout the year with a focus on moments that shine a spotlight on visibility, including the annual GLAAD Media Awards and Spirit Day.
The limited-edition artist-designed SKITTLES Pride packs are available to purchase in 4oz Share Size Packs and 15.6oz Stand Up Pouches at select retailers nationwide from now through mid-July.
For more information about SKITTLES Pride initiatives, including the various partnerships and Pride packs artists, visit Skittles.com/PRIDE or follow SKITTLES on Facebook, Twitter, Instagram, and TikTok.