Dalina has launched a sister concept, Roberto's Sandwiches, which is ideal for your next patio and picnic meal.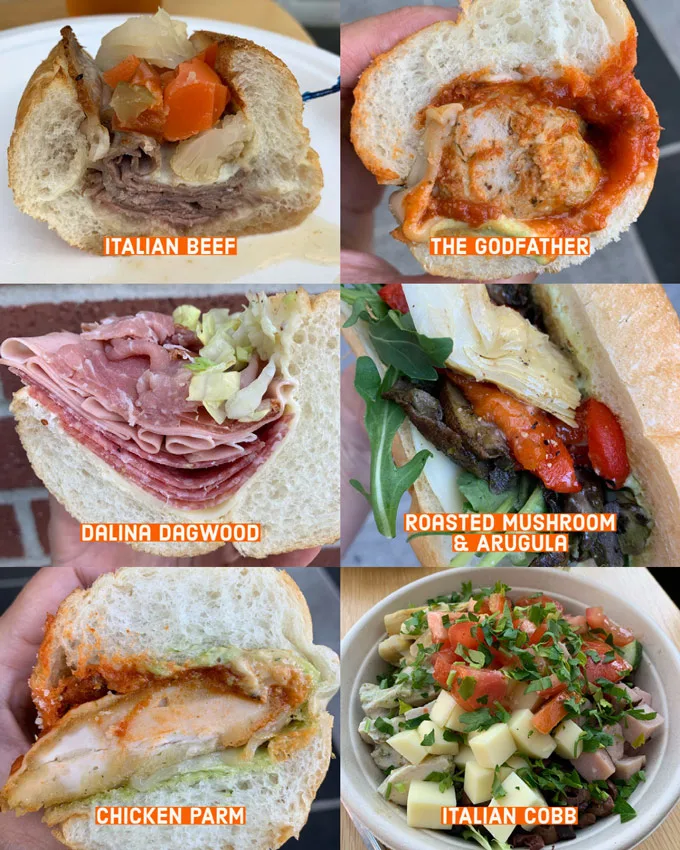 Disclosure: I was invited to a media tasting.
Named for the owners' beloved mom, Dalina coffee shop and microgrocer has always been a family affair with an Italian flair.
Roberto's Bigs Sandwiches features a selection of gourmet sandwiches with fillings made from scratch and fresh bread.
Available for pickup in-person at the Main St. location or for delivery through DoorDash and Uber Eats from 3pm-8pm Thursday through Saturday.
Sandwiches have been a part of Italian immigrant cuisine for over 100 years, taking familiar elements of Italian food like fresh bread, cured meats, meatballs, and cheeses, and turning them into something more compatible with lunchboxes and the quick food breaks of North American work culture.
Roberto's pays delicious tribute to those traditions with options like:
The Godfather – a classic meatball, marinara, and three cheese sub
Dalina Dagwood with mortadella, salami, prosciutto, and cheese
Chicken Parm with breaded chicken, marinara and cheese
Roasted Mushroom Arugula with artichokes and red peppers for a plant-based option
All the sandwiches are carefully prepared using scratch-made sauces and dressings, housemade fillings, and the best ingredients like Columbus Meats and Kaylin & Hobbs Pickles. Round out your meal with a crisp Italian Cobb Salad.
I really enjoyed the freshness of the bread and the fillings of these sandwiches and would definitely recommend them!
My favourites were the Italian Beef Dip and the Roasted Mushroom Arugula.
Visit www.robertosbigsandwiches.ca to view the menu and order your big sandwiches.