Until the end of April, Quesada Burritos & Tacos will donate a part of the proceeds from their Roasted Veggie burrito and quesadillas to the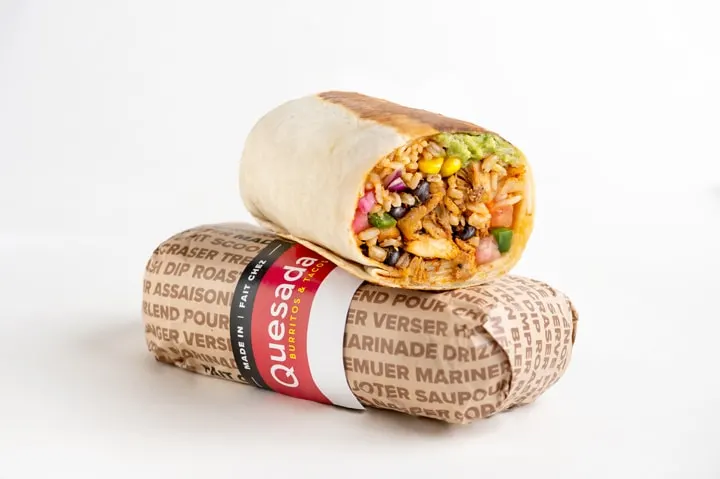 Guests at any of Quesada's 27 locations throughout B.C. may donate $1, $2, or $5 to the David Suzuki Foundation until the end of April.
Quesada has become a favourite location for vegetarians, vegans, and anybody else looking for healthy, flavorful, authentically inspired Mexican food. Its homemade approach, combined with its freshly produced salsas like Roja and Verde, and sauces like the famous Vegan Sauce, elevates burritos and tacos to new heights.
Quesada's ongoing commitment to the David Suzuki Foundation: For the second year in a row, Quesada will donate proceeds from the sale of select menu items from March 1-April 30 to the David Suzuki Foundation, a national non-profit organisation that works to conserve and protect the natural environment in order to help create a more sustainable Canada.
Quesada was the first Mexican restaurant company in Canada to cease giving burritos a "poor wrap" since it no longer wraps them with foil. Quesada, on the other hand, uses biodegradable paper, diverting 100,000 pounds of aluminium from landfills each year.
Quesada has over 30 sites throughout British Columbia.
The following are some of the locations: Vancouver: 2817 West Broadway, 81 Kingsway, 102-2770 Valley Centre Ave.; North Vancouver: 139 Lousdale Ave.; Burnaby: 8961 Cornerstone Mews; Victoria: 576 Yates Ave.; Surrey: 13737 96th Ave., 4297 Hastings ST., 10153 King George Boulevard, and more.
@QuesadaBurritos #GreenEveryday Contest
Quesada will also rally its fans @QuesadaBurritos to get involved. This April, anyone who posts an image doing something that's better for the environment, such as using a refillable water bottle, carrying a reusable tote, or riding a bike instead of driving, and tags @QuesadaBurritos will automatically be entered into a contest for a chance to win 1 of 3 prize packs that includes a $50 giftcard for Quesada burritos, and signed copy of David Suzuki's book, Declaration of Interdependence.
More info about Quesada's Journey Toward Sustainability
In March 2021, Quesada became the first Mexican chain in Canada to stop givingburritos a 'bad wrap' by phasing out foil to package its burritos in favour of biodegradablepaper. This translates to diverting about 100,000 pounds of aluminum or 12.5M foilwraps from landfills over the next 5 years.
Aluminum takes about 400 years to break down. Furthermore, one ton of it takes about170 million BTUs to produce— or approximately 1,400 gallons of gasoline—and emitsabout 12 tons of greenhouse gasses.
Over the last two years, Quesada has helped Second Harvest, Canada's largest foodrescue with a dual mission of environmental protection and hunger relief, divert 282, 021pounds of food from landfills and provide 75,000 meals to those in need.
Quesada now only uses brown paper bags for its takeout orders, eliminating 700,000plastic bags from landfills each year. Since September 1, 2020, Quesada has divertedapproximately 1.1M plastic bags from landfills.
Since November of 2021, Quesada has donated over $80,000 to causes that supportsustainability and humanitarian aid through its Kindness Menu.