Pura Vida Miami is proud to announce the launch of the all-new Simple & Fit Dinner Plates!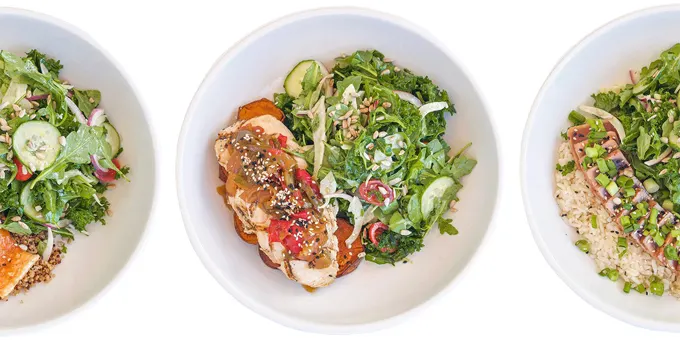 With these exciting new additions, Pura Vida is now a go-to destination for breakfast, lunch and dinner!
The Simple & Fit Plates will mark the beginning of Pura Vida's new dinner offerings available exclusively during the hours of 4-8PM.
Guests can build their own dinner plates with a variety of customizations including a choice of base: cilantro rice, quinoa, or sweet potato; choice of protein: free-range grilled chicken, vegan adashah oven roasted salmon, or wild ahi tuna, each topped with Pura Vida's onion & pepper mix, sesame, and soy ginger.
Each selection comes with Pura Vida's new house salad made of arugula, kale, fennel, tomato, cucumber, red onion, sunflower seeds, and a new gluten-free lemon vinaigrette.
About Pure Vida
Pura Vida is an all-day cafe established in South Florida offering a balance of nutritious and delectable dishes, sourced from high-quality, fresh local ingredients.
Founded by husband-wife team, Omer and Jennifer Horev, the Miami-based concept provides an extensive menu that showcases a range of raw, organic acai bowls, freshly squeezed juices, superfood smoothies, fresh salads, wraps, bowls and more.
Since its inception in 2012, Pura Vida has evolved into a lifestyle brand, providing a nourishing all-day menu and refreshing dining experience that has quickly become the "go-to" spot for people in the wellness community in the area.
Drawing inspiration from Omer's and Jennifer's travels, as well as recipes from friends and family, Pura Vida was designed to feel like an extension of their own home with a menu that can be enjoyed at any time of the day.
Serving enriching options for breakfast, lunch, dinner and everything in between, Pura Vida is a community of individuals who value health.
The wellness-minded concept strives to make an impact, not just by providing wholesome foods, but by creating a community of people who appreciate locally sourced ingredients, along with creating real careers for hundreds of people within South Florida.
Moreover, Pura Vida is committed to making conscious decisions towards a more eco-friendly world. Further strengthening the wellness brand's dedication to the environment, Pura Vida partners with different organizations in the community to participate in quarterly beach cleanups.
Pura Vida currently has 11 locations in South Florida, including South Beach, West Ave, Edgewater, Miami Design District,, West Palm Beach, Aventura, Bay Harbor, Las Olas, Brickell, Sunset Harbour, and Miracle Mile. They look forward to opening their South Miami and Coconut Grove locations later this year
For more information, visit https://puravidamiami.com/