This Pea Basil Soup recipe with Crab Royale is subtle combination of flavourful eggs paired with sweet Atlantic snow crab – all found in Chef Flinn's native Nova Scotia – is a visually stunning and delicious appetizer, perfect for all occasions.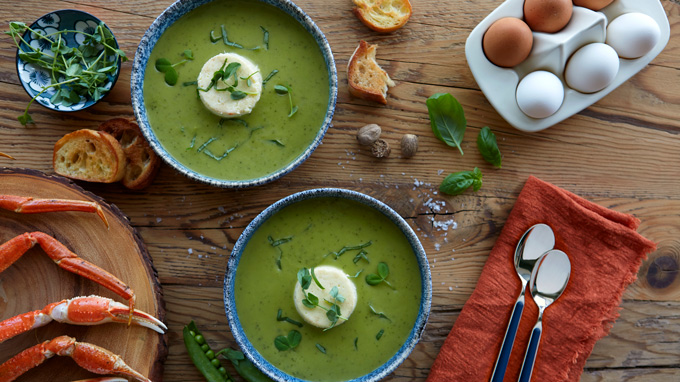 Prep Time: 30 minutes
Cook Time: 50 minutes
Serves: 6
Pea Basil Soup Recipe with Crab Royale Ingredients
Crab Royale
2 eggs
4 egg yolks
1 cup (250 mL) milk
1 cup (250 mL) 35% whipping cream
¼ tsp (1.25 mL) salt
Pinch of nutmeg
*3 ounces (90 grams) snow crab meat
*For a vegetarian version, replace snow crab with sautéed mushrooms
Pea Soup
1 small onion, coarsely chopped
1 stalk celery, coarsely chopped
1 garlic clove, coarsely chopped
1 tbsp (15 mL) extra virgin olive oil
2 tbsp (30 mL) butter
2 cups (500 mL) peas, shelled
3 cups (750 mL) vegetable broth
½ cup (125 mL) basil leaves
1 cup (250 mL) spinach leaves
⅓ cup (80 mL) 35% whipping cream
Salt and pepper to taste
3 or 4 fresh basil leaves, finely sliced
Small bunch of fresh pea shoots
Instructions
Step 1
Preheat oven to 300°F (150°C).
Step 2
To make the crab royale, separate the egg yolks from the egg whites for 4 eggs then whisk together the 2 whole eggs,* and the 4 egg yolks, milk, whipping cream, salt and nutmeg in a bowl to make a custard.
Pour the mixture through a fine meshed strainer and set aside.
Step 3
Prepare 8, 3-ounce (85 grams) custard cups by coating them with olive oil or melted butter, placing them in a casserole dish.
Other common kitchen items, including ramekins, small juice glasses, or disposable cupcake tins can be used in place of custard cups.
Step 4
Add ½ ounce (14 grams) of snow crab meat to each mold, then fill with the strained custard mixture.
Step 5
Pour boiling water into the casserole dish so it's halfway up the sides of the mold to create a double boiler.
Place in the oven and cook for 20 to 25 minutes.
The Royales should be set, but still slightly "jiggly" in the middle.
Set on the counter for 5 minutes before unmoulding.
Step 6
To make the pea soup, in a small saucepan sauté the onions, celery, and garlic in the olive oil and butter for about 3 or 4 minutes on medium heat or until soft and translucent.
Step 7
Add in the shelled peas and broth and bring to a simmer.
Cook for about 15 minutes until the peas are soft.
Remove from heat and add the basil leaves and spinach and wilt them in the hot soup.
Step 8
Puree the soup in a blender on high until smooth. Strain the soup to remove any small lumps and add in the whipping cream
Season with salt and pepper to your taste and stir in the finely sliced basil leaves.
Gently unmold the Royales and place in the center of each soup bowl.
Pour the soup around the Royale and garnish with fresh pea shoots on top.
*Check out our meringue recipe for your leftover egg whites!