Next to eating and sleeping, I would say I have the most experience in wearing eyeglasses.  In fact, I have had glasses since I was 6 years old and have had numerous pairs in my lifetime.  With the ease of online shopping nowadays, you can order and shop for eyewear in the comfort of your own home. In addition, these come at affordable prices since there is no overhead cost of a retail storefront.  Meet Ottica, an online retailer for prescription eyewear that offers customers access to top designers at online prices.  Some of the top name brands that they carry include Tory Burch, Burberry, Coach, Versace, Michael Kors and more.  Ottica recently invited me to try out their service.  Here's a recap of my experience: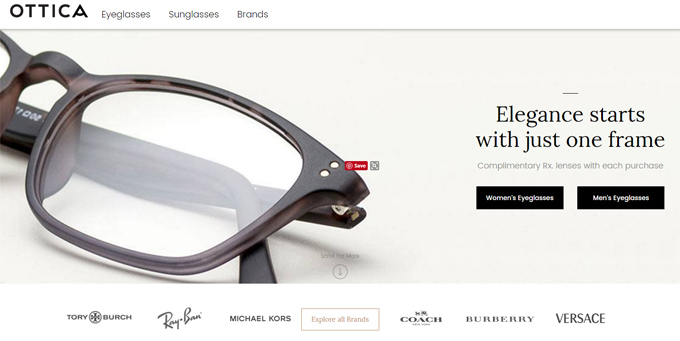 Disclosure:  I received a complimentary product in exchange for a review.  Opinions are my own.
Choosing a Pair
I decided to go with a standard pair of prescription single vision eyeglasses.  Ottica has a good but not overwhelmingly large selection of quality frames.  I started off the process by browsing all the pairs that they have.  Afterwards, I used the built-in filters to narrow down some choices.  I wanted a plastic frame in a square frame and from there I reviewed what the options were.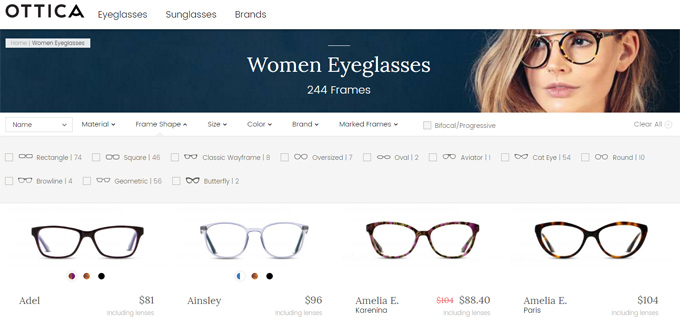 In the mood for something girly and pink, I went with the "Caitlin" which is a black and pink patterned full-rimmed cat-eye frame.  The size (52-15-135) of the frame is also more less what I normally wear.  You can also try on the glasses by snapping or uploading a photo of yourself.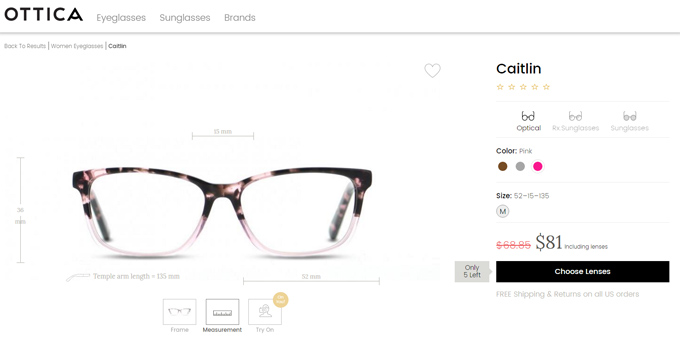 Because I have a high prescription, getting a thin lens is important to me.  Ottica offers lens packages which includes lens thickness, anti-scratch coating, UV coating, anti-glare coating and bonus discounts.  I went with the Platinum package with offers the ultra-thin lens package at 1.67 index which is 40% thinner than the 1.5 lens.  It also comes Premium UV coating and 15% off the next purchase.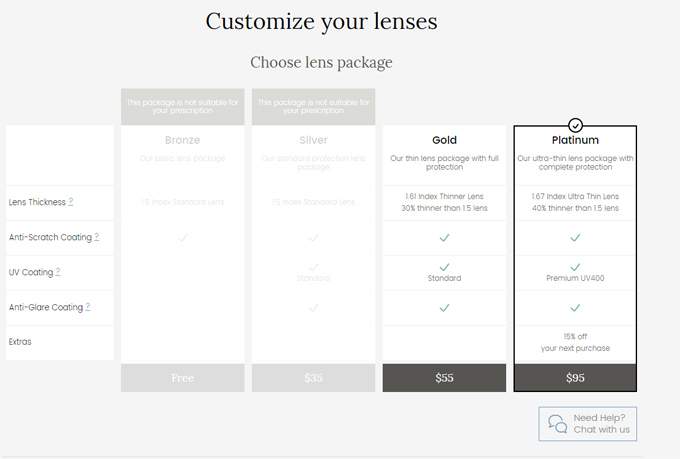 Ottica offers 365 days warranty  with money back guarantee and free shipping and returns.  I went with standard coverage but you can also opt for extended coverage ($19 extra per year) which covers damage from wear and tear, accidental damage, and prescription changes.  At the time of my order, the total for my glasses came out to be $179.
What impressed me as well about Ottica was their commitment to quality eyewear and customer service.  In fact, once their optical technicians complete the production process of your eyeglasses the order will be sent for a 5-stripe quality assurance test.  Only after the glasses pass the quality assurance test that they will be shipped.  The process form ordering to receiving the glasses took about two weeks.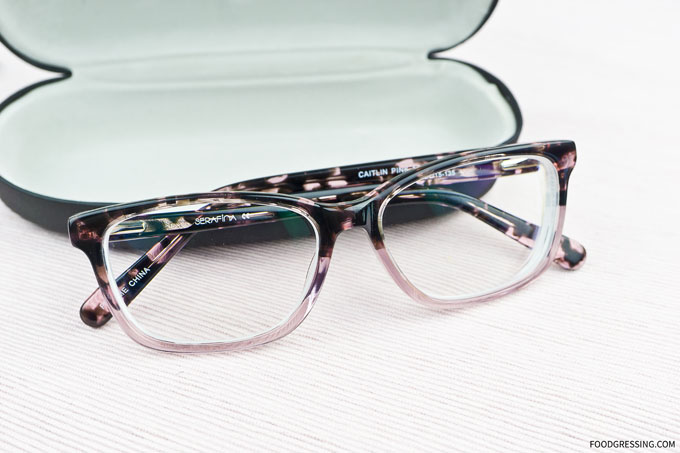 My order came with a sturdy eyeglasses case, a lens cloth and a quality assurance card.  I was satisfied with the make of my frames as well as the thickness of the lens.  Overall, Ottica made the process easy to order glasses online and I would recommend them.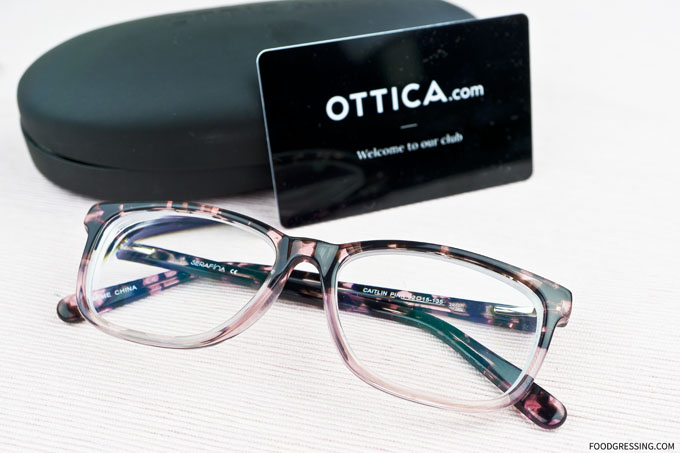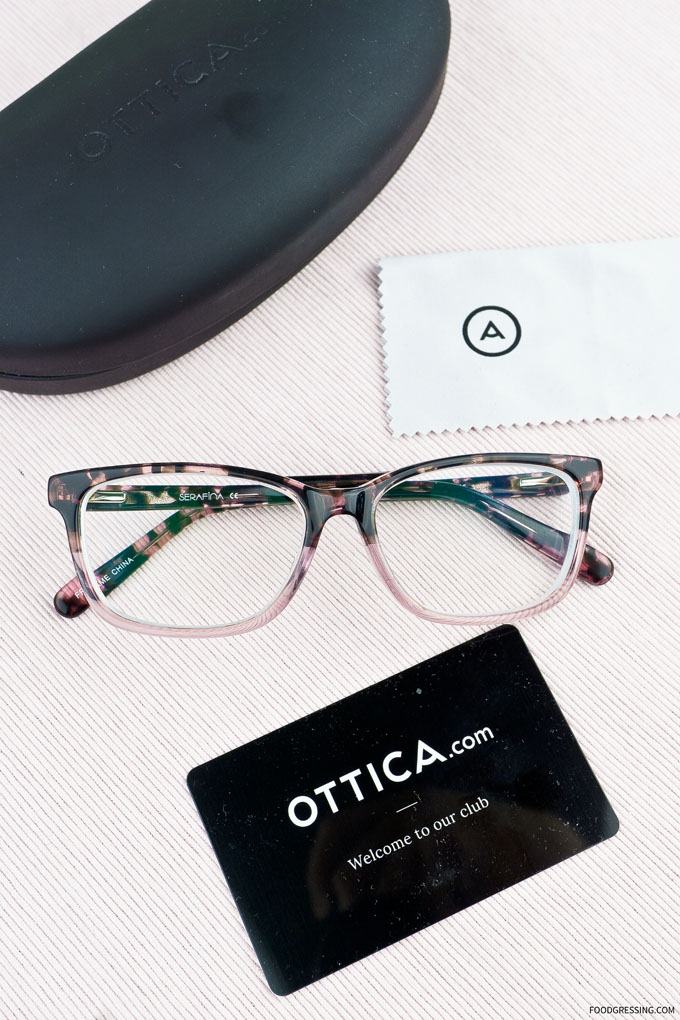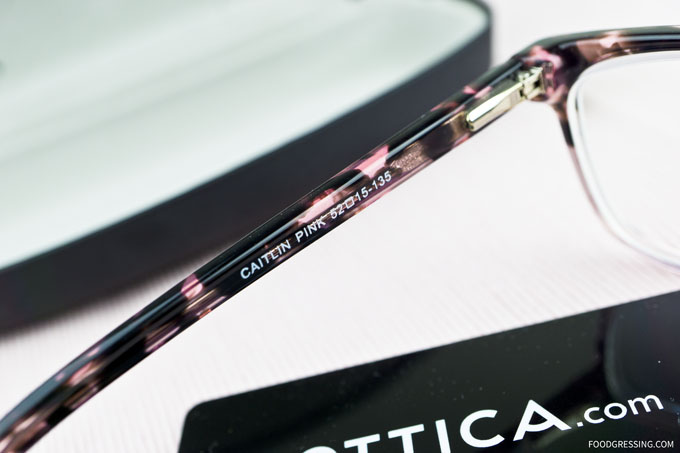 Thanks to Ottica.com, one reader can win a pair of glasses or sunglasses up to $200.  Open to US and Canadian residents.  Giveaway closes July 31, 11:59 PST.