Here's a roundup of new experiences in Las Vegas February 2022.
Las Vegas February 2022 Shows
New Year, New Queens! RuPaul's Drag Race Live! Las Vegas announces four new cast members for residency at Flamingo Las Vegas
RuPaul's Drag Race Live! announces updates to the most sickening eleganza extravaganza in Las Vegas herstory, including three fierce new production numbers and four new queens who will soon be slaying the stage at Flamingo Las Vegas.
Beginning Feb. 3, Eureka O'Hara, Jaida Essence Hall, Plastique Tiara and Trinity K Bonet will join a rotating cast that also includes current cast members Asia O'Hara, Derrick Barry, Kameron Michaels, Naomi Smalls and Vanessa "Vanjie" Mateo, who have performed in the show since it opened in January 2020.
With a cast that rotates in and out throughout the year, audiences are guaranteed a different experience each night, with a fabulous show featuring six of your favorite RuPaul's Drag Race stars.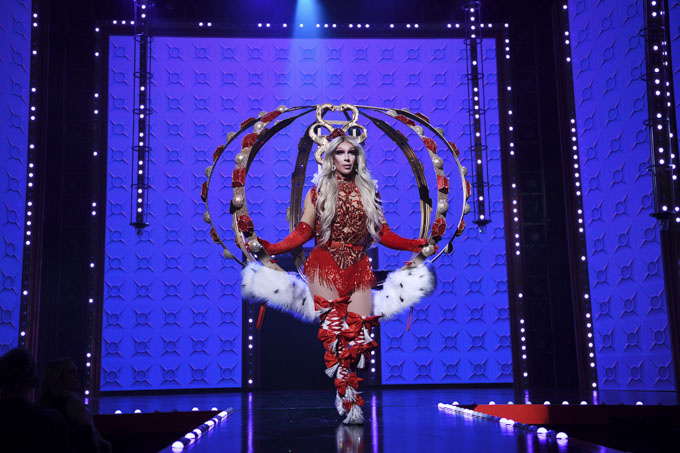 "An Evening with Silk Sonic" to Debut at Park MGM in Las Vegas February 2022
Multi-GRAMMY Award-nominated duo Silk Sonic announced it will debut an extended engagement at Dolby Live at Park MGM in Las Vegas beginning Friday, Feb. 25.
The full list of Silk Sonic's performance dates are: Feb. 25 – 26; March 2, 4 – 5, 16, 18 – 19, 23, 25 – 26, 31; April 2; May 4, 6, 7, 10, 13, 14, 17, 20, 21, 25, 28 and 29.
The duo (Anderson .Paak and Bruno Mars) introduced "Leave The Door Open" in March 2021, earning four 2022 GRAMMY Awards nominations in Record of the Year, Song of the Year, Best R&B Performance, and Best R&B Song categories.
LIGHT Nightclub Announces Grand Reopening Weekend Featuring Sam Hunt and Wyclef Jean
LIGHT Nightclub, located at Mandalay Bay Resort and Casino, today announced its grand reopening weekend will feature performances by Wyclef Jean on Friday, Feb. 11 and Sam Hunt on Saturday, Feb. 12.
Reopening after nearly a two-year long closure, LIGHT Nightclub has been a Las Vegas hot spot since 2013, offering a world-class sound system and the most prominent LED screens in town.
LIGHT will reopen its doors hosting DJs and live performances from some of the music industry's top entertainers, with additional talent to be announced.
Celebrations
Chinese New Year Las Vegas February 2022
Chinese New Year and the Year of the Tiger will be celebrated in spectacular fashion this February in Las Vegas. Resorts throughout the destination commemorate the occasion with an array of festive décor, vibrant and authentic experiences, and decadent culinary offerings.
Check out my roundup of things to do for Chinese New Year Las Vegas 2022.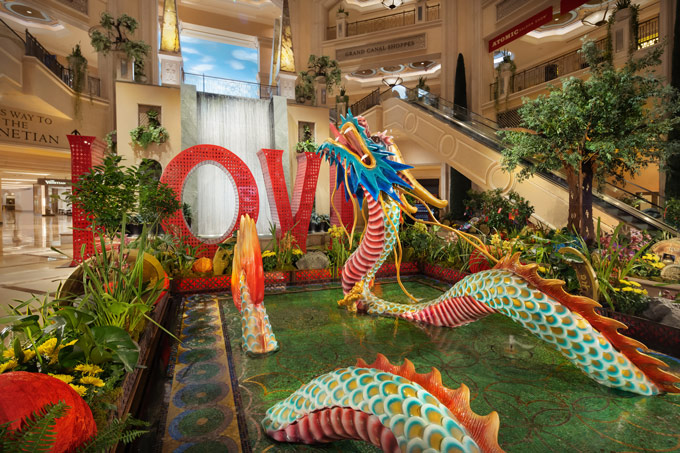 New Las Vegas February 2022 Restaurant and Bar Experiences
Luxe New Eight Lounge Brings Premium Cigars, Exceptional Cocktails to Resorts World Las Vegas
Eight Lounge, a sexy, sophisticated cigar bar and cocktail lounge, is now open inside the new Resorts World Las Vegas. Developed in partnership with Clique Hospitality, one of the nation's premier boutique operators, Eight celebrates premium tobaccos and spirits in an architecturally stunning 7,000-square-foot lounge with private rooms and picturesque outdoor terrace.
Deriving inspiration for its name from the lucky number in Chinese culture, Eight unfolds into eight spaces, including a custom-built humidor with 48 private lockers, each with a personalized gold nameplate.
While the ultra-luxe bar and lounge are worth experiencing on their own, the humidor and its cigars sourced from around the world are the main attraction.
The humidor is divided into eight sections featuring some of the world's finest tobacco blends and maintains a temperature of 70 degrees Fahrenheit with 70% humidity year-round for optimal cigar storage.
Bar Zazu brings Tapas, Tempranillo and more to Resorts World Las Vegas
Bar Zazu, the newest concept from the team behind Brezza, VP & Partner Jason Rocheleau and Executive Chef Nicole Brisson, softly opened at the end of 2021, and is now accepting reservations and private event bookings.
Bar Zazu offers a full-service dining experience featuring traditional Spanish and European-style tapas with a lively social dining vibe at the forefront, and state-of-the-art lighting and sound system throughout.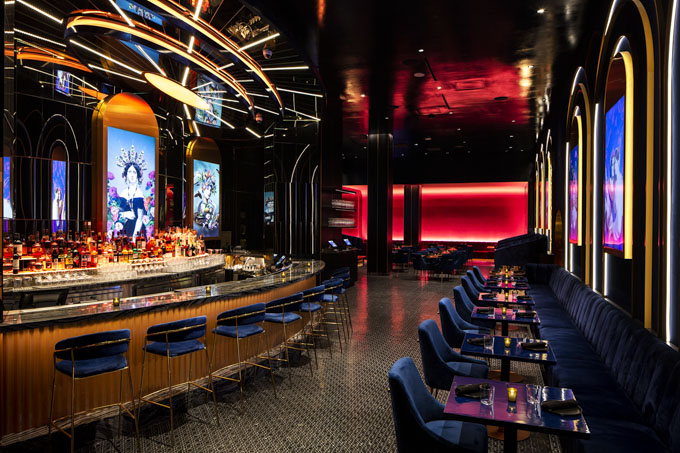 New Hotel Experiences in Las Vegas February 2022
Resorts World Las Vegas Debuts The Strip's First Property-Wide Multimedia Experience, GLOW
Resorts World Las Vegas, the Strip's newest integrated resort, is unveiling GLOW, a one-of-a-kind video content and multimedia experience that will bring the property's technologically advanced architecture – including one of the largest exterior LED building displays in the United States – to life.
The creative content, designed and produced by Moment Factory, an acclaimed creative international studio that specializes in multimedia entertainment and experiences, and Digital Kitchen, whose Emmy-winning storytelling and design captivates audiences, will include ten unique show capsules and five interstitial visuals displayed across Resorts World Las Vegas' distinctive LED surfaces, ranging from the 100,000-square-foot West Tower display to the iconic 50-ft diameter interior globe.
GLOW features eye-catching optical illusions and plays with depth in surprising ways, offering viewers exciting shows that tap into the energy of the city. GLOW runs daily every hour on the hour from noon – 1 a.m.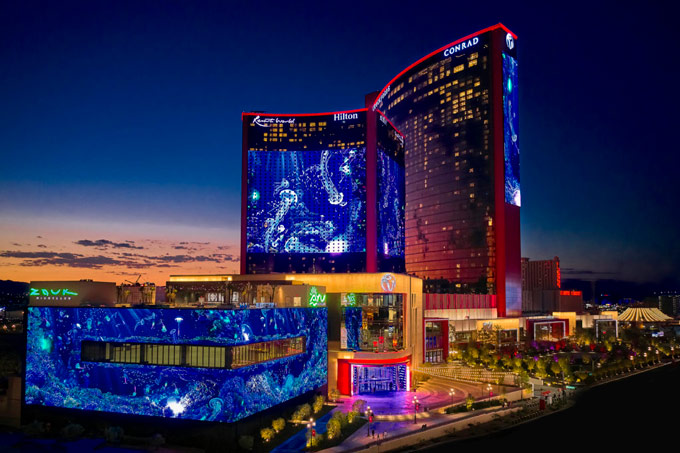 ARIA Debuts Elevated Redesign for SKYVILLAS and Sky Suites
Redefining its ultra-luxury accommodations, ARIA Resort & Casino is unveiling seven newly reimagined SKYVILLAS and a complete redesign of its 400+ Sky Suites delivering discerning guests a new and elevated sanctuary on the Las Vegas Strip.
In addition to enjoying a completely new space, SKYVILLAS guests will delight in indulgent daily surprises handpicked by the resort's celebrated team of butlers.
Cigar aficionados will appreciate the personalized cigar cart delivering hand-rolled masterpieces, and foodies will enjoy custom-made chocolates or freshly baked mesquite bread, amongst other bespoke treats.
Renowned for superior service, Sky Suites offer all guests luxury airport transportation, a personal concierge, private pool, private entrance and preferred dining reservations. Introducing unexpected moments of fun, relaxation and rejuvenation, Sky Suites feature creative welcome and turn-down amenities for travelers from game kits featuring classics such as backgammon, checkers and chess; and custom-designed drink coasters by local artists; to delectable truffles from ARIA's award-winning pastry team, amongst other surprises.
Nobu Hotel Caesars Palace Kicks Off the New Year with New Rooms
Nobu Hotel Caesars Palace, the luxury boutique hotel within the iconic Las Vegas resort, debuts 182 redesigned guest rooms and suites after completing a multimillion-dollar refresh.
The world's first Nobu Hotel now features a more modern, residential feel with design inspiration from kintsugi, the Japanese art of repairing broken pottery with gold epoxy.
Highlights of the new guest rooms and suites re-envisioned by the award-winning global architecture and design firm Rockwell Group include: A custom sofa in a dozen different patch-worked upholsteries, from painterly-style prints to muted textured graphics; A quartzite coffee table with a gold base and a cracked kintsugi effect, along with additional lighting; New custom carpet with aubergine hues, as well as abstract and painterly-style florals – inspired by 19th Century Japanese artist Tsubaki Chinzan – overlaid with gold kintsugi veining; A statement desk or dining table, which is connected to the dresser by a quartz buffet; and the refreshed Hakone, Sake, Nobu Penthouse and Nobu Villa suites also feature new furniture, rugs and flooring.
Sport Experiences
SPEEDVEGAS Motorsports Park Offers an Exhilarating Off-Road Race Truck Experience
SPEEDVEGAS Motorsports Park—the most exhilarating elite driving destination in the world—now includes an extreme truck racing experience: Vegas Off-Road.
This rugged, adrenalin-fueled course thrills those who want to take the experience off the pavement and onto the dirt track. Vegas Off-Road features the only off-road track experience in Las Vegas.
This 1-mile course consists of nine challenging turns, three massive jumps, ramps and top speed capabilities.
Guests can pilot specialized, custom-built high-performance Baja race trucks designed with huge travel suspension to absorb large bumps, dips and jumps while drivers travel at high speeds and soar up to 10 feet in the air on the private dirt track.
Guests who want to compare their racing line with a pro, or who simply don't want to drive, can experience the full adrenaline potential of this thrilling experience as the passengers of a pro racer.
"LIFTOFF" at AREA15 Opening February 3
AREA15, Las Vegas' immersive art, events and entertainment district announces Feb. 3 opening date for "LIFTOFF" – a panoramic skyline experience. Located next to Art Island in front of AREA15, the new attraction is an open-air ride providing sweeping views of the Vegas skyline and mountains.
At the base of LIFTOFF is LIFTOFF Lounge, a full-service bar and open-air lounge inspired by aeronauts and aviators seeking the exhilaration of flight and the vistas only high-altitude vantage points can offer.
The imbibe-and-ride experience begins at the LIFTOFF Lounge located at the base of the steel tower designed as a triple helix.
Guests can choose from a selection of alcoholic and non-alcoholic drinks to enjoy aboard the ride.
Guests will then be strapped into their seat with their feet dangling in the air before ascending to the 130-foot summit with the Las Vegas skyline as their background.