Kentucky Fried Chicken is making its KFC Chicken Sandwiches even more craveable with a spicy new promotion tied to the highly anticipated new Diablo IV video game.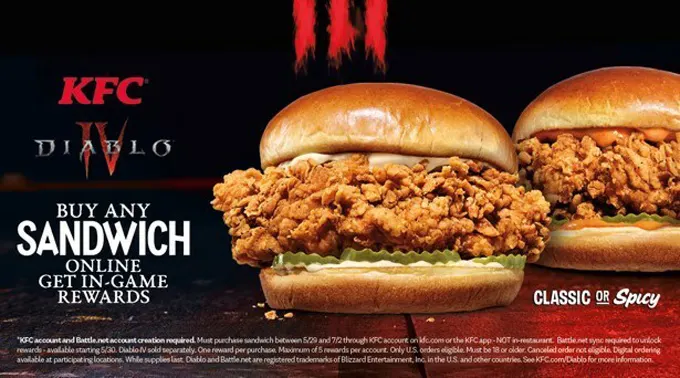 Now through 7/2, customers who purchase any KFC Chicken Sandwich (classic or spicy, including combo options) on the KFC app or KFC.com will be eligible to unlock exclusive in-game rewards in one of the most anticipated video games of the year.
The exclusive in-game rewards include up to five battle cosmetics in KFC's signature red and white brand colors, with each piece of equipment representing one Diablo class, to help gamers show off their style.
The KFC Chicken Sandwich is made up of a quarter-pound, double-breaded, Extra Crispy all-white meat chicken breast filet with crunchy, thick pickles, a freshly toasted buttery brioche bun, and the perfect amount of the Colonel's real mayo (classic) or the Colonel's spicy sauce (spicy).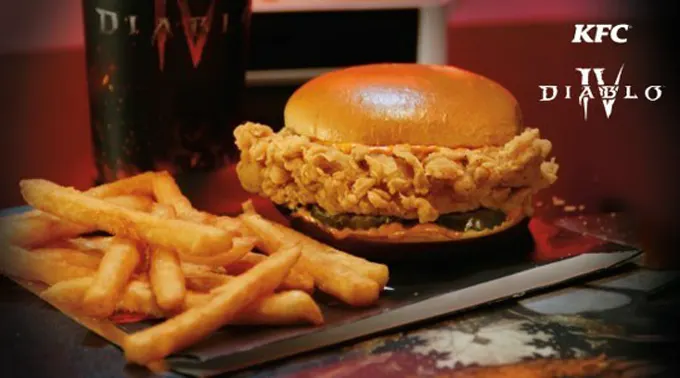 Each sandwich is prepared when ordered, so it is served hot every time.
To develop its best chicken sandwich ever back in 2021, KFC's food innovation team tested pickles with eight variations of thickness and collaborated with six different bakeries on more than 10 recipes to find the best ingredients to go along with KFC's crispy, crunchy fried chicken.
In March, KFC and Blizzard Entertainment kicked off their collaboration by offering customers the chance to preview Diablo IV during a Beta weekend by purchasing a KFC Double Down Sandwich.
Now launching on June 6, Diablo IV is the next installment in the genre-defining video game series and invites players to join the fight against evil.
This next campaign highlights the delicious dilemma KFC fans face when choosing between the classic or spicy fried chicken sandwiches, delighting gamer audiences by begging the question, "Would you do anything for a spicy Kentucky Fried Chicken sandwich?"
To unlock the exclusive in-game rewards, customers need to create a KFC account on the KFC app or KFC.com and sync their KFC account to their Diablo IV Battle.net account, which will automatically unlock the first reward.
Customers can then unlock up to four additional rewards by purchasing the qualifying menu items on the KFC app or KFC.com only during the promotional period (one sandwich order unlocks one new reward).
The status of unlocked rewards can be found at KFC.com/Diablo.
After placing orders for the KFC Chicken Sandwich on KFC.com or the app using Quick Pick-Up, customers can head to their local KFC and avoid the line, park in a dedicated VIP parking spot and go inside where their chicken sandwich will be hot and ready, waiting on KFC's Quick Pick-Up shelf.
KFC has a background in the gaming world, including a 2019 dating simulator where players were challenged to impress an animated Colonel Sanders in their adventures in culinary school.
KFC fans in Brazil can also unlock Diablo IV rewards in their markets through similar promotions.
KFC account and Battle.net account creation required. Must purchase sandwich between 5/29 and 7/2 through KFC account on kfc.com or the KFC app – NOT in-restaurant. Battle.net sync required to unlock rewards – available starting 5/30. Diablo IV sold separately. One reward per purchase. Maximum of 5 rewards per account. Only U.S. orders eligible. Must be 18 or older. Canceled order not eligible. Digital ordering available at participating locations. While supplies last. Diablo and Battle.net are registered trademarks of Blizzard Entertainment, Inc. in the U.S. and other countries. See KFC.com/Diablo for more information. Rewards are timed exclusive content until at least July 31, 2023.