We just spent a fun and delicious few days exploring Harrison Hot Springs, BC. Here is a Harrison Hot Springs 3 days itinerary (winter edition) that is relaxing, fun and filled with delicious eats. *SAVE THIS* post for your future travel inspiration!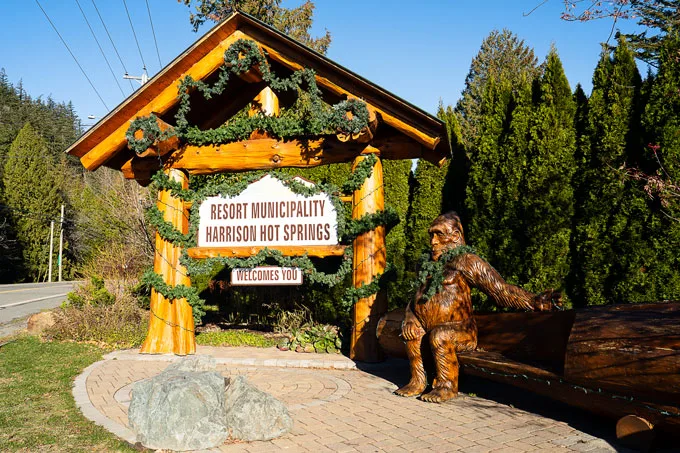 Disclosure: We were hosted by Tourism Harrison.
About Harrison Village
Nestled against Southwestern British Columbia's magnificent mountains and the sandy beaches of Harrison Lake, Harrison Village is your local vacation destination filled with rich history and natural wonders, including their renowned hot springs.
Whether you're looking for a nature adventure, a romantic getaway, or a fun-filled trip with friends, Harrison Hot Springs has what you are looking for. Watersports, boat tours, wildlife viewing, hiking, golfing, spas, agri-tours, fishing, festivals and events, waterfront accommodations, and dining are just some of the highlights.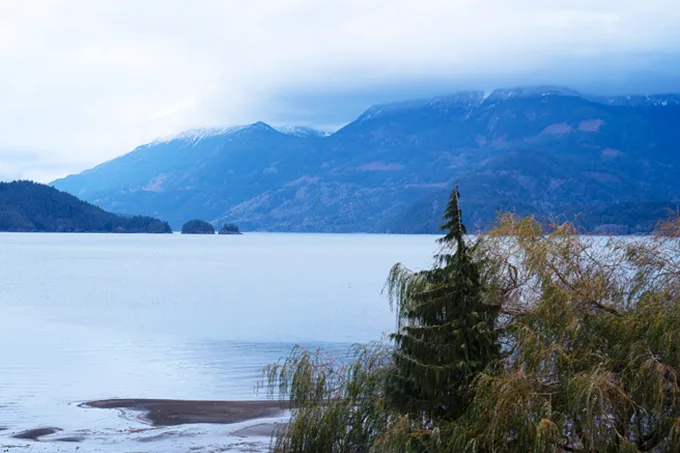 Where to Stay
Harrison Beach Hotel
Located directly across the street from Harrison Lake in the heart of Harrison Hot Springs, the award-winning Harrison Beach Hotel offers guests unparalleled year-round accommodations. Enjoy the mountain or lake vistas, cozy fireplaces, balconies, comfortable beds, indoor pool and outdoor hottub and more.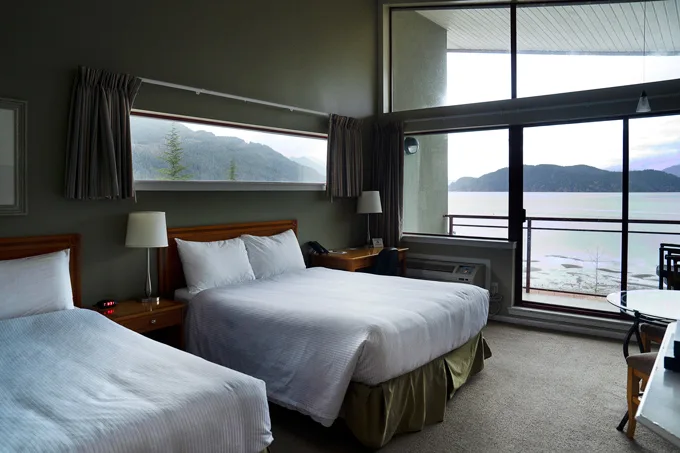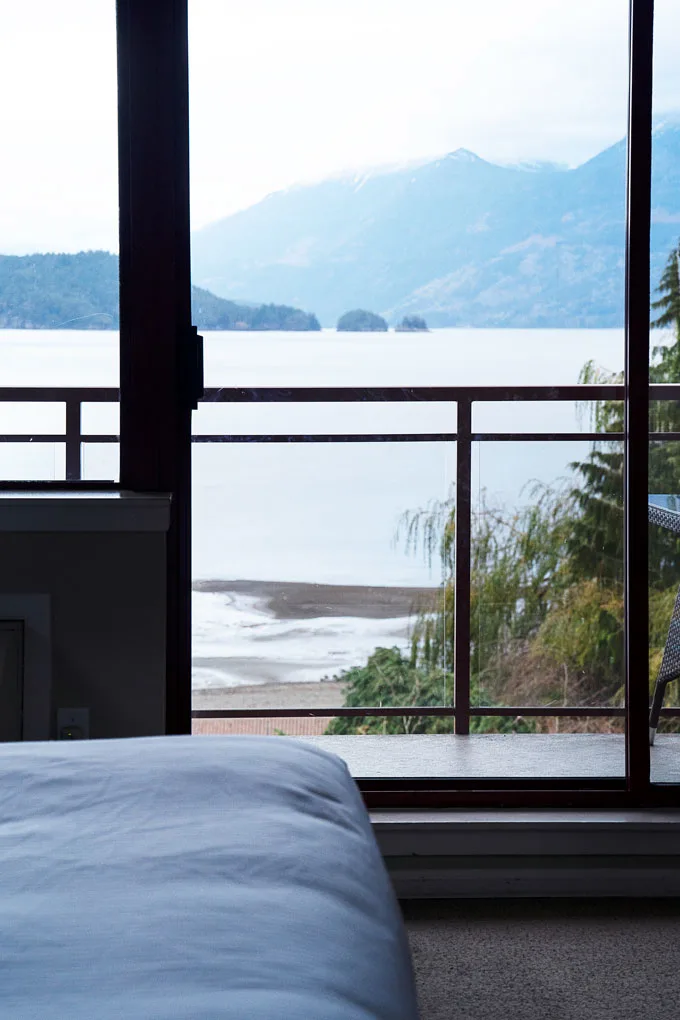 Things to Do
Harrison Visitor Centre and Sasquatch Museum
Find out more about visiting Harrison and check out the Sasquatch Museum featuring history, artifacts and stories of encounters at the Harrison Visitor Centre and Sasquatch Museum.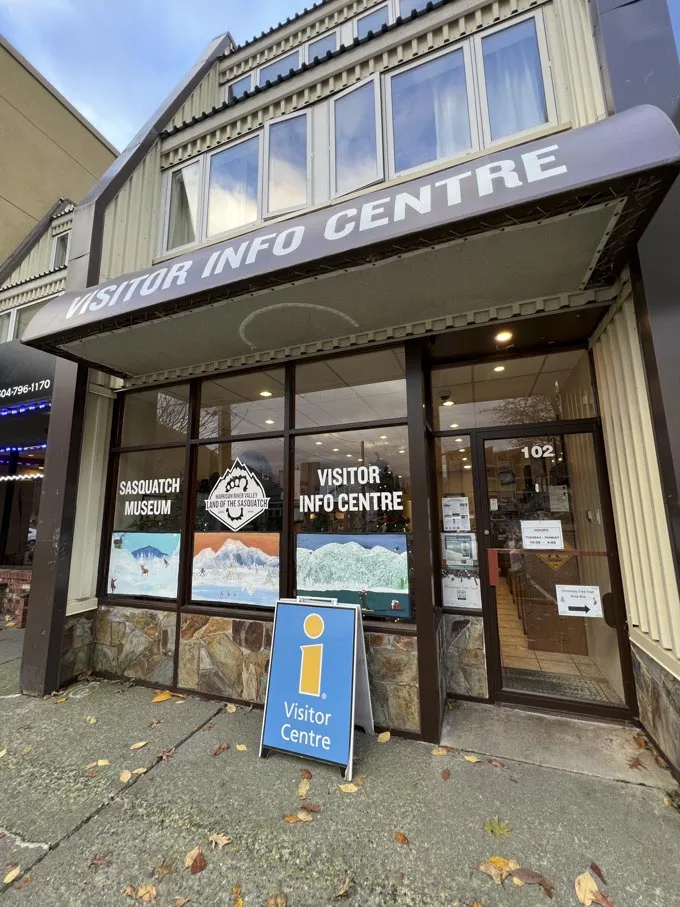 Did you know? Sasquatch is legendary in the Harrison River Valley with many regional sightings.
The word Sasquatch is thought to be a mispronunciation of the Sts'ailes First Nations word 'Sasq'ets', meaning 'hairy man'.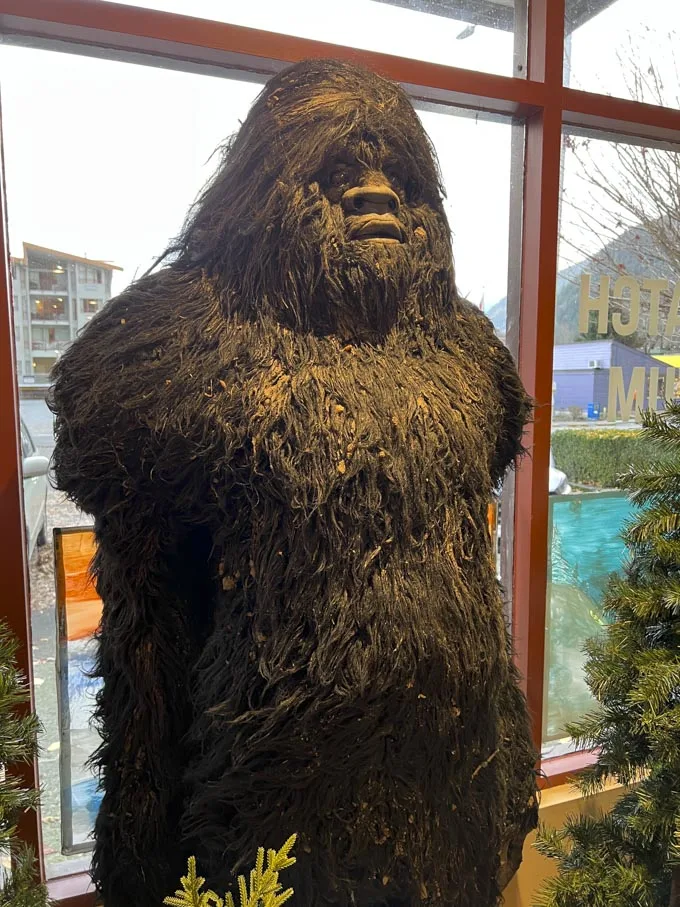 For centuries, the Sasquatch has occupied a unique niche in the oral traditions of the First Nations communities of Harrison Lake and Harrison River.
The Sts'ailes believe the Sasquatch is a spiritual being that can vanish into the spirit realm at will, which may explain why the elusive being is so difficult to track down.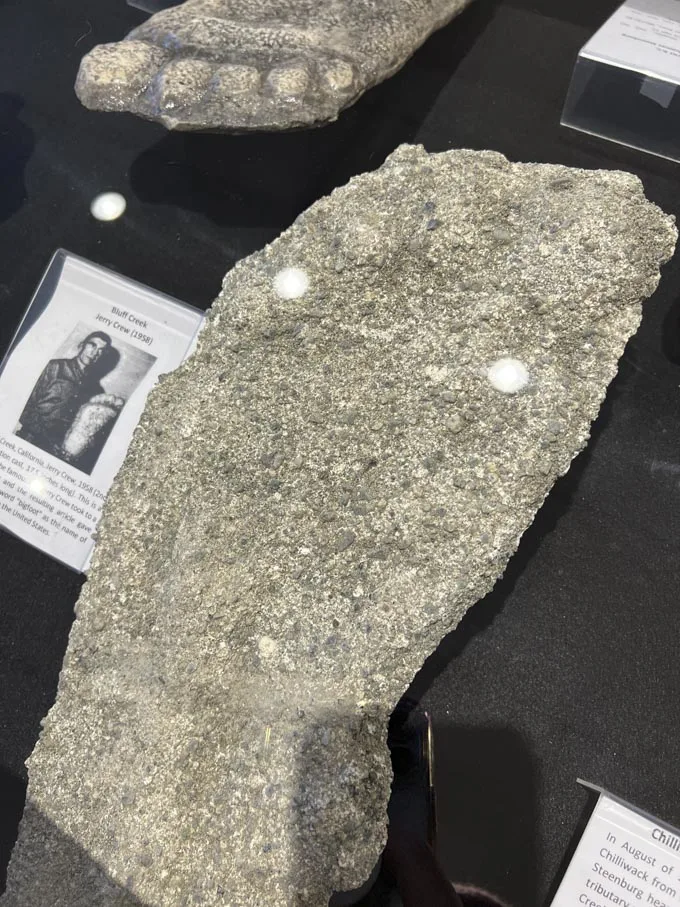 Lights by the Lake
Lights by the Lake is a winter lights festival taking place from until January 8th, 2023. We had a great time strolling along Harrison's promenade, delighting in the warm glow of holiday lights and charming winter window paintings. All these displays are custom built and will be lit from dusk to 11:00 PM.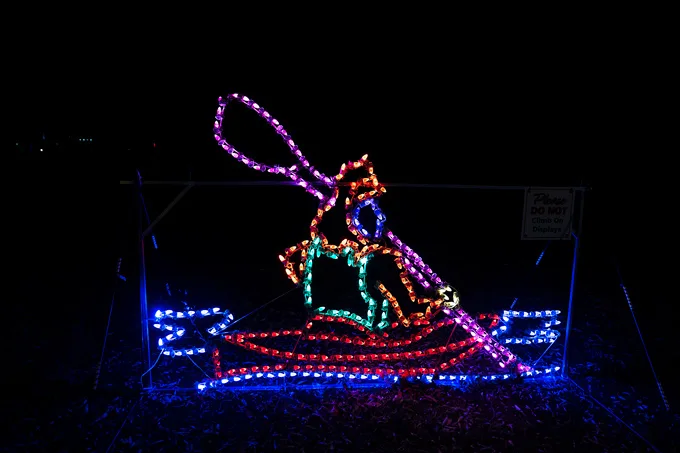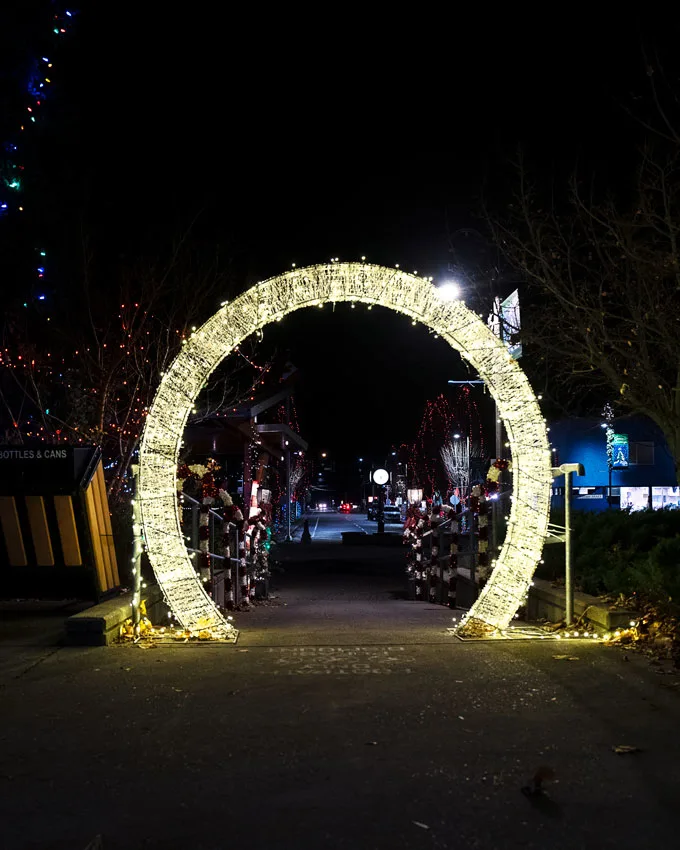 Stsarlight Skating Rink
Starlight Skating Rink is a fun public skating rink which is open Thursday- Monday from 1 pm – 9 pm.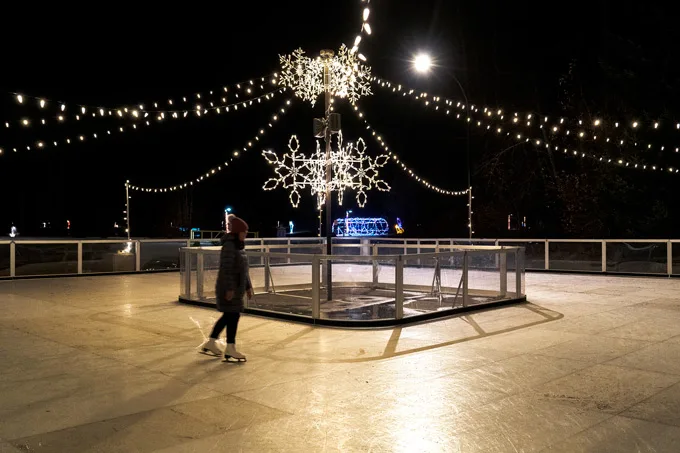 Shopping
Explore the wonderful small- town shops, selling everything from tourist souvenirs to beautiful art made by local artisans.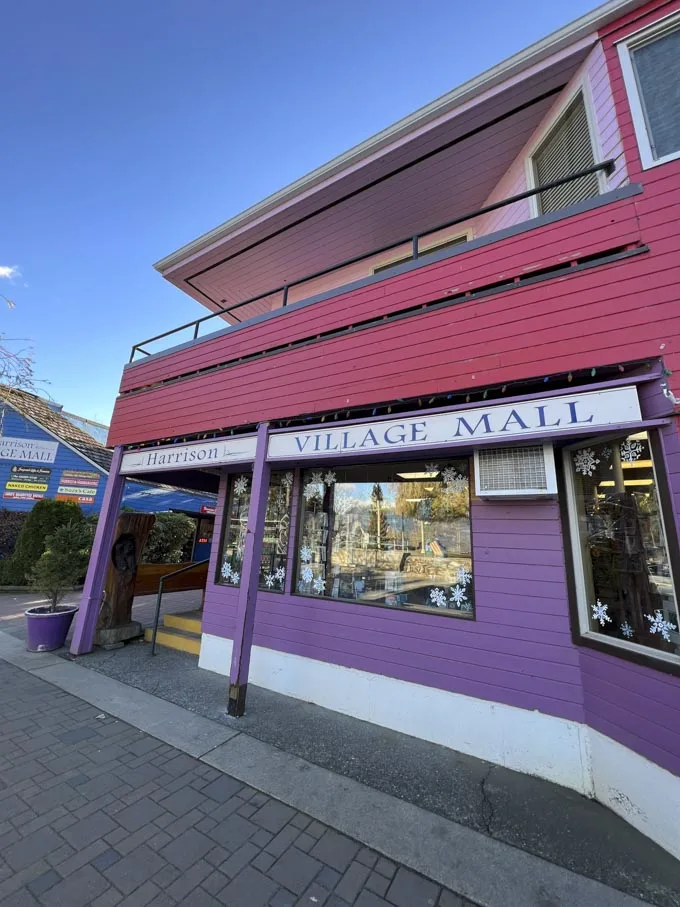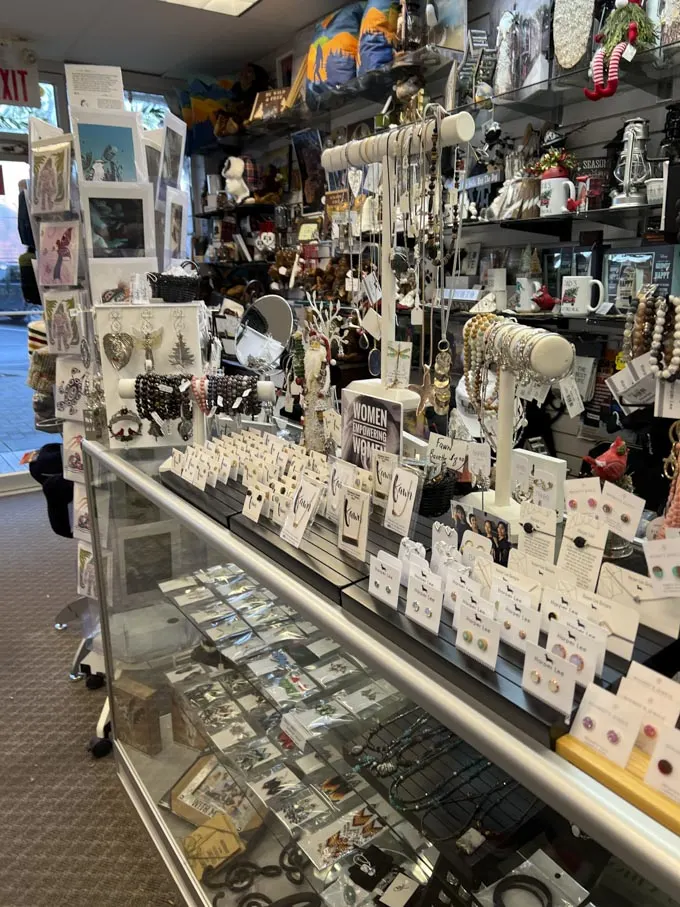 Harrison Lake
Stroll around Harrison Lake and soak in the breathtaking views. Harrison Lake is much longer than it appears, at 60 kilometres long, and covering over 200 square kilometres. It supports a rich biodiversity of seasonal and permanent animal species including Cutthroat trout, Rainbow trout, Dolly Varden, Pink, Chum, Coho, Sockeye, and Chinook Salmon, Sturgeon, Harbor Seals, Canadian Geese, Herons, and too many different types of waterfowl to list.
BC Bird Trail
The Harrison River Valley Bird Trail shares an appreciation for skies, offering touring itineraries and stories that connect astounding birdwatching hotspots with local businesses.
Hikes & Walks
The Harrison River Valley is a mecca for outdoor adventure. Hiking in and around Harrison Hot Springs offers a range of trails to suit every level.
Spirit Trail (1 km): Spirit Trail is a short walk through a beautiful cedar forest that is very accessible from the Village of Harrison Hot Springs. What makes this trail so special is that a local resident and artist has decorated many of the cedars along the trail with beautiful masks.
Hikes Lake Loops (7 km return): This family-friendly hike completes a loop around Hicks Lake in Sasquatch Provincial Park. Hicks Lake can be found just 20 minutes east of the Village of Harrison Hot Springs.
Bear Mountain (18 km return): If you're looking for a moderately difficult hike, with some breathtaking views as reward, hike Bear Mountain! Once you've reached the top, the forest opens up much like the heavens opening, and you're greeted with spectacular, sweeping views of the Cheam Mountain Range, the Fraser Valley, Fraser River and, of course, Harrison Lake and Harrison River. This is a fantastic photo opportunity!
The Heritage Walk (5 km return): This pleasant walk takes you back through time, past historical buildings and landmark moments in Harrison Hot Springs' history. It starts at the Visitor Centre and gives a great overview of Harrison Hot Springs.
Christmas Tree Trail
Explore the town's Christmas Tree Trail – a self-guided Christmas Tree tour that will take you through the Village of Harrison Hot Springs.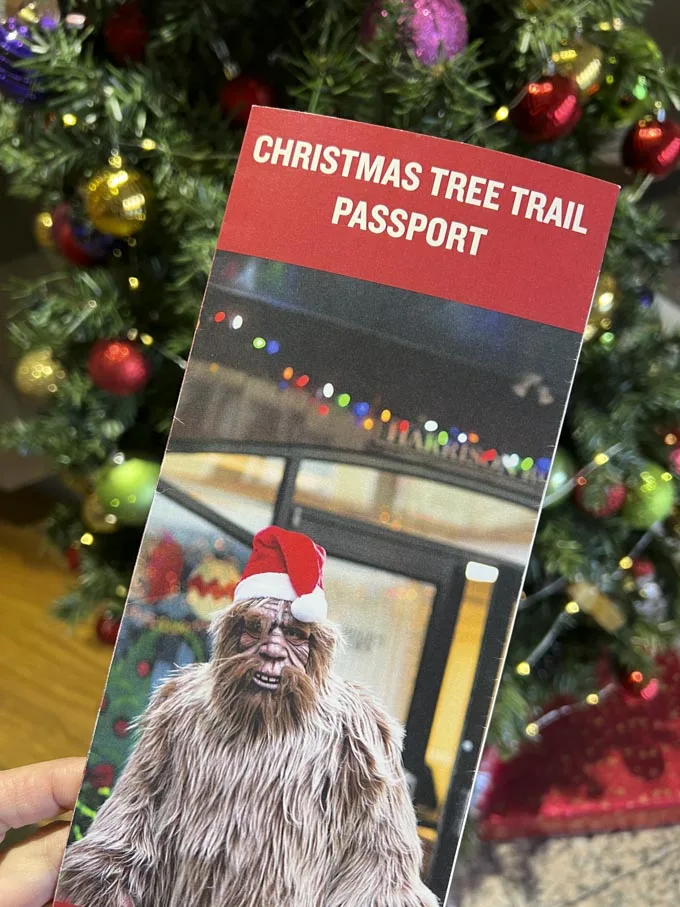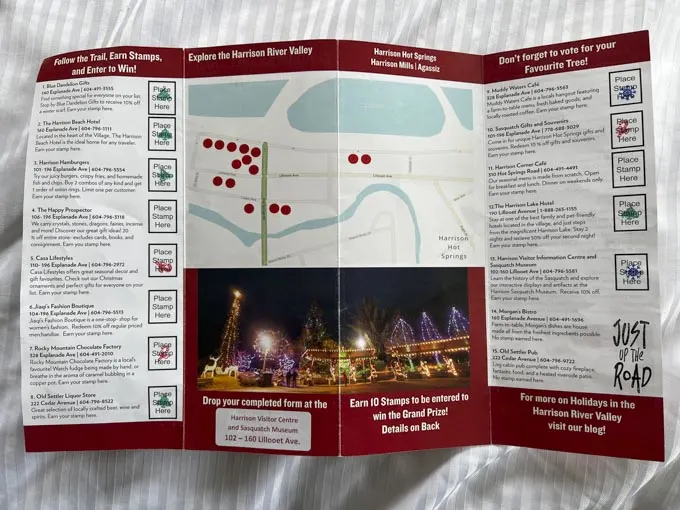 Where to Eat
Black Forest Restaurant
Black Forest Restaurant is a family-owned and operated restaurant that has been serving Harrison for 45 years. They offers lake views and authentic Eastern European food. Not to be missed are dishes like the Schnitzel, beef rouladen and bratwurst along with spaetzle.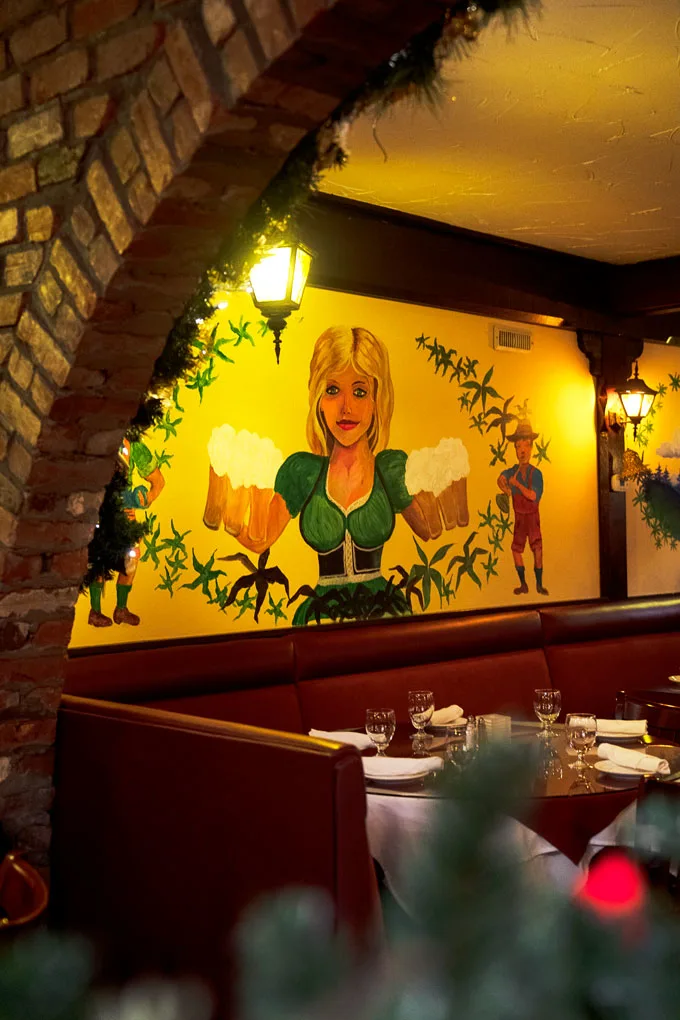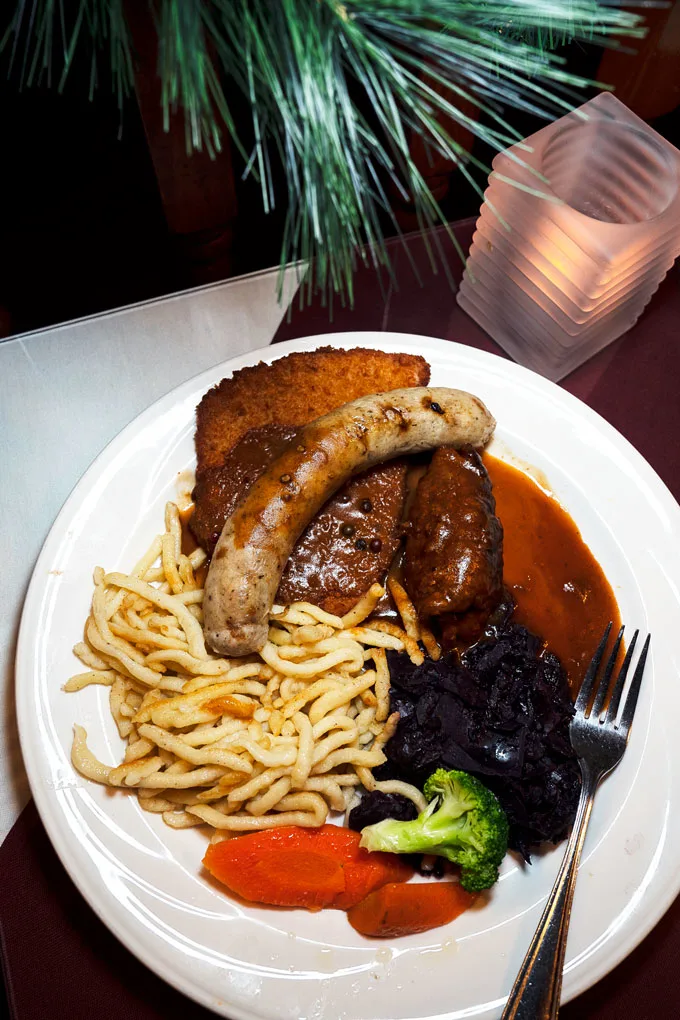 Muddy Waters Cafe
Muddy Waters Cafe is a family-run café that uses fresh, local ingredients to create a unique farm-to-table experience. They offer delicious, housemade pastries and hearty breakfast options.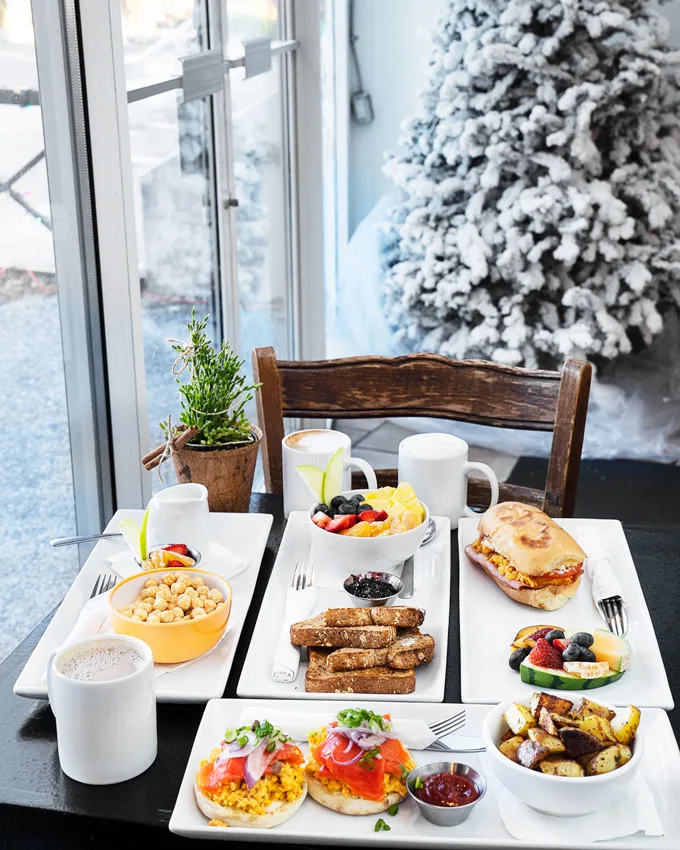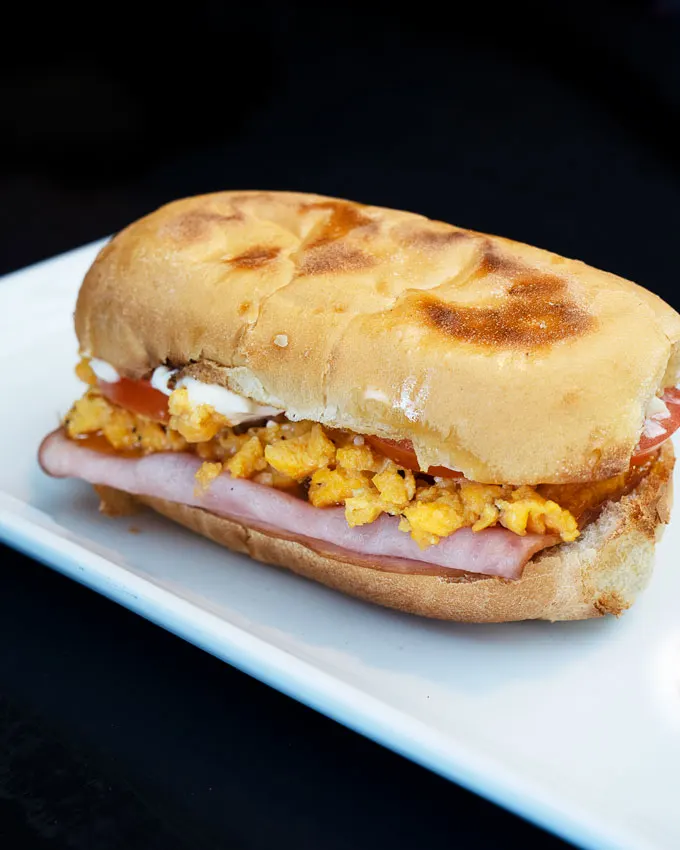 Old Settlers Pub
Old Settlers Pub is a small-town pub takes pub food up a notch like the Loaded Burger and Pacific Salmon Wrap.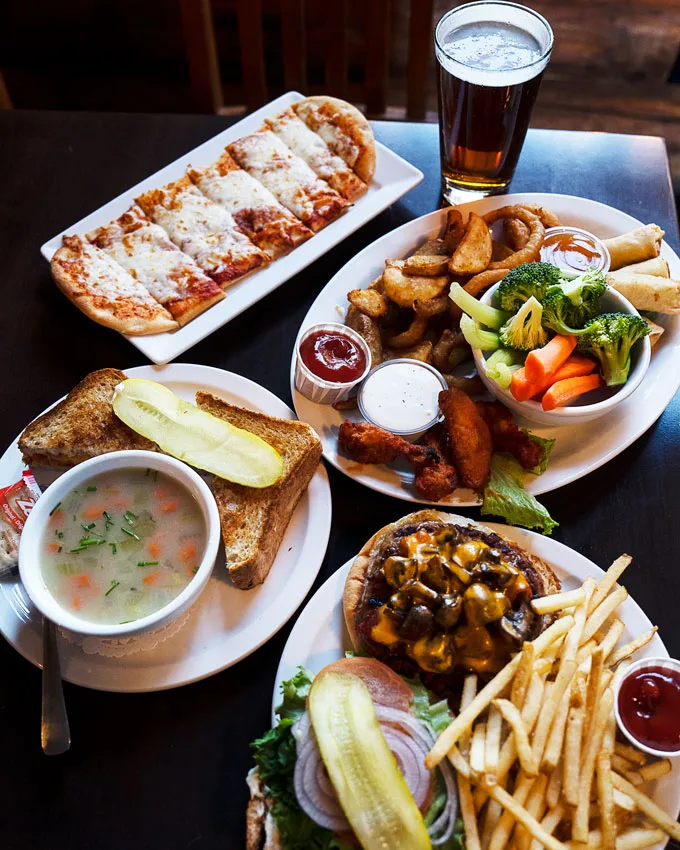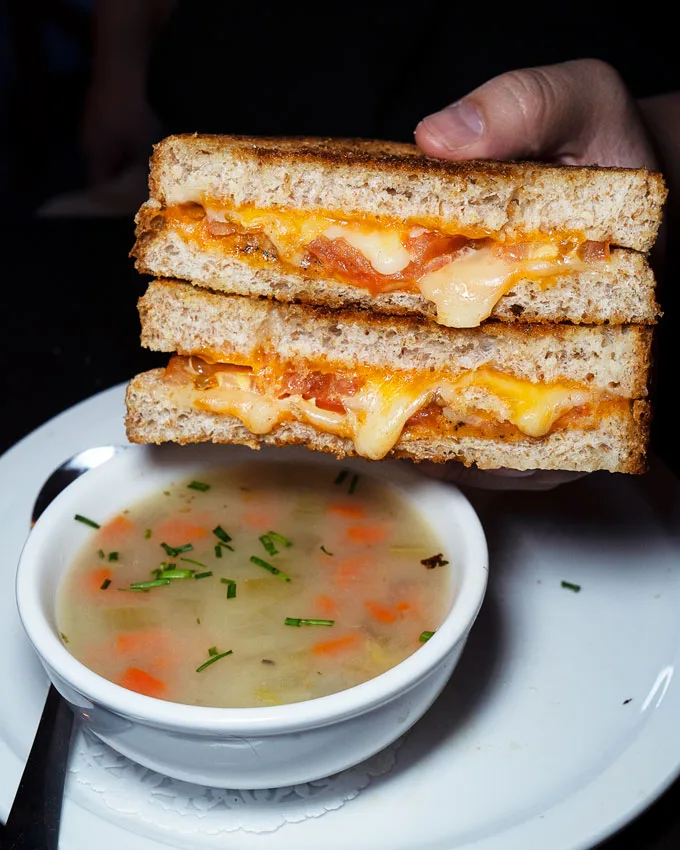 Milos Taverna
Milos Taverna is an Authentic Greek restaurant in Harrison. We loved their Prawns Souvlaki; Lamb Gyro Wrap; and Greek Ekmek dessert.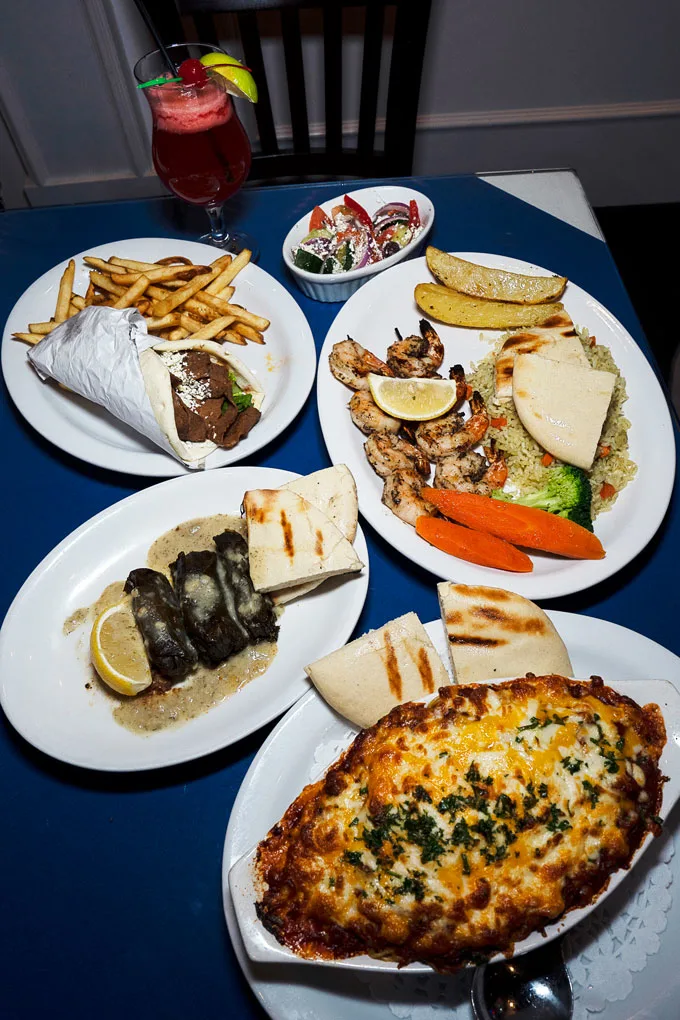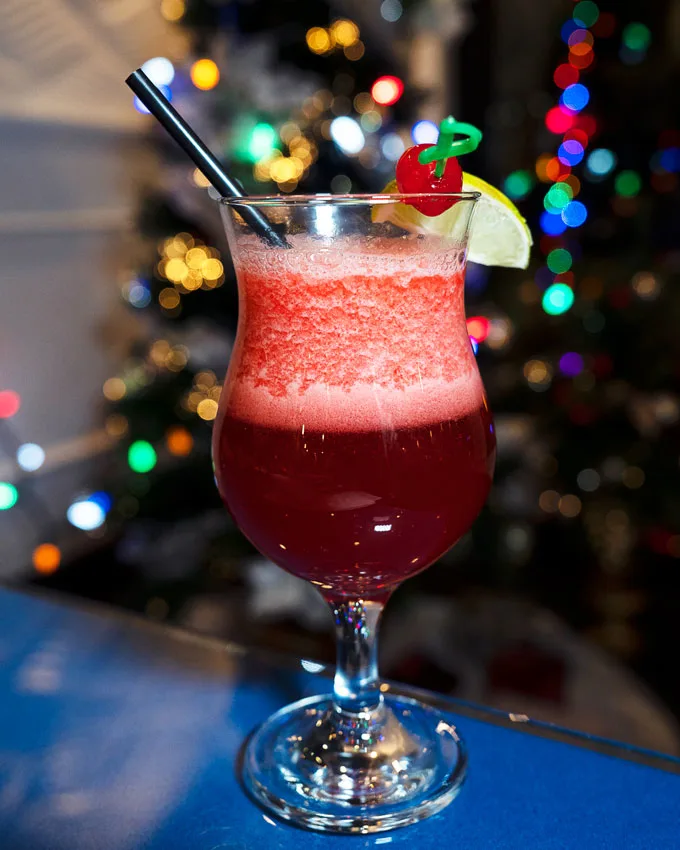 Rocky Mountain Chocolate
Rocky Mountain Chocolate is one of the most recognized chocolate brands in Canada. At their Harrison location, you will find tasty confections, caramel apples and more.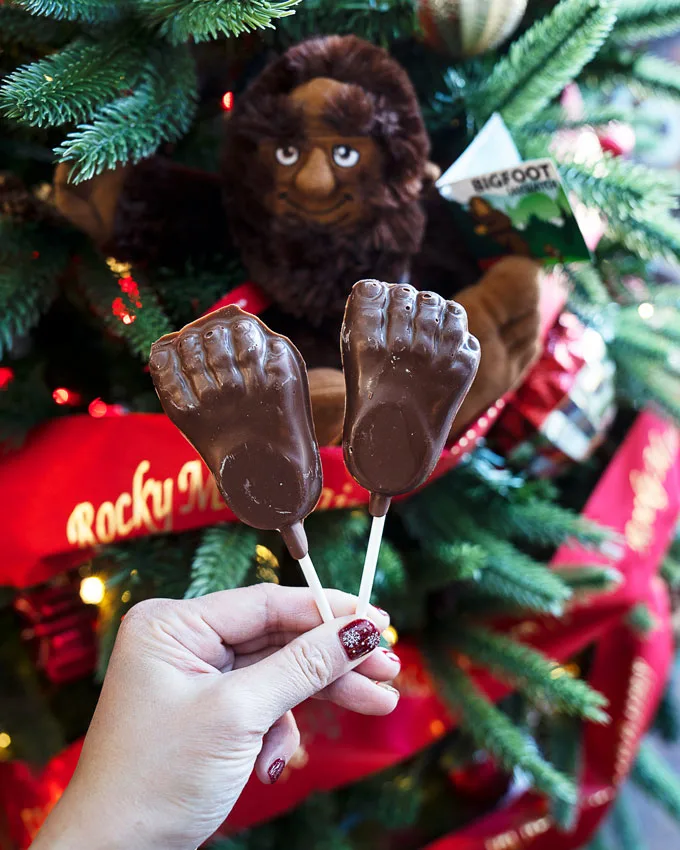 Courtyard Cafe
Courtyard Cafe offers home-style breakfast, lunch and dinner fare. We enjoyed their fluffy pancakes!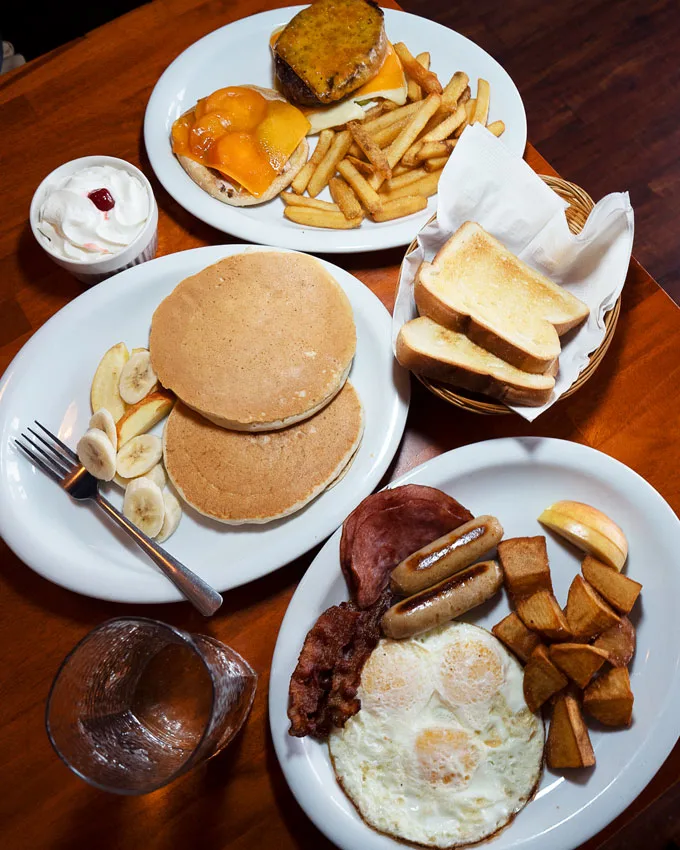 Lakeside Cafe @ Harrison Resort
Lakeside Cafe inside Harrison Resort offers great breakfast and dinner buffets.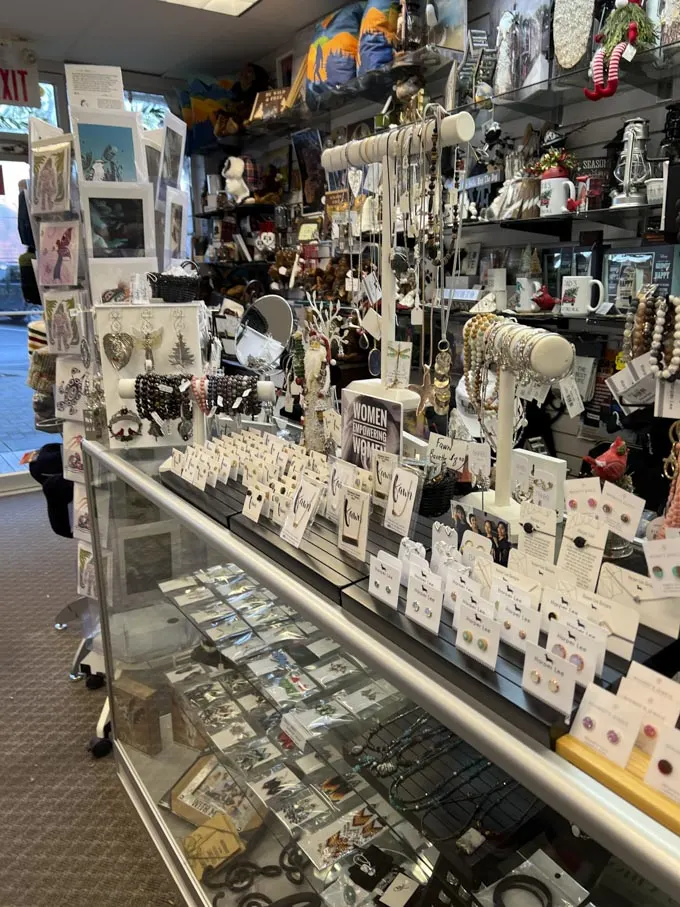 For more travel inspiration, visit Tourism Harrison.