After all the rain we have had in Vancouver, it was a nice and dry afternoon yesterday. And since it was a bit warmer, I decided to grab a cold drink from Starbucks to quench my thirst. Looking at the Frappuccino list, I noticed a flavour that wasn't new but I hadn't tried before – Green Tea. I picked up a tall and decided to go light by not opting for the whipped cream. Here are my thoughts on the Starbucks Green Tea Frappuccino.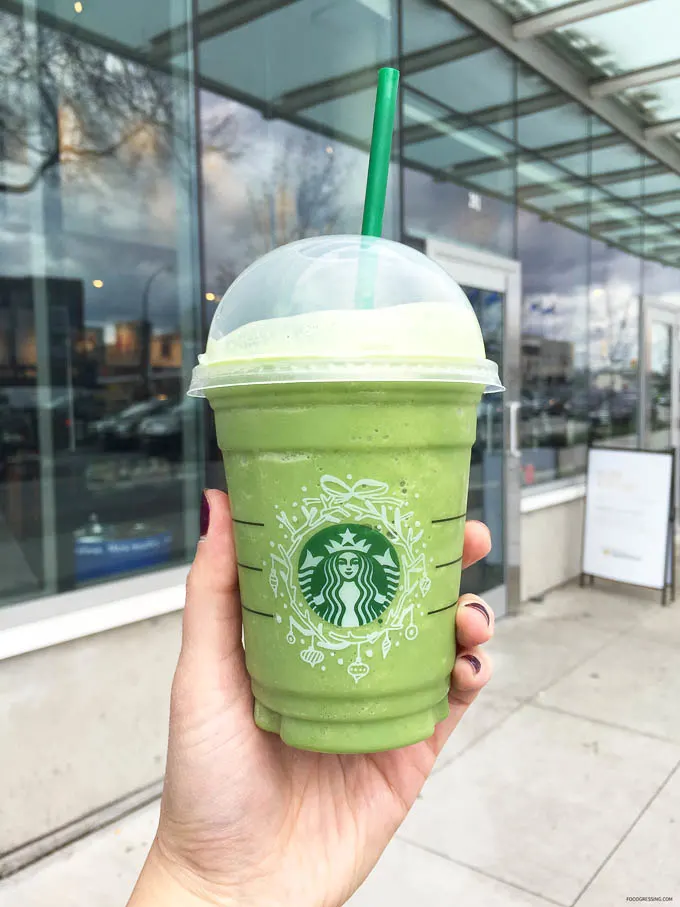 Note: This is not a sponsored post. The drink was not complimentary. I did not receive any compensation or incentive to share about my experience. The staff did not know that I am a blogger.
Description, Nutrition & Ingredients
According to Starbucks, the Green Tea Frappuccino is "a blend [of] sweetened premium matcha green tea, milk and ice and top it with sweetened whipped cream to give you a delicious boost of energy." I had a Tall (12 oz) with 2% milk and no whipped cream and it had 230 calories.
The official ingredient list includes:
Ice, Milk, Crème Frappuccino Syrup [Water, Sugar, Salt, Natural And Artificial Flavour, Xanthan Gum, Potassium Sorbate, Citric Acid], Classic Syrup [Sugar, Water, Natural Flavors, Potassium Sorbate, Citric Acid], Matcha Tea Blend [Sugar, Ground Japanese Green Tea].
Taste Test
In terms of taste, the Starbucks Green Tea Frappuccino was better than expected! I thought that it would be a bit too sweet such as to mask the bitter green tea taste but there seemed to be a good balance between sweetness and bitterness. I did a enjoy a nice, slightly bitter matcha aftertaste. In general, I'd say the Green Tea Frappuccino is similar to green tea ice cream.
Overall Impression
If you're looking for a matcha fix in a nice, cold beverage, the Starbucks Green Tea Frappuccino does the trick. I'd recommend it and would be interesting in ordering it again. Rating: 4/5