As homecoming season heats up, Flamin' Hot®, Frito-Lay's famous flavor with a fiery attitude, teams up with GRAMMY award-winning musician and official reigning queen of hot Megan Thee Stallion to form Flamin' Hot University.
In a new online video, Megan Thee Stallion encourages students who embrace the spicy, rebellious spirit of the brand to attend the university.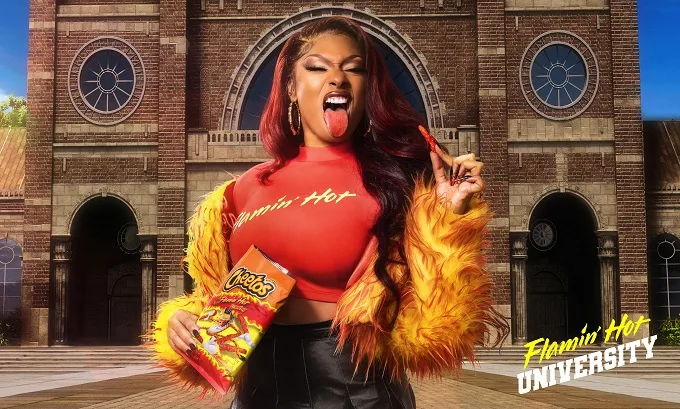 At the fictitious university that's motto is "Education is Hot," they can learn to "Unleash their Flamin' Hot" through short, snackable courses on food, fashion and lifestyle.
As elevating your drip is one of the easiest ways to embrace confidence, Megan also gave her hottie stamp of approval to an exclusive line of Flamin' Hot University merchandise created by streetwear designer Melody Ehsani.
The collection features six items guaranteed to spice up your on-campus 'fits, including a Stallion Varsity Jacket, Hot Girl Club Sweater, and more.
Proceeds from the merchandise collection will go towards establishing a scholarship fund, of up to $150,000, at Texas Southern University (TSU), an HBCU based in Houston and Megan's alma mater.
To purchase the exclusive merchandise and support the scholarship fund, visit MelodyEhsani.com while supplies last.
TSU Tigers are encouraged to visit tsu.edu/flaminhot to learn more about the scholarship.
Additionally, Flamin' Hot will make a separate contribution of $100,000 to the Pete and Thomas Foundation, the non-profit organization that Megan launched in 2022 that focuses on uplifting and assisting women, children, senior citizens, and underserved communities in Houston, Texas and across the world.
The organization focuses on three core sectors – education, housing, health and wellness – and is committed to supporting mission-aligned, non-profit organizations, generating awareness around key campaigns and spearheading its owned and operated activities.
With the perfect snack for every kind of spice lover, the entire Flamin' Hot portfolio of snacks—from Cheetos® and Doritos® to Ruffles® and Funyuns®— is coming together for the first time in a national campaign to bring the heat.
Exclusive Flamin' Hot University-inspired packaging of Cheetos Flamin' Hot and Doritos Flamin' Hot Nacho are also available for purchase, while supplies last.
Potential students can visit FlaminHotUniversity.com and follow @flaminhot on social media to take part in the Flamin' Hot University courses and view exclusive content.