Here's a look at Father's Day Denver 2023 featuring special offerings by restaurants and businesses.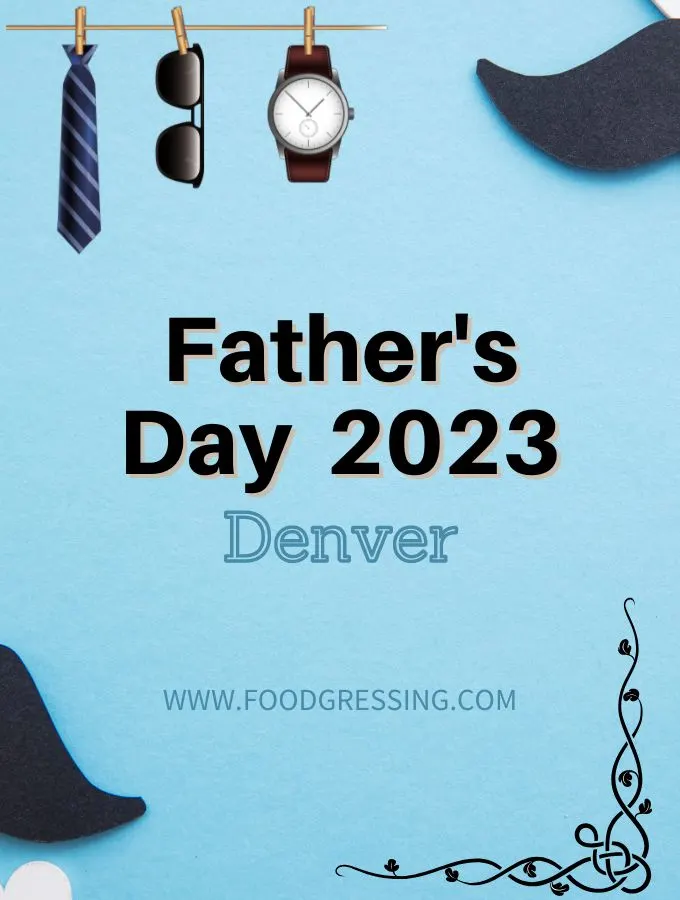 Father's Day is Sunday, June 18, 2023.
Please reach out to me [email protected] if you are a restaurant/business that wants to be featured. Provide all the details of your holiday offering in your message. For faster processing, please provide a ready to copy and paste excerpt in paragraph form in a similar format to the restaurants featured below.
This list is not exhaustive and is updated as information becomes available. I try to feature as much as I can but certainly this is not all that is out there. If your favorite restaurant is not on the list, contact them to see what they are offering.
Father's Day Denver 2023: Restaurant Special Menus
Tamayo by Chef Richard Sandoval
Join us at Tamayo by Chef Richard Sandoval this Father's Day for a delightful celebration of the fathers in our lives. Indulge in the mouthwatering El Padre cocktail, made with smooth añejo tequila, smokey mezcal and a few dashes of mole bitters. Savor the succulent flavors of our special, chili-rubbed rib eye tacos which are folded into cheese-crusted corn tortillas. Treat your dad to a memorable dining experience where vibrant Mexican cuisine meets an inviting atmosphere on Larimer Square. Whether you're raising a glass to honor your own father or simply want to enjoy a fantastic meal with loved ones, Tamayo is the perfect destination to make this Father's Day truly special.
Toro by Chef Richard Sandoval
Celebrate Father's Day with Toro's exceptional brunch experience. Treat your dad to a memorable feast of unlimited brunch plates, featuring a delightful array of starters, specialties, and desserts. As a special gift, Dads will receive a complimentary bottle of Toro BBQ rub with the purchase of our Bottomless Brunch. Indulge in mouthwatering dishes like huevos rancheros, bison skirt steak anticucho, and churro bread pudding. Enjoy the perfect pairing with free-flowing brunch cocktails, including classic favorites like mimosas and margaritas.
Eddie V's Prime Seafood
Eddie V's is indulging Dad with an 11-ounce Snake River Farms Gold Label Wagyu Strip Steak, available exclusively in-restaurant for Father's Day. Top off an exceptional celebration with a special pour of a limited-edition batch of Eddie V's single barrel select Blanton's Bourbon, available as an enhancement and only found at Eddie V's restaurants. As a gift from Eddie, Dad will receive a highly sought-after collectible Blanton's topper by request. Eddie V's will be open early for Father's Day, from 11 a.m. to 8 p.m. with live music in the V Lounge from 4 p.m. to 8 p.m. and the full dinner menu available all day.
The Capital Grille
The Capital Grille is helping guests treat Dad to expertly prepared steaks that are dry aged in-restaurant and hand-cut by the in-house butcher. This year, Dads can enjoy a 20-ounce 30-Day Dry Aged NY Strip with Shaved Black Summer Truffles and Truffle Demi, available exclusively in-restaurant for Father's Day. Try a spin on their classic sides by adding truffles as an enhancement to dishes including Lobster Mac and Cheese and Sam's Mashed Potatoes. To ensure a perfect pairing for Father's Day dinner, Caymus will be available to order by the glass. The Capital Grille will be open from 11:30 a.m. to 9:00 p.m. at most locations with the full dinner menu available all day.
The Melting Pot
The Melting Pot (Littleton) is offering Father's Day special menus on June 18. Priced at $55 per adult and $25 per child ages 10 & younger. The menus include creamy cheese fondue, fresh salads, premium entrées and chocolate fondue. Cheeses offered on this special menu include our Wisconsin Cheddar or Fiesta cheese fondue. The Melting Pot House, Caesar, or California Salads are available or a Fruit Cup for the kids. Entrée options are vegetarian for $50, Father's Feast for $55, or Dad's Celebration for $70 including a cold-water lobster tail.
The Garden Terrace at The Hilton Denver Inverness
The Garden Terrace at The Hilton Denver Inverness is offering a Father's Day brunch on June 18. Priced at $89.95 per person. Start your brunch off with a Bourbon Tasting from local Colorado distiller Law's Whiskey. Enjoy additions to their award-winning brunch that include; Steak & Eggs Benedict Station with BBQ Rub Hollandaise, Smoked Prime Rib, Smoked Brisket with Jalapeño BBQ Sauce, Carved Black Pepper Applejack Slab Bacon, Sriracha Dijon Candied Bacon, Bacon Beignets with Blackberry Jam, Bourbon Caramel Cheesecake, Bourbon Bacon Pecan Pie & Signature Bourbon Cocktail.
Fleming's Steakhouse
Fleming's Prime Steakhouse & Wine Bar is celebrating Father's Day's Weekend from June 16-19. There are four different surf and turf entrées to choose from on their 3-course Father's Day menu this year – a 35oz USDA Prime Tomahawk & North Atlantic Lobster Tail ($140 per guest), a 20oz USDA Prime Bone-In Ribeye & North Atlantic Lobster Tail or their tender Filet Mignon with either Crab-Stuffed Shrimp Scampi or Lobster Tail Scampi. The 3-course menu starts includes choice of salad and dessert.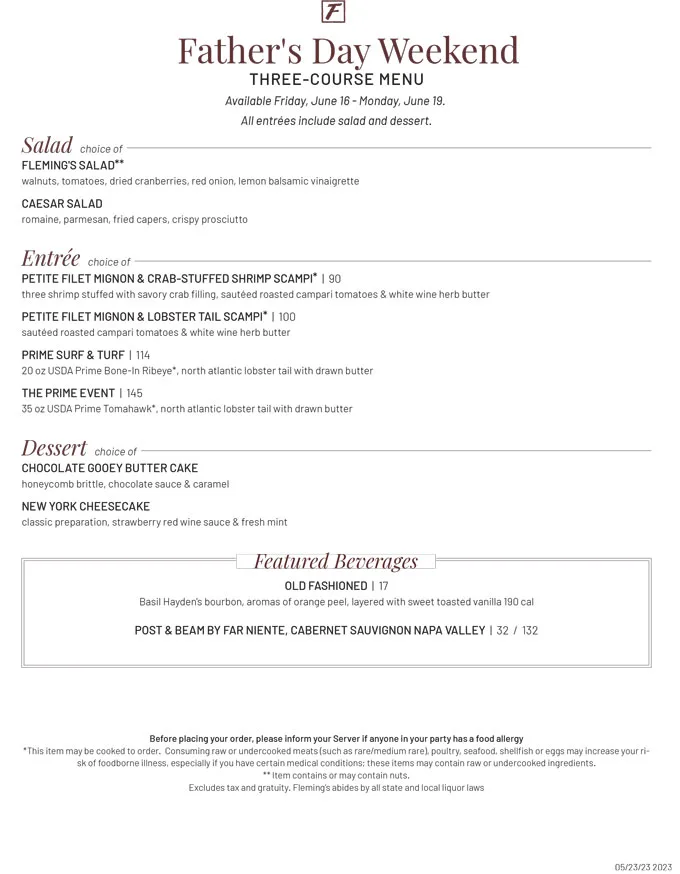 Fleming's is also featuring its Signature Old Fashioned cocktail for $16. Full dinner menu and 3-course children's menu are also available. All locations will open early at 2 PM on Saturday, June 17 and 12 PM on Sunday, June 18.
Want to gift Dad a night out instead? Buy him a $100 gift card until June 18 and earn a $20 e-bonus card (bonus card valid June 19-August 20).
Gift Ideas
Bounce Empire
This Father's Day, journey to Lafayette, Colo, and enter the thrilling world of Bounce Empire—an extraordinary indoor amusement park inspired by the owner's undying childlike spirit and created with a deep desire to provide a space where both parents and kids can revel in excitement!
What sets Bounce Empire apart is the thoughtfully concepted areas for both children and adults. With inflatable games, challenging obstacle courses, sports activities, movie theaters, massage chairs and a 21+ only lounge, there is an immersive experience tailored for everyone! While children explore the dedicated bounce areas, Father's can step away and immerse themselves in a realm of relaxation and indulgence in Bounce Empire's 21+ lounge that overlooks the park. Gift your dad an unforgettable adventure this Father's Day! Tickets are available to purchase here.
Floyd's 99 Barbershop
Before you pick out another lame card or tacky tie for your dad this year, consider showing your appreciation by taking him to get MANpered instead.
What is "MANpered?" MANpered is that sweet but manly feeling of getting pampered. It's not cucumbers on your eyes with fuzzy slippers and fruit drinks. It's convincing him to put down the weed wacker and the grilling tools so he can enjoy a well-deserved, relaxing experience that's all about him.
This year for Father's Day, treat your dad to a Floyd's 99 Barbershop classic straight razor shave so he can get pampered, the manly way. Let him enjoy a shave the way it was intended. Our expert barbers will give your dad an old-school classic barbershop shave complete with a hot towel, hot lather, and a straight razor to leave him feeling relaxed and ready to take on the day. Make and appointment here or get a gift card for your him here.
Unique Father's Day Gifts
Check out my roundup of Unique Father's Day Gifts on Amazon.
Check back later as more offerings are added.