This year, Family Services of Greater Vancouver (FSGV) is encouraging the community to commemorate the concept of Family Day by purchasing tickets to the Fam Jam Kitchen fundraiser, taking place on April 9 and led by celebrity chef Bruno Feldeisen, with all proceeds supporting local families in need.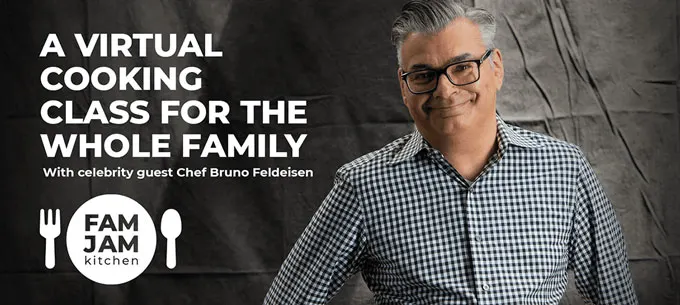 Today's families are more varied than ever before.
From seniors, single parents, community members and newcomers to Canada, to youth, foster parents, caregivers and friends, families are everywhere – and while every family does their best to support those in their care, sometimes they need a little help or inspiration.
As the largest family services provider in BC, FSGV provides more than 50 critical programs, services and workshops across Greater Vancouver that assist families facing food insecurity, financial instability, single parenting, homelessness and other pervasive challenges.
The non-profit's highly trained counsellors, therapists and staff serve 12,000 people annually, empowering them to create lasting positive change.
British Columbians can support FSGV's efforts by purchasing tickets to Fam Jam Kitchen, a fundraiser that invites donors to participate in a virtual cooking class led by Chef Bruno Feldeisen, award-winning pastry chef and judge on Great Canadian Baking Show.
With ingredients provided by Fresh Prep, the live 90-minute, family-friendly event will be full of engaging and interactive content for adults and children alike, including tips to get kids excited about mealtimes.
Participants will be sent delicious meal kits, complete with nutritious ingredients and recipes, in advance of the event.
Support families in need across Greater Vancouver by purchasing tickets to the Fam Jam Kitchen fundraiser hosted on April 9.
Tickets will be available online starting February 21 at www.famjamkitchen.ca.
Each family ticket will include access to the virtual event as well as a meal kit for 3 adults or 2 adults with 2 children, featuring a starter and main from Fresh Prep for the cook-along experience and a handcrafted dessert from Chef Bruno himself.
Or, make a contribution to the recently launched Stronger Families Fund, which connects B.C. families to counselling and trauma services, conflict mediation, community kitchens, life skills development for youth with special needs, and literacy programs and workshops.
For more information about FSGV, visit www.fsgv.ca.