As popularity for thin crust pizza continues to grow, DIGIORNO is answering the call with its latest culinary innovation: the all-new DIGIORNO® Classic Crust Pizza.
Hitting shelves this September, this new deliciously affordable pizza serves up the same fresh baked taste and aroma thin crust fans know and love from DIGIORNO.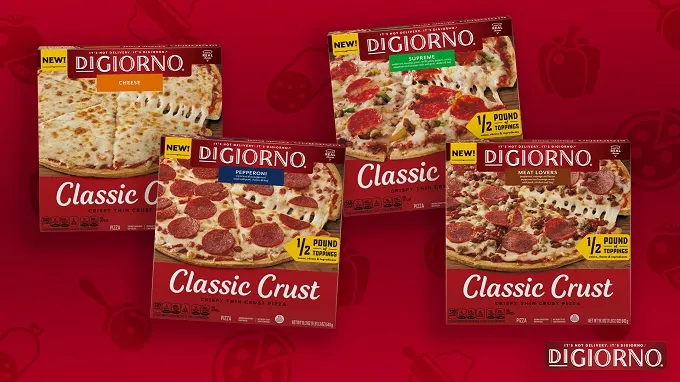 This latest product expansion marks the tenth crafted crust option currently offered by the brand.
Perfect for thin crust lovers who can't get enough toppings, DIGIORNO® Classic Crust Pizza is made with 100% real cheese and loaded with ½ pound of sauce and other toppings piled on a buttery, crispy thin crust.
Boasting hearty flavor in every bite, the new classic crust is available in four mouthwatering varieties:
DIGIORNO® Classic Crust Pepperoni Pizza is made with signature sauce and stacked high with sliced & diced pepperoni.
DIGIORNO® Classic Crust Cheese Pizza is simple, delicious, and topped with melty mozzarella cheese.
DIGIORNO® Classic Crust Meat Lovers Pizza is piled high with pepperoni, sausage and bacon.
DIGIORNO® Classic Crust Supreme Pizza is loaded with pepperoni, sausage, colorful peppers and onions.
All four varieties of DIGIORNO® Classic Crust Pizza are available now at select retailers nationwide in the US for an MSRP of $5.49 (prices may vary by store).
For more information and tasty pizza products, check out goodnes.com/digiorno/ or follow @DiGiorno on your favorite social media channels.