This holiday season might look a bit different compared to previous ones but there's always reasons to eat, drink and be thankful. Here is a list of restaurants and businesses in Victoria and rest of Vancouver Island that have special Christmas offerings this year.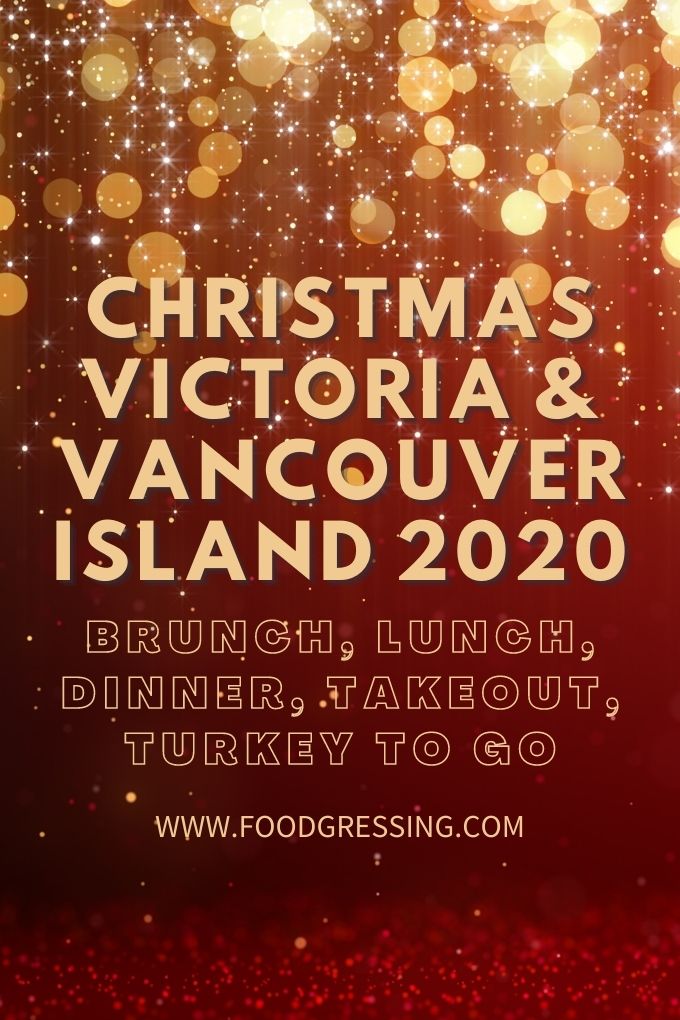 Of course, any support to local businesses is appreciated in these times. Christmas celebrations can take on different forms from traditional, fusion to modern. Please use this list as an inspiration for ideas on how to put together your own Christmas celebration.
This list is updated as information becomes available. Please reach out to me foodgressing@gmail.com or @foodgressing on social media (Instagram, Facebook, Twitter, TikTok) for any suggestions.
Christmas Day & Eve Dine-In
The Courtney Room @ Magnolia Hotel (Victoria)
The Courtney Room will host a special three-course Christmas menu on December 24 and 25.
The Pacific Restaurant @ Hotel Grand Pacific (Victoria)
Hotel Grand Pacific's The Pacific Restaurant is offering 3-course plated Christmas dinner on December 24 & 25.
Oak Bay Beach Hotel (Victoria)
Oak Bay Beach Hotel is offering the Christmas Day Brunch and Christmas Day Dinner.
Christmas Day Brunch is held in the Grand Lobby with a lavish table d'hôtel dining experience created by Executive Chef Kreg Graham. There will be two seatings for brunch held at 10:00 a.m., and 12:30 p.m. on December 25, 2020. Please note, your reservation is for 1 hour and 45 minutes of dining. Tickets: Adults: $78 / Children: $35 / Children 2 and under complimentary.
Christmas Day Dinner is served in the neighbourhood's favourite pub, The Snug, as well as The Grand Lobby. Two seatings at 5:00 p.m. and 7:30 p.m. Please note that reservations will be taken for Hotel Guests only until Dec. 1, 2020, at which point they will then be opened up to the general public. Tickets: $85 + tax per person.
Brentwood Bay Resort (Brentwood Bay)
Brentwood Bay Resort's The Arbutus Room is offering a 3-course Christmas dinner priced at $70 per person.
Tigh-Na-Mara Resort (Parksville)
Tigh-Na-Mara Resort is offering a Christmas Morning Plated Prix Fixe Menu from 9 am - 1 pm. Adults from $36 per person. Children under 12 years from $14.
They also have a 4 Course Set Menu for Christmas Dinner from 3:30 pm - 8:30 pm. Adults $69. Children under 12 years $23.
Kingfisher Spa (Courtenay)
Kingfisher Spa is offering a few holiday offerings:
Christmas Eve 3-course plated dinner from 5 pm onwards ($85 per person)
Christmas Day Brunch at AQUA from 9 am - 2 pm (regular brunch menu)
Christmas Day 3-course plated dinner from 4:30 pm onwards ($85 per person)
Christmas Turkey-To-Go
Fairmont Empress
The Fairmont Empress is offering Festive Turkey to Go which includes herb brined & slow roasted Vancouver Island free run turkey, sourdough-sage stuffing, rosemary & garlic roasted creamer potatoes, maple roasted roots, green beans, rich turkey gravy, house made cranberry-apple chutney and Portofino crusty rolls. Serves 8-10 people. Ready to roast is $374 and Ready to Serve is $399.
Pick up December 24 (ready to serve or ready to roast)
Pick up December 25 (ready to serve only)
Whole Foods (Victoria)
Whole Foods is offering Festive Feasts, Classic Roast Turkey Breast Dinners, Whole Turkey, Sides, Desserts and more. Please check your local Whole Foods to see what is offered as offerings may vary by location.
Tigh-Na-Mara Resort (Parksville)
Tigh-Na-Mara Resort is offering Christmas Turkey To Go options:
Whole Turkey (up to 20 people) - $325 plus applicable taxes
½ Turkey (up to 10 people) - $175 plus applicable taxes
3-course For One - Includes appetizer & dessert. $40 plus applicable taxes
Prime Dinner Half (up to 8 people) - (approx 13 lbs raw weight) $225 plus applicable taxes
Prime Rib Dinner 3-course For One - Includes salad & dessert. $45 plus applicable taxes
Orders must be placed by 8pm on Monday December 21, 2020. Pickup from 3 pm - 5 pm on Dec 24 or 25.
Holiday Gift Ideas
If you're looking to buy some gift cards for loved ones or yourself this holiday season, you might want to take advantage of some restaurant gift card deals. Large chains (like Cactus Club, Earls, Boston Pizza) and other local restaurants are offering bonus gift cards with gift card purchases. See restaurant for details.
Donate
Food banks are in great need of donations during these difficult times. Please consider making a donation this holiday season or anytime during the year.