This holiday season might look a bit different compared to previous ones but there's always reasons to eat, drink and be thankful. Here is a list of restaurants and businesses in Ottawa that have special Christmas Ottawa 2020 offerings this year.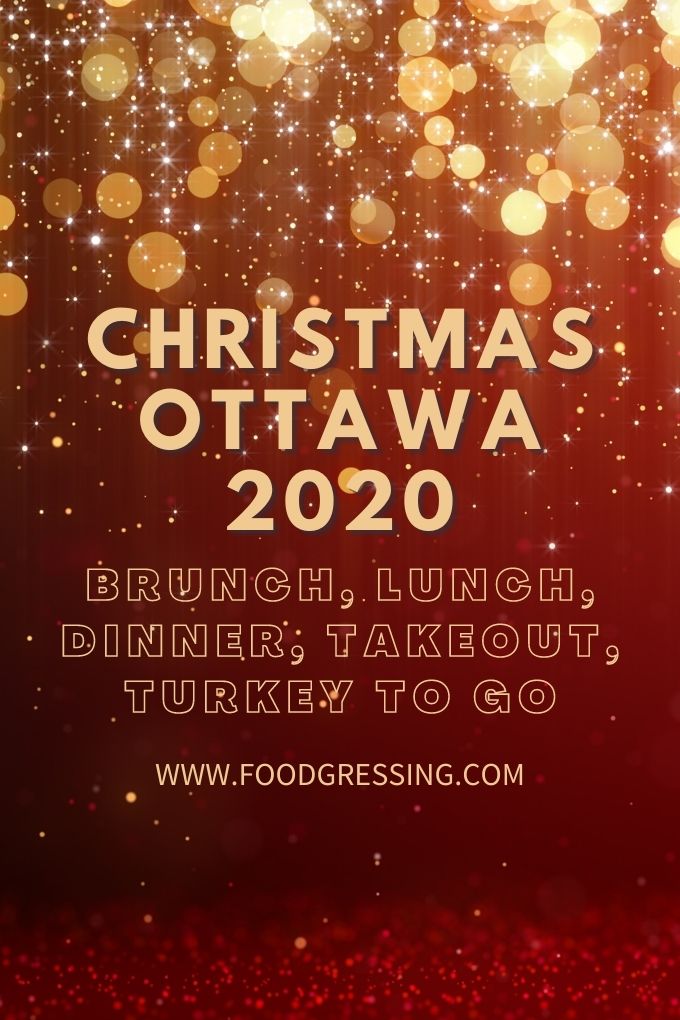 Of course, any support to local businesses is appreciated in these times. Christmas celebrations can take on different forms from traditional, fusion to modern. Please use this list as an inspiration for ideas on how to put together your own Christmas celebration.
This list is updated as information becomes available. Please reach out to me [email protected] or @foodgressing on social media (Instagram, Facebook, Twitter, TikTok) for any suggestions.
Christmas Turkey to Go
Brookstreet Hotel
Brookstreet Hotel is offering Christmas Turkey to Go available for pickup on December 24 & 25. Priced at $249 and serves up to 10 people:
A whole roasted free range turkey (15 -18 lbs)
Thyme & confit garlic bread stuffing (1kg/2.2lbs)
Gratin dauphinoise potato made with cream and emmental cheese
Medley of maple glazed carrot, butternut squash, brussels sprouts, dried cranberries and spiced pecans
Steamed green beans (1kg/2.2lbs)
Cranberry Compote (500mL)
Turkey Giblet Gravy (1L)
They are also offering a Christmas Dinner for Two to go priced at $79.95 on December 24 & 25.
SOUP: cinnamon squash & apple
SALAD: kale & cranberry salad, sundried cranberries, candied pecans, black currant dressing
MAIN: rooster roulade, thyme & confit garlic stuffing, nutmeg & brown sugar roast carrots & butternut squash, brussels sprouts, pommes dauphinoise, cranberry chow-chow, giblet gravy
SWEET: warm sticky toffee pudding, rum raisin sauce
NEXT
NEXT is offering Festive Turkey Dinner to Go for up to 10 people. Pick up December 19 – 26 from 3:30 pm – 5 pm. Packages start at $215.
Whole Roasted Free-Range Tom Turkey | 15 to 17 lbs
Roast Garlic & Rosemary Mashed Yukon Potatoes
Caramelized Vegetable, Onion, Brown Butter & Sage Stuffing
Blackie's Orange Cranberry Compote
Buttered Green Beans
Maple Squash + Zucchini
Cauliflower Gremolata
Pommery Mustard and Herbed Gravy
Apple Crumble Pie
Chances R Restaurant
Chances R Restaurant is offering a roast turkey dinner ($20) for dine-in or takeout up to and including December 24. Available for dine in and takeout between 12:00 pm – 8:00 pm.
Roast Buttered Herb Turkey
Thyme, Garlic & Bacon Bread Stuffing
Yukon Gold Mashed Potatoes
Honey Glazed Carrots
Cranberry Sauce
Housemade Gravy
OCCO Kitchen
Occo Kitchen is offering Turkey Takeaway for pickup on December 24 & 25 at designated time slots from 3:30 pm – 5:30 pm. Priced at $135 for 5 ppl or $225 for 10 ppl.
Slow Roasted Turkey Breast
Honey Glazed Carrots & Roasted Seasonal Vegetables
Buttermilk Yukon Gold Whipped Potatoes
Mt Scio Savoury Stuffing
Cranberry Chutney
Pan Gravy
Seasonal Homemade Dessert
Joey Restaurants
Joey Restaurants is offering a Turkey Dinner to Go priced at $185 and serves 4 – 6 people. Available for pickup on December 23 and 24. It includes:
Oven roasted turkey with gravy
Caramelized apple and sage stuffing
Roasted garlic mashed potatoes
Butter glazed harvest carrots and yams
Pan roasted Brussels sprouts
Fall kale salad
Dinner buns
Cranberry sauce with orange zest
Fresh baked apple cranberry pie with maple ice cream
Red Apron
Red Apron is offering fixed menus on December 22, 23 and 24, with a fixed portion size that serves 4 generously.
Protein options include:
Ontario Berkshire Ham with Honey Mustard Sauce
Wine Braised Enright Beef & Organic Mushroom Ragu
Butter Basted Local Turkey (Dark & White Meat)
They also have other seasonal items, desserts and more.
Farm Boy
Farm Boy has a few holiday options:
Cyranos
Cyranos in Nepean is offering Turkey Dinner to Go for Two ($50) on December 23 & 24 2 pm – 5 pm with options of add-ons. Order by December 16.
Freshly Carved Turkey – both white and dark meat
House Made Baguette
Creamy Mashed Potatoes
Herbed Stuffing
Oven Roasted Brussel Sprouts, Carrots & Parsnips
Steamed Green Beans
Gravy
Whole Foods
Whole Foods is offering Festive Feasts, Classic Roast Turkey Breast Dinners, Whole Turkey, Sides, Desserts and more. Please check your local Whole Foods to see what is offered as offerings may vary by location.
Epicuria
Epicuria has a turkey dinner for 8 featuring sage and butter basted turkey breast and leg, served with stuffing, gravy, cranberry chutney, four side dishes and a decadent holiday dessert for December 23 & 24. they also a wide range of holiday dishes available.
Denny's
Denny's is bringing family-style, re-heat at home turkey dinner bundles back just in time for the holidays.
From December 22nd to January 4th, you can order a roast turkey dinner for 4 people for $59.99, or get the entire package with a whole pumpkin or pecan pie for $74.99. Offer valid for take-out only.
Option #1 – Traditional turkey dinner for 4 people featuring tender carved turkey breast, savoury stuffing, garlic red-skinned mashed potatoes, turkey gravy, cranberry sauce and your choice of broccoli or sweet petite corn. Pick up cold and reheat at home. ​
Option #2 – Traditional turkey dinner for 4 people featuring tender carved turkey breast, savoury stuffing, garlic red-skinned mashed potatoes, turkey gravy, cranberry sauce and your choice of broccoli or sweet petite corn. Pick up cold and reheat at home.
Please check out my post on Denny's Christmas Menu 2020.
Meatings Barbecue
Meatings Barbecue is offering Christmas turkey dinners to go. $150 for half turkey dinner (feeds 4-6). $250 for full turkey dinner (feeds 8-10).
Smoked Turkey
Cranberry Sauce
Turkey Gravy
Apple Bacon Sourdough Stuffing
Sweet Potato Casserole with Marshmallows
Carrot and Brussel Sprouts with Garlic Parmesan
Chocolate Chip Bread Pudding with Bourbon Vanilla Sauce
Festive Dining
Aiana Restaurant Collective
Aiana Restaurant Collective is offering Holiday Menus for 2 or 4 people. $150 per couple. Available December 22, 23, 29 and 30.
DIY Ideas
The Piggy Market
The Piggy Market has a variety of butcher products including turkey, goose, duck and ham.
They also have Charcuterie Boards, Sausage Stuffing, Gravy, Cranberry Sauce, easy to reheat fully prepared dinners, and more.
Festive Things to do in Ottawa
With tons of lights displays and skating rinks, Ottawa provides tons to do every winter for visitors and locals alike. Here are the some ideas on Christmas things to do in Ottawa 2020.
Holiday Gift Ideas
Restaurant Gift Cards
If you're looking to buy some gift cards for loved ones or yourself this holiday season, you might want to take advantage of some restaurant gift card deals. Cactus Club, Earls, Boston Pizza and more are offering bonus gift cards with gift card purchases. See restaurant for details.
Wayne Gretsky Distillery
Wayne Gretsky Distillery whiskies are proudly crafted in Canada and can be purchased at LCBO and select private stores.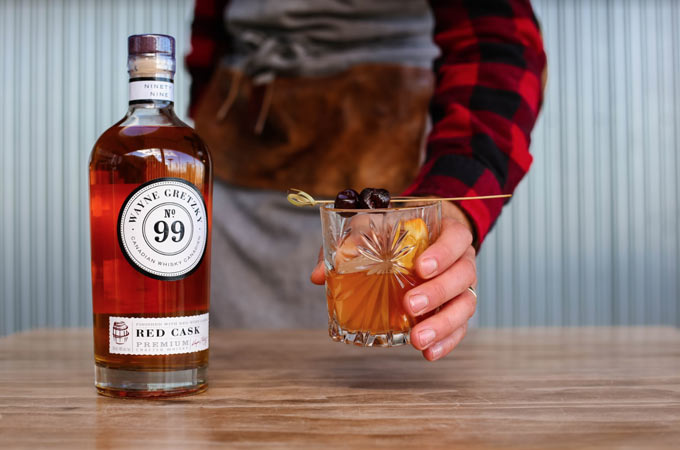 Some gift suggestions include Wayne Gretzky Distillery Ninety-Nine Proof, Wayne Gretzky Distillery Ice Cask Whisky, and Wayne Gretzky Distillery Red Cask Whisky.
Donate
Food banks in Ottawa are in great need of donations during these difficult times. Please consider making a donation this holiday season or anytime during the year.