Looking to spend Christmas in Naramata BC Canada? Here's a look at the festive offerings at the Naramata Inn.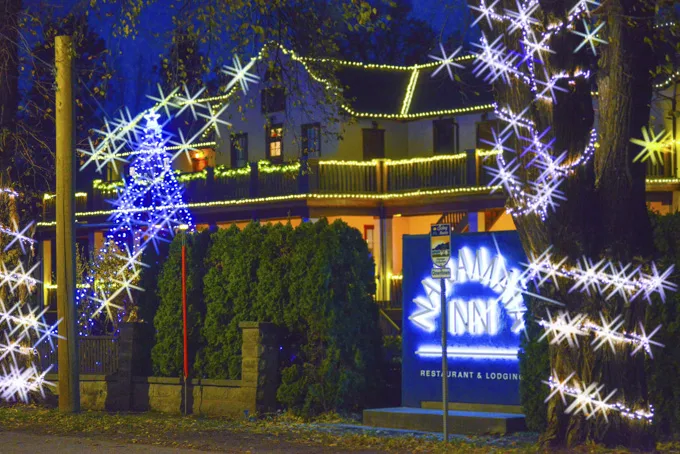 Christmas Dining Naramata Inn
Christmas Eve
The restaurant will be open for lunch and dinner on Christmas Eve, offering their regular menu highlighting the best of the season, along with a some festive specials. Please note that they will be closed on Christmas Day and Boxing Day.
Seasonal Service
Throughout the holidays, the Restaurant at Naramata Inn is a special place to celebrate, and is open for reservations for lunch and dinner service, Wednesday through Sunday, offering seasonal menus sure to bring good cheer. Reserve online here.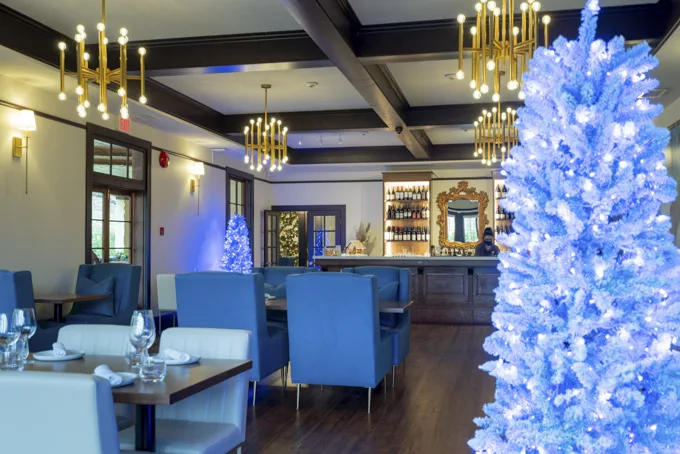 Brunch with Santa
Join Naramata Inn for a special Brunch with Santa on December 5 featuring a private visit with the Big Guy himself. Kids 12 and under will enjoy a two-course menu of their favourites with a beverage, along with a professional photo with Santa in their holiday hideaway (lower dining room). Grown-ups have lots of options on the two-course brunch/lunch menu that includes a savoury dish, a sweet finish and glass of bubbles. And a picture too of course. Both menus include a donation to the Naramata Childcare Development Centre, an essential service for Naramata families that needs some extra love this year. Kids $19, Adults $49 (includes donation to the NCDC).
Visits with Santa begin at 10:30 am and run through 11:40 am – families will be assigned a time based on their reservation. Photos will be taken on a volunteer basis by Penticton Herald photographer, Mark Brett who will send a high-resolution photo to the email address provided.
Photos with Santa
Sunday, December 5; timed photo opps available from 12:00 pm – 3:00 pm
Santa is returning to the Village this Sunday for pictures and holiday gift downloads for kids and adults alike. This event is volunteer run and will be by donation with ALL proceeds going to the Naramata Childhood Development Centre. Join us in the lower dining room for hot chocolate, a visit with the guest of honour, and a professional photo that will be emailed to you.
Group Dining
Bring together the office to toast a successful year, invite favourite neighbours to share festive spirits, or plan a special night out for the family. Naramata Inn is excited to welcome groups with a prix fixe menu that showcases seasonal favourites. Groups of 12 and under can be seated in the restaurant dining room, while larger groups can be accommodated in the lower dining room, with private dining options available.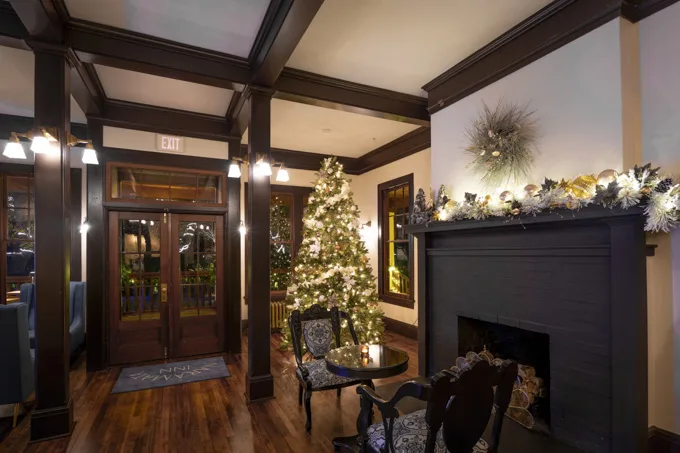 Holiday Gifts
Christmas shopping made easy for lovers of local food and wine. Naramata Inn is offering a variety of holiday treats and gifts that bring the Inn experience to those on your naughty-or-nice list, list.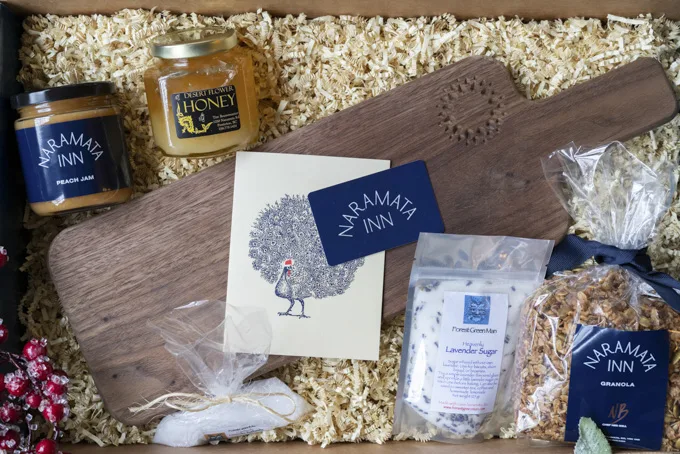 Shop the online store for stocking stuffers like homemade preserves, along with signature beach towels and robes, and much more—sure to please even the trickiest people on gift lists.
Peach, Apple & Pear Preserves – A sweet addition to your toast or cheese plate. Using the Okanagan's seasonal bounty of fruit, their kitchen makes its own preserves that we serve hotel guests with a farm-to-table Continental breakfast each morning.Bonus – we are sharing our Baker, Dana Ewarts recipe for the perfect Pain Rustique.
Apple & Cherry Granola – A Naramata Inn classic, their housemade granola is great for breakfast or snacks. It features sun-dried cherries and Okanagan apple, is nut-free, vegan and full of healthy seeds.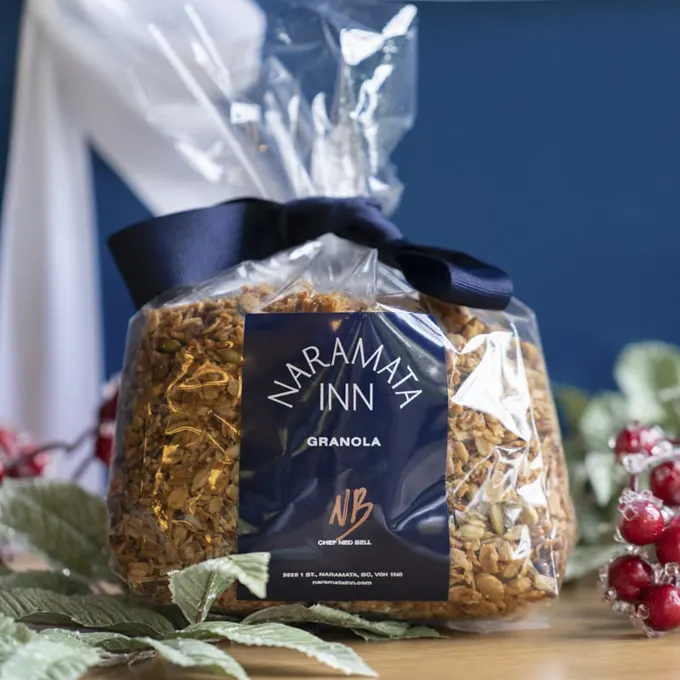 Stollen – Let's be honest: no one ever says fruitcake is their favourite holiday treat. But this is stollen—fruitcake's bready, marzipan-stuffed, sugar-dusted German cousin. Their stollen comes from Swedish royalty via the now-closed Four Seasons Hotel Vancouver, and is produced by their friend Mark Burton at his new Best Kind Bakeshop using the original recipe.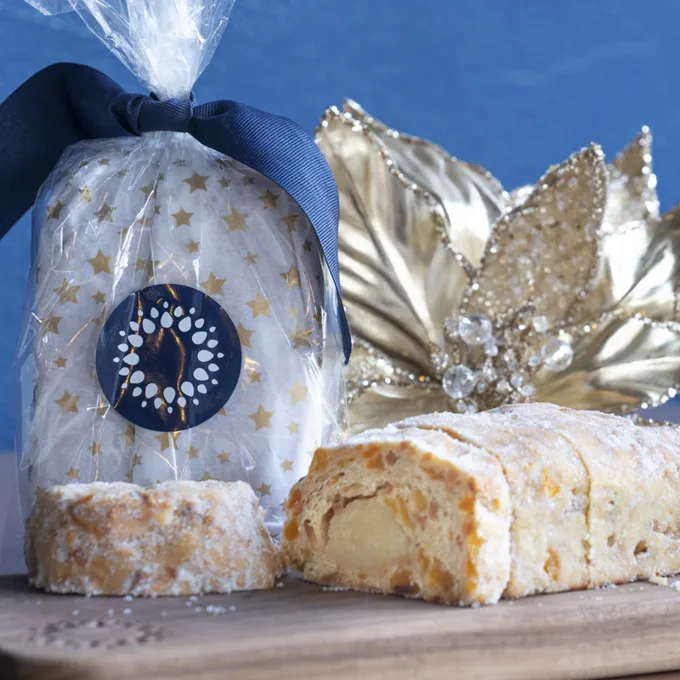 Pastry Chef Gerhard Weitzel was passed the recipe by a friend of his who had previously worked for the King of Sweden. He started making the traditional Christmas bread himself at the Four Seasons back in 1991, producing up to 900 loaves per year, even after he had officially retired. With hotel closing, the recipe was passed to Mark, along with some of the original wooden frames used for baking.
Each 80-loaf batch calls for 6.6 pounds of butter for the marzipan centre alone and another 10 pounds of butter for the dough, along with golden raisins, 12 two bottles of rum, and the zest of 25 oranges and 25 lemons.
NOTE: This item is only available for local "Inn person" pick-up
Chef Ned Bell's Lure Cookbook– Give a signed copy of Chef Ned Bell's cookbook, Lure: Sustainable Seafood Recipes from the West Coast. Eating sustainable seafood is about opening your mind (and fridge) to a vast array of fish and shellfish that you might not have considered before—and the Pacific Coast is blessed with an abundance of wild species. With Lure, readers embark on a wild Pacific adventure and discover the benefits of healthy oils and rich nutrients that seafood delivers.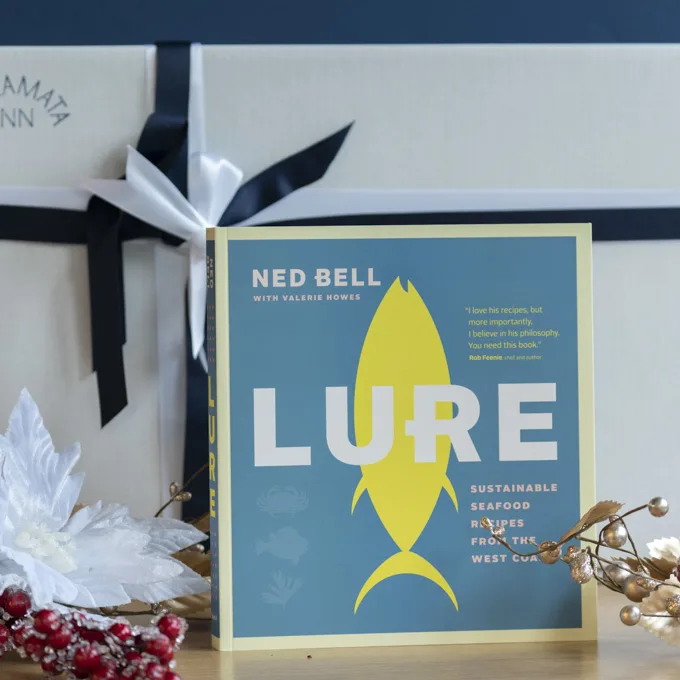 Signature Bath Robe – Wrap up and relax in the Inn's signature waffle weave cotton robe, embroidered with the Inn's icon. One size fits all.Signature Steak Knives – Dine in style with a set of four Naramata Inn Savoir Laguiole steak knives. These are the very same knives as we use in our restaurant, with stainless steel blades finished with black Teflon, and our icon laser-engraved into the handsome wenge wood handles.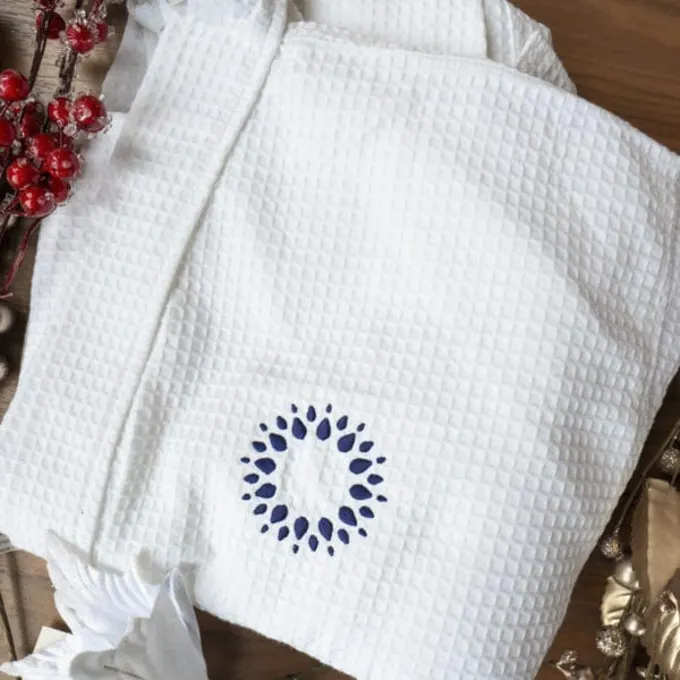 Gift cards – Not everyone will be able to make it to Naramata Inn this holiday season, so give the gift of an "Inn Real Life" experience for 2022 tucked in with a few of the treats available online. Even better: spend over $500 in total on gift cards in the one transaction, and Naramata Inn will give the gifted their own bonus gift card worth 10% of the total. Recipients will be thrilled to discover all Naramata and the Inn has to offer; history, beauty, and really good bread. If they haven't heard, Naramata Inn is a really great restaurant, with rooms. The best of the Okanagan's natural bounty can be found right here in one place.
Visit naramatainn.com/store to view all gift giving options. Shipping Canada-wide.