This holiday season might look a bit different compared to previous ones but there's always reasons to eat, drink and be thankful. Here is a list of restaurants and businesses in Halifax that have special Christmas Halifax 2020 offerings this year.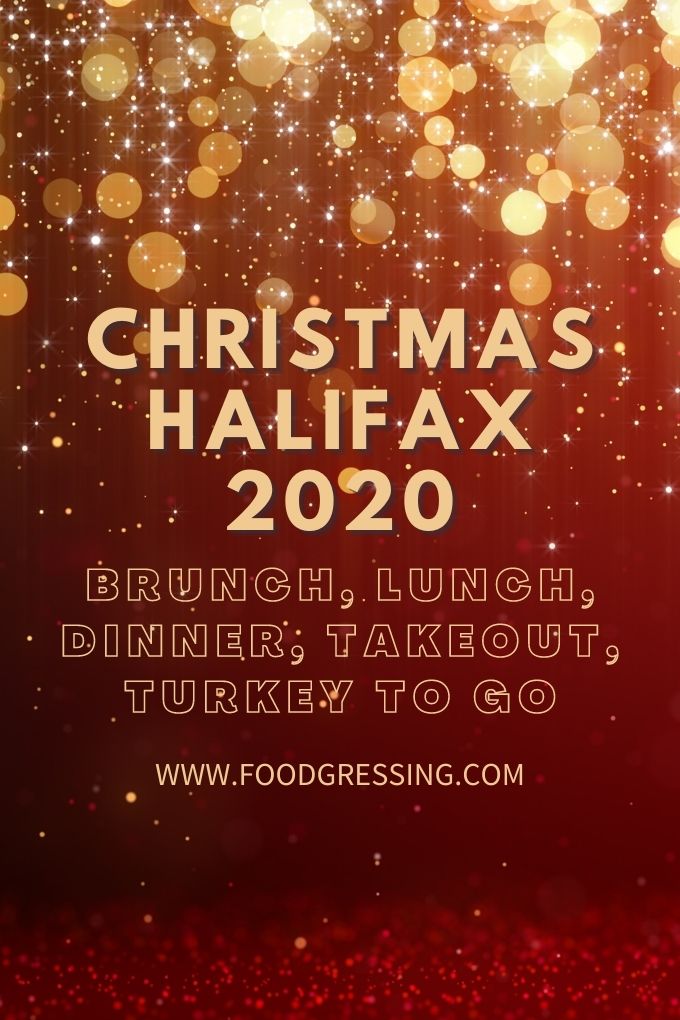 Of course, any support to local businesses is appreciated in these times. Christmas celebrations can take on different forms from traditional, fusion to modern. Please use this list as an inspiration for ideas on how to put together your own Christmas celebration.
This list is updated as information becomes available. Please reach out to me [email protected] or @foodgressing on social media (Instagram, Facebook, Twitter, TikTok) for any suggestions.
Take Out
Kitchen Door
Kitchen Door is offering festive platters; gift boxes; hors d'oeuvres; individual boxed turkey lunch or dinner; and signature boxed lunch.
Divine Dishes
Divine Dishes is offering Holiday Dinner & Desserts for pick on Christmas Eve 10 am – 2 pm.
Cosy Snack Bar
Cosy Snack Bar is offering Christmas Dinner Takeout priced at $19.95.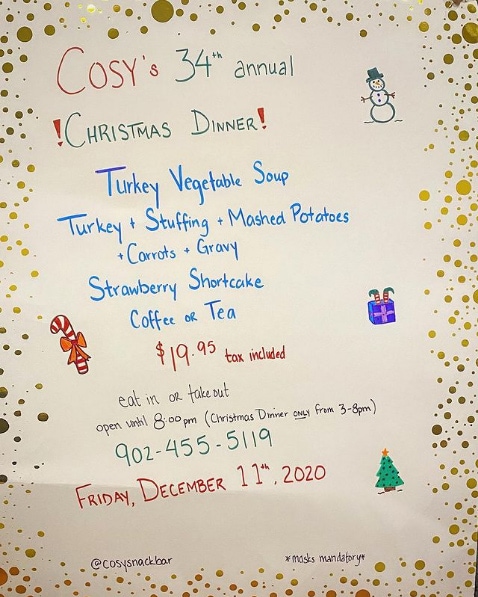 Rudy's Catering
Rudy's Catering is offering holiday dinner to go. Order online or email [email protected]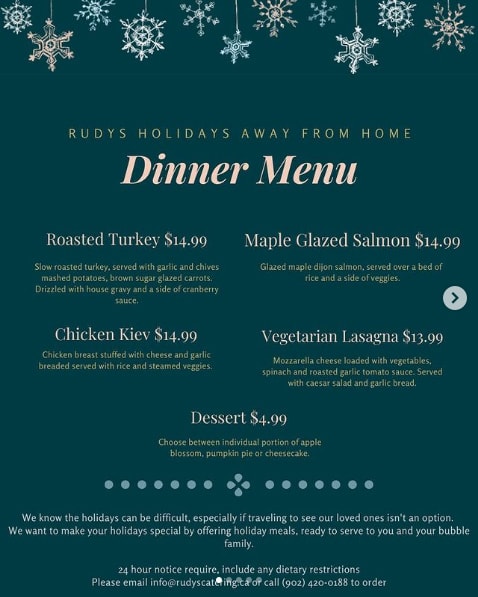 Pantry by Scanway
Pantry by Scanway is offering Holiday Turkey Dinner for pick up at 4 pts Sheraton Lobby on Hollis St. and 150 Willow-Best Western Glengarry from December 24 – 25, 12 pm – 2 pm. Prices are ranging from $36-$315 with required add-ons and available for delivery with additional $15 fee.
Individual Turkey Dinner: $36 | (GF): $38
Whole Turkey w Fixings
(10-12lbs) $215
(15-18lbs) $315
Turkey, Stuffing & Gravy
(10-12lbs) $115
(15-18lbs) $195
MENU:
CHOICE of Soup: Cinnamon Maple Roasted Butternut squash soup
OR Kale, Sweet Potato, Pomegranate & nuts salad w pomegranate-poppyseed dressing
Slow-Roasted Maple Turkey w Reisling gravy
Sweet Onion Cornbread & Brioche Dough Stuffing
Roasted Garlic Smashed Potato
Butter-roasted Winter Root Vegetables and Brussell Sprouts w Cumin, Orange & Honey
Scanway's Artisinal Stollen Bread Slice
Scanway's Famous Florentines
CHOICE of Dessert: Eggnog Cheesecake OR Spiced Ginger and Apple Cake with Caramel Sauce
Festive Meals
Smitty's
Smitty's is offering a 3-course festive feast for $19.99. Includes your choice of either Home-Style Turkey or Roast Beef Dinner, complete with mashed potatoes, gravy and steamed vegetables.
Morris East
Morris East has a holiday menu priced at $35 per person.
1st course: Choice of Appetizer or Salad
2nd course: Artisanal Pizza, Christmas Donair Pizza, Selected Main
3rd course: Choice of dessert
Desserts & Treats
Fresh on the Fly Catering is offering a gourmet cookie platter.
Christmas Things to Do Halifax 2020
Here are some ideas on Christmas Things to do in Halifax for 2020. Due to the evolving situation, please verify with the event/business on hours of operation and safety protocols.
Holiday Gift Ideas
If you're looking to buy some gift cards for loved ones or yourself this holiday season, you might want to take advantage of some restaurant gift card deals. Cactus Club, Earls, Boston Pizza and more are offering bonus gift cards with gift card purchases. See restaurant for details.
Make a Donation
Food banks in Halifax are in great need of donations especially during these difficult times. Please consider making a donation this holiday season or anytime during the year.