Here's a look at some offerings by local businesses to help you celebrate Chicago Hanukkah 2021.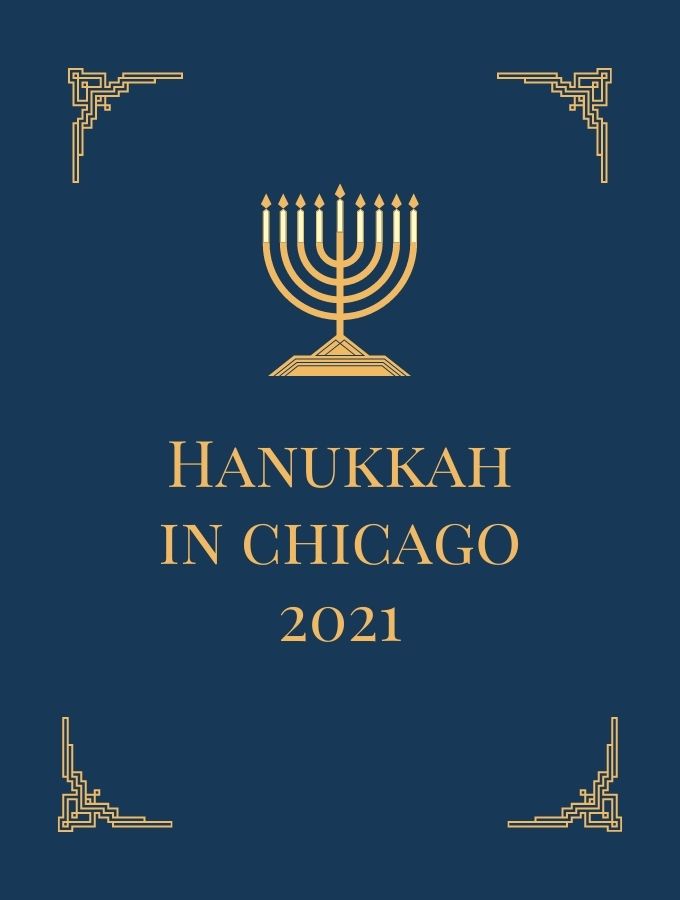 Please reach out to me [email protected] or @foodgressing on social media if you are a restaurant that wants to be featured. Provide all the details of your holiday offering in your message.
This list is not exhaustive. If your favorite restaurant is not on the list, contact them to see what they are offering.
Beatrix Fulton Market
Beatrix Fulton Market is offering a Hanukkah Dinner To-Go. Priced at $42.95 per person.
The dinner serves groups of 2, 4 or 6 and includes:
Challah Bread
Matzoh Ball Soup
Potato Pancakes w/ Sour Cream & Apple Sauce
Roasted Green Beans w/ Lemon Vinaigrette
Short Rib w/ Ginger Beets
Raspberry Macaroon
Chocolate Chip Coffee Cake
Pick-up is from November 28 – December 6 from 10:00 AM – 6:00 PM. Order one day prior by Noon. All food is served cold with reheat instructions.
They are also offering a Hanukkah Cookie Decorating Kit ($17.95 + tax) which includes:
6 Hanukkah themed sugar cookies
4 piping bags with icing (dark blue, light blue, white, yellow)
sprinkles
Available for pick-up Sunday, November 28 to Monday, December 6 from 9:00AM-7:00PM. Order two days prior to your desired pick-up date by 5:00PM.
Heritage Restaurant and Caviar Bar
Heritage Restaurant and Caviar Bar is offering an a la carte menu.
Available every day for a la carte purchase for however your family celebrates.
All portions meant to feed four (4) people.
Preorders are open now through Monday, December 6th.
Available for Pick-up starting on November 28th.
Kasia's Deli
Kasia's Deli is offering Hanukkah Dinner To-Go priced at $22 per person.
The menu includes:
Matzo Ball Soup
Choice of Entrée:
— Grilled Wild-Caught Salmon with Spinach & Capers or Oven-Roasted Turkey Breast in Turkey Gravy
Latkes with Apple Sauce and Sour Cream
Creamy Mashed Potatoes
Green Beans or Steamed Vegetables
Caesar Salad
Hewn Bakery – Evanston
Celebrate Chicago Hanukkah 2021 with some special items from Hewn Bakery!
Hanukkah is early this year, so please note that all pre-orders must be placed by 8pm Wednesday, November 24, 2021.
Special orders will be picked up Sunday, November 28th. They are closed Monday, November 29th.
There will be a limited supply of sufganiyot for walk-in sales during the week of Hanukkah.
Those will be first come, first served.
Sufganiyot – Raspberry: donut with house-made raspberry jam and powdered sugar
Chocolate Babka: a sweet bread with swirls of chocolate running throughout the inside
L. Woods Tap & Pine Lodge
L. Woods Tap & Pine Lodge is offering a Hanukkah meal for two that includes Matzo Ball Soup, Braised Brisket w/ Sweet & Sour Gravy, Roasted Brussels Sprouts, Potato Pancakes, Noodle Kugel and Chocolate Babka
Cost is $79.95, plus tax and each package serves 2.
Pick-ups are November 28th – December 6th From 12:00PM – 8:00PM. Order by 10:00PM the day prior. Delivery is available.
Jeff & Judes
Jeff & Judes has the following offerings:
Brisket for Two
Brisket for Four
Latke Fry-At-Home Kit
Matzo Ball Soup Pint
Challah & Sufganiyot Fry-at-Home Kit
Challah & Sufganiyot Dry Mix
Small Challah Braid
Large Challah Braid
Whole Sweet Cornflake Kugel
Black + White Cookie
Domaine les chesnaies Chinon Cab Franc (2019)