One of the best things to do in Las Vegas is to eat your way through Sin City. This list of the Best Restaurants in Las Vegas 2022 ranges from the new-to discover to the classics, taking you through the city's food scene.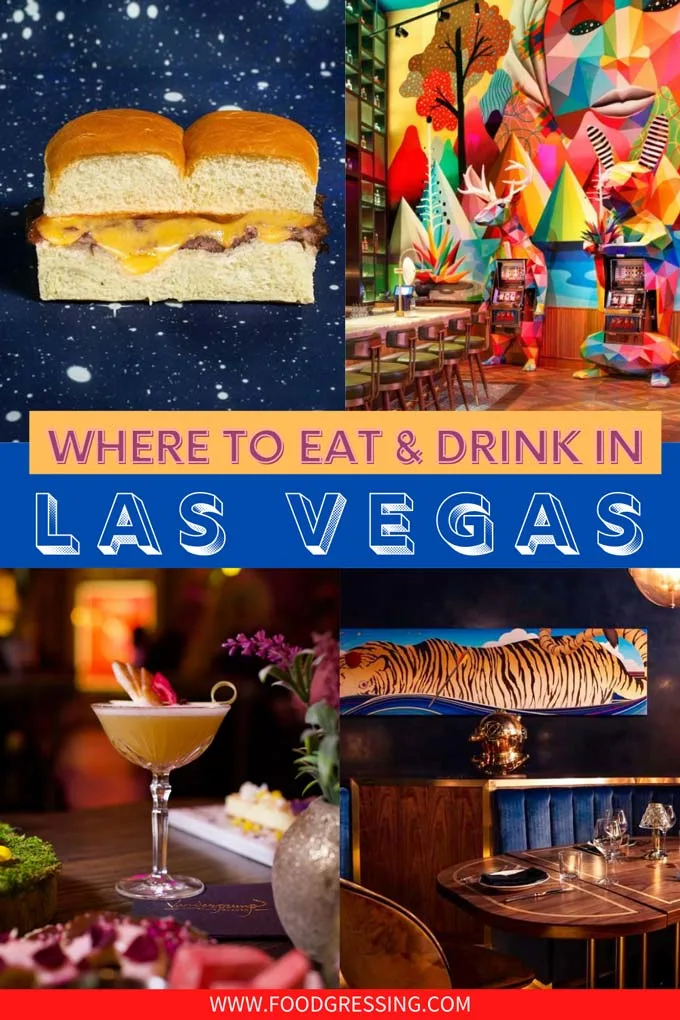 Las Vegas is known for a good time, and that includes many amazing places to eat.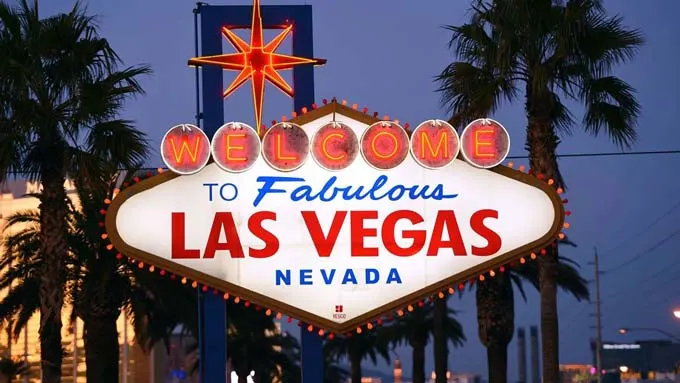 It can be hard to know where to start with so many top notch and world-class places to try.
Whether you're a tourist or a local, you'll want to check these spots off this list of best restaurants in Las Vegas 2021.
Best restaurants in Las Vegas 2021 that are new and buzzing
Steak at Barry's Downtown Prime
Barry's Downtown Prime is a new Las Vegas steakhouse located inside Circa Resort & Casino.
Choose the cut and whether you want yours fresh or dry-aged for 40 days.
Add luxurious additions like fresh truffles shaved tableside, lobster tails, or your choice of steak sauces from classic béarnaise to chimichurri.
And don't forget the sides! You'll find classics like crinkle-cut fries with house-made ketchup, lobster macaroni and cheese, and creamed spinach.
You'll also find exciting unconventional options like tater tots with poutine gravy and bang bang crispy cauliflower.
To complement your meal, browse their extensive wine list, abundant scotch options, and house cocktails.
Diner Breakfast with a Twist at Johnny C's Diner
Diner food isn't what you think of when you think "Vegas," but Johnny C's at the Las Vegas Motorcoach Resort is no average Las Vegas diner.
They're serving up classics with spectacular, luxurious twists. Think pan-seared foie gras pancakes with orange segments.
There's also the JC3 bacon dippers (bacon-stuffed pancakes) and the "OG" omelet with Boursin and American cheeses.
For dessert, try their made-to-order donut holes with whipped cream cheese and blueberry compote or their family recipe orange Creamsicle cake.
Casual Bites at Moon Palace by David Chang
Moon Palace is a restaurant at The Venetian by celebrity chef David Chang. They specialize in what they call Tastys, a brisket and short rib-blended patty between soft King's Hawaiian rolls. Located in The Palazzo at The Venetian Resort.
For the vegetarians, swap out the beef patty for an Impossible patty.
Whichever Tasty you choose, pair it with their house Hot Chips, fresh-made potato chips that blend crunchy and chewy textures.
Order them classic style or with honey butter. And with mango colada and lychee slushies you can add shots to, you'll find that this place urges you to embrace your fun side.
Pan-Asian Offerings at 8 East
When you first arrive, sip from 8 East's tea list; you'll want to take your time before you order from their enticing menu.
They specialize in small plates and tapas, so we recommend ordering an assortment and having a free-for-all with your whole group.
You'll find familiar flavors spun in a new and original way. Think musubi bites with sesame hollandaise, Tokyo crepes, salt and Szechuan pepper chicken wings, and cumin lamb lollipops.
If you're not into sharing, go for the signature 8 East ramen or lobster fried rice.
No matter what you order, it'll come with the house signature Chinese, Szechuan, Shangdu, and Thai sauces to play with flavors.
This is another place where you'll want to save room for dessert. Either to enjoy more of their fine teas or to sample the actual dessert offerings: Thai tea crème brulee and Asian tiramisu.
Best restaurants in Las Vegas 2021 for takeout
Comfort Food at Honey Salt
If you're weary of Las Vegas's never-ending glitz and glam, head over to Honey Salt Las Vegas and pick up an order to enjoy at home. They're all about creating homey, comforting dishes that make you feel cozy.
Their farm-to-table inspired menu features classics like their buttermilk chicken sandwich, Caesar salad, and meatballs as comforting as Grandma's.
If a return to the familiar is what the night calls for, you can't go wrong here.
Northern Thai at Lotus of Siam
For some fantastic Las Vegas Thai food, check out Lotus of Siam. Their menu is seriously extensive, so take your time perusing the online menu at home before you order.
On the menu you'll find a variety of seafood, noodles, curry, and barbecue items.
If you just want something quick and delicious, head straight for the Chef's Choice section.
You can't go wrong with options like deep-fried lobster in garlic sauce, drunken noodle prawns with homemade chili and Thai basil sauce, and Chilean sea bass with curry sauce.
Dinner for 2 (or 3) at Bazaar Meat
Bazaar Meat's takeaway menu sends you home with a feast with pre fixe starters (olives, gazpacho, Caprese salad, and more), sides (potato puree and grilled vegetables with Romesco sauce), and a dessert (Spanish flan). Located in SAHARA Las Vegas.
All you have to think about is the entrée – choose from options like Iberico pork, ribeye, and Wagyu brisket.
If you prefer to make your own decisions, they still have an a la carte menu available.
Offerings include the bocadillo sandwich with cured beef and mozzarella, the signature house burger, and crispy suckling pig.
You can even order a sangria kit with your choice of red or white wine.
All-Hours Breakfast from Peppermill Las Vegas
You'll find plentiful options for lunch and dinner at Peppermill, but their Las Vegas all-day breakfast is really where it's at.
Try their Polish sausage and eggs with a lemon-cranberry muffin, fruit fantasia waffle with blueberry syrup, or the crab cake eggs benedict. They also have a promising omelet menu.
Classic Upscale American from SW Steakhouse
Steak and seafood rule the day at SW Steakhouse. Start with the seafood spectacular or full caviar service with toast, blinis, and traditional trimmings while you peruse the steak menu.
If you're in the mood for something special (and if you're ordering from SW Steakhouse, you probably are), go for the Japanese Wagyu offerings.
But be sure to pay attention to the rest of the menu. Their scotch and whiskey selections are expansive and exciting.
Choose the perfect cocktail to complement the rest of your menu, with options like the Jack Black (Jack Daniel's, honeysuckle-peppercorn infusion, and blackberries), the lychee blossom martini, or the Café Manhattan with chocolate-walnut bitters.
It will come as no surprise that the dessert menu also isn't to be missed. Try the profiteroles with assorted ice cream flavors and pistachio, caramel, and raspberry sauces, or the cookie butter cheesecake.
Best restaurants in Las Vegas that are James Beard Award Winners & Nominees
Fine Chinese Dining at Mott 32
One of the best Las Vegas Chinese restaurants is Mott 32 at The Palazzo at The Venetian Resort.
Try the siu mai with soft quail egg, black truffle, and Iberico pork or the wagyu short ribs.
If you're into planning ahead, the apple-wood smoked Peking Duck is worth considering.
Order it when you place your reservation, because it needs 48 hours to cure in a specialized duck fridge prior to roasting. Needless to say, it's worth the wait.
Brunch and Cocktails at Esther's Kitchen
Another addition to this Best in Las Vegas Restaurants list is Esther's Kitchen.
Your biggest problem at Esther's Kitchen will be figuring out what to order.
Their toast menu alone is varied, expansive, and exciting – from their house-made Nutella with preserved and fresh cherries to the pistachio butter with seasonal raspberry jam.
Elsewhere on the brunch, menu you'll find offerings like truffle polenta and buttermilk pancakes with brown butter maple syrup and caramelized banana.
And of course, it's not brunch without cocktails. Their drinks menu is just as appealing as their brunch menu, with options like Just Around Midnight (brown butter bourbon, brown sugar syrup, and a whole egg) and the Magician's Assistant (mezcal, cynar, sweet vermouth, blackberry, and rosemary smoke).
Casual Cuisine at Other Mama
The chefs at Other Mama change the menu seasonally, so they're always utilizing the freshest ingredients.
At their sushi bar you'll find classics like spicy tuna and cucumber rolls, vegetable rolls with asparagus, avocado, and kimchi, and poke.
Avant-Garde French Cuisine at Bardot Brasserie
Enjoy classic French comfort food with a modern twist at Bardot Brasserie by celebrity chef Michael Mina. Located inside ARIA Resort & Casino.
Start with the oeufs mimosa while browsing the menu. Pair the honey nut squash bisque with the king crab and endive Caesar salad, or go all-out with a beef wellington or roasted rack of lamb and a side of Madeira-glazed mushrooms.
And if you're a fan of seafood, Bardot Brasserie is the place for you. Their shellfish and caviar menu is wide-ranging and enticing.
Their extensive wine list and indulgent French desserts like the chocolate macaron are sure to round out the night happily.
Small Plates at LAGO
As one of the best Bellagio restaurants, LAGO's objective is to let you indulge in delicious Italian cuisine without overdoing it – not too formal, not too heavy, not too much.
And you can enjoy LAGO your way. Savor Italian classics with their pre fixe menu or tackle the menu on your own.
­­­­Offerings include individual-sized pizzas, plentiful vegetarian options, abundant pasta dishes, and seafood classics.
Save room for dessert so you can enjoy the limoncello cake with clementine gelee.
Timeless Upscale Italian at Carbone
If you're looking for all-out modern Italian luxury, Carbone at ARIA Resort & Casino is your pick.
Here you'll find elevated classics like Lobster Fra Diavolo, Veal Parmesan, and Octopus Pizzaiolo.
Their relatively brief, pared-down menu will make it easy for you to find something delightful and exciting.
And their curated wine list is sure to have you leaving with a smile. Or sip one of their craft cocktails, like the White Lady (gin, orange liqueur, vanilla, and egg white).
Best Las Vegas Cocktail Spots & Bars
Vanderpump Cocktail Garden
A must try cocktail spot at Caesar's Palalce is Vanderpump Cocktail Garden by television star and restaurateur Lisa Vanderpump.
There you'll find exclusive handcrafted cocktails and bites, all in a garden oasis setting.
The English Garden is a standout with Hendrick's gin, elderflower, basil, lemon & lime, black pepper, lavender, celery bitters, and Aquafaba.
Mama Rabbit Bar
Las Vegas is home to the country's most extensive collection of tequila and mezcal including agave-based spirits that cannot be found anywhere else in the world.
Mama Rabbit Bar at Park MGM features modern Mexican cocktails, live entertainment, a pop-surrealist art installation from Okuda San Miguel and more than 500 labels of tequila and mezcal.
---
Hopefully this Best Restaurants in Las Vegas 2021 list helped you to plan your next food adventure in Sin City. For more Las Vegas travel inspiration, see my Las Vegas travel guide 2021.