Banff, Alberta may be famous for its idyllic landscapes, bright blue glacier lakes, and outdoor adventures, but it is also home to phenomenal restaurants and bars. Here is a roundup of the Best Restaurants in Banff 2022.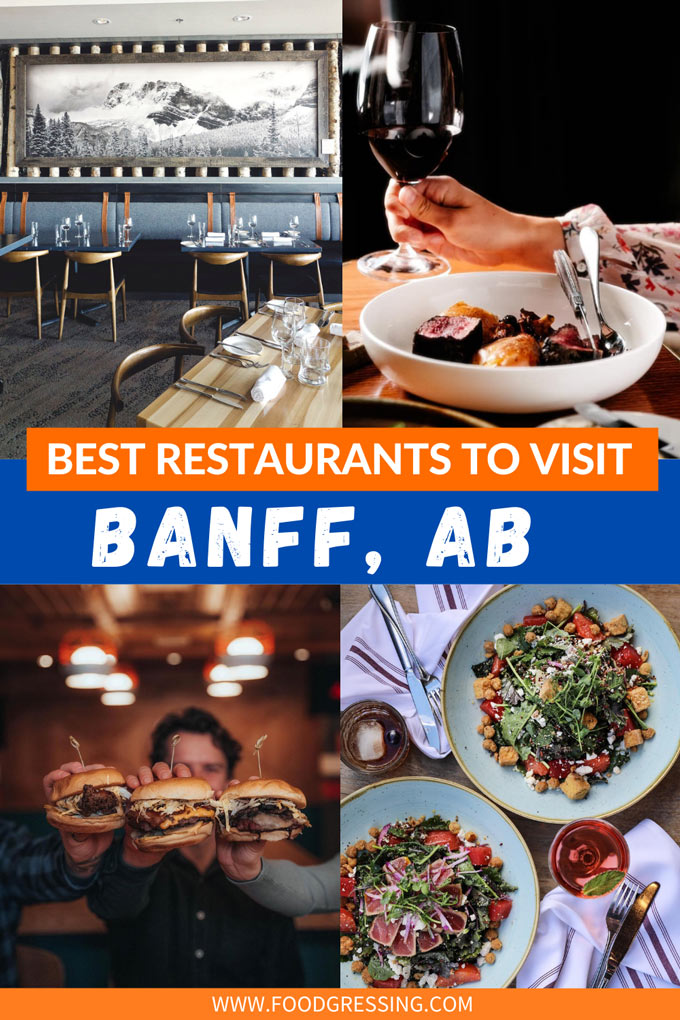 From cozy backcountry lodge bistros to elegant dining rooms in grand hotels, the Banff culinary scene has something for everyone.
As an emerging foodie destination, Banff offers numerous restaurants with global cuisine, but you'll also find a distinct Rocky Mountain flair within the menu and ambiance of many local eateries.
For a closer look at Banff's top-rated restaurants, check out this curated list below.
Restaurants are not listed in any particular order.
Sky Bistro
One of the top things to do in Banff is embarking on the Banff Gondola to the top of Sulphur mountain and taking in the awe-inspiring views of the Canadian Rockies.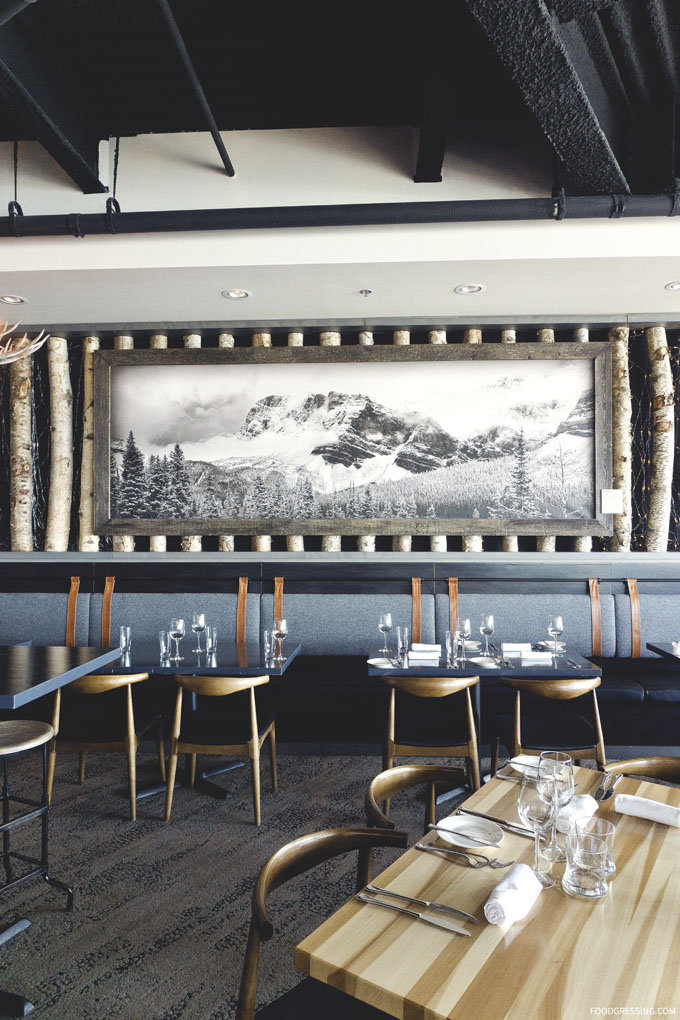 For the ultimate mountain top dining experience 2,900 ft above Banff, there is Sky Bistro which offers a Canadian menu featuring unique flavours of Canada with regionally-sourced local meats, produce and ingredients.
The comfortable and rustic interior features majestic floor-to-ceiling windows offer majestic mountain views of the Bow Valley.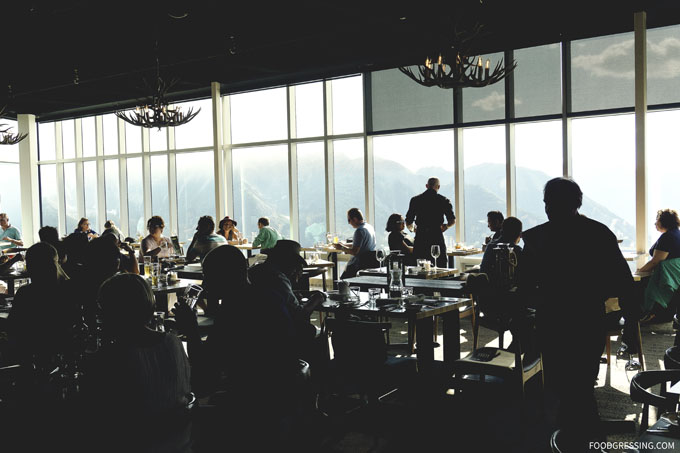 Indulge in dishes like Alberta Lamb Chops, Whiskey Maple Scallops and Carmen Creek Bison Tenderloin.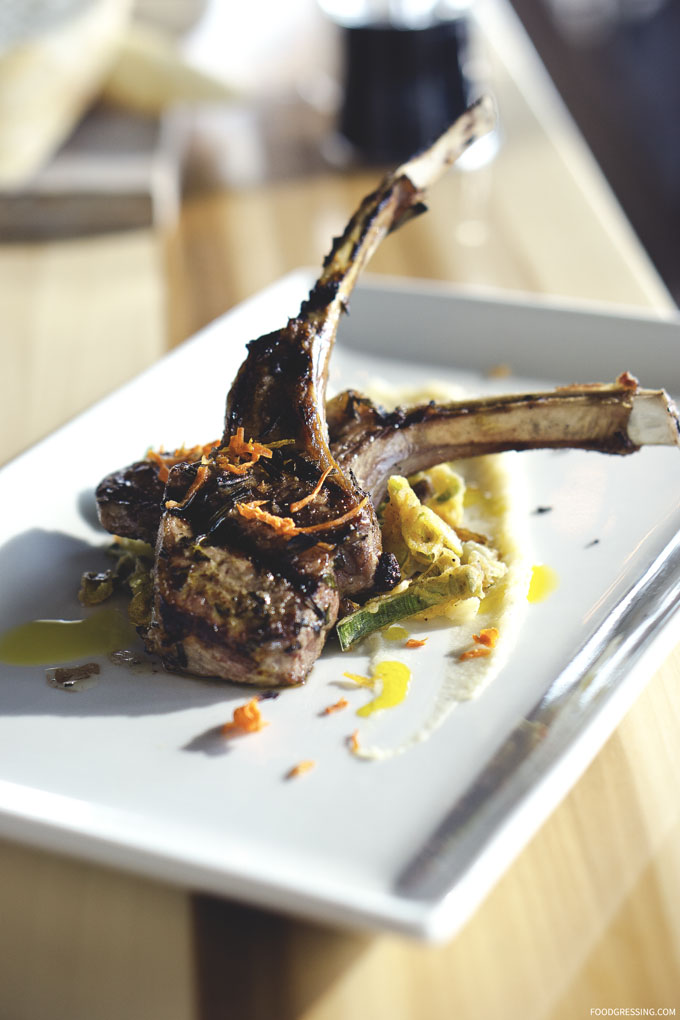 Mountain Ave, Banff, AB
Farm & Fire
Farm Fresh. Wood Fired. These are the concepts behind Farm & Fire Banff – one of Banff's newest restaurants.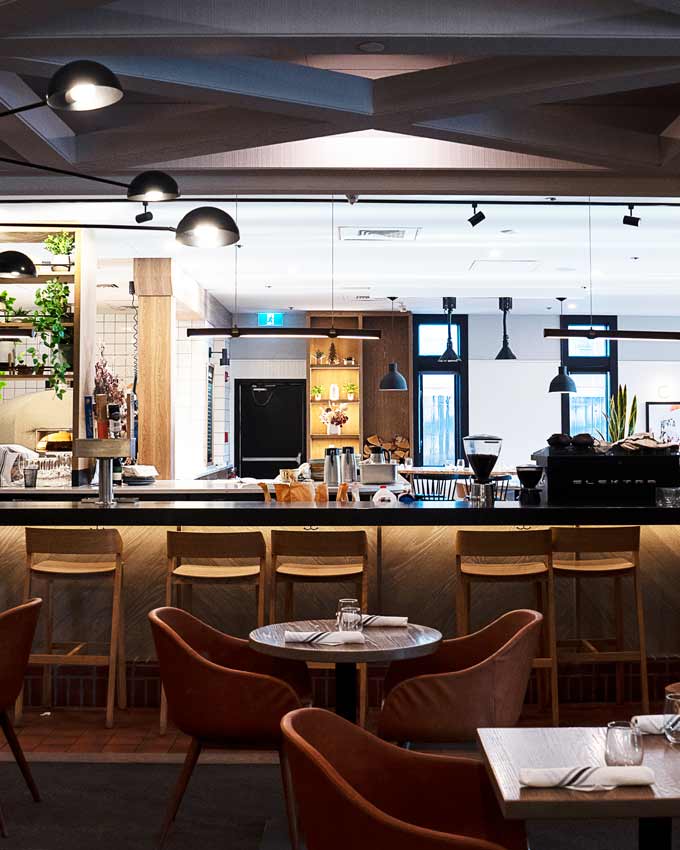 The menu at Farm & Fire pays homage to wood-fired and slow-roasted staples.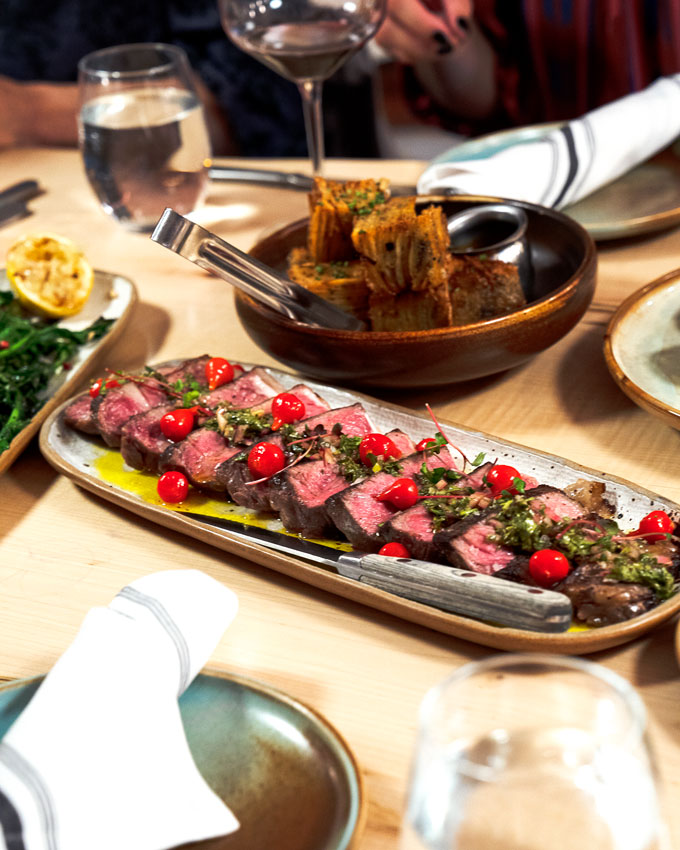 Their menu changes based on seasonality, but some items to try include Full Rotisserie Chicken; Thousand Layer Duck Fat Potato; Fungi Pizza and more.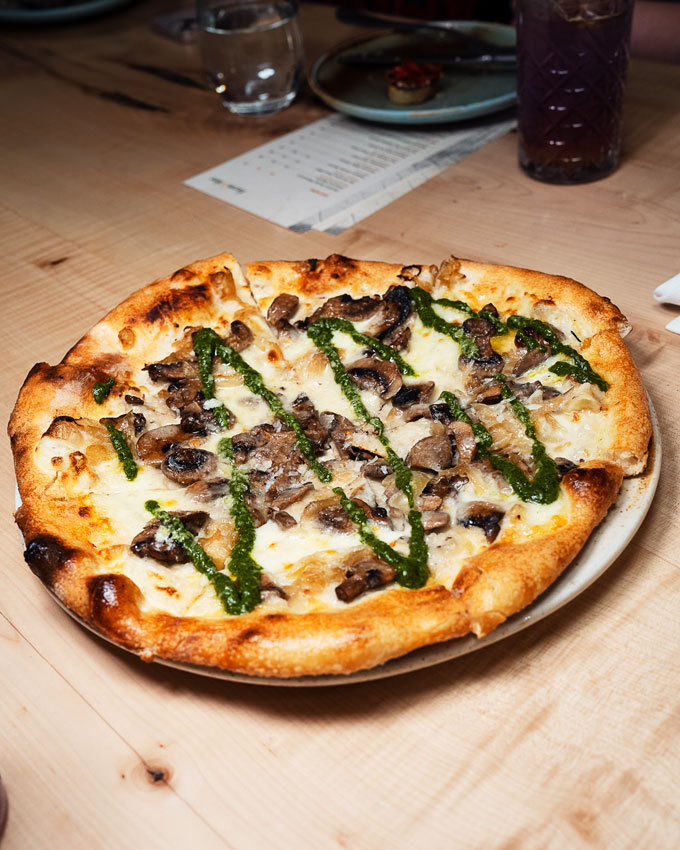 333 Banff Ave, Banff, AB
Brazen
After a day of exploration, wind down with a hearty dinner at Brazen located conveniently inside the Mount Royal Hotel.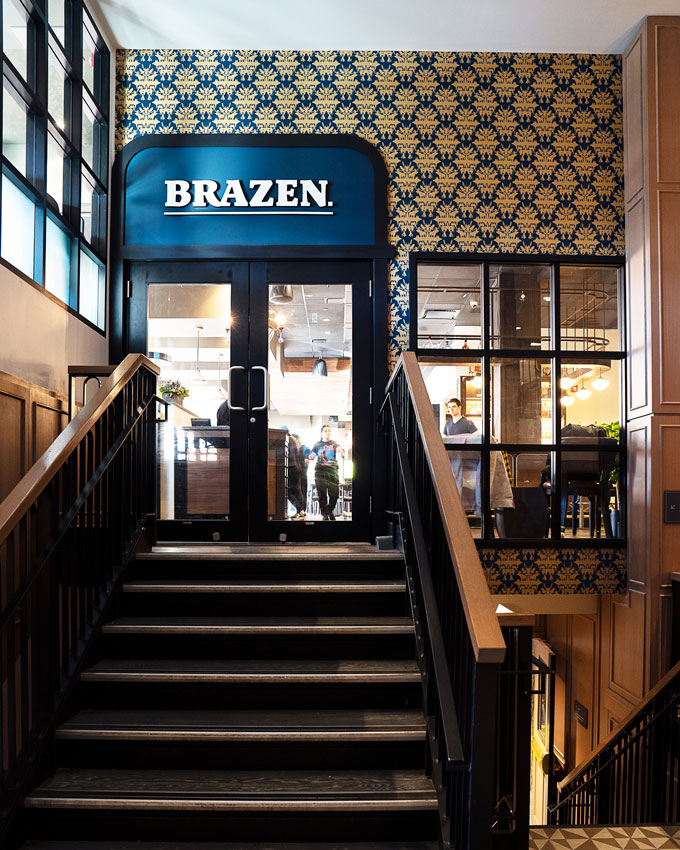 As one of Banff's newest restaurants, Brazen has a focus on sharable plates, dinner classics with a modern-day twist and cocktails inspired by Banff's bold characters and days gone by.
Brazen pays homage to the original lounge and restaurant in the Mount Royal Hotel – The Alberta Bar.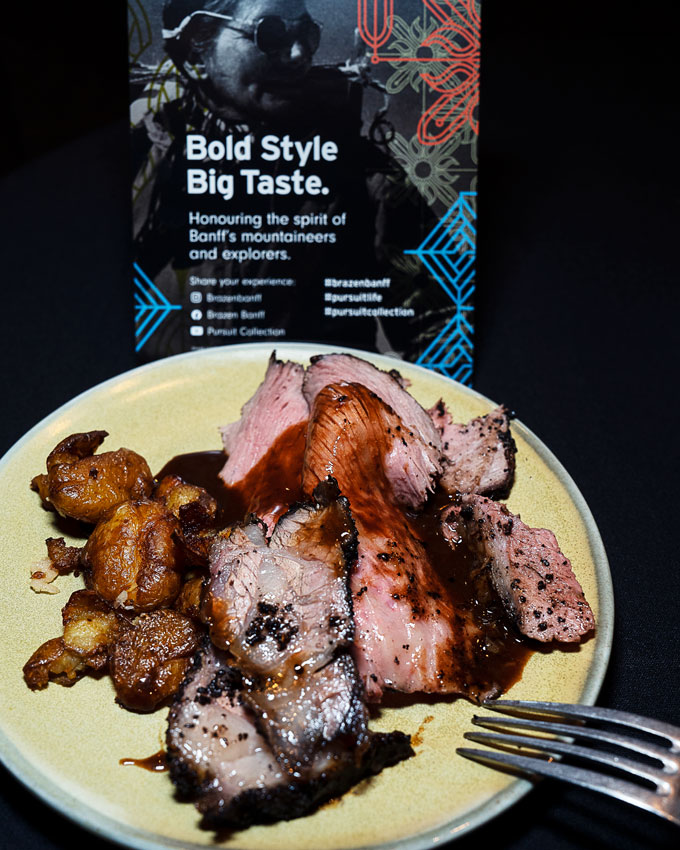 You'll find a seasonally inspired menu that echo nostalgia with a modern local twist. Highlights of the current menu include Lamb Chops; Smoked Sticky Ribs; Chicken Pops; and more.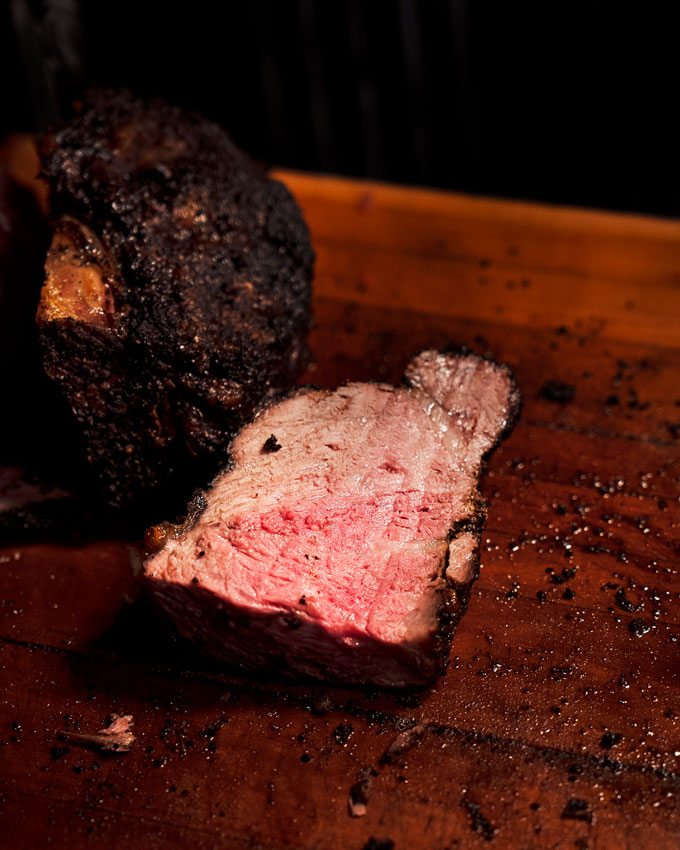 The cocktail menu is inspired by famous characters of Banff who frequented the original Alberta Bar featuring local spirits and house made cordials.
138 Banff Ave, Banff, AB
Park Distillery Restaurant and Bar
You won't find another distillery inside a national park anywhere but at Park Distillery in the high mountains of Banff National Park.
The interior features a woodsy, upscale-rustic style with antler chandeliers, dark stained timber paneling, cozy fireplaces, and an enormous brass distillery.
The backcountry lodge vibe goes beyond the décor and is celebrated in a campfire inspired menu which proudly serves regionally produced wood-fired, spit-roasted specialities.
Enjoy smoked brie with a seasonal chutney for a starter and choose between several smoky-savory meats for an entrée.
For more variety, the "create your own campfire" is a mix and match option of rotisserie chicken, ribs, prime rib, and sides.
As for the drinks, Park Distillery makes a white rye whiskey, gin with spruce top botanicals, and four flavors of vodka.
These award-winning spirits use Banff's glacier-fed water and grains from local, high-altitude family farms.
The entire process is done by hand and showcased in daily distillery tours.
Even the packaging celebrates Banff's alpine history with beautiful illustrations of the Park's iconic mountains on each label.
219 Banff Ave, Banff, AB
Tooloulou's Restaurant
Owner and head chef Steve Smythe of Tooloulou's Restaurant fuses home-style cooking, Canadian local fair, and Cajun creole cuisine to create what he describes as Louisiana—Acadiana—Canadiana style food (try saying that 3 times fast!).
His intimate, fifty seat restaurant prepares everything, including each sauce, entirely in-house with fresh, natural ingredients.
That's no small feat considering their "Hot Shotz" shelf houses 100 different flavors of hot sauces.
Stop by in the morning for a taste of the benedict bar, French toast, or Cajun favorites.
The extensive lunch and dinner menus are full of tasty seafood specials.
This includes the blackened snapper with fresh mango salsa or an entire three-pound bucket of crawfish, corn on the cob, and potatoes served alongside sweet cornbread and Cajun dirty rice.
204 Caribou St, Banff, AB
Chuck's Steakhouse
The best steak in Banff is found at Chuck's Steakhouse where local legend, Chuck, strives to keep his namesake restaurant the best dining experience in Banff.
This begins with a commitment to partnerships with progressive ranchers that feed their cattle Alberta's mineral-rich sweet grass and who are equally committed to sustainable practices.
Once in-house, Chuck's dry-ages the beef which is what creates the melt-in-your-mouth-flavor that no other steakhouse in Banff does.
It is then grilled and finished to perfection in an 1800-degree broiler and served with sides to share.
Further indulge your taste buds with a perfect wine pairing and a delicious treat from the dessert menu.
101 Banff Ave, Banff, AB
Juniper Bistro
Juniper Bistro is a local favorite and recipient of multiple dining awards including Best View, Best Service, Best Brunch, and Most Romantic.
It is found inside the Juniper hotel overlooking soaring peaks, and the shimmering Vermillion lakes.
In the summer months, take in these views on the large outdoor terrace with a cocktail in hand, or finish off a day of skiing in the winter near a fireplace with a hot meal.
Juniper Bistro crafts its menu with fresh, sustainable ingredients to offer elevated options for all tastes and needs, including vegetarian, vegan, or gluten or dairy free.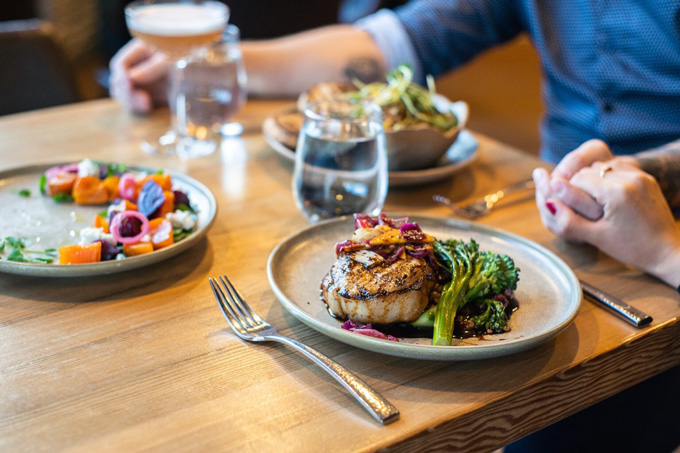 In addition to breakfast, lunch and dinner menus, Juniper offers a 'Graze' menu filled with small, shareable plates—perfect to refuel after a day on the slopes.
Local favorites include the maple-glazed duck breast with pickled apples, squash puree and roasted carrots or the pan seared Kuterra salmon with seasonal vegetables and roasted fingerlings.
1 Juniper Way Unit 2, Banff, AB
SALTLIK Banff
A night at SALTLIK entails smooth wines, craft cocktails, and all the premium cuts of steak your heart desires.
Located in the heart of Banff with spectacular views, SALTIK is a must-try restaurant on your next trip to the Rockies.
The dining room is rustic and elegant throughout, with more casual seating on the ground floor and more elegant, reservation-required options upstairs.
The menu offers knockout, certified Angus Beef prime cuts and additions such as prawn skewers, blue cheese butter, or sauces like the peppercorn, bearnaise or red wine.
While at most restaurants a side dish is a non-noteworthy addition, this is simply not the case at SALTIK.
Every steak dish comes with two side dishes that you can pick yourself from a list of ten sides.
Popular picks include the lobster mashed potatoes or the maple mustard brussels sprouts.
221 Bear St, Banff, AB
The Eddie Burger & Bar
Don't let the small, sixty-seat space at The Eddie fool you – this may be the best burger you've ever had in your life.
Take a seat at the high-top tables, tune into the game, and order a cocktail (or milkshake) and decide which burger to get!
Go classic Canadian with the Rocky Mountain Elk Burger and a side of poutine or a bit more classic with the Grass Fed Rancher—a juicy cheeseburger topped with bacon and mushroom on a brioche bun.
An impressive feature of the menu is the "Build Your Own Burger" complete with grass fed Alberta beef, lamb, bison, chicken, pork, or vegetarian, all cooked to perfection.
Top it off with your choice of home-made sauces and a huge plethora of toppings.
We're talking about over 25 toppings which include aged cheddar, fried eggs, grilled pineapple, and more.
Pair your meal with an alcoholic or non-alcoholic milkshake, a signature cocktail, or a local beer on tap.
137 Banff Ave #6, Banff, AB
The Maple Leaf Grill & Lounge
The Maple Leaf Grill and Lounge is one of the best restaurants in Banff serving Canadian-inspired fine dining restaurant serving Alberta beef, fresh fish and seafood, and local game.
Join The Maple Leaf Grill for brunch, lunch, or dinner inside the two-tier restaurant and bar.
The top floor features an elegant, white tablecloth meets woodsy style dining area overlooking the more casual bar lounge below.
While the food is delicious, the stars of the menu might just belong to the 600-label wine list and their famous hot chocolate soufflé.
It's served piping hot and straight from the kitchen with a scoop of vanilla ice cream which melts perfectly into the rich chocolate.
137 Banff Ave, Banff, AB
The Grizzly House
The Grizzly is a landmark eatery serving exotic dishes and Swiss fondue since 1967.
Back in the day, The Grizzly House was Canada's first disco filled with go-go dancers and 70's hits.
The food was really more of an afterthought.
In fact, it was delivered through a hole in the wall from the Chinese joint next door until that restaurant was shut down, forcing owners Barbara and Peter Steiner to rethink their business.
Luckily, their fondue concept was a huge hit. In addition to the classic beef, cheese and chocolate, there are also more exotic options such as buffalo, rattlesnake, lobster, and shark.
While the menu may have changed, the décor gives a taste of eclectic, old-school style with unique pieces such as a mannequin riding a motorcycle and bearskin rugs.
It also pays homage to its legacy with non-stop 70's music and working phones at every table from the days of operating as a nightclub.
One thing's for certain, you won't find another restaurant like the Grizzly House anywhere else in Banff.
207 Banff Ave, Banff, AB
1888 Chop House
The charming 1888 Chop House is set within the impressive Fairmont Banff Springs Hotel, an 1888 landmark originally built by the Canadian Pacific Railway Company.
The "castle in Rockies" was designed by the railway company to offer a luxurious accommodation to travelers who wished to explore the natural wonders of the region's stunning vistas.
Over 130 years later, it continues to provide hospitality to guests while serving as a UNESCO World Heritage Site.
You'll see these railway origins reflected in the restaurant through its menu and historic décor.
1888 Chop House is one of the best restaurants in Banff for steak.
The dinner menu features small plates, mains, and prime cuts that are elegant, luxurious, and expertly prepared.
If you're interested in unique options, try the beef tartare or the Acadian caviar tasting from the small plates section.
There's no reason to bog the menu down when the food tastes as good as it does at the 1888 Chop House.
405 Spray Ave, Banff, AB
Ticino Swiss-Italian Restaurant
Ticino is one of the few remaining local, family-owned restaurants in Banff.
Since 1979, the Widmer-Helie family, immigrants from Switzerland, have been serving Swiss-Italian style cuisine that is now carried on by their children.
The head chef, Michael Samson, continues this tradition through his swiss training and over twenty years of dedication to the Ticino kitchen.
The menu features a variety of starters, entrees, and swiss fondues for every palate.
For a starter, taste on a cheese fondue or the house made ravioli ripieni di vitello.
The entrees range from meat, fish, and pasta options or meat fondues.
In addition to the delectable menu, Ticino offers a variety of Canadian wines and cocktails crafted with Alberta's Wild Life Distillery spirits.
415 Banff Ave, Banff, AB
Magpie & Stump
Kick of your skis, hang up your jacket, and visit Magpie & Stump – one of the best restaurants in Banff for tacos.
For over thirty-six years, this Mexican eatery has been serving up varieties of tacos, hearty burritos and enchiladas, and over 60 tequilas.
The tacos are mix and matchable which allows you to sample multiple meats such as the chicken tinga, suadero beef, carnitas pork, battered cod, or vegetarian flavors.
Order a plate of three or pay by the taco, but either way you can enjoy rice and beans or a salad on the side.
The restaurant itself is dark and woodsy with vibrant splashes of color throughout and is the perfect place to relax with a margarita, or two!
203 Caribou St, Banff, AB
Masala Authentic Indian Cuisine
Masala is one of the best restaurants in Banff for Indian cuisine.
Four chefs, hailing from various northern and southern regions of India, are the founders of Banff's first Indian restaurant.
Masala offers an authentic experience from the traditional meals to the genuine Indian decorations adorning the walls.
The dishes come sizzling on little hot plates which are perfect for sharing and tasting around the table.
Dip your naan bread into a variety of curries, nibble on a samosa, or choose a classic such as lamb Biryani or chicken tikka masala.
India is one of the most vegetarian-friendly cuisines in the world, so it is unsurprising that there are a variety of plant-based options to choose from including the vegetarian platter which consists of two veggie samosas (a baked pastry filled with spiced potatoes, onions, peas, and lentils), two aloo tiki (a croquette of potatoes, peas, and curry spices), and four paneer pakoras (fried cheese) served with raita, tamarind, and mint chutney.
WOLF & BEAR MALL, 229 Bear St, Banff, AB
Evelyn's Coffee Bar
Kickstart your morning at Evelyn's Coffee Bar – a great coffee spot with home-style food made from scratch.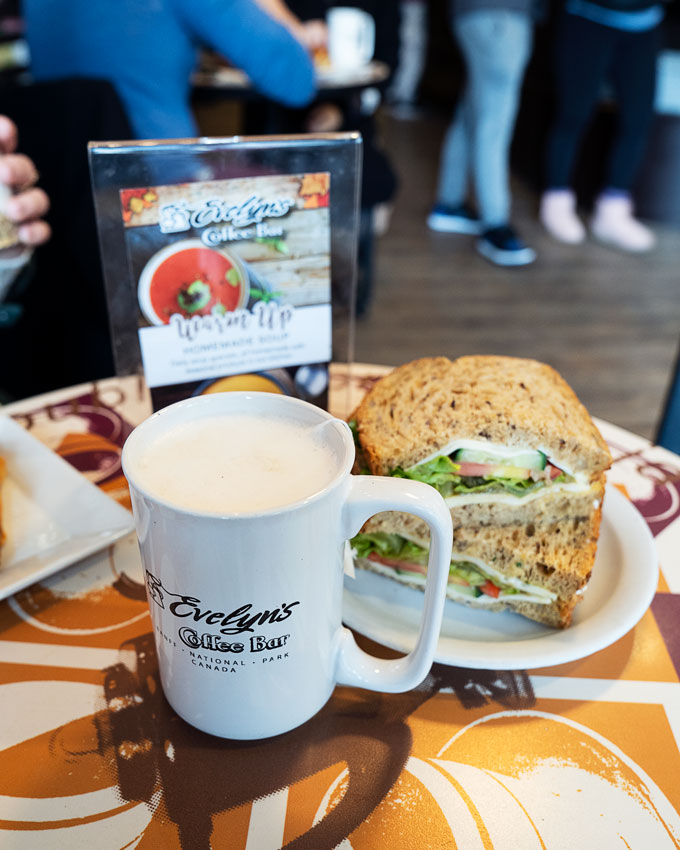 215 Banff Ave, Banff, AB