Check out this roundup of Best Outdoor Dining NYC for your next dining adventure.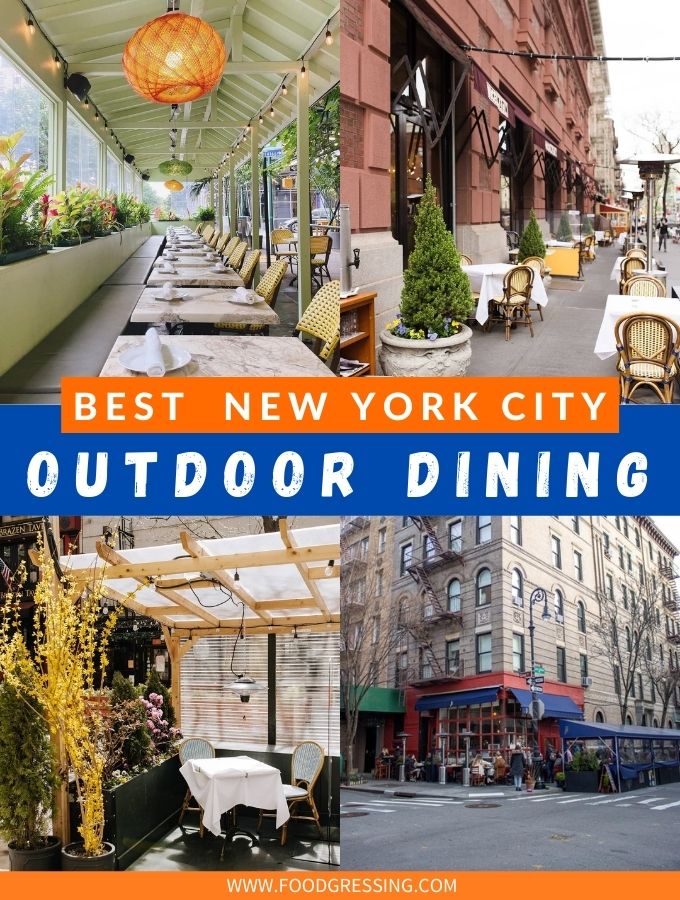 Nice Matin
Nice Matin is an Upper West Side staple and has been around for 18 years – proving that it's more than worth the trip.
The restaurant's heaters are up and running, offering necessary warmth within two enclosed street-side cafes outside of the classic French bistro.
201 West 79th Street, NYC, 212-873-6423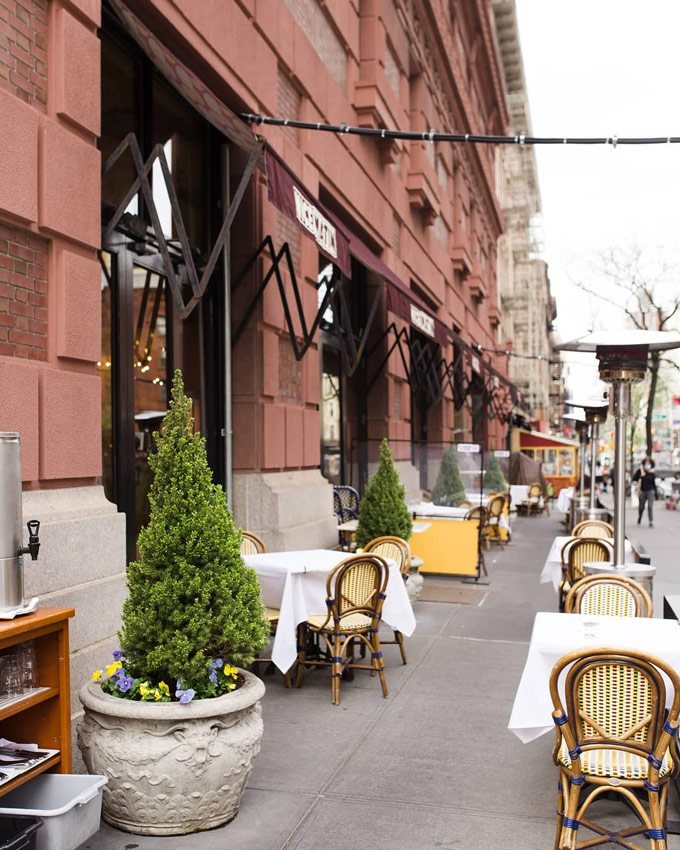 Dagon
At Dagon, on 91st Street and Broadway, guests are transported via a Mediterranean oasis.
The restaurant offers outside heaters for both sidewalk seating and within the covered cafe, decorated with a plethora of plants and twinkle lights.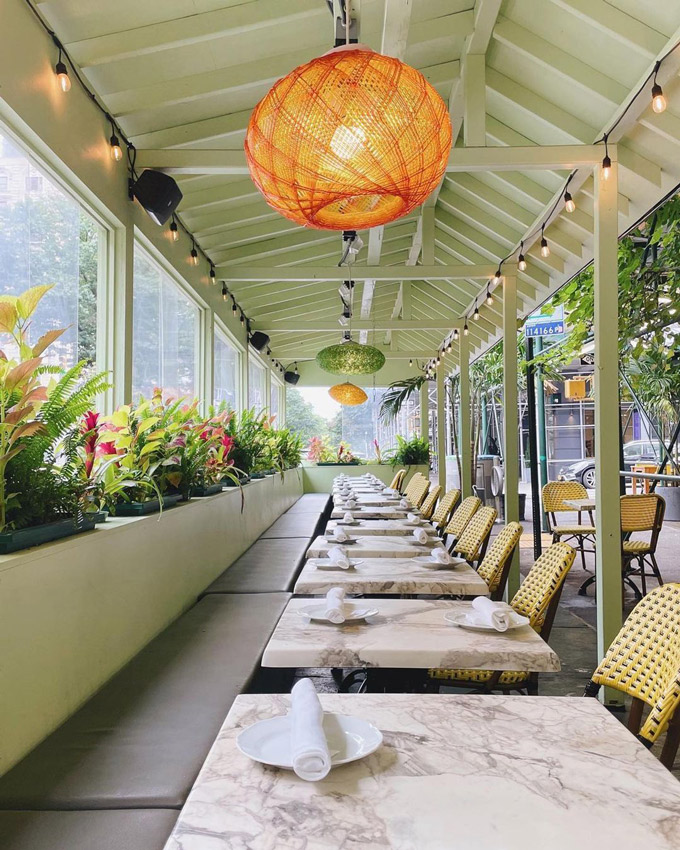 2454 Broadway, NYC, 212-873-2466
Marseille
Hell's Kitchen favorite French brasserie Marseille, now in its 20th year, offers a warm haven to dine outside.
Featuring a 50-seat, heated plexiglass partitioned sidewalk cafe (complete with greenery), they also offer curbside seating under a chic awning with heaters around the perimeter.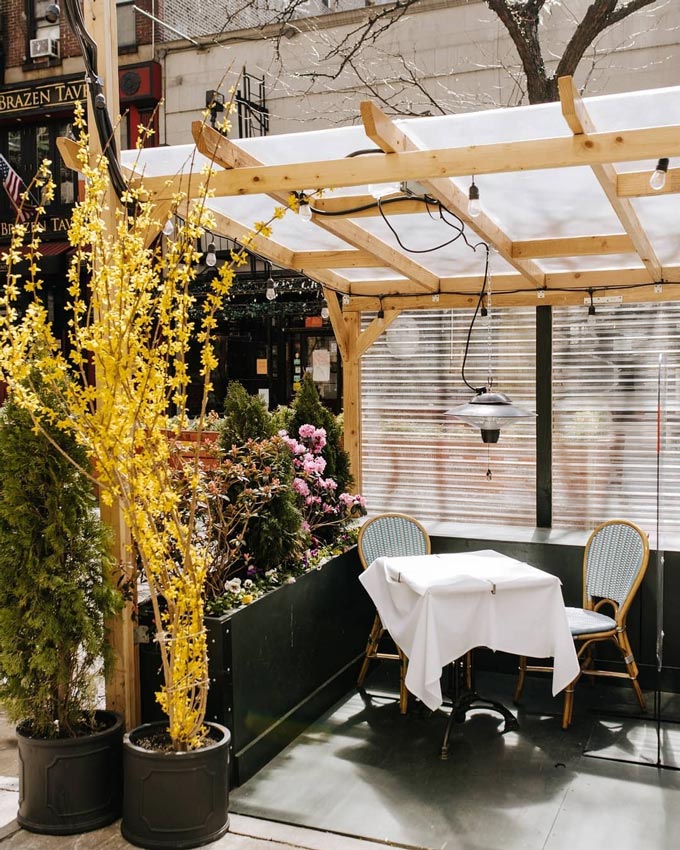 630 Ninth Ave, NYC, 212-333-2323
Socarrat Paella Bar
All of Socarrat's locations have new electric heaters so guests can indulge in their tapas, paella and sangria while staying comfy, warm, and safe.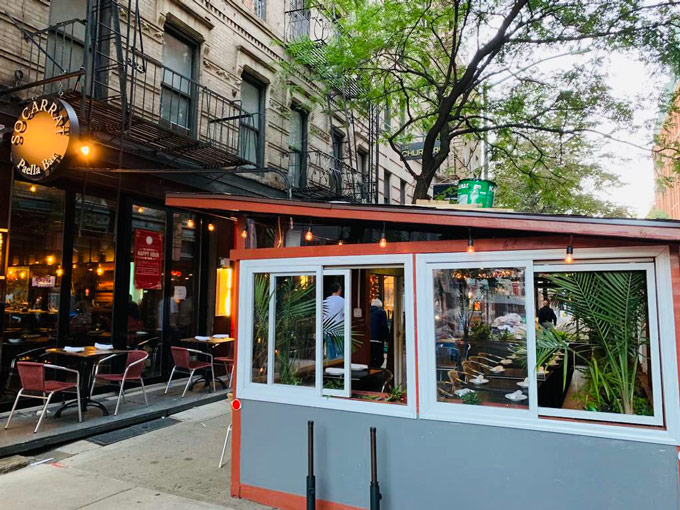 Midtown: 953 Second Avenue, Chelsea: 259 West 19th Street, Nolita: 284 Mulberry Street, NYC
Market Table
Located on the corner of Carmine and Bedford Streets, Market Table offers an optimal view of village life.
The restaurant's covered outdoor seating provides heaters under the table as well as overhead for maximum comfort while guests enjoy seasonal American fare.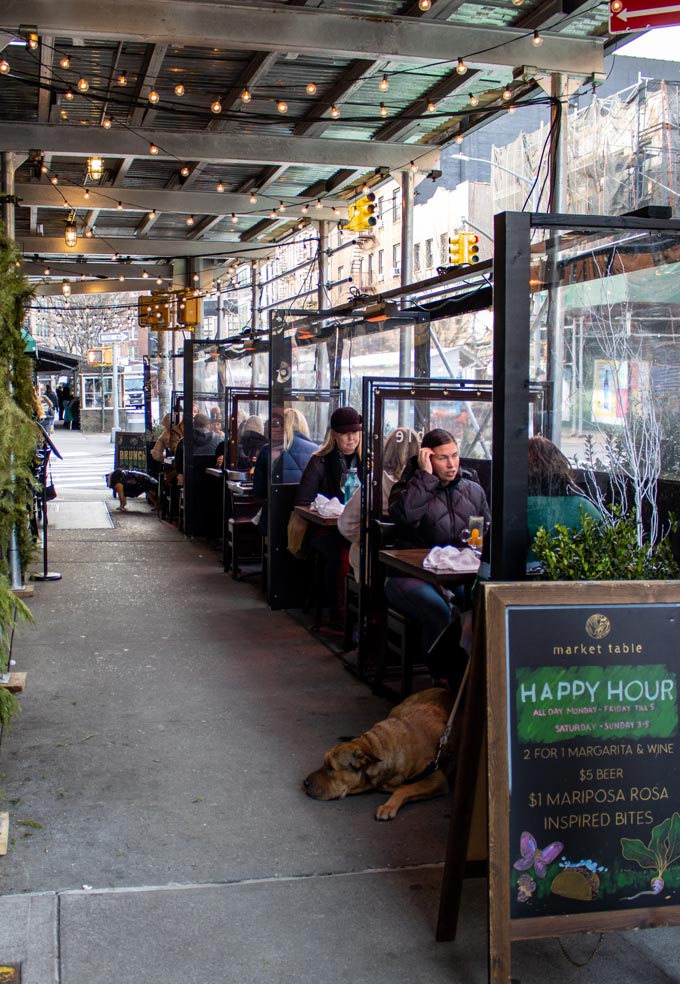 54 Carmine Street, NYC, 212-255-2100
Hütte
Hütte's outdoor tent-covered backyard takes inspiration from an Après ski lodge, serving up hearty Austrian comfort food like Venison Goulash, Cheese Fondue, and mugs of hot gluhwein.
Guests are kept toasty with electric heaters overhead.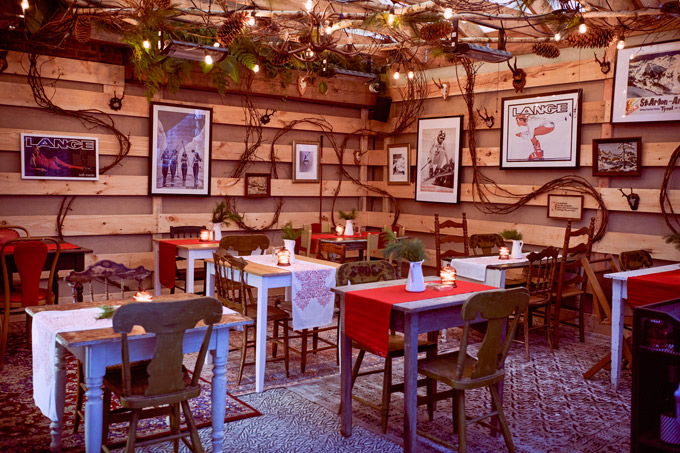 1652 Second Avenue, NYC, 646-981-0764
Lucciola
Fine dining Italian restaurant Lucciola has 12 Alvantor bubble tents, which are heated, waterproof, and wind-resistant. They can comfortably seat up to eight guests for a cozy and comforting meal.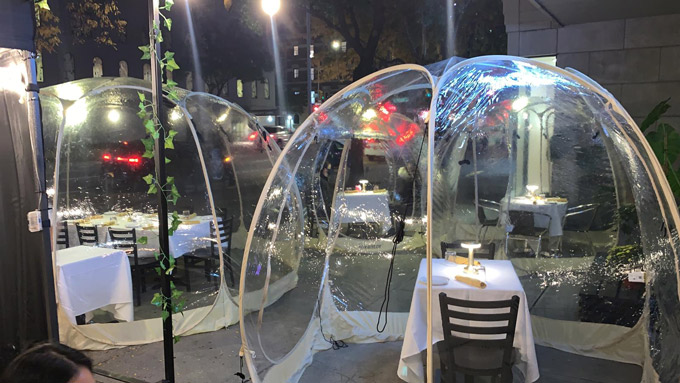 621 Amsterdam Avenue, NYC, 347-536-1335
The Little Owl
The Greenwich Village corner gem (for over 15 years), The Little Owl, has covered outdoor seating with both overhead and under-the table heaters so diners can relish the restaurant's Mediterranean-inspired dishes without catching a chill.
Seasonal entrees including Veal & Winter Root Stew, Broiled Nova Scotia Halibut, and Crispy Chicken are sure to please.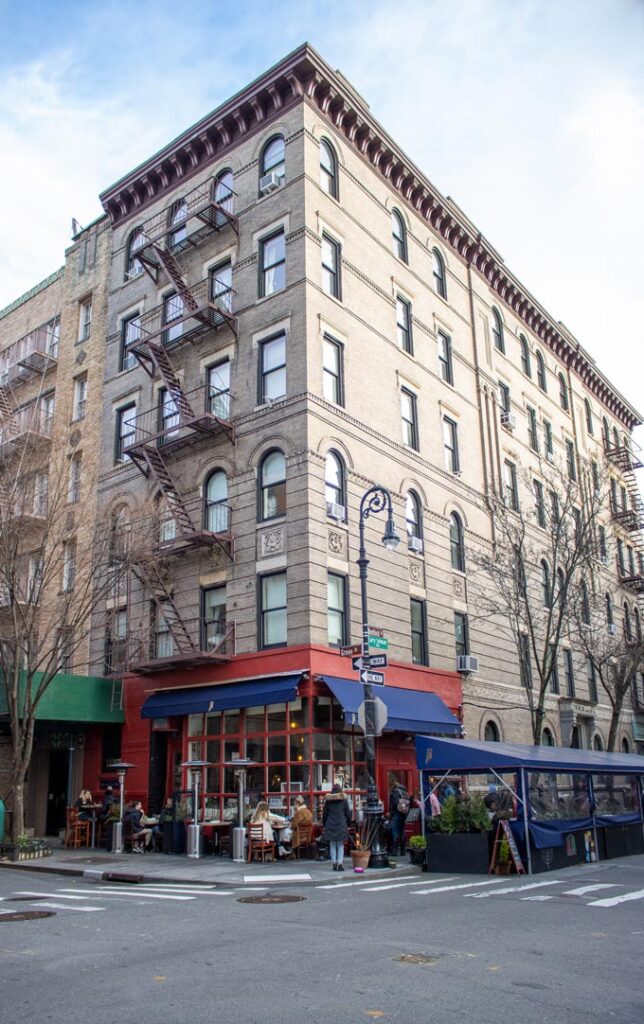 90 Bedford Street, NYC, 212-741-4695
Marathi
Tribeca's new Greek bistro Marathi offers a regional and personal perspective by focusing on homestyle Crete cooking peppered with the technique and creativity of Chef Nicholas.
Outdoor dining is offered in their covered and heated cabanas, comfortably seating 6 each.
200 Church Street, NYC, 212-227-5100
The Mary Lane
West Village newcomer, The Mary Lane, features signature seasonal fare in a bright, airy dining room surrounded by floor-to-ceiling windows.
For the colder weather and for those who prefer to eat al fresco, The Mary Lane offers both under-the-table and overhead heaters so guests can stay warm while dining.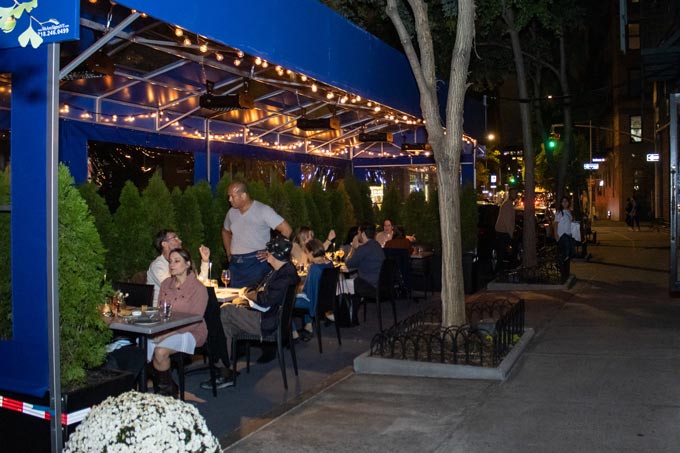 99 Bank Street, NYC, 212-597-9099
The Mermaid Inn
Next on this list of Best Outdoor Dining NYC is casual seafood restaurant The Mermaid Inn.
This restaurant offers the perfect destination for everything from drinks and light bites, to a full meal of seafood favorites.
Their Upper West Side and Greenwich Village locations offer covered outdoor seating featuring electric heaters.
Upper West Side: 570 Amsterdam Avenue, 212-799-7400, Greenwich Village: 89 MacDougal Street, 212-260-0100
Portale
Portale in Chelsea keeps their patio and their guests nice and toasty with above-table electric heaters while enjoying a contemporary Italian meal in a relaxed and convivial setting.
126 West 18th Street, NYC, 917-781-0255
Virgil's Real BBQ Times Square
Barbecue favorite Virgil's has covered outdoor seating with electric heaters at their Times Square restaurant, offering guests real-deal barbecue including brisket, ribs, and pulled pork along with hearty Southern-style side no matter the temperature.
2452 Broadway, NYC, 212-921-9494
Karazishi Botan
Last but not least on this roundup of Best Outdoor Dining in NYC is Karazishi Botan in Carroll Gardens.
It has a surprisingly spacious backyard patio, tented with heaters overhead. Enjoy ramen, burgers and hearty Japanese small plates along with hot sake at this cozy and comfortable space tucked away from the busy streets.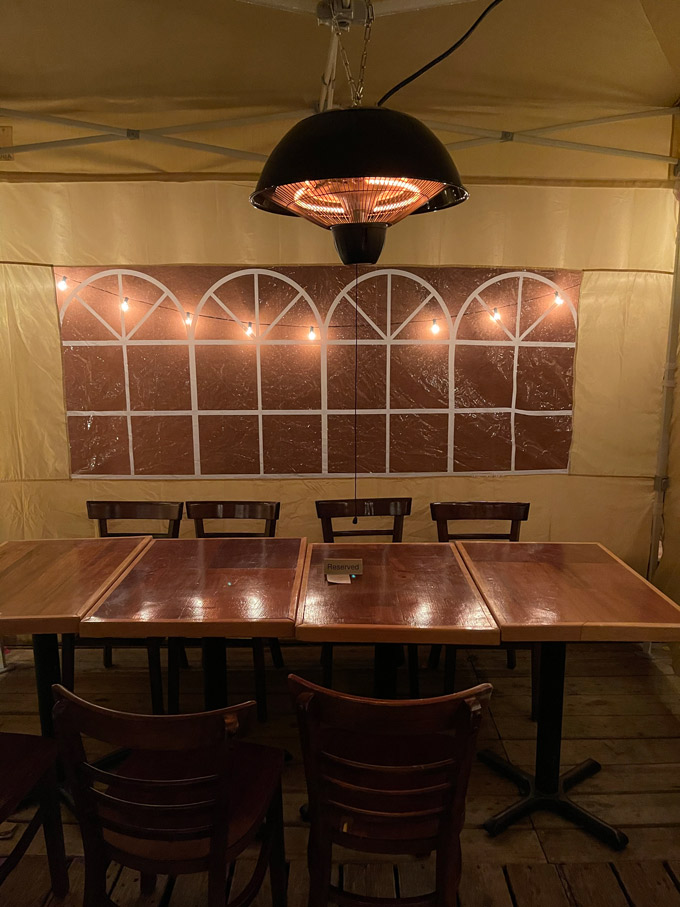 255 Smith Street, Brooklyn, 347-763-1155
Carmine's
Family-style Italian restaurant Carmine's offers outdoor seating with overhead heaters at both their iconic Times Square and original Upper West Side location.
Enormous family-style servings of their signature dishes like Spaghetti and Meatballs, Penne Alla Vodka, and Lasagna are the perfect hearty fare for cold days.
Times Square: 200 West 44th Street, 212-221-3800, Upper West Side: 2450 Broadway, NYC, 212-362-2200
The Clam
A West Village neighborhood favorite, The Clam allows diners to dig into the locale's market-driven seafood offerings while cozied up indoors or out.
Outside, the covered patio and street cafe features radiant under-the-table heating, as well as overhead.
420 Hudson Street, NYC, 212-242-7420
Mareluna
Fancy a cozy Italian dinner followed by a stroll along coveted streets of NYC's most stylish neighbourhood? Check out Mareluna.
Located in the heart of SoHo between West Houston and Prince Street, Mareluna takes an innovative and modern approach to Italian cooking.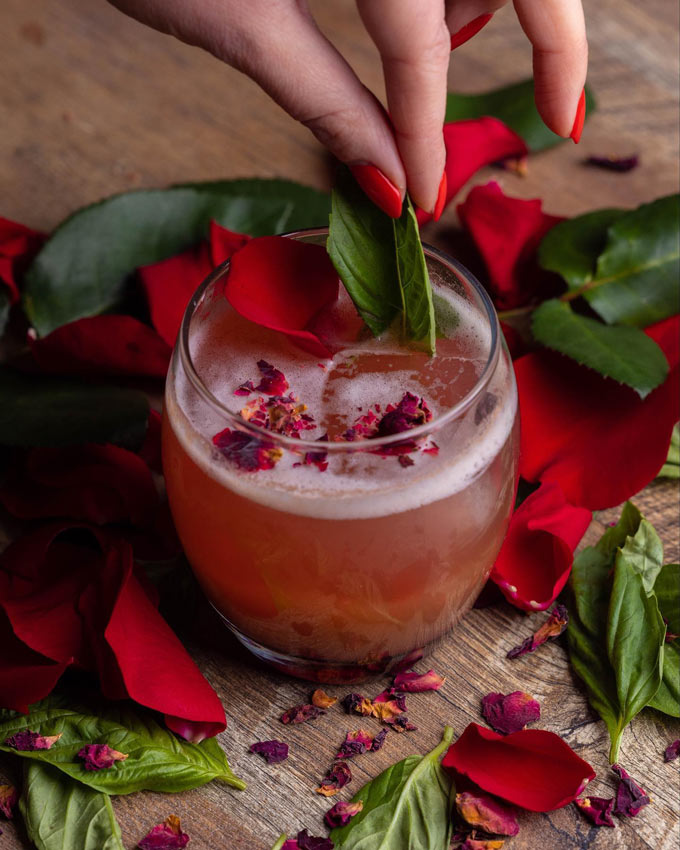 Think Burrata & Caramelized Figs and Tre Pesci al Cartoccio (trio of market fish, zucchini, tomatoes, sweet peppers, olives, basil, saffron).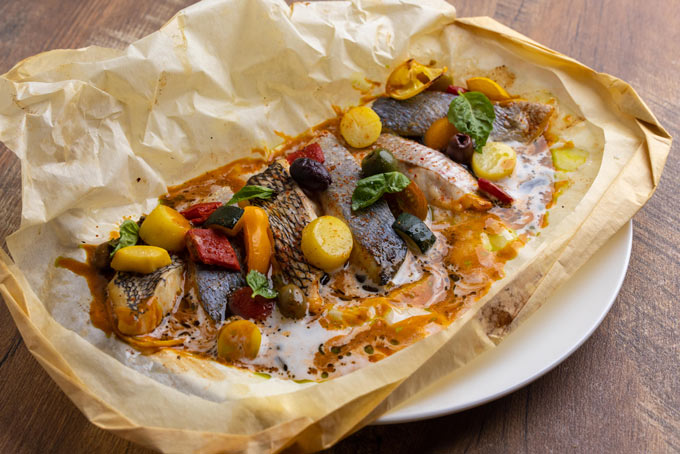 Brought to life by restaurateurs Marco Britti and Andreea Milgram, Mareluna is proud to present a modern twist on traditional Italian cooking, bringing you the best of every Italian region.
Mareluna's outdoor cabin area space is decorated with the same red flowers as their interior dining room and is accented with vintage photographs handpicked by the owners.
They wanted to make sure diners get the same ambiance both indoors and outdoors.
137 Sullivan St, New York, NY 10012, 212-510-7774