San Francisco is where you will find some of America's most inspired and creative mixologists. Here is a list of the best cocktail bars San Francisco for your next cocktails adventure.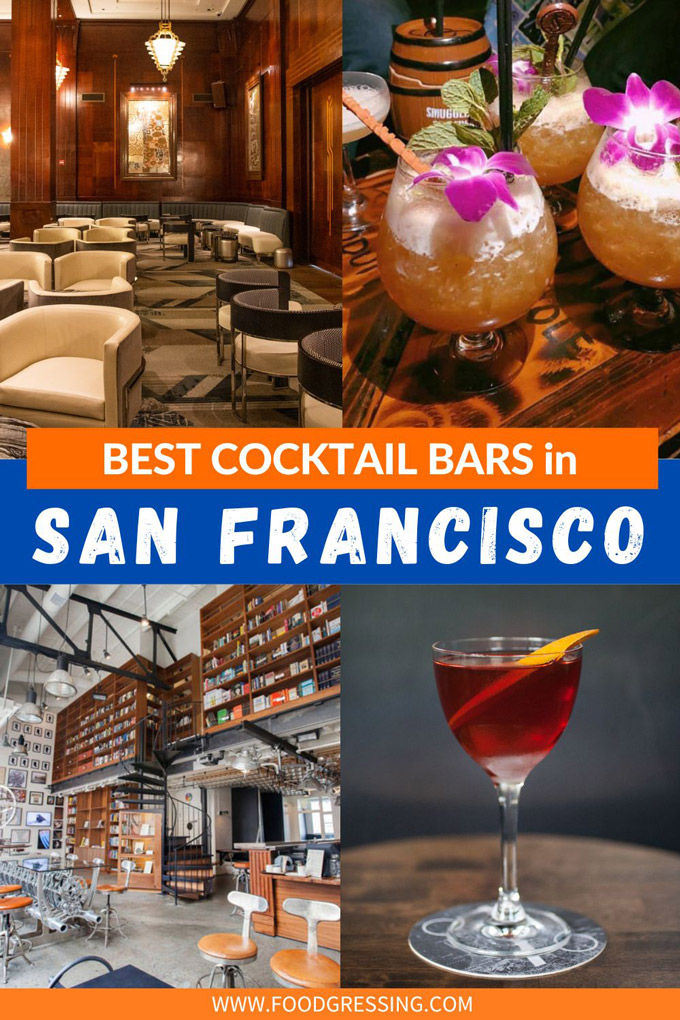 Smuggler's Cove
Smuggler's Cove (650 Gough St) has made a name for itself as one of the world's premier rum and unique cocktail destinations since opening its doors in 2009.
With the greatest rum variety in the country (over 700 types in fact) and drinks inspired by more than three centuries of rum history, they provide customers a fresh new way to experience rum.
Their impressive interior design offers a dramatic and appealing respite from the bustle of the city with vintage tiki artifacts mixed with old nautical and rum décor.
Their menu features everything from historic colonial tavern drinks, elegant Prohibition-Era Havana beverages, the best exotic tiki-era cocktails, traditional Caribbean creations, and contemporary, sophisticated rum libations.
Martuni's
Another mention on this list of best cocktail bars San Francisco is Martuni's (4 Valencia St) is a popular piano bar offering offering creative, affordable cocktails along with live music for patrons to sing and dance to.
Their self-titled best seller martini, The Martuni, is a mixer of Bombay Sapphire Gin with dry vermouth with an added lemon twist or olive.
Martuni's piano bar is a great place for friends to gather around. Don't be afraid to take the mic to sing your favorite tune with the pianist.
ABV
Located in the Mission District, ABV (3174 16th St) is a clean, bright and casual spot offering cocktails, beer, wine plus upscale eats.
All of the cocktails are categorized by spirit and are inventive yet approachable.
Rounding out the menu, ABV has some thoughtful small plate offerings to complement your drink.
Redwood Room at the Clift Sonesta Hotel
Located within The Clift Royal Sonesta Hotel is the famous, art-deco inspired Redwood Room (495 Geary St).
Since it opened the day after Prohibition was lifted, this bar has been an institution of San Francisco's social scene.
Its glamour and subdued atmosphere are one-of-a-kind in the city. Enjoy the comfort of walls made of redwood panels that came from a single tree.
Exquisite cocktails, fine liquors, wines, beers, and artisan small plates are offered – some of which feature honey from the hotel's rooftop bee habitat.
The Interval at Long Now
The Interval at Long Now (Landmark Building A, 2 Marina Boulevard, 2 Marina Blvd) is part cafe, part bar and a museum in between.
Not your typical cocktail bar but guests enjoy its modern setting complete with views and a library-like vibe.
The space features a floor-to-ceiling library with enough books needed to rebuild civilization; mechanical prototypes for a clock designed to last for 10,000 years; art that continuously evolves in real time; and a time-inspired menu of artisan drinks.