With decadent French toasts, Dutch pancakes, and lots of tasty, diner food, there's a brunch option for everyone in Calgary Alberta. Here's a roundup of 15 restaurants serving the best brunch Calgary Alberta 2022.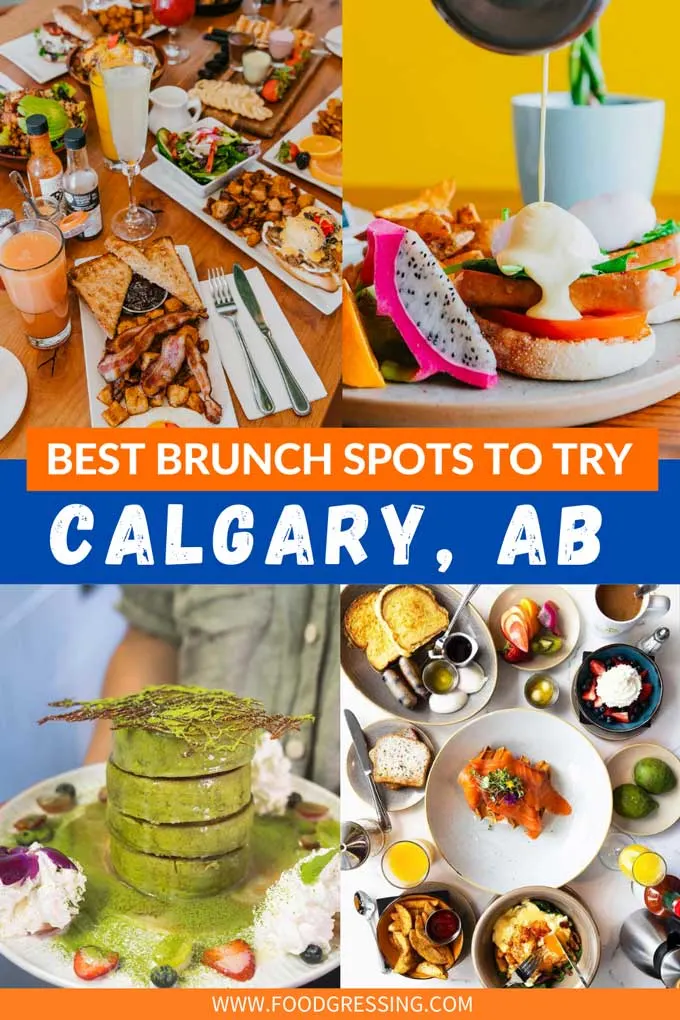 Namo Cafe
The outside of Namo Cafe (824 Edmonton Trail) looks relatively simple, but the inside couldn't be more adorable.
Wall cartoons, indoor plants, and chic lighting fixtures create a modern bohemian look.
This Chef driven, family owned and operated eatery serves a globally inspired menu with locally sourced ingredients wherever possible.
While everything on Namo's menu is delicious, the brunch bowls are super popular, and more specifically, the Truffle Bacon Mushroom Bowl.
Roasted mushrooms, bacon, poached eggs, truffle hollandaise, and parmesan cheese combine to create an abundance of rich flavor.
If you are in the mood for something sweet, the various flavors of French toast and pancakes come loaded with toppings and whipped cream.
Dessert for brunch is certainly possible with options like the Ferrero French Toast; Tiramisu Waffle; Dule De Leche French Toast and more.
Namo Cafe also serves a variety of drinks, from carefully crated lattes to brunch worthy cocktails.
Planning ahead? The restaurant accepts week-day reservations and has a online waitlist (which you can place ahead from anywhere) via Yelp.
Monki Breakfastclub & Bistro
Monki Breakfastclub & Bistro (1301 10 Ave SW; 1420 9 Ave SE #4) serves one of the best brunch in Calgary and boasts two locations in the city.
Their Inglewood location reflects the neighbourhood's artistic and vibrant culture.
You'll find modern lighting, greenery hanging from the ceiling, and a wall of exposed red brick create a contemporary and lively atmosphere.
The Beltline location has a similar ambiance with an outdoor patio.
While visiting Monki, ordering French toast is a must.
The "Elvis" French Toast is a unique dish stuffed with peanut butter, Frangelico cream cheese, caramelized cinnamon bananas, and fried bacon.
The Reverse French Toast is also worth trying; it is stuffed with Frangelico cream cheese, strawberry compote, and drizzled with white chocolate and hazelnut sauce.
Monki Breakfastclub & Bistro doesn't take reservations so be sure to plan accordingly.
ZCREW Cafe
With beautiful food and drink presentations, there's no way that you'll be able to resist taking pictures of your food at ZCREW Cafe (401 11 Ave SE).
On the menu are a variety of breakfast sandwiches, bowls, coffee, drinks with Asian influences.
Try the Korean Fried Chicken Benny with gochujang glaze, poached eggs benedict, asparagus, hollandaise, paprika, green onion and served with breakfast baby potatoes.
There's also the Matcha Pancake Stack featuring maple glazed milk, whipped cream, seasonal fruits, chocolate curls, organic matcha, edible flowers, and micro mint.
The Korean Fried Chicken and Waffles also never fails to impress.
Their talented baristas will also create a delicious latte complete with beautiful latte art.
Metal tones, cement floors, and greenery sprinkled throughout the space create a laidback, industrial cafe atmosphere.
OEB Breakfast Co.
Calgary-founded OEB Breakfast Co. (825 1st Ave NE; #110 222 5 Ave SW; 2207 4 St SW; 4132 University Ave. NW) has become one of the best breakfast/brunch chains in Canada.
This chef-driven, locally owned concept serves gourmet dishes, complemented with lighter cuisine and vegan alternatives.
Among their signature menu items are the Canadian Eh! Benny (Canadian back bacon, dark maple syrup, or brown butter hollandaise) and the Fresh Toast Trifle (Meyer lemon curd, market berries, Sicilian pistachio, torched French meringue).
In addition, they provide an array of delectable breakfast poutines, such as the Soul in a Bowl, which is made with duck fat-fried herb potatoes, Saint Cyrille curds, slow-cooked bacon lardons, and brown butter hollandaise. The Soul in a Bowl is one of my all-time favourite OEB offerings.
OEB takes pleasure in using high-quality products and collaborating with local suppliers.
Due of their popularity, wait times are very common, so I suggest adding your name to their waitlist through Yelp before you head to the restaurant.
1886 Buffalo
Located in Downtown Calgary, 1886 Buffalo (255 Barclay Parade SW) has an old-school vibe with consistently great brunch eats.
1886 Buffalo moved to Sheraton Suites in Eau Claire at the end of 2021, which is less than a block away from its former historic Eau Claire home of 40 years.
On the menu are comfort food breakfast staples include skillets, bennys, omelets, pancakes, and French toast.
Some highlights of the menu are the Blaisey Boy Breakfast Burrito; Banana and Peanut Butter stuffed French Toast; Eggs Florentine and more.
Breakfast is served until 2 pm, and this restaurant is also open for lunch and dinner.
The owners loves to work with local producers so ingredients are as fresh as possible.
Queens Breakfast Cocktails
Next on this roundup of Best Brunch Calgary is Queens Breakfast Cocktails (3927 Edmonton Trail) – a Calgary brunch staple with unbelievably delicious food.
Located in the Greenview area, Queens Breakfast's menu provides a creative spin on brunch.
Order the Brioche French Toast, piled high with peanut butter, condensed milk, and caramelized banana for a real treat.
The Bolognese Poutine is another treat, featuring slow-cooked pork ragu, Reggiano, and two poached eggs.
The Croque Forestie is made next level with a truffle béchamel and porcini mushrooms.
For breakfast cocktails, there are Mimosas; Aperol Spritz; Sangrias and more.
With old-time wall portraits, impressive chandeliers, and wooden features, the space of this restaurant feels refined and elegant, with a touch of personality.
Modern seating and lighting contrast with the antique artwork, making it feel as though you are dining in a castle with a contemporary twist.
Chix Eggshop
Specializing in fried chicken and eggs, Chix Eggshop (624 6 Ave SE) feels like a bright and airy neighborhood diner.
The setup of Chix is open and spacious, and the pink tiling behind the bar adds a bit of personality to this modern space. Seating and tables are simple, but with a cohesive color palette of black, white, and pink, along with some natural greenery, you can tell that the interior was thoughtfully designed.
If you love fried chicken, this is the spot for you.
Between whole chicken meals and fried chicken sandwiches, you can't go wrong. Chix also serves an array of breakfast bowls and plates, with eggs being the main ingredient.
You can also order traditional brunch cocktails, as well as a grownup Cherry Cola Slushie, with a touch of Jack Daniels.
Yellow Door Bistro
Striped booths, windowsill-covered walls, and mix-matched seating give Yellow Door Bistro (119 12 Ave SW) a unique ambiance with a touch of whimsy. With a bright yellow door at the entrance, not only does this spot live up to its name, but it is also impossible to miss.
Located in Hotel Arts, this restaurant serves a brunch buffet on Saturdays and Sundays from 8 am to 2 pm, providing staples like eggs, meat, and pancakes.
A la carte items include Stuffed Cinnamon Raisin French Toast, Twice-cooked Fries, and Eggs Benedict.
Beverage service starts at 9 am, in which you can order mimosas, beermosas, and spiked coffees.
For an all-you-can-eat brunch experience, with the backdrop of an eclectic setting, you can't go wrong with Yellow Door Bistro.
Vendome
Another Best Brunch Calgary spot is Vendome (940 2 Ave NW) located in the heart of Sunnyside, serving Mediterranean-inspired fare at breakfast, lunch, and dinner.
Only the freshest local ingredients are used at this eatery, but that doesn't necessarily mean that the menu is healthy.
Double Smoked Bacon Stuffed French Toast is the popular guilty pleasure of choice during brunch at Vendome. Other menu staples include chicken and waffles, breakfast hash, and eggs benedict.
While this restaurant is nestled in a historic building, the interior is trendy and modern. White tones, contemporary lighting, and natural light abound in this space.
The outdoor patio is funky and colorful; bright blue tables, orange umbrellas, and string lights create a playful atmosphere.
The Beltliner
Named after Calgary's streetcar that serviced 12th Avenue Southwest in the early 1900s, The Beltliner (243 12 Ave SW) is a modern diner with old-school influences.
Here, classic diner staples are elevated to create stylish and innovative entrees.
Some examples of this are the Banana Bread French Toast, Tator Tot Poutine, and the Bacon Chorizo Chili.
The Beltliner has a to-go coffee counter with coffee classics like cappuccinos, macchiatos, and lattes, if you're in a hurry.
For something more filling, this counter also serves smoothies.
The modern and vintage details of this eatery are reflected in the atmosphere.
Modern booths, vintage-inspired lighting, and the vintage font on the wall combine to blend old and new.
Pfanntastic Pannenkoek Haus
For an authentic Dutch breakfast, Pfanntastic Pannenkoek Haus (2439 54 Ave SW) is the best spot in Calgary.
While the environment of this joint is simple and homey, the food is the main focus. Specializing in Dutch pancakes, which are thin crepes with toppings cooked into the batter, Pfanntastic Pannenkoek Hause is a one-of-a-kind experience.
With 45 different topping combinations on the menu, you are sure to find a Dutch pancake that suits your tastebuds.
Savory pancake options include bacon and eggs, ham and leek, double bacon, and six-cheese, to name a few.
Sweet pancake options include warm berries, raspberry jam, banana and Nutella, and Dutch apple sauce.
For a unique and authentic experience, Pfanntastic Pannenkoek Haus is sure to please.
Red's Diner on 4th
Is there anything more satisfying than a traditional diner breakfast?
At Red's Diner on 4th (1415 4 St SW), that's exactly what you will get.
This best brunch Calgary restaurant is a corner diner, located in Beltline, that serves all-day brunch, breakfast, and lunch, made with farm-fresh ingredients.
In addition to classic breakfast staples, you can also find modern items such as avocado toast, tofu scrambles, and huevos rancheros on the menu.
The traditional bar seating, reminiscent of a 1950s diner, mixed with the contemporary tables and wooden floors, creates a relaxed and upbeat atmosphere.
With a pink couch out front on the sidewalk, you won't be able to miss Red's Diner on 4th.
Bennys Breakfast Bar
As an authentic retro 1950s-style diner, Bennys Breakfast Bar (7007 11 St SE) will make you feel like you have gone back in time. Elvis memorabilia, oldies music, and retro seating give Bennys an authentic old-school feel. The excellent servers and wait staff work hard to make guests feel at home, so much so that you may not want to leave.
The food at Bennys is just as impressive as the decor and service.
While a fan favorite is the homemade hollandaise sauce found in the eggs benedict, you can also order omelets, pancakes, and breakfast bowls.
Signature gluten-free pancakes and waffles mean that those with food intolerances can find something delicious on the menu.
Bennys Breakfast Bar is also open for lunch, serving diner classics like burgers, sandwiches, and poutine.
You won't want to miss this hidden gem while brunching in Calgary.
Brekkie
Brekkie (20 Westpark Link SW #130) is another restaurant on this list of Best Brunch in Calgary.
Located in the west, along 85th, this restaurant was created with an open-door policy and neighborhood pride.
Herw locally sourced ingredients combine to cultivate chef-driven breakfast food.
With an unconventional brunch menu, Brekkie serves dishes like Black Velvet Pancakes, Korean BBQ Braised Short Rib Eggs Benedict, and Confit Duck and Waffles.
Not only are these meals flavorful, but they are also carefully and beautifully plated.
Just as much thought has been given to the restaurant's design as the food and menu.
Interior designer Amanda Hamilton carefully curated Brekkie's interior to create an environment of a bright and loft-like space.
Vaulted ceilings, indoor plants on open shelving, marble tables, and exciting wall designs are just a few details that stand out in this restaurant.
The outdoor patio is also impressive; this rooftop space is ideal for brunch on a warm and sunny morning.
Dairy Lane Cafe
Dairy Lane Cafe (319 19 St NW) began in the 1950s as a Milk Bar, serving homemade meals and milkshakes to young people.
Today, Dairy Lane is the oldest restaurant in Calgary, sourcing local ingredients whenever possible.
Focusing on whole foods, sustainability, and fresh ingredients, there's a reason that Dairy Lane Cafe has been around for so long.
This restaurant features rotating nightly specials, like Taco Tuesdays and burger deals on Wednesdays.
The brunch menu offers Stuffed French Toast, Chilaquiles, and a Blueberry Lime Breakfast Bowl.
Dairy Lane's interior is extremely small, but is nonetheless cozy and quaint.
With just a few small booths and fresh flowers on each table, the atmosphere is friendly and inviting.
Outdoor seating is also available on the streetside patio, with string lights illuminating the area during the evening.
Blue Star Diner
Not only does Blue Star Diner (809 1 Ave NE) serve impeccable food in a beautiful setting, but it is also thoroughly committed to sustainability.
With a carbon-neutral energy bill, attention to recycling, and ingredients sourced from local farmers, Blue Star Diner is dedicated to making good environmental and community choices.
Fried Chicken and Pancakes, the Breakfast Burrito, and Brioche French Toast are a few of the delicious staples on this diner's brunch menu.
Clean lines, simple colors, and elegant lighting give the interior a refined and elegant space that is still bright and friendly.
The outdoor covered patio is equally pleasant, with painted brick walls and greenery hanging from the overhead patio roof.
Globally inspired brunch staples and a beautiful setting are just a couple of the reasons to visit Blue Star Diner.