Newly opened in Cambie Village is Assembli, an eatery specializing in build-your-own pizza and salad all at one price. Located at 2325 Cambie Street, Assembli features an open kitchen were you can see your desired pizza or salad literally assembled before your very eyes. I was recently invited to Assembli to try out some of their offerings and learn more about their concept.
Disclosure: All food and drinks in this review were complimentary. Opinions are my own.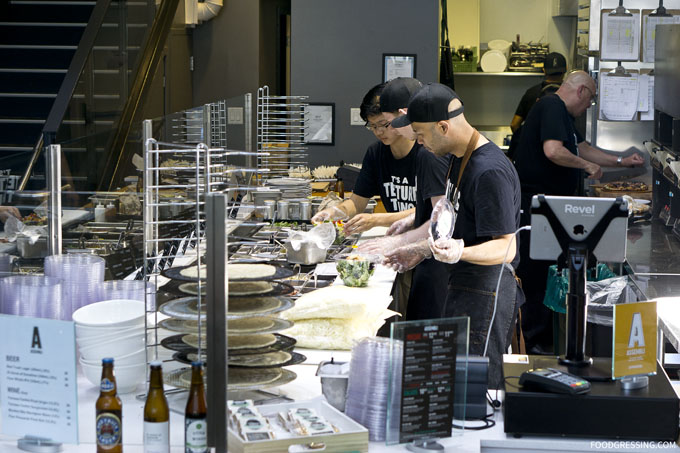 Assembli Menu
At Assembli, pizzas are $12.99 for an 11 inch and salads are $10.99 for a regular size or $12.99 for a large. If you're feeling adventurous, the DIY option is certainly the way to go with all the toppings you want. Protein choices are aplenty including herb-roasted chicken, cajun chicken, pepperoni, genoa salami, ham, spicy chorizo, bacon, shrimp, herb-roasted tofu, vegan crumble, seasoned ground beef, and anchovies, and hard-boiled egg. And there is certainly no shortage of toppings like chili pineapple, pineapple, roasted veggies, roasted root veggies, raw mushrooms, roasted mushrooms, roasted red peppers, and more. To finish off, how about chose fron bbq drizzle, yogurt lime drizzle, balsamic drizzle, kosher salt, olive oil, and more. The combinations seem almost endless but the recommended number of toppings is 3-7 to achieve the perfect balance of toppings to crust.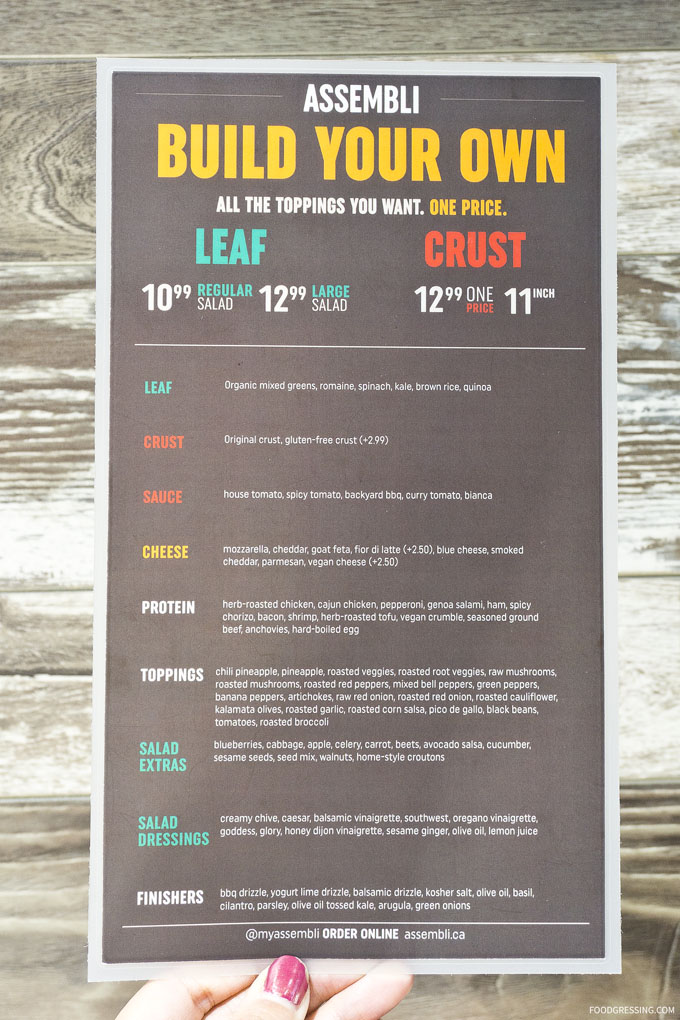 Now if you're feeling lazy and want to keep it simple, Assembli offers house-made selections. For pizza, the selection includes The Best Le'd Plans (ham, mozzarella, chili pineapple, spicy tomato sauce), Carne Dian (seasoned ground beef, pepperoni, bacon, mozzarella, sautéed mushrooms, red onion, spicy tomato sauce) and more For salads, there is the O-Mega Braniac (mixed greens, quinoa, cucumber, cabbage, blueberries, beets, avocado salsa, walnuts, seed mix, glory dressing) and so forth. The menu is available online here.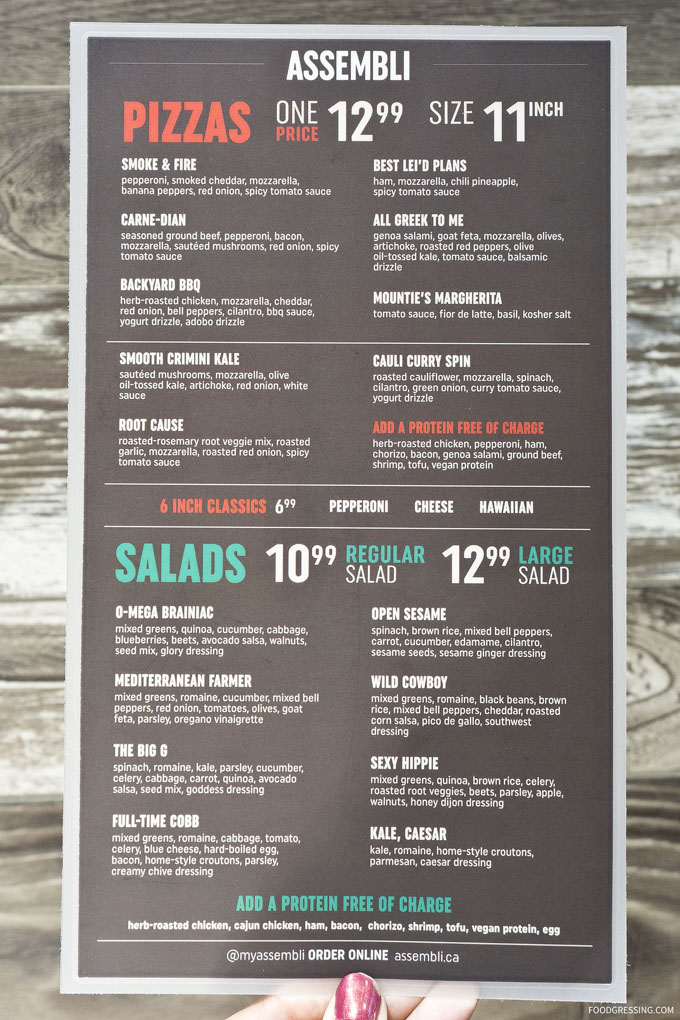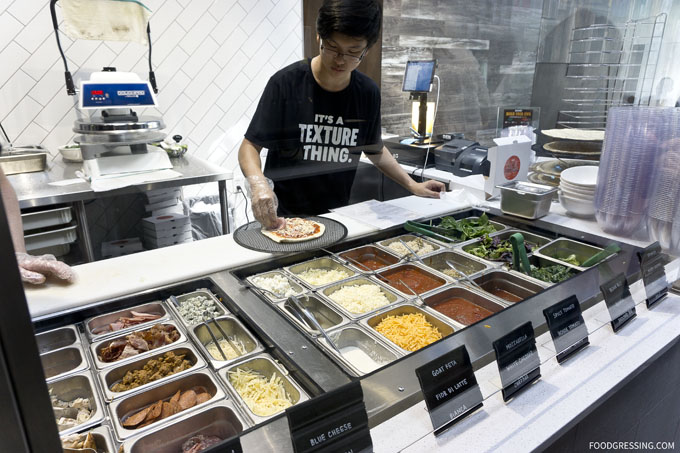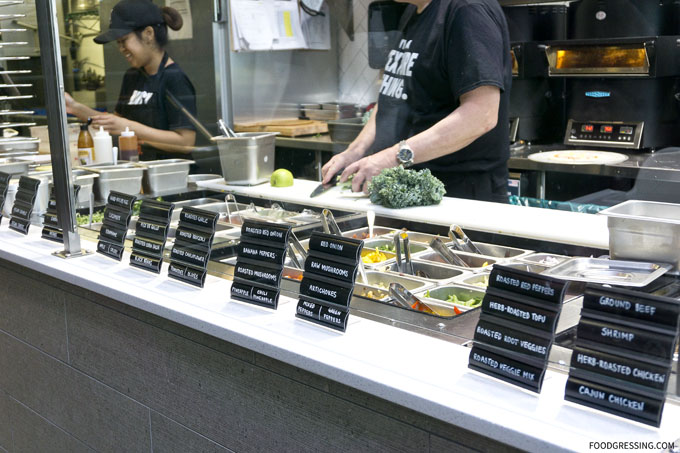 Modern, Cozy Interior
The interior of Assembli is modern-industrial, cozy and welcoming. I feel like the restaurant is quite community-oriented. There are a few two-person tables, a communal table and seating by the window. Be sure to check out the beautiful mural of False Creek on their wall.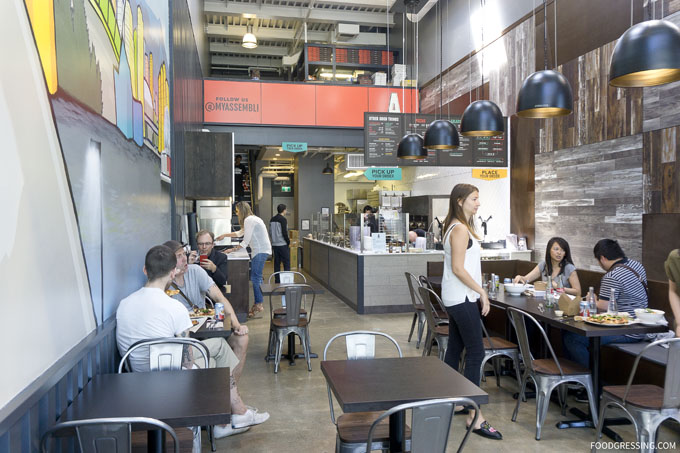 What We Tried
At the tasting, I had the chance to try their house-made selections of pizza and salads. For pizzas, there were the meat varieties (Backyard BBQ, Carne-Dian, Mountie's Margherita) and vegetarian (Smooth Crimini Kale, Root Cause). For salads, there was the O-Mega Braniac, Wild Cowboy, the Big G and Sexy Hippie.
Regarding the pizzas, they are lighter and have a "healthier" feel to them. If you're looking for some greasy goodness, Assembli's pizzas likely will not satisfy you. But if you're wanting a more guilt-free carb-centric indulgence, I think you'll quite like Assembli's style of pizza. As for the crust, I thought they were nicely thin but could be a bit more crispier. In terms of flavour, I enjoyed the Backyard BBQ the most which was a bit sweet and tangy.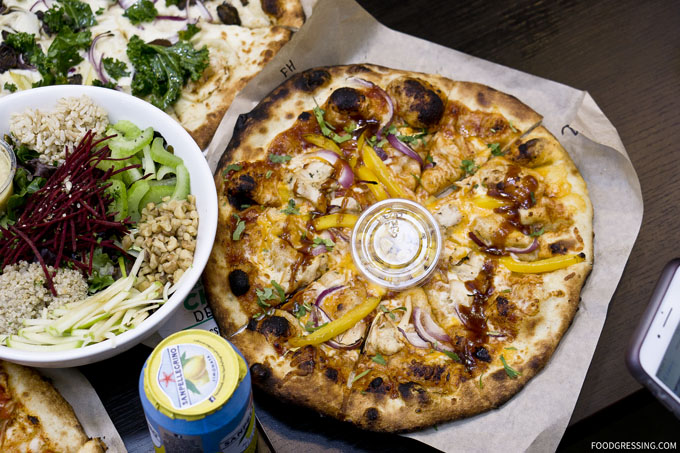 Surprisingly, I think I enjoyed Assembli's salads more than the pizzas. Loaded with fresh ingredients and a tasty dressing, you definitely get the sense of feeling nourished with these salad bowls.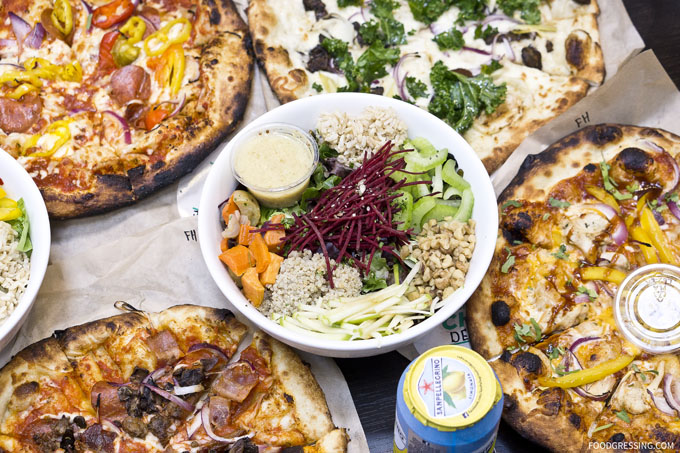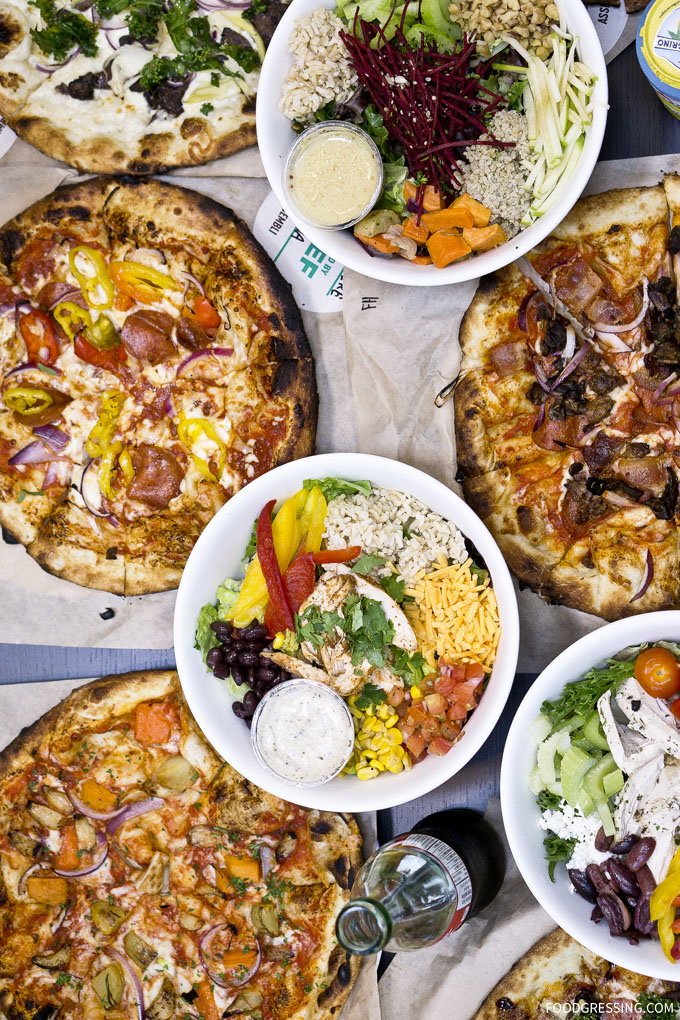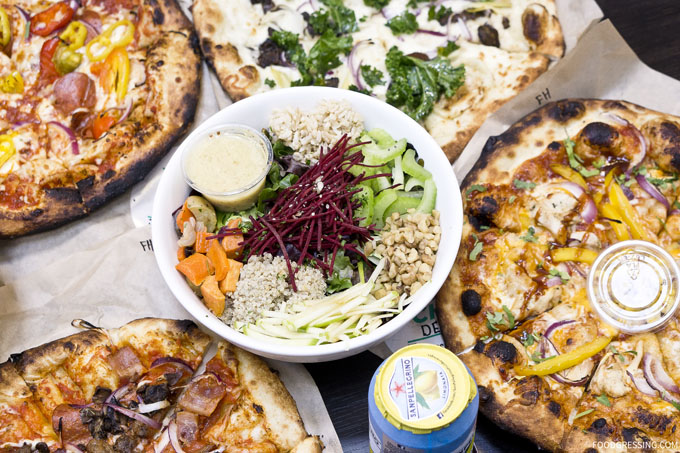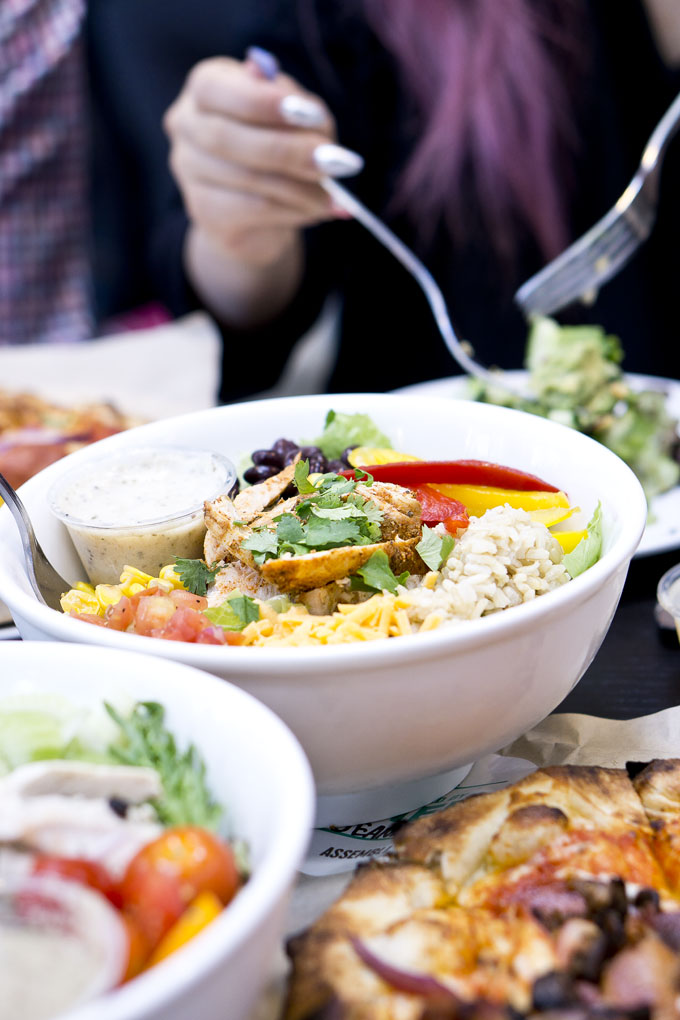 I quite enjoyed the O-Mega Braniac which had blueberries in them.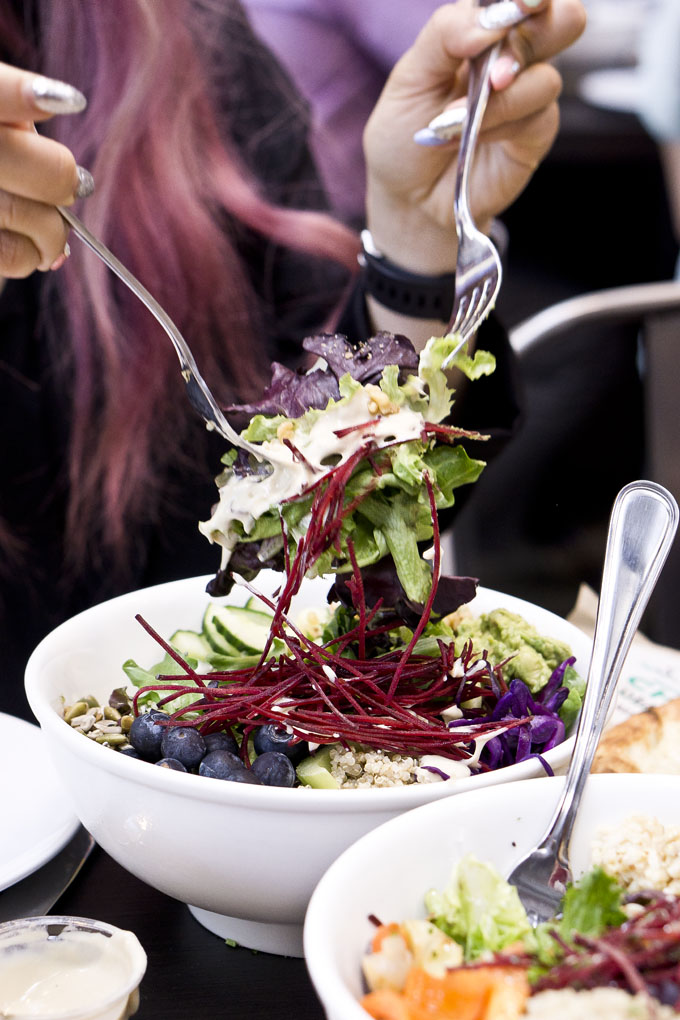 Overall Impression of Assembli
I think that Assembli has a lot of potential as a healthier, fast casual restaurant in Vancouver. There are already plans for more locations to come soon. While I quite liked the healthy, nourishing feel of their food, I wouldn't mind seeing some tips for the DIY pizzas as to say make it "cheesier" or "heartier." I think that would help bring in customers who typically order from the larger pizza chains.
Website: www.assembli.ca