AriZona Hard, the iconic beverage we all know and love (now all grown up with a 5% alcohol kick), wants to satisfy Canadians' appetite for adventure by releasing limited edition stylish rides at a price no one can resist.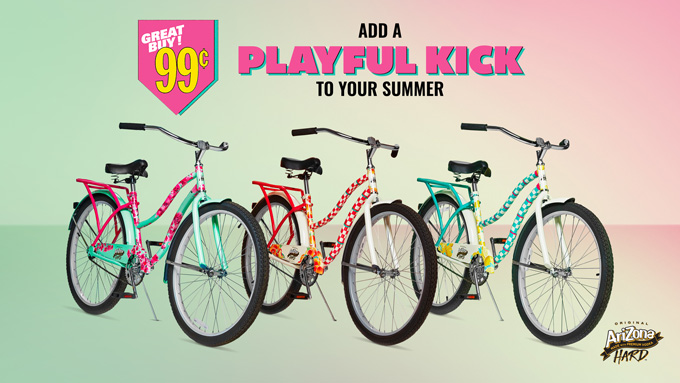 Inspired by its classic Hard Green Tea and all-new Hard Lemon Iced Tea and Hard Peach Iced Tea flavours, the retro AriZona Hard bikes will provide Canadians an opportunity to pedal in style – all for a great price of just ¢99, inspired by the original Green Tea tall can.
The limited edition AriZona Hard bikes will be available at www.arizonahard.ca starting July 13 at 1 p.m. ET/10 a.m. PT, while supplies last.
Canadians are encouraged to visit the website and act quickly as a limited number of bikes become available throughout the day, and must be of legal drinking age in their province of residence to purchase.
While you wait for your wheels, make sure to grab some AriZona Hard at participating beer or liquor stores in Canada and add some nostalgia – with a 5% alcohol kick – to your summer.