Get ready Albertans because there's a new way to experience 7-Eleven Canada.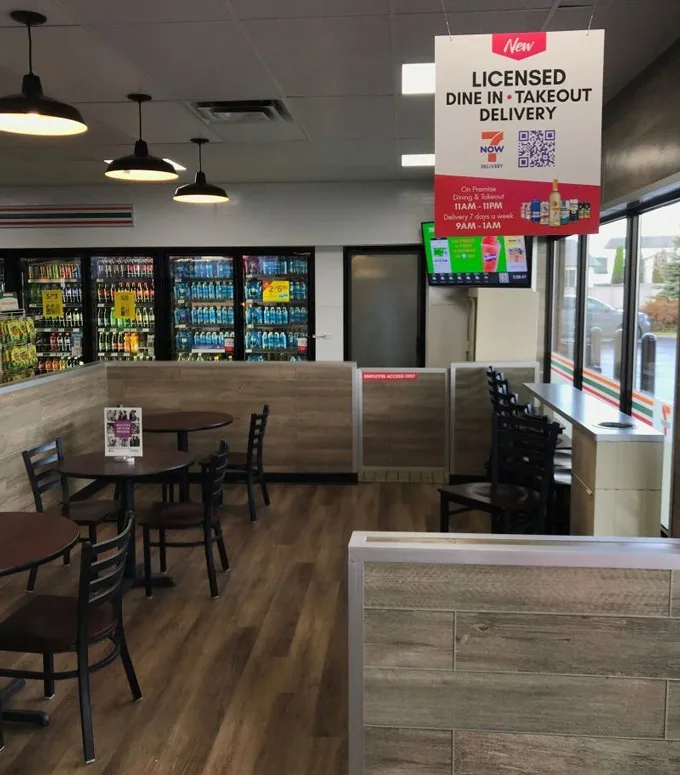 Seven locations in Alberta are expanding their restaurants into licensed locations with dine-in seating areas.
This means that our adult customers can now enjoy freshly prepared meals from 7-Eleven Canada with chilled beer, wine, seltzers or coolers by dining in, ordering takeout or delivery.
To celebrate, 7-Eleven Canada is hosting grand opening events at the newly licensed restaurants on December 9th and all our adult customers are invited.
From 3:30 p.m. to 7:30 p.m., guests can enjoy samples of 7-Eleven's Crispy Classic Chicken wings, 'hot from the oven' Pizza as well as Alberta craft beers, and also enter to win a gift basket filled with goodies.
Here are the participating licensed restaurants:
8210 – 160 Avenue, Edmonton
6975 Ellerslie Rd., SW, Edmonton
1704 Millwoods Rd South, Edmonton
14110 – 127 Street, Edmonton
4602 – 50th Avenue, Rocky Mountain (dine-in and takeout only; no delivery)
101 West Haven Blvd., Leduc
10002 Franklin Avenue, Fort McMurray
There are three convenient ways to enjoy the new 7-Eleven Canada licensed restaurants:
Dine-in: To experience the new dine-in option, you can drop by the new 7-Eleven licensed restaurants between 11:00 a.m. to 11:00 p.m. to enjoy a delicious meal paired with a refreshing drink.
Takeout: If you're on the go and looking for a one-stop shop for delicious hot foods and alcoholic drinks, you can visit any of these locations between 11:00 a.m. to 11:00 p.m., seven days a week.
Delivery: For those that don't want to leave the comfort of their home and are in the delivery range, you can satisfy your craving for Crispy Classic Chicken or a Big Bite paired with a cold beer by simply placing a delivery order through UberEats, DoorDash or SkiptheDishes between 9:00 a.m. to 1:00 a.m.
All 7-Eleven staff at these new licensed restaurant formats are ProServe trained and will be able to recognize signs of intoxication, know when to refuse service to customers, prevent over-consumption, and abide by the ID check standards to ensure all customers are at least 18 years of age.
7-Eleven Canada has a strong age-restricted sales policy and controls in place alongside food service training.
For more information, visit https://7-eleven.ca/beer-and-wine-ab-delivery