It's Canada's 150th birthday this year and what better way to celebrate this beautiful country than to visit one of Canada's premier travel destinations – Whistler. Why should you stay at home when the kids are off having the time of their lives at sleep away camp? In my humble opinion, it sounds rather unfair. Whistler is the ultimate getaway for locals and globetrotters alike because of its idyllic setting and abundance of activities to satisfy outdoor enthusiasts, foodies and even shopoholics. Whistler is regularly named in "Best of" lists from around the world and is best known for skiing and snowboarding during the winter and mountain biking in the summer. Looking for a more luxurious experience? Have you considered using something like NetJets to make your travels that much more luxurious? If not, or if you would just rather focus on where it is you are going, then here are 5 ways to indulge in a dreamy Whistler vacation.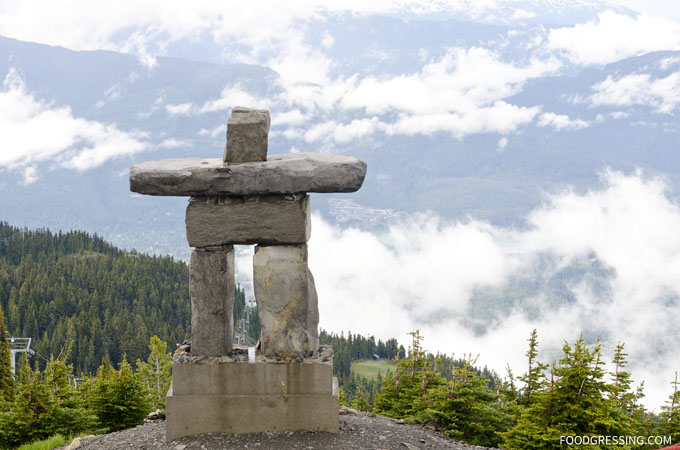 Disclosure: This is a sponsored post in collaboration with Luxury Retreats.
Experience Luxury Whistler Cabin Rentals
For A-list accommodations, there's nothing like luxurious Whistler cabin rentals surrounded by lush green coniferous forests. These ideal mountain retreats are a blend of rustic influence with contemporary architecture creating a luxurious modern chalet. Designed typically for groups of 6 – 18, these Whistler cabin rentals range from cozy to grand and opulent.
Imagine this: floor-to-ceiling views of the Whistler mountain from all rooms of the residence. Love to entertain? Immerse yourself in a generous kitchen, one or more bars, and an elegant dining area graced by a chandelier. Your party will certainly love the curved leather fireside sofas, large flat screen TV, and perhaps a bar with a built-in cappuccino machine. Generous glass-fronted balconies are the perfect setting for you and your guests to dine al fresco or enjoy a summer barbeque.
Busy day on the hill? Melt those aches and pains away in your very own private outdoor hot tub with majestic mountain views or get cozy inside your indoor sauna and steam room. An indoor sauna would be heaven for any home, but there are so many different types out there – getting the right infrared sauna is easy with these reviews. While these rentals have the perks of privacy and comfort, they are still close to the convenience of urban amenities offered by Whistler Village. Good for families and parties, these Whistler cabin rentals will certainly make for an unforgettable experience in Whistler.
Rejuvenate at Scandinave Spa
Whistler is the perfect place to relax and restore your body and mind. Scandinave Spa Whistler is Whistler's top spa where guests can experience the age-old Finnish tradition of hydrotherapy and its energizing and relaxing benefits. The hydrotheraphy process involves three stages and repeated cycles are encouraged. First you start with heating up the body in a hot installation (hot bath, Finish Sauna, wood burning sauna, or steam bath) to help release the body's negative energy. Then move into a cold installation (Nordic waterfall, Nordic Shower, or cold plunge bath) to release endorphins and flush out toxins. The final step is to simply relax to allow the heart rate to stabilize and body to rest. The spa has solariums, hammocks, outdoor fireplaces and a yoga studio to help you find inner stillness. Silence is a source of great strength so no cell phones are allowed and talking is discouraged. For a complete experience, book a massage to invigorate your aching muscles. After your time at Scandinave Spa, you will most certainly feel refreshed and rejuvenated.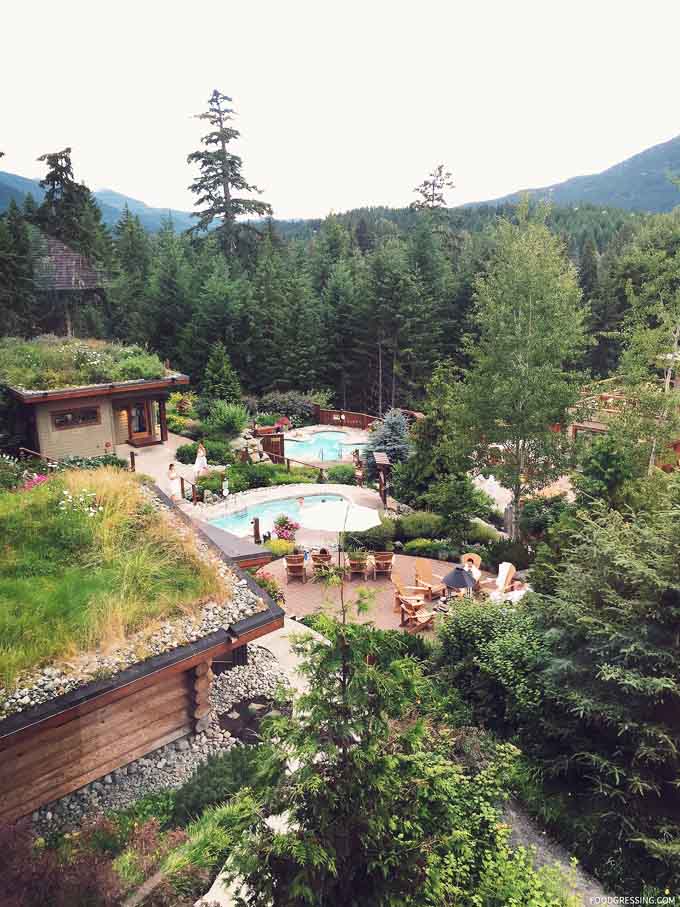 Dine at an Award-Winning Whistler Restaurant
Whistler is a perfect place to embark on a gastronomic journey of taste and discovery. What better way to try sample some Whistler favourites in a short amount of time than to join a food tour? Whistler Tasting Tours offers the Finer Things tour, which includes visits to four award winning Whistler restaurants with an optional wine pairing and ending with a visit to a local chocolate shop. The expert tour guide will showcase their knowledge and enthusiasm about Whistler's exciting dining scence. If you are looking to treat yourself to Whistler's best fine dining, this is tour is ideal for you. One of the tour stops is Bearfoot Bistro where you get to see their impressive 15,000-bottle wine cellar and learn to saber champagne. Read my review of the tour here.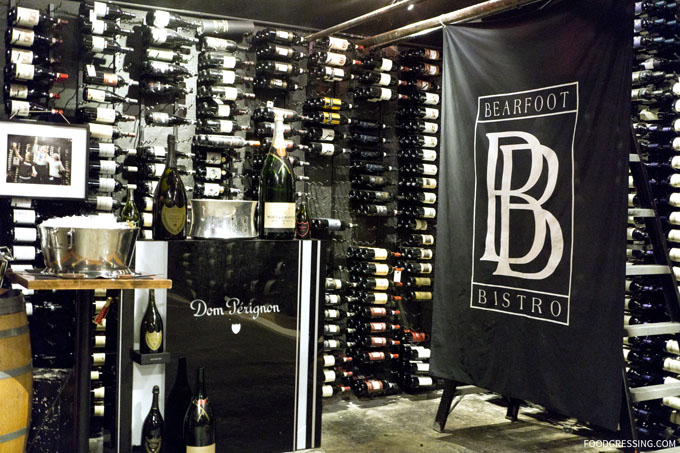 The Mallard Lounge, located in the Fairmont Chateau Whistler is offering a very special Canada 150 cocktail this season. Priced at $150, the Canada 150 cocktail is created with Vancouver Island Sheringham Gin, a housemade preserve made of local organic raspberries handpicked by the Mallard Lounge team and sweetened with Executive Chef Isabel's rooftop honey topped with foam formed from Quails' Gate Optima late harvest wine and garnished with a gold-dipped maple leaf. To savour this sipper a little longer, guests receive the gold leaves and crystal coupe glass the cocktail is served in, as well as a personalized jar of honey-raspberry preserve and a recipe card so they may recreate their own Canadian cocktail at home.
Take a Helicopter Ride
Take your Whistler vacation to great heights with a helicopter excursion. Imagine flying deep into the rugged landscape of the Coast Mountains and getting up close with knife-sharp peaks, ancient glaciers, hidden lakes, and mesmerizing ice formations. These helicopter tours run year round (though weather dependent) and range from short scenic flights to more adventures tours involving heli-snowmobiling or ice-cave explorations. With these helicopter tours, you can truly discover the magnificent beauty of Whistler from a bird's eye view.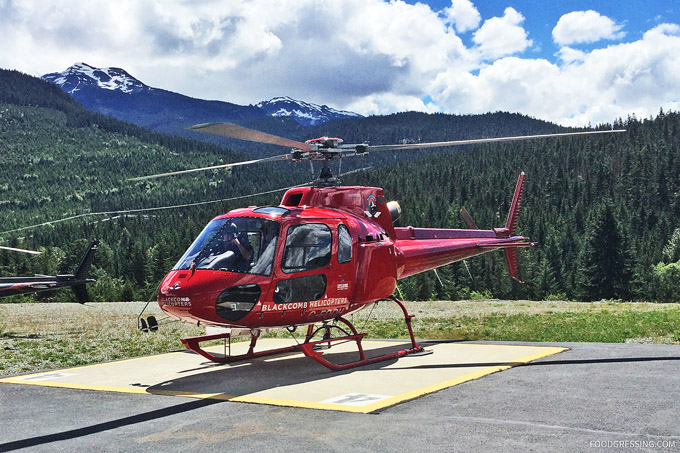 Enjoy Some Retail Therapy
The ultra charming and pedestrian-only Whistler Village is a shopper's paradise. There you'll find signature shops as well as eclectic boutiques ranging from fine artwork, fashion, jewelry to the latest outdoor sports wear and equipment. Some of the retailers in Whistler Village include ARC'TERYX Whistler, Aritzia, Helly Hansen, The Gap, L'Occitance En Provence and more. Find gifts for your loved ones or better yet…gifts for yourself 🙂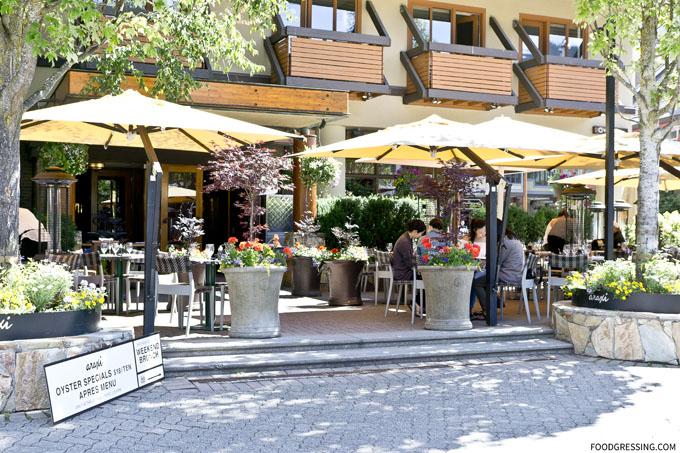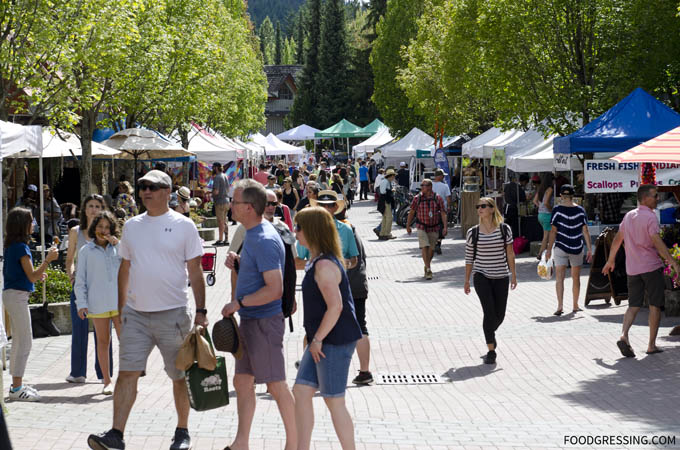 The potentials for a dreamy vacation in Whistler are endless. Where would you like to stay, eat or play? Let me know in the comments below!