Now that the holiday season is officially here, with it comes — let's face it — family gatherings that can be overwhelming.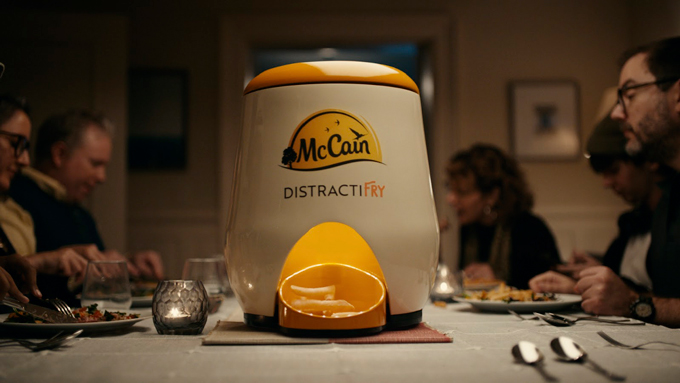 Certain topics from nosy but well-meaning relatives will inevitably arise.
Talks of engagement rings and grandkids (or lack thereof), political conversations that nobody asked for, and debates about cryptocurrencies are just some of the divisive topics that can cause unnecessary tension at family gatherings.
McCain Foods, the world's largest manufacturer of prepared potato products knows that if there's one thing that can shift those touchy conversations before they cause disagreements, it's french fries– after all, 99.2% of the population loves them.
Introducing the McCain DistractiFRY: a voice-activated device that dispenses hot, crispy and oh-so-delicious McCain fries each time it hears one of 80 pre-programmed trigger phrases.
It senses uncomfortable questions such as:
"Got a job yet?"
"Who are you voting for?"
"That's an interesting haircut."
"Where's my grandchild?"
"When I was your age, I already…"
"I don't mean to be rude, but…"
"It's not a pyramid scheme!"
"Conspiracy."
"Inflation."
"Vaccine."
Climate change."
You can check out the DistractiFRY in action in this video.
Watch how quickly heated conversations cease and family members gather around with smiles on their faces when the smell of fresh fries wafts through the air.
After all, it's pretty hard for guests to disagree with one another when McCain fries are on the table — take note, dinner hosts!
McCain is giving one lucky Canadian the chance to have the DistractiFRY at their next family gathering.
Dubbed 'The DistractiFRY Dinner', McCain will cater your next get together, complete with the DistractiFRY and tons of McCain fries.
Supplementary prizes include four Philips air fryers. Interested participants can visit https://mccaindistractifry.ca/ to enter.