Here's a look at Valentine's Day NYC 2023 featuring special offerings by restaurants.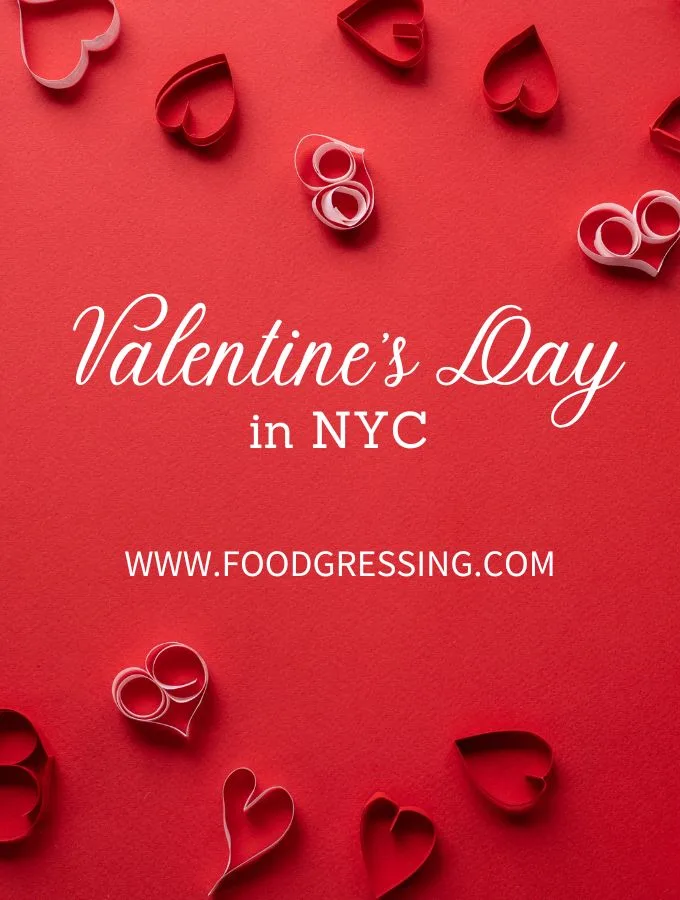 Valentine's Day is Tuesday, February 14, 2023.
Please reach out to me [email protected] or @foodgressing on social media if you are a restaurant that wants to be featured. Provide all the details of your holiday offering in your message. For faster processing, please provide a ready to copy and paste excerpt in paragraph form in a similar format to the restaurants featured below.
This list is not exhaustive and is updated as information becomes available. I try to feature as much as I can but certainly this is not all that is out there. If your favorite restaurant is not on the list, contact them to see what they are offering.
Valentine's Day NYC 2023: Restaurant Special Menus
Fig & Olive
Fig & Olive is offering a Valentine's Day prix-fixe menu priced at $85 per person. The menu, put together by Culinary Director and Partner, Chef Alain Allegretti, is meant to be shared, with options such as Citrus Lamb Arancini, Steak Shashlik & Herbs Spicy Butter Roasted Prawns, and Pan-Seared Scallops in the romantic ambiance of the South of France.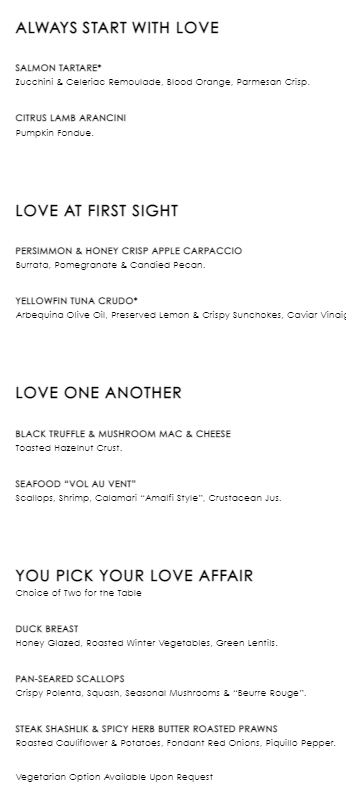 Steak Fries Bistro
The newly opened Steak Frites Bistro, located in Hell's Kitchen, is open for Valentine's Day dinner from 5 pm – 10 pm and reservations can be made via Resy.
They will be be serving a special prix-fixe menu for two, priced at $85 per person. Starting with a complimentary glass of champagne, highlights from the menu feature: first course options with a choice of Salade Vert, Onion Soup Gratinée, or Pâté de Campagne; main course offerings of either a Bœuf en Croute, aprime beef tenderloin, flakey pastry, mushroom duxelles, and red wine sauce, or a Buttered Poached Lobster, with pommes Anna, leek fondue, and sauce Américaine; and dessert options such as Raspberry Souffle, with dark chocolate and a Chambord ganache, or a selection of cheeses and garnishes.
Steak Frites Bistro will also be offering exclusive specials for the occasion; as an appetizer, a dozen Kushi Oysters with a Yuzu Mignonette for $45; and for main course, a Dry Aged Duck Bigarade, with honey and lavender, Swiss chard, and Tokyo turnips for $48.
CASA TuLuM
CASA TuLuM, which recently opened in the South Street Seaport, will be offering an exclusive Valentine's Day five-course tasting menu priced at $150 per person.
Beginning with a complimentary glass of champagne, the menu will entail: Happiness is Guac & Chips, with roasted pineapple, red onions, mint, habanero, and pomegranate seeds; CASA TuLuM is Calling – Let's Go, fideo with angel hair spaghetti, salsa verde, Chipilo cream fresh, and cotija cheese; Don't Worry, You're in Tulum, panucho with a homemade blue corn mini huarche, grilled prawns, and Pibil-Xnipec; This Place is a Real Beach, with a choice of Robalo Rosado, wild sea bass, pink mole pine nuts, and mezcal, or Proteina, grilled ribeye with malbec-chili ancho reduction, and asparagus; and for dessert, You Had Me at CASA TuLuM, with a choice of Tres leches power or Mayan warm chocolate cake. CASA TuLuM will also be offering a limited a la carte menu.
For Valentine's Day dinner, the restaurant will be hosting three dinner seatings: at 5 pm, 8 pm, and 10 pm with a limit of 20 tables available per seating; guests can book their reservations via CASA TuLuM's website or OpenTable.
Sama Street
For just $55 per person and for one night only (Tuesday February 14), Sama Street is offering a prix fixe Valentine's Day menu sure to sweep your sweetie off their feet. The menu includes three courses, the Halwa dessert, and a choice of any Sama Street cocktail like the Major Tom (gin, shochu, lemongrass, ginger, chili, coconut cream, cherry tomato, fish sauce) or the Lucy Liu (chili oil washed tequila, lychee, coconut, vanilla, lime). Sama Street's menu is full of Asian flavors and designed for sharing, so you and your date can choose six dishes to make a romantic tapas spread of everything you want to try together! Reservations can be made through the link here.
Sweetbriar
Att he Michelin-recognized Sweetbriar, located in the Park South Hotel, executive chef Bryce Shuman willbe servingguests a five-course Valentine's Day dinner menu priced at $185 per person, with a limited number of reservations available. The menu will feature the following dishes: Caviar and Spring Onion, Kumamoto Oysters and Togarashi Mignonette (+$28 supplement), Kohlrabi and Smoked Potato, Ricotta Ravioli with green garlic and peas, Smoked Snowdance Chicken with Sweet Potato and Figs; and for dessert, a special Heart on Fire (view photos here). Additionally, Sweetbriar will be offering their dinner menu a la carte for those looking to indulge in the restaurant's traditional offerings; the Heart on Fire will be available for a la carte diners as well.
On Valentine's Day, Sweetbriar will be open for dinner from 5:30 pm – 10:30 pm, with reservations available through Tock.
Hortus NYC
NoMad's Michelin-recognized Hortus NYC will be offering guests a four-course prix fixe menu for Valentine's Day. Designed by Executive Chef Lenny Moon, the menu offers an eclectic and romantic culinary adventures featuring pan-Asian flavors infused with European techniques. Priced at $65 per person, the menu begins with a Sea Scallop, in Thai basil and yuzu cream fraiche, with a Thai basil bread crumble. From there, diners can choose an appetizer from the a la carte menu as well as an entrée from the a la carte menu, or a Bone-in Ribeye Steak with grilled lobster meat and polenta. The meal ends with Dark Chocolate Mousse served with strawberry compote. Hortus NYC also offers an optional wine pairing for $40.
Hortus NYC will be open on Valentine's Day and serving their prix-fixe menu from 5 pm – 11 pm. Reservations are available via Resy and OpenTable.
sushi AMANE
sushi AMANE will be offering a special, extended omakase service for couples to indulge in for Valentine's Day. It is designed for them to enjoy the day with their special person, with cuisine and atmosphere that exceed expectations.
The Michelin-starred is discreetly located in the lower level of MIFUNE; couples are whisked away to a softly lit, exclusive eight-seat sushi counter where Executive Chef Tomoyuki Hayashi personally serves each piece of sushi to each diner, creating an intimate and unforgettable Valentine's Day experience.
For the occasion, he will be serving a 19-course omakase tasting menu that begins with a glass of Champagne and consists of seven small plates, nine nigiri, hand roll, miso soup, and a special Valentine's Day dessert. The experience is priced at $390 per person.
Benjamin Steakhouse
Benjamin Steakhouse Valentine's Day dinner menu has items including, Fried Calamari, Sizzling Canadian Bacon, Filet Mignon, New York Sirloin, Mashed Potatoes, Carrot Cake, Coffee or Tea, and more. Priced at $125 per person.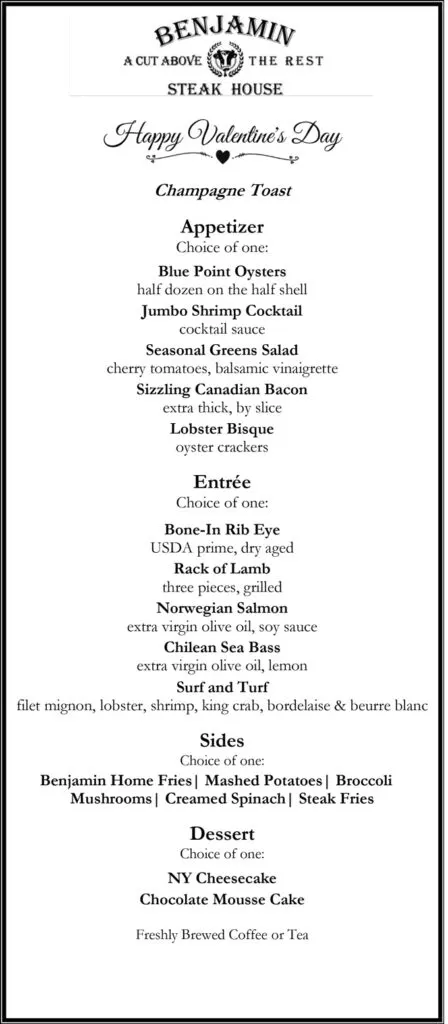 Benjamin Prime
Benjamin Prime is offering a Valentine's Day dinner menu features items like, Lobster Bisque, Italian Burrata, New York Sirloin, Seasonal Truffle Risotto, Creamless Creamed Spinach, NY Cheesecake, Coffee or Tea, and more. Priced at $125 per person.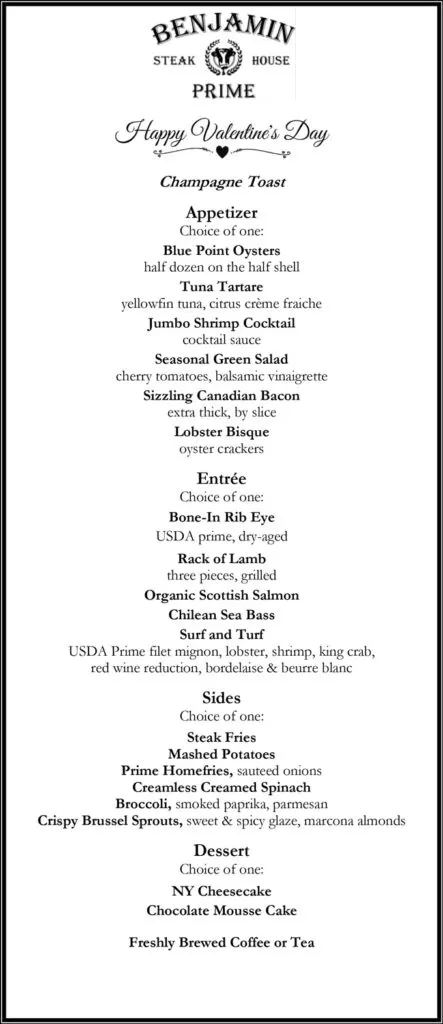 Crosby Street Hotel
Valentine's Day Afternoon Tea offered at The Crosby Bar & Restaurant, including a glass Veuve Clicquot, Pink Label NV. Available to book from the 10-19th February.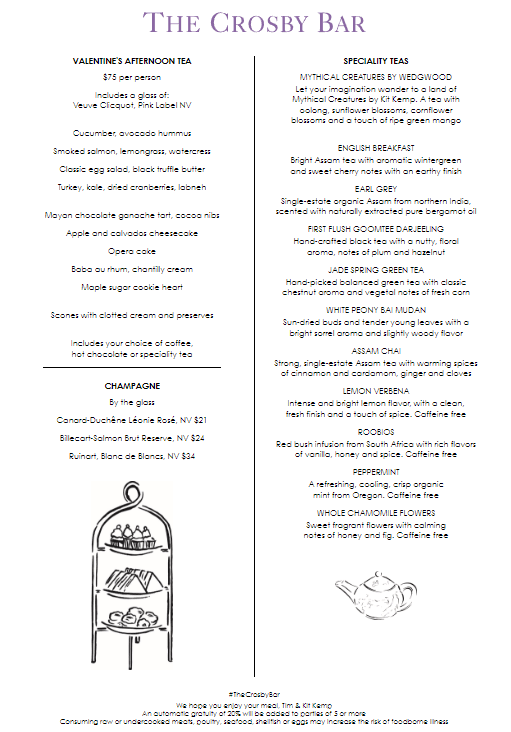 Whitby Bar
At The Whitby Bar, their talented Head Chef, Anthony Paris has created a special three-course Valentine's Day menu filled with an array of fresh, seasonal dishes. Start the evening with Champagne and caviar, before moving onto much-loved favourites such as Côte de Boeuf, Maine Lobster and raspberry and white chocolate tart.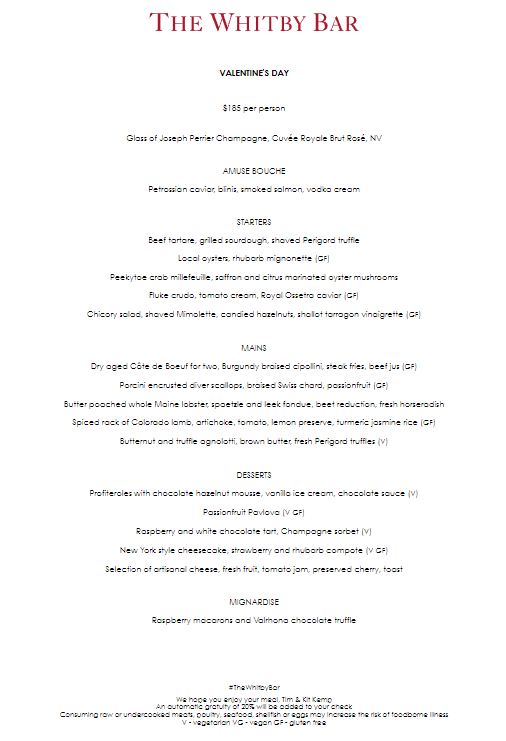 La Devozione
La Devozione's Michelin Recognized, intimate 30-seat chef's counter, The Oval, invites lovers to express their devotion to each other for Valentine's Day with a seven-course "Bacco Tabacco e Venere" menu, which will be offered from Friday, February 10th to Tuesday, February 14th.
Designed for an amorous, luxury indulgence, the menu is priced at $250 per person and driven by La Devozione's passion and devotion to pasta. It will take guests through a memorable viaggio throughout Italy and all that surrounds it that begins intensely and passionately with flavors from the depths of the sea, found in Linguettina con Astice e a sua Bisque al Mandarino, linguettina in lobster bisque with mandarin zest. The culinary journey continues with Bucatini Carbonara di Anatra, bucatini pasta with duck carbonara, which evokes the peace and romance of the Italian countryside. The penultimate and namesake dish La Devozione, the perfect bite of spaghetti al pomodoro, is flavorful enough to elicit a memory of passing through the urban crescendo of Naples. The meal ends with Bacco Tabacco e Venere for dessert, rum mousse with rum and tobacco leaves.
To complement the tasting menu, the team at La Devozione has created wine and Champagne pairings that range from a standard wine pairing at $95 to a premium Champagne pairing, priced at $350. Diners also have the option to add White Truffle or Caviar supplements to their meals for an additional $70 each.
Aquavit
Spread the love this Valentine's Day with Aquavit's special prix-fixe menu in the Bar Room as well as their six-course tasting menu in the Dining Room by Chef Emma Bengtsson. A champagne, caviar, and oyster package is also available at the bar seats only. For $185 per person, the Bar Room's first-course features Salmon Tartar with löjrom, quail egg, and horseradish; and Lobster Bisque with dill and fennel. Main course options include Wagyu Beef Short Rib with maitake, truffle, and bordelaise; and Diver Scallops with trout roe, cauliflower, and champagne beurre blanc. For dessert there is the choice of either Chocolate Tart with red currant, bitter chocolate, and caramel; or Creme Fraiche Panna Cotta with hazelnuts, bergamot, and honey ice cream. There is also the option for wine pairing at an additional $125 per person. For $325 per person, the Dining Room's tasting menu features Yellowtail and Sea Buckthorn, Wagyu Beef and Truffle, Turbot and Caviar, and Raspberry and White Tea. The wine pairing for the Dining Room is an additional $225 per person. Reservations can be made on Tock. The menus can be found here.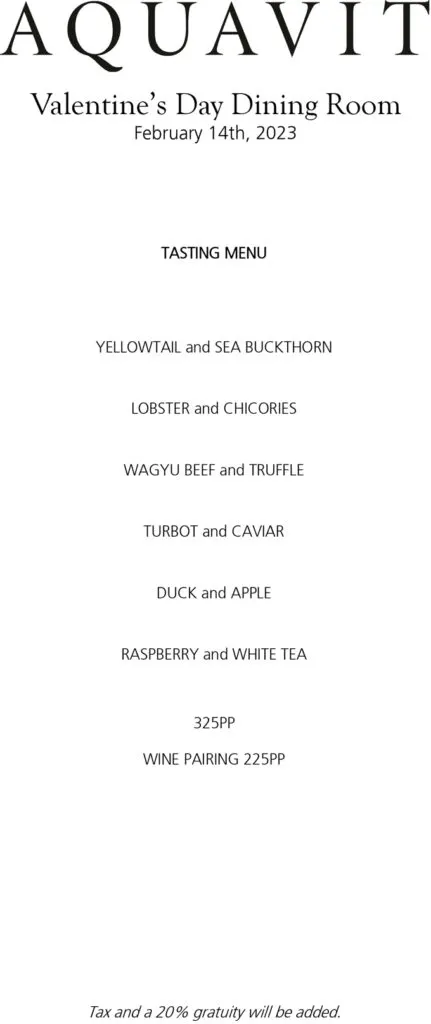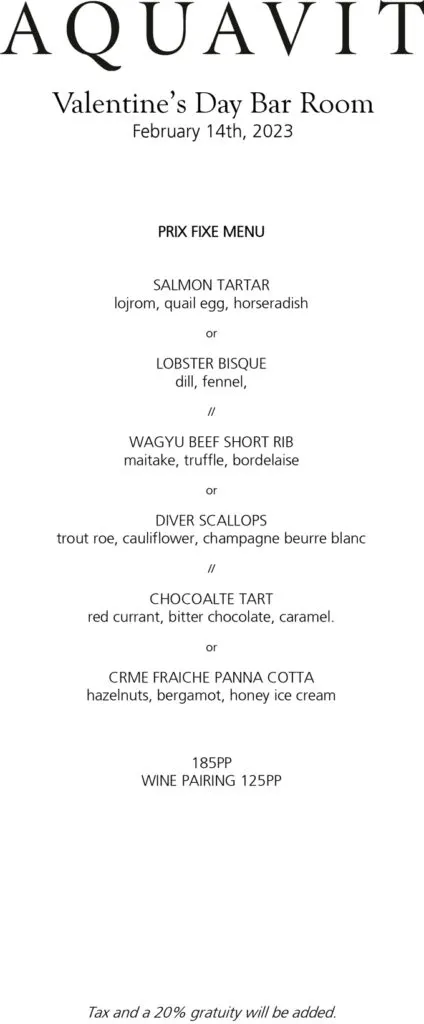 Dagon
Dagon is celebrating Valentine's Day by offering a prix-fixe four-course menu by Chef Ari Bokovza for $75 per person. The first course is a Half Dozen Malpeque Oysters to share with arak lime mignonette. For the second course guests can choose from Beet Hummus with caraway, turmeric oil, dill, and goat cheese flatbread; Salmon Crudo with brussels sprout tabbouleh, and ginger cucumber vinaigrette; or Wild Mushroom Toast with truffle, slow poached farm egg, and kibbeh spice. Third-course options include Overnight Brisket Tagine with gigante beans, yams, potato, Tunisian pickles, fresh herbs, and egg; Plancha Seared Arctic Char with crispy brussels sprouts, sumac, gingered labneh, and pomegranate; and Spiced Beet Shishbarak with warm yogurt, pine nuts, and schoug. Chocolate Mousse Roses are served for dessert; a perfect way to finish the dinner in celebration of love. Reservations can be made here. The menu can be found here.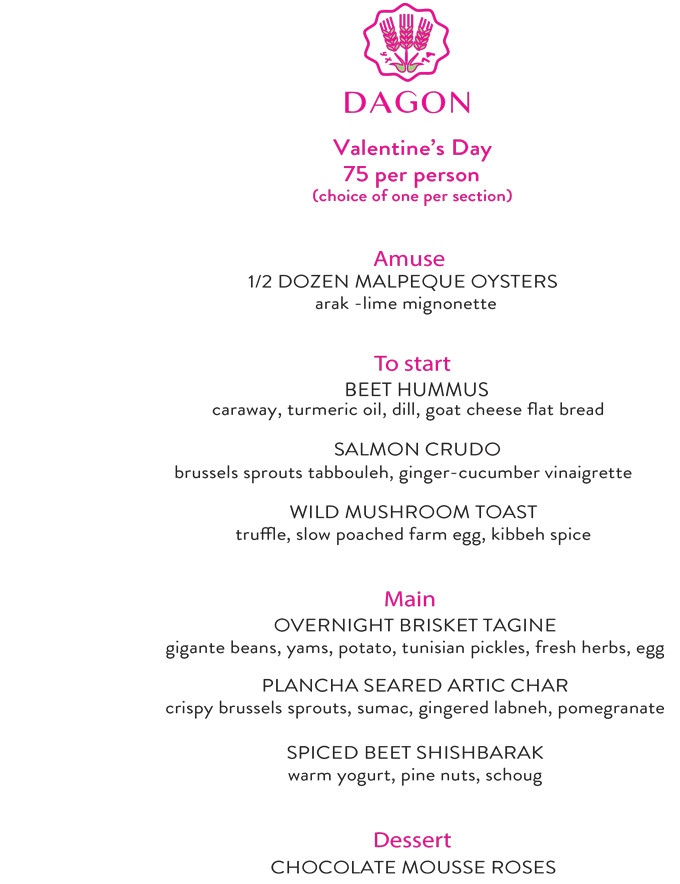 1 Hotel Brooklyn Bridge
Celebrate love in all forms with us at The Osprey and indulge in a special prix fixe Valentine's Day offering. Enjoy supplemental wine pairings and sustainably-sourced caviar. All set under the scene of our indoor hanging garden. February 14th | 5pm – 10pm. $110 per person, $55 kids 12 and under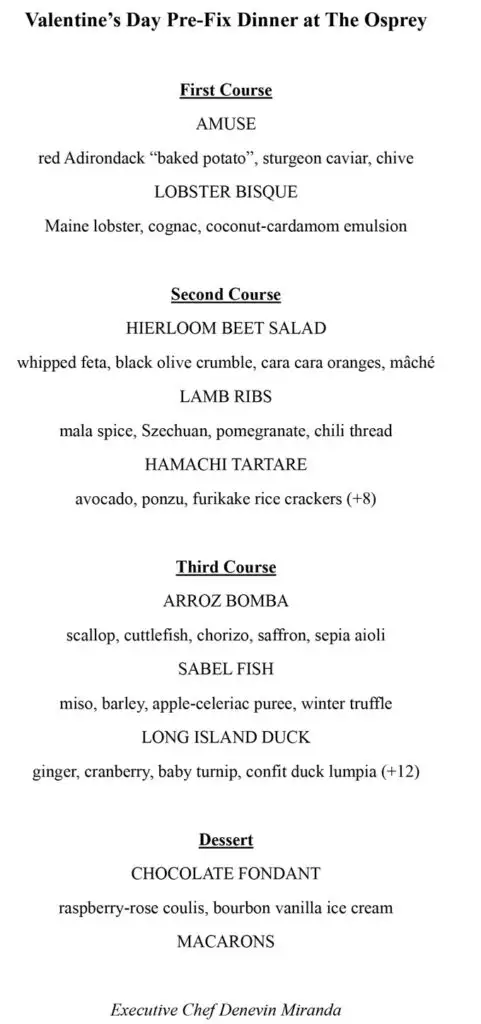 Find the 1 at 1 Hotel Brooklyn Bridge. Kick off Valentine's weekend in Harriet's Lounge with a singles soirée hosted by We Met at Acme. Meet, mix, and mingle alongside sweeping views of the Manhattan skyline. Find out more here. February 9th | 7:30 – 10:00 pm | Harriet's Lounge
Celebrate Valentine's Day with a treatment that both you and your partner will love. Indulge in our Signature, curated full-body 80-minute couples massage paired with our HigherDose Infrared mat guaranteed to release tension and warm your senses. Bring it all to a crescendo with a craft cocktail and dessert platter you and your partner can enjoy while relaxing in our Lounge. End your exclusive evening with a take-home candle to ignite your love compliments of Bamford Spa. Daily | Through end of February. 80 minutes | 2 people | $975. FInd out more here.
Celebrate self-love this Valentine's Day with a relaxing day to yourself. This service begins with an 80-minute therapeutic massage treatment, which includes a customized infusion of essential oils and Jade Warm Stones to relieve tension and restore your balance. Next, drift away into total relaxation with our 50-min AquaGlo facial leaving you feeling restored, renewed, and radiant. Daily | Through end of February. 80-minute massage + 50-minute AquaGlo Facial | $675.
1 Hotel Central Park
Treat your loved one to a memorable Valentine's Day dinner at Jams. Enjoy live music from Vanessa Andrade, in addition to delicious specials that were made with love for this romantic occasion. February 14th | 5pm – 10pm.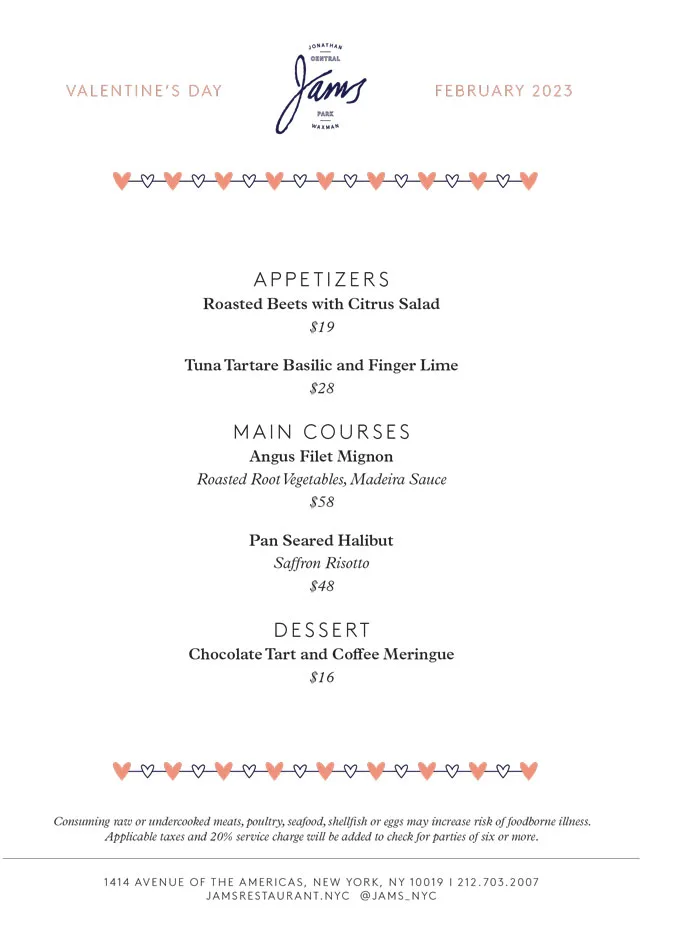 Baccarat Hotel New York
Romance and Style Package: The ultimate Valentine's experience complete with luxuries at every turn, one-of-a-kind experiences, and indulgent gift mementos. The shimmering Grand Salon and Bar provide stunning backdrops for a photo shoot for two, followed by a relaxing couples treatment in the Spa de La Mer. Enjoy champagne moments, a fine-dining dinner experience in the Grand Salon, and daily American breakfast in bed. February 1 – February 15. 2 Guests | Price upon request. Bookable in Grand Classic King room or higher.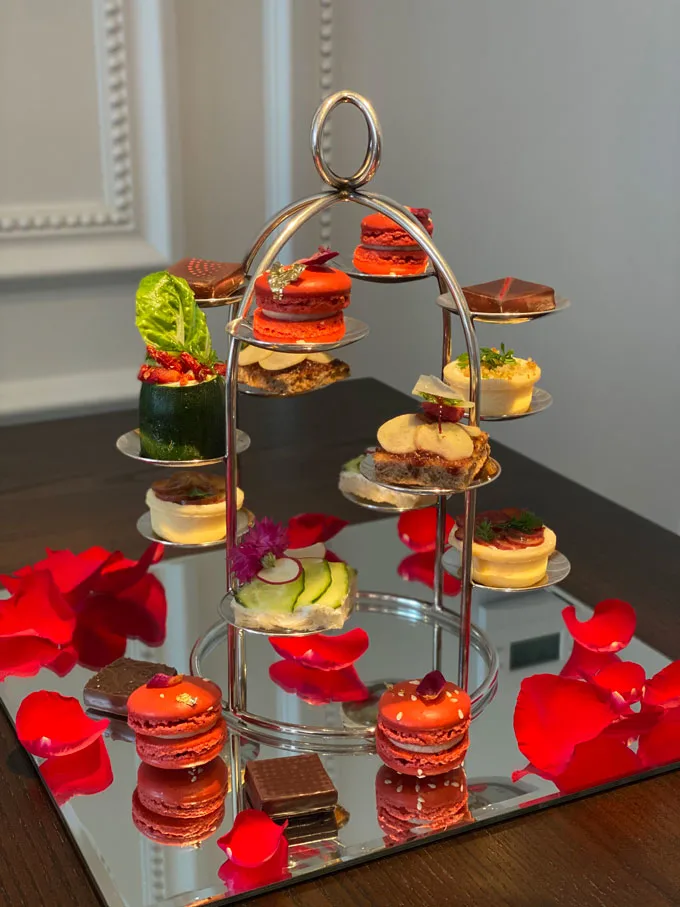 More Amour Package: Make this Valentine's Day an extra special one with a luxurious stay at our intimate hotel. From champagne to chocolate, and specialty dining moments in between, a romantic stay experience awaits. And we have even taken care of that perfect gift for that special someone.
Package Includes:
Luxurious accommodations
Daily American Breakfast for 2
One bottle of Sommelier selected Champagne
Chocolate Amenity
Baccarat Crystal Keepsake in a signature red gift box
February 1 – February 28. 2 Guests | Rates begin at $1,450.
Crystal Tea – Ultimate Afternoon Tea Experience. In keeping with the legendary crystal brand's heritage of creating masterpieces for generations of royal households, Baccarat Hotel New York has introduced its most luxurious afternoon tea services with the launch of The Crystal Tea. This elegant, first-of-its-kind offering includes elevated ingredients such as caviar, lobster, truffles and Madagascar vanilla, presented on Baccarat crystal three-tier and served with Cristal champagne. Baccarat's Faunacrystopolis Harcourt Tea Set enhances this ultimate tea experience and is included as a takeaway gift. Served daily from 12pm – 4pm. $3,000 per person.
With the debut of the new 53rd Street Boutique, the legendary crystal brand's newest store, hotel guests and visitors alike can enjoy a fully immersive Baccarat experience, venturing from the Grand Salon and Bar into the new boutique-all located on the second floor-to take a piece of Baccarat home with them.
Upon entry, guests in the 53rd Street Boutique are greeted with an aesthetic that is minimal and sophisticated, timeless yet modern. A stunning, 15-foot-tall tree sculpture, inspired by the hotel's outdoor terrace, provides a showcase for an array of lighting products available in the boutique.
Isabelle's Osteria
For a Valentine's night that includes exquisite Italian food with a chic vibe, Isabelle's Osteria is an exceptional place to win your date's heart. To honor the holiday the restaurant will be offering a special four-course prix-fixe menu by Chef James Tracey for $125 per person. The festive menu begins with Salted Focaccia for the table to share with cannellini bean spread, romesco, and marinated olives. Then guests can choose from appetizers like Tuna Tartare with squid ink risotto crisp, and pomegranate; Scallop Crudo with green apple, citrus créme fraiche, and ossetra caviar; and Truffle Burrata with roasted mushroom, shaved black truffle, pine nut, and country bread, followed by main-course options including Bucatini with lobster fra diavolo and basil; Lumache with duck ragu, lemon, rosemary, and whipped ricotta; and Iberico Pork Chop with pickled cherry pepper, roasted garlic, broccoli rabe, and polenta. Lovebirds can choose from dessert choices like Vanilla Panna Cotta with sponge cake, amaretto, raspberry, and amaretti crumble; or Death by Chocolate with brown butter fudge brownie, chocolate ganache, chocolate gelato, and cacao nibs. Reservations can be made on OpenTable. The menu can be found here.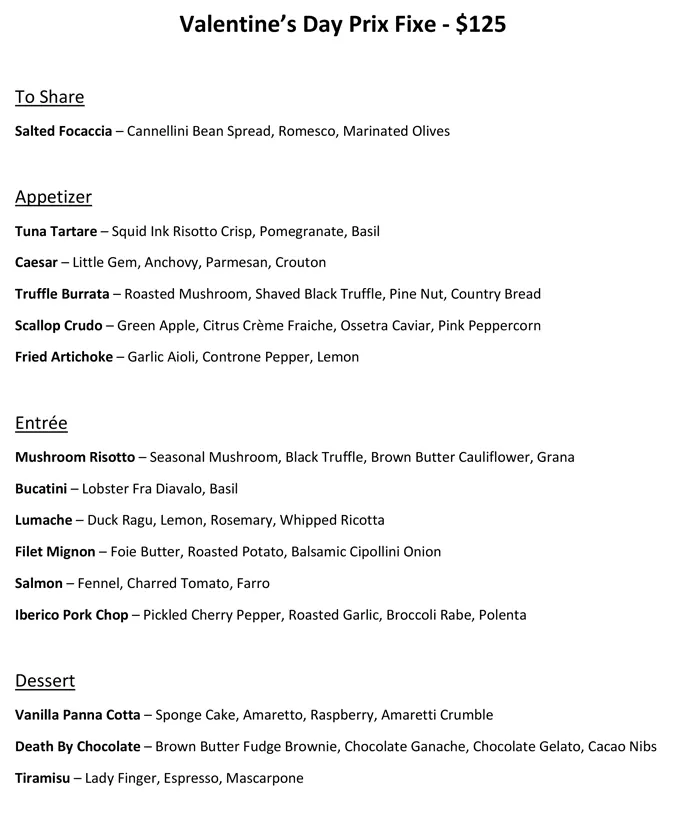 MoCA Asian Bistro
To catch the romantic vibe this February, MoCA Asian Bistro designed a limited time cocktail menu for Valentine's Day! They are Chocotini, Bed of Roses, and Cutie Crush.
The Chocotini is a martini especially for the budding romances, when nothing can ever be too sweet, and the bitterness in cocoa's heart is a pure delight. This rich and indulgent drink combines the smooth and creamy tastes of Godiva Liqueur and Bailey's Irish Cream with Vanilla Vodka, heavy cream, and a few other romantic touches which in combination elevate young lovers into the realms of decadent and luxurious.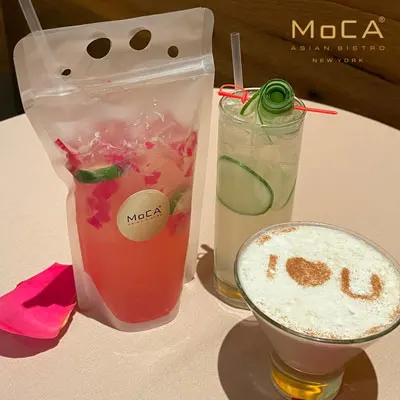 Next, fall truly in love in our Bed of Roses. Ever since this genus of flower was first favored by the ancient Greek goddess of love, Aphrodite, thousands of years ago, roses have been synonymous with the most exalted passions of the heart. Made with premium vodka, rose syrup, Triple Sec, and muddled rose petals, the delicate balance of sweet and floral flavors of our Bed of Roses cocktail practically say "I love you."
And finally, though you may wish to just lay in that Bed of Roses forever, you're sure to get a crush on what we can do with cucumber. Their Cutie Crush completes our Valentine's cocktail trinity in an ecstatic consummation of Elderflower Liqueur and muddled cuke over a zesty base of House Gin, Triple Sec, and a spritz of Sprite. Oh! Your table is ready! Time to move from the bar and savor the last drop of your cocktail over appetizers… a perfect Valentine's dinner you'll want to enjoy more than once this season!
LORE
Look no further than LORE to impress a Valentine's Day date this February 14. Along with their regular menu they are offering three specials by Chef Jay Kumar. Guests can enjoy an appetizer special of Smoked Rainbow Trout with onion purée, gluten-free bread crumbs, pickled onions and salmon roe; followed by a main of Pan Seared Shrimp on Chettinad masala spinach. For dessert there is Semolina Pudding with caramelized banana and rose cardamom ice cream. They will also serve their regular menu. Reservations can be made on Resy.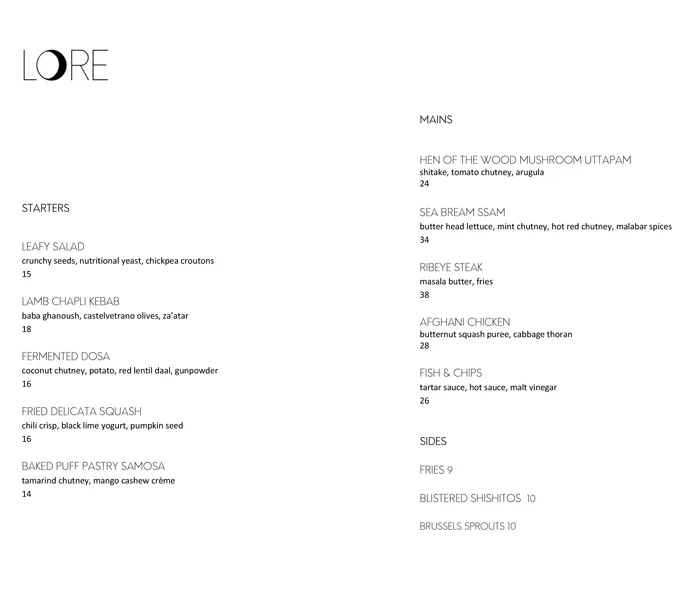 Monterey
Love is in the air at Monterey with their special prix-fixe four-course menu by Chef James Tracey for $125 on February 14. Guests start their meal with Balloon Sesame Lavash with carrot tahini and merguez spiced almonds, followed by first-course options such as Kumamoto Oysters with cucumber gelee, crème fraiche, and ossetra caviar; Wagyu Carpaccio with gribiche, pickled onion quail egg, and crispy shallots; Castlefranco Salad with blood orange, roasted beet, and pistachio; and Crispy Sweetbreads with sunchoke puree, pickled onion, and black truffle. Entree choices include Tilefish with lobster, swiss chard, and spiced lobster sauce; Truffle Lasagna with black truffle fonduta; Beef Tenderloin with roasted root vegetables, and foie gras sauce; Rack of Lamb with Japanese eggplant, artichoke, and harrisa; and Aged Duck Breast with roasted caraflex cabbage and mustard sauce. Dessert options include Chocolate Souffle with grand marnier anglaise; Cloud Cake with lime, strawberries, and whipped cream; Ile Flottante with passion fruit sauce and pistachios; and Ricotta Beignets with cinnamon and vanilla sugar and lemon curd. Reservations can be made on OpenTable.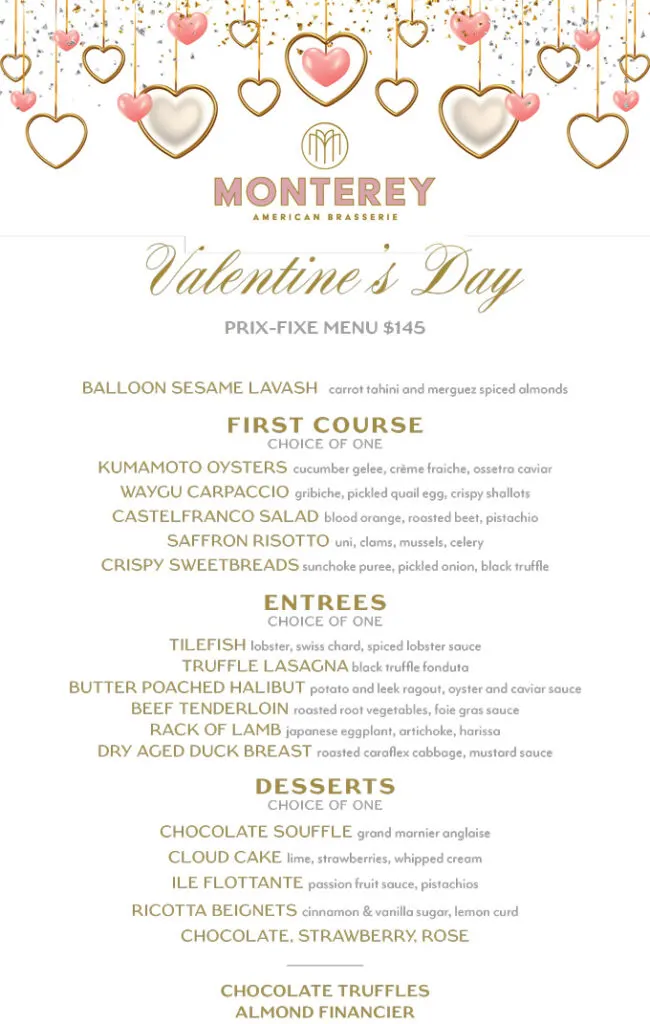 Taru
Fall head over heels for Taru's Valentine's Day specials by Chef Tony Inn. For $350 two people can enjoy a five-course prix-fixe menu from February 9th to the 11th and of course the 14th. Guests also have the option of including a beverage pairing for $100 per person. The dinner begins with Zensai, which includes ½ dozen pacific oysters, quail egg, followed by Mushimono with uni chawanmushi, and shiso dashi foam and a Nigiri platter of tuna, salmon, kanpachi, saba, and uni. Up next is Niku, a 32-ounce Australian Wagyu tomahawk for two with roasted seasonal vegetables followed by Amaimono featuring black forest gateau, cherry, kinako, and raspberry cheese soufflé, white chocolate, pistachio, sesame. Each guest will receive a complimentary Wagashi Japanese sweet box handcrafted by Pastry Chef Natsume Aoi; also offered will be a special Valentine's Day Cocktail named Ichigo made with Nikka gin, vanilla Giffard liqueur, yuzu, and strawberries. Reservations may be made here.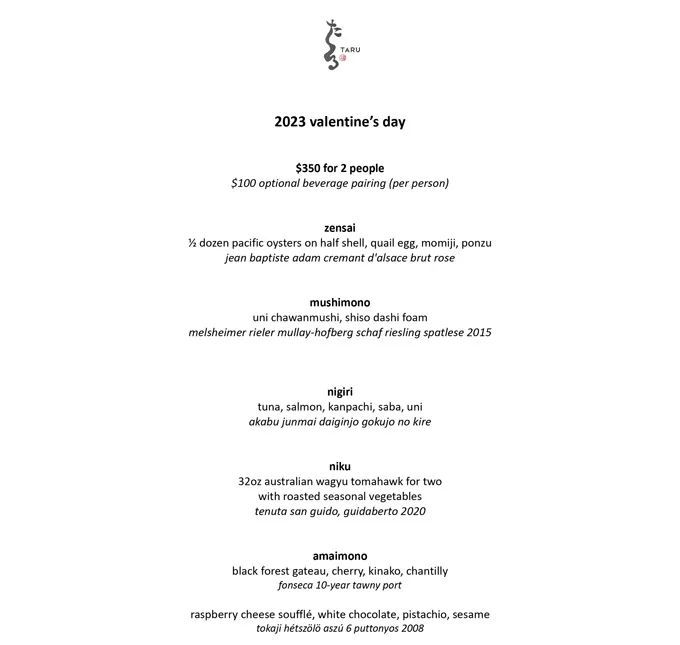 The Mary Lane
Cupid's arrow is pointing to The Mary Lane this Valentine's Day NYC 2023 with a three-course prix-fixe menu priced at $99 per person. For the first course guests can choose from Chef Andrew Sutin's Diver Scallop Crudo with winesap apple, baby fennel, cranberry ponzu, and toasted hazelnuts; and Roasted Beet Tartare with smoked honey, Urfa chili labneh, watercress, and crispy quinoa. The main course options include Honey Rose and Lavender Duck Breast with grilled treviso, parsnip, pearl onions, and jus; and Black Sea Bass with roasted cauliflower, butter braised cabbage, buttermilk, apple, and trout roe. Dessert choices are Dark Chocolate Cake with white chocolate ganache, hazelnut butter, and strawberries; and Strawberries and Cream Panna Cotta with bourbon gastrique and oat crumble. Reservations can be made on Resy.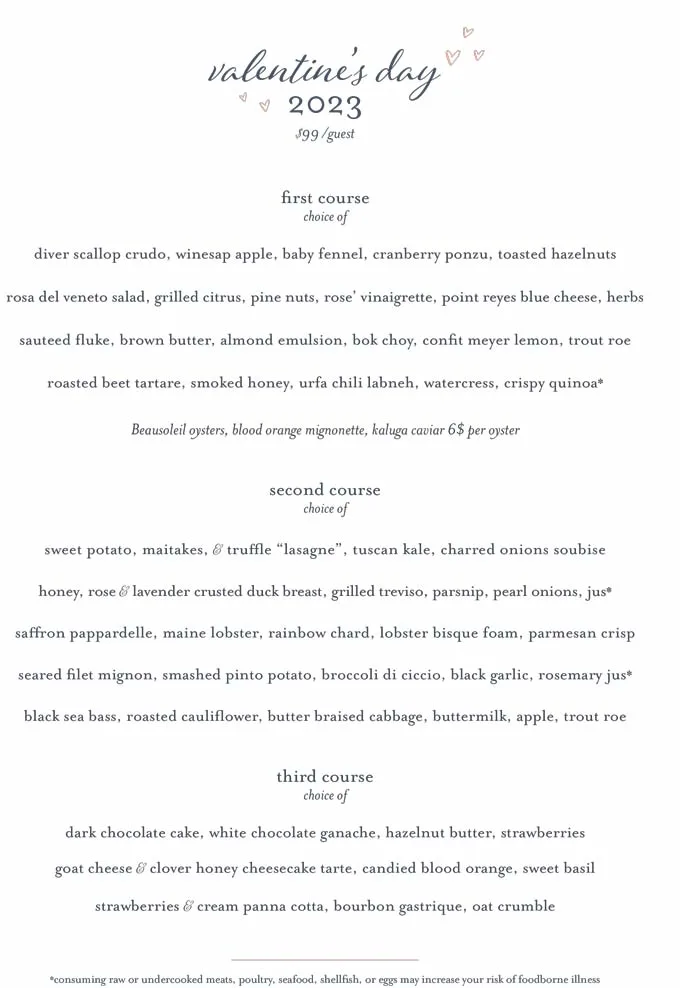 Dabble
Dabble is offering a three-course menu for $110 per person, consisting of delicious selections for couples to enjoy like a choice of octopus ceviche, quiche lorraine or bacon wrapped figs for appetizer and seared lamb tenderloin, black seabass or mushroom risotto as the entree. For dessert, diners have a choice of a chocolate cremeux with passion fruit or a strawberry rose mousse with champagne gelee. Attached is the menu for your ease of reference.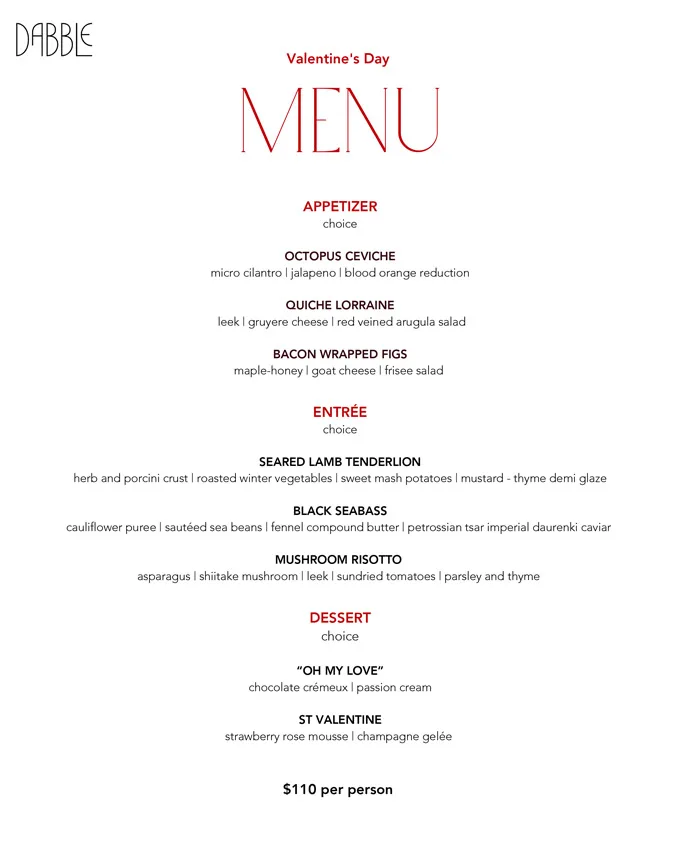 ATRIO Wine Bar & Restaurant
Located in Conrad New York Downtown, ATRIO Wine Bar & Restaurant is offering a prix fixe menu for $75 with a choice of a wine pairing for an additional $20 per person. For appetizers, guests can enjoy a variety of options, including a jumbo crab cake or east coast oysters, and for entrees, they can select braised lamb ragu or a grilled flat iron steak & marinated shrimp (and more). For desserts, guests can choose between a Valrhona chocolate cake or a raspberry cheesecake. The menu with additional choice and info is also attached.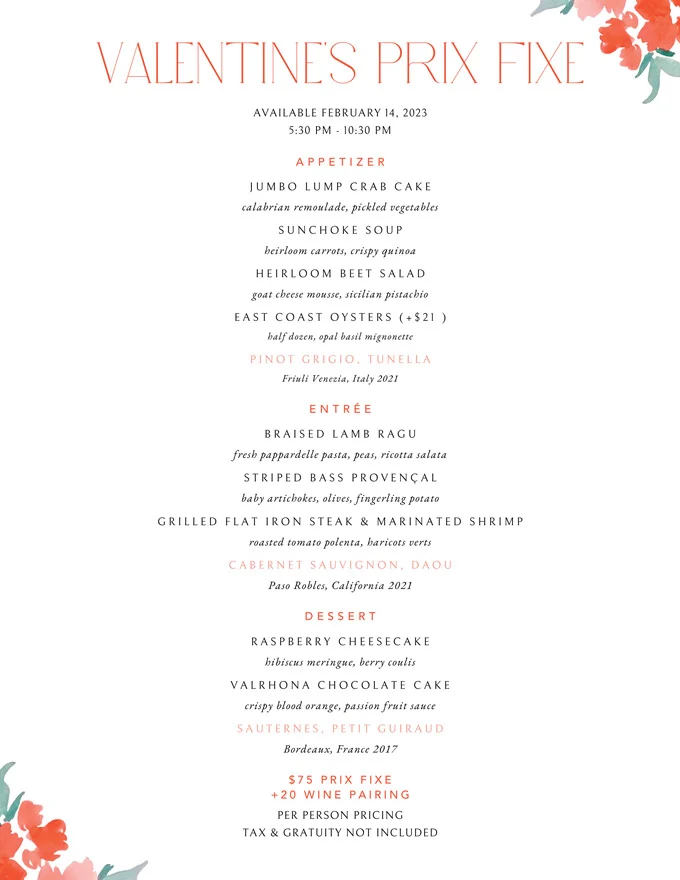 Vestry
For Valentine's Day, Vestry is offering a Valentine's Day NYC 2023 four-course prix fixe menu by Chef Shaun Hergatt at $175 per person. Start with the Cured Hamachi with daikon, kalamansi, and fingerlime; or Maitake Mushrooms with bosc pears, almond, mâche, and koji. For the second-course guests can choose from Celeriac Soup with hot panna cotta, parmesan crisp, and extra virgin olive oil; and Carnaroli Rice Risotto with sauteed foie gras, and hon shimeji cured egg yolk. Main course options include Maine Lobster with chili, bok choy, and basil; California Squab with honeycrisp apples, beets, and purslane; and Wagyu Beef with oxtail, parsnips, and torpedo shallots relish. Dessert includes Strawberry Trifle with tahitian vanilla; Cheesecake with honeycrisp apple; or Chocolate Tart with panna cotta and peppermint bark. Reservations can be made on Resy.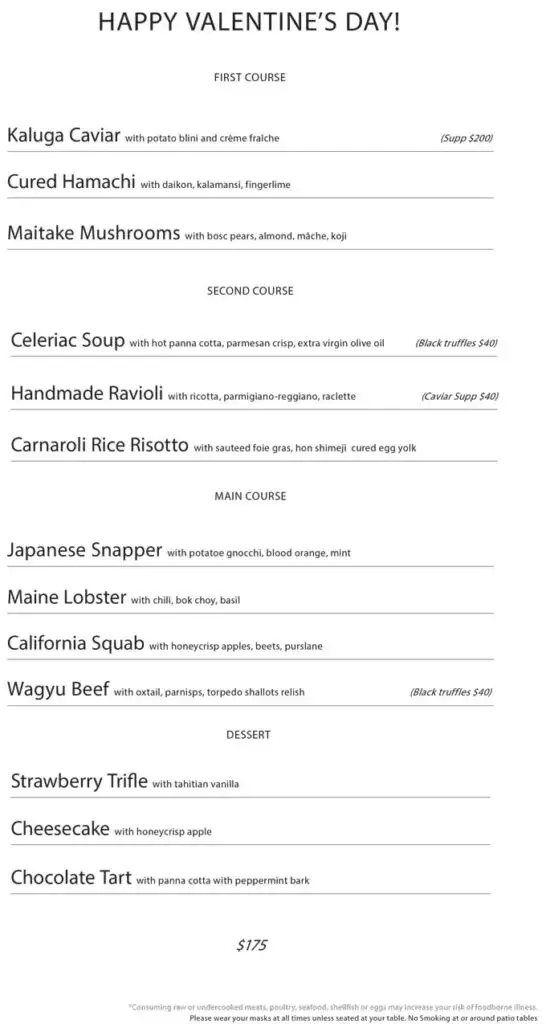 The Sea Fire Grill
The Sea Fire Grill Valentine's Day NYC 2023 dinner menu items include, Imported Burrata, Wedge Salad, Bone in NY Strip, Organic Scottish Salmon, Herb Fries, Truffle Mashed Potatoes, Sobert, Coffee or Tea, and more. Priced at $125 per person.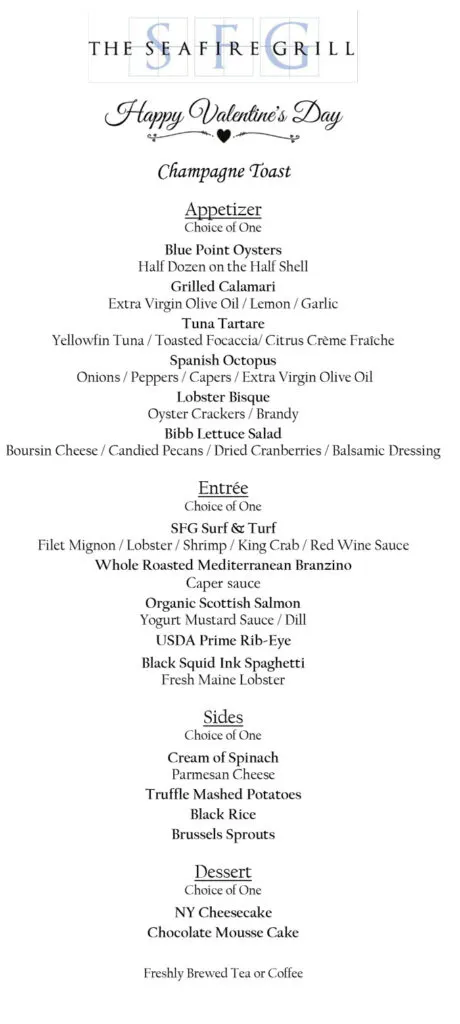 MIFUNE
Here's a look at the Valentine's Day dining experience at the Michelin-recognized MIFUNE, a romantic restaurant in a dimly lit space punctuated by natural wood accents and high ceilings with dramatic chandeliers that add to the ambiance and music that transports one out of the frenzy of Manhattan.
The subtle yet sophisticated and avant-garde dining room perfectly complements the special day and the culinary techniques Executive Chef Tomohiro "Tomo" Urata's perfected while working at some of the top restaurants in France like two Michelin-starred La Relais de la Poste in Magescq, three Michelin-starred Régis & Jacques Marcon in Saint-Bonnet-le-Froid and three Michelin-starred Maison Troisgros in Roanne.
The Valentine's Day experience consists of 10 courses, priced at $200 per person with the option to add a Wine and Sake pairing for an additional $70. Highlights from the menu will include:
Japanese Scallop Carpaccio, in a grapefruit and cocktail gelée made of vodka, nigiri sake, and lychee with cauliflower cream and pickled radishes
Foie Gras Flan, with porto consommé.
Roasted Squab, in a cacao sauce with black truffle gnocchi.
and Desserts:
Fresh strawberries covered with pâte de fruit
Meringue Ice Cream and white chocolate mousse with strawberry soup.
MIFUNE's Valentine's Day menu will be served exclusively on Tuesday, February 14th from 6 pm to 10:30 pm.
Mollusca
Mollusca, a spirited and sophisticated global seafood restaurant with Italian influence in the Meatpacking District, will offer a prix fixe menu priced at$200 for two on Valentine's Day.
To start the night, the pair will receive Veuve Clicquot Yellow Label Brut Champagne for two and a half dozen oysters.
After chatting over champagne and oysters, the couple may choose from a list of appetizers and entrées.
Highlights from the menu:
Appetizers
Wagyu Gyoza; 4 pieces with a Yuzu Creamy Truffle sauce
Ceviche Misto; shrimp, scallop, octopus, tuna, Hamachi, salmon, Branzino, sweet potato, leche de tigre
Entrées
Mussels served with frites and bread; choice of white wine garlic, saffron sauce, creamy vodka sauce, cacio e pepe, or condensed milk wasabi
Butternut Squash Cappelletti; sage butter squash sauce, crème fraiche, crispy black squid ink chips
To end the night is Mollusca's lovely dessert for two.
8282
8282 that serves elevated modern Korean cuisine is offering a prix-fixe menu at $75 per person that is divided into snacks, a choice of entrée, and a choice for dessert.
Highlights from the entrée section include: Kanpachi with apple sauce, young yellowtail, pickled cucumbers, gochujang oil, almonds, pickled kumquats, and Iberico presa with mook, grilled pork shoulder, mook (acorn jelly), ssamjang, gochujang vinaigrette and a dessert choice between sorbet or Injeolmi ice cream.
8282 has an amazing cocktail program by mixologist Katrina Sobredilla (formally of Cacio E Pepe UES, Reifs Tavern) to compliment the cuisine who embraces the art of hand-crafted cocktails with each drink she creates.
Reservations are available via Resy. 8282 will be open on Valentine's Day from 5:00 pm- 11:30 pm.
La Pulperia
La Pulperia located in Hell's Kitchen is a fun Valentine's Day destination as it provides diners with innovative Latin American cuisine, and cocktails, showcasing renditions of familiar dishes infused with cross-cultural flair. The restaurant will be offering a prix fixe tasting menu priced at $99, which is also available a la carte. Reservations are available via OpenTable.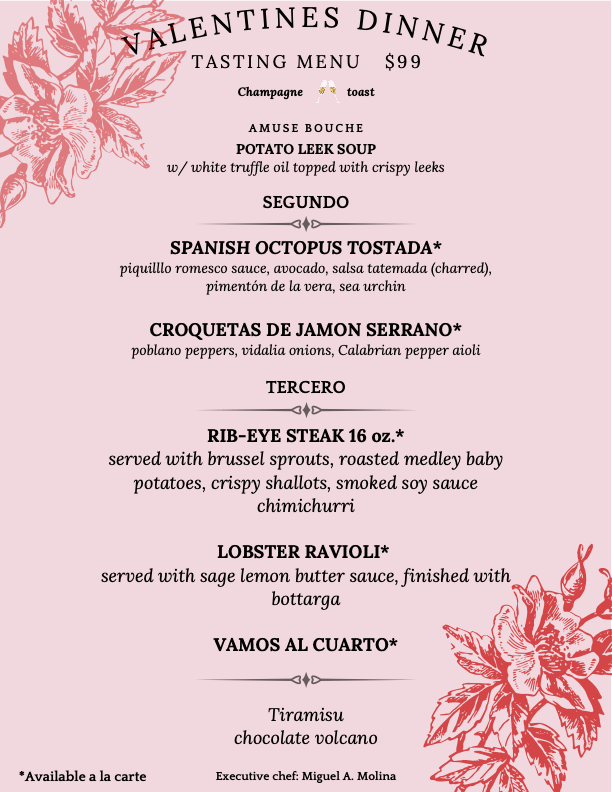 GG Tokyo
GG Tokyo is a hidden jewel box-sized izakaya that evokes the vibes of Tokyo's famed Golden Gai district known for its lively vibe and patronage of musicians, artists, writers, academics, and celebrities. To celebrate love GG Tokyo will be offering an 8-course omakase tasting menu priced at $135 with the optional sake pairing at an additional cost. Reservations are available via Tock.
The menu was designed to feature innovative Japanese-inspired dishes conceptualized for sharing with a group of friends. It is ideal for cocktail hour, dinner, or late-night bites, beginning with a raw bar, small plates, large plates. GG also offers sashimi, pressed sushi rolls and handrolls, as well as a four-course tasting menu, available at the six-seat sushi counter. The beverage program was designed by Beverage Director Ivan Papic in collaboration with Head Bartender Sasa Radovanovic with the vision to recreate classic cocktails with a Japanese twist.
The Landing at PENN 1
Nestled on the second floor of PENN 1, The Landing introduces a new level of elevated dining to the PENN DISTRICT in addition to being David Morton's (DMK Restaurants) first foray into New York City dining. In close proximity to MSG and Penn Station, The Landing is the perfect spot for a romantic Valentine's Day NYC 2023 dinner, whether you live in the neighborhood or are making a special trip to the city.
From February 6th-14th, The Landing will be offering various Valentine's Day specials such as:
Surf & Turf dinner special – a 40-ounce porterhouse, grilled lobster tails, miso butter and grilled bok-choy for $120
Selection of sparkling wines
Decadent chocolate cake for dessert
Prepared by Chef Jonathan Ho, whose culinary journey has taken him from Beverly Hills to New York City working under Michelin-starred chefs at hotspots like The Grill, Bar Boulud, Restaurant Marc Forgione, Maude Restaurant, and RH Rooftop, The Landing's rotating menu is rooted in seasonal, farm-to-table ingredients which pair perfectly with the inventive (and delicious) cocktails from the bar.
With aesthetics at top of mind, The Landing features a modern yet warm interior design by renowned design firm A+I with lush decor providing an inviting atmosphere, reminiscent of a private club. Guests can sip wine or cocktails at the bar before enjoying private dining in either of the two meticulously designed private rooms which transport guests back to the Roaring '20s when speakeasies were all the rage.
The Lavaux, Swiss Wine and Fondue Bar
The Lavaux, Swiss Wine and Fondue Bar is offering a Valentine's Day NYC 2023 Weekend menu on February 10.
Fornino
Fornino (849 Manhattan Ave.) will celebrate lovebirds between February 11th – 14th, with a special Valentine's Day NYC 2023 Pizza Love Kit. The kit is priced at $110 and includes an Imported Cheese & Fruit Plate, one large salad, 2 Heart shaped pizzas, Tiramisu, Strawberries and a bottle of wine. Orders for the kit must be placed by 10 am for pick up or delivery at their Greenpoint location only. Orders can be placed by emailing [email protected]
Somewhere Nowhere NYC
Somewhere Nowhere NYC is adding a dash of romance to the city skyline this Valentine's Day NYC 2023, offering a string of specials for diners to enjoy whether they book a reservation in their sexy indoor lounge for $300 or in one of their stunning teardrop igloos for $450. A special Valentine's Day a la carte menu will be available at their expansive bi-level indoor lounge in addition to a three course prix-fixe menu dining in one of their oversized, stylized winter igloos overlooking the Empire State Building. Tables on the enclosed rooftop will receive a complimentary gift from La Maison Du Chocolat to share, and reservations for the teardrop igloo will be accompanied by a complimentary gift from Venus et Fleur to remember your special day with an eternity flower and bottle of Veuve Clicquot champagne. Reservations for the special evening can be made by visiting, https://www.eventbrite.com/e/valentines-day-tickets-511085770297.
Bubby's NYC
On February 14, celebrate dinner at Bubby's, a meal you know you'll love: a bucket of Bubby's famous crispy fried chicken, coleslaw, buttermilk biscuits, champagne, and of course a slice of pie, available for dine-in with indoor and outdoor seating.
Gift Idea: Bubby's beloved pancake mix ($12), packaged in a recyclable pink bag perfect for Valentine's Day makes for a great gift or celebratory breakfast in bed for your special someone. Pick up a bag at Bubby's or order online (ships nationwide).
Haven Rooftop
Haven Rooftop is hosting a sultry Valentine's Day NYC 2023 evening in the sky with a delicious prix fixe menu for $95 per person and live entertainment all evening long! Couples can enjoy a romantic 3-course dinner on Tuesday evening, with seating at 5 p.m., 7 p.m., and 9 p.m. Romantic music will be provided by professional musician Syrena. To make a reservation email, [email protected]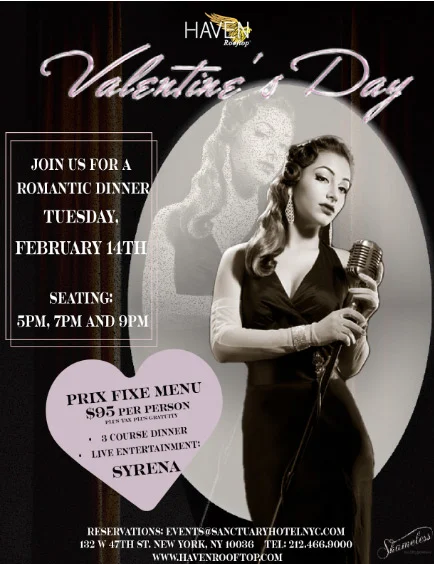 Amali
Amali is offering diners a Valentine's Day NYC 2023 special prix fixe dinner in place of their a la carte offers for Valentine's Day on Tuesday, February 14th! Diners will choose from a variety of appetizers including Tuna Carpaccio with Caviar, Chives, and Avocado Mousse, entrees like Red Snapper with Moroccan Rice, Chermoula, Roasted in Grape Leaves or Long Island Duck Breast with Quinoa Crust, Hazelnut, Cognac, D'anjou Pear plus a dessert like Basque Cheesecake and Creme Brûlée with Tahitian Vanilla. Reservations for the $145 per person pre fixe dinner can be made by visiting, https://www.amalinyc.com.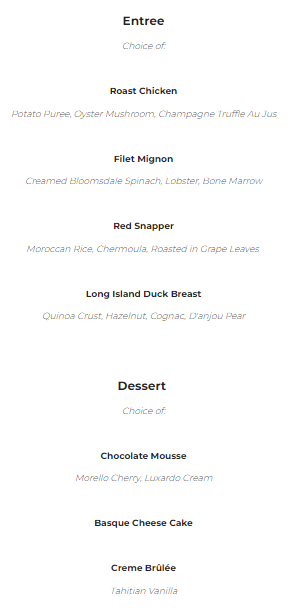 Bar Marseille
Bar Marseille is offering a special Valentine's Day menu in place of their a la carte offers on Tuesday, February 14th! Diners can choose from a variety of appetizers including Escargot with Garlic Herb Butter or Steak Tartare with Cornichon, Caper, Shallot, Parsley, Dijon; an entree like Steak Frites featuring a New York Strip steak, and Herb Compound Butter or Saumon Au Poivre with Sautéed Spinach, and Peppercorn Sauce plus a dessert like Chocolate Covered Strawberries or Creme Brulee. Reservations for the $66 per person pre fixe dinner can be made by visiting, https://www.barmarseille.com.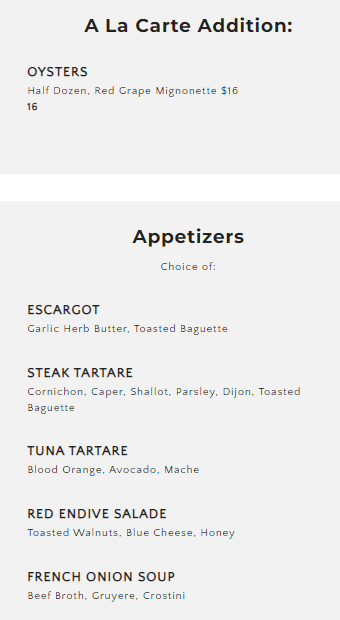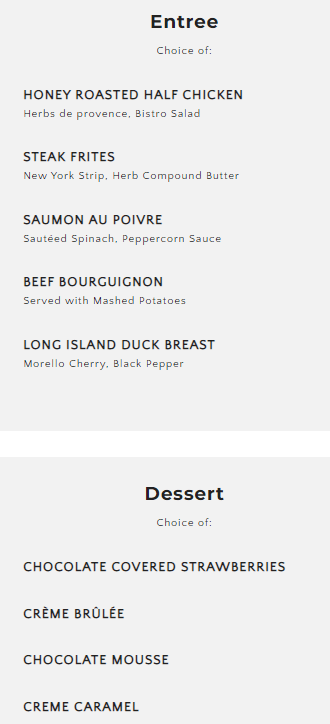 Slate
Slide into Slate for a magical evening playing at their adult playground and sharing laughs on Valentine's Day! Enjoy a $49 per person Valentine's Day Jazz Dinner for two that includes two entrees, one bottle of house-selected champagne, and a live jazz performance. Before going to supper, explore arcade games, try your arm at bowling and take your date for a swing on the dance floor while a jazz band plays renditions of today's hottest hits. Reservations can be made by visiting, https://slate.ticketsauce.com/e/valentines-day-slate.
Kintsugi
Kintsugi is offering couples and loved ones a decadent Omakase dinner utilizing early spring ingredients such as firefly squid, abalone, and auction-graded uni straight from Tsukiji market in honor of Valentine's Day! Guests will enjoy a total of 20 courses including; 7 appetizers, 9 Sushi courses, 1 hand roll, 1 soup, 1 house special Tamago and 1 dessert for $185 per person. Diners can add on an Urchin Tasting for +45$ per person and a beverage pairing featuring some of the most prestigious sake breweries in the world such as Masumi, Izumibashi and Ninki Shuzo for +$120 per person. Reservations can be made by visiting, https://www.exploretock.com/kintsugi/experience
Clinton Hall
Clinton Hall will debut a special dessert for guests on Valentine's Day! All diners can order the limited edition Red Velvet Doughnuts, served with cream cheese custard and warm cocoa filling in tiny shot tubes to inject yummy goodness into each doughnut. The festive sweet treat comes paired with a chocolate stout for $14.
Kissaki Omakase Bowery
Kissaki Omakase Bowery will be celebrating Valentine's Day Weekend from Friday February 10th to Tuesday February 14th with a special 16 course Omakase menu featuring 4 Appetizers, 10 pieces Nigiri, Hand Roll & Dessert. Priced at $186 per person.
Kissaki UWS
Kissaki UWS will be celebrating Valentine's Day on Tuesday February 14th with a special Omakase menu. $185 per person for a 16-Course Omakase that will include 4 Appetizers, 10 pieces of Specialty Nigiri, Handroll and Dessert.
ASSET
ASSET is offering a Valentine's Drag Brunch on Sunday February 12. Showtime is from 1 – 4 pm only while Brunch Service runs 11:30 – 4 pm.
Restaurant Daniel
Restaurant Daniel is offering a 4 Course Tasting Menu for $375 per person on February 13. Optional Wine Pairing for $185 per person.
On February 14, they are offering a 5 Course Tasting Menu for $425 per person. Optional Wine Pairing for $225 per person.
AYZA Wine & Chocolate Bar
AYZA Wine & Chocolate Bar is offering a 4-Course Valentine's Day Menu on February 14. Priced at $250 for 2. Romantic candle-lit atmosphere with rose petal covered tables.

Blossom on Columbus
Blossom on Columbus is offering a three-course prix-fixe menu ($75 per guest) on Febraruy 14.
Jean-Georges
Jean-Georges will be offering 3 Tasting menu options on February 14. 6 course Vegetarian for $218 per person. 6 course Omnivore for $288 per person. 10 course Omnivore for $368 per person.
Misirizzi
Misirizzi is offering a 3-course prix-fixe menu on February 14. Priced at $90 per person.
Wicked Jane
Wicked Jane is offering a 5-course prix-fixe menu on February 14. Priced at $168 per person.
Nougatine Restaurant by Jean-Georges
Nougatine Restaurant by Jean-Georges is offering a 3 Course prix-fixe menu for $178 per person on February 14. There will be a choice of 5 appetizers, 5 entrees and 5 desserts.
Charlie Bird
Charlie Bird is offering a special four-course prix-fixe menu on February 14 created by Chef Ryan Hardy and the culinary team. They have two ticketed dining options available (Indoor and Outdoor in the heated, enclosed Patio). $195 per person for Dining Room and $97.50 per person for Patio.
Ladybird
Whimsical cocktails and flowing natural wines sit alongside Ladybird's deeply satisfying multi-course Valentine's Day menu. Ladybird is offering 2 seatings, 6pm & 8:30pm. Priced at $75 per ticket.
Soda Club
Spend the lover's holiday at everyone's favorite "moody little wine bar" that has become a joyful little neighborhood staple for locals and visitors alike. It's all about great wine, great conversation and cozy corners! Priced at $100 per person for 5-course tasting menu. Book here. Soda Club is offering 2 seatings, 6pm & 8:30pm.
Rabbit
Rabbit is offering a 12 Course Raw Vegan Tasting Menu on February 14. Priced at $100 per person.
Sushi Lab – East Village
Sushi Lab – East Village is offering a special 16-course Valentine's Day NYC 2023 omakase. Priced at $125 per person. Complimentary champagne toast.
Etérea
What better way to spend the lover's holiday than beneath a vibrant canopy of suspended flowers and glowing lace-lined umbrellas, where delicious, sun-drenched cocktails are sipped alongside platefuls of inventive Mexican dishes. Etérea is offering a 5-course tasting menu priced at $75 per person.
Cadence New York
Cadence New York is offering a Valentine's Day NYC 2023 5-course tasting menu on February 14 priced at $100 per person. Cadence is offering 2 seatings 6pm & 8:30pm.
Avant Garden
Avant Garden is offering a 5-course tasting menu on February 14 priced at $100 per person. Nestled beneath a dimly lit tree branch chandelier, the dining room glows with rustic charm at Avant Garden. With a quaint neighborhood feel and buzzy Chef's Counter scene just an arms reach away, you can tuck into a cupped chair across from your friends and watch the evening unfold.
Iris
Valentine's Day Weekend | February 10, 11, 14
In addition to their à la carte menu, Iris will be offering a Romantic Aegean Feast for two priced at $195; menu offering below:

LAND

We start with our signature pikilia, a tasting of feta cheeses & village salad. To follow, a succession of lean and fatty animals: olive wood-smoked beef short rib, rabbit stuffed tsoureki, lamb neck in filo, chickpea revithada, and wild greens punctuated by a table full of Aegean sweets.

SEA

We start with our signature pikilia, a tasting of feta cheeses & village salad. To follow, an array of fish and shellfish, local and imported: marinated fluke crudo, Long Island oysters and grilled octopus, bacon wrapped scallop and New England lobster kebabs, whole roasted dover sole, PEI mussel rice, and spinach hilopites punctuated by a table full of Aegean sweets.
Civilian Hotel
Tuesday, February 14th, 5-10pm
3-Course Prix-Fixe dinner for two, $79pp
Normal, a la carte service not available
Rosevale Cocktail Room (2nd Floor)
Tuesday, February 14th, 5pm-12am
Three Course Drinks with Romantic Bites for Two, $135
Three Course Drinks for Two, $85
Normal, a la carte service available
Live Jazz by Charlie Roman Hot Club 8-10pm
L'Amico
L'Amico is offering an American menu with Italian influences, located in the Hotel Eventi
Dinner: 5:00pm-10:00pm

$95 – 3-Course Special Prix fixe (a la carte from same menu at bar)
$50 – Optional Wine Pairing
Champagne-based Specialty Cocktail by Jason Hedges
Skirt Steak
Skirt Steak in the Hotel Eventi is offering the following:
Dinner: 5:00pm-10:00pm

Regular Prix Fix is Available: $39
Special $69 Prix Fixe

Glass of Sparkling Wine to start
Special Upgraded Prix Fixe

Special Dessert
Specialty Cocktail by Jason Hedges
Home Chef
If you're looking for a relaxed, romantic date-night-in, Home Chef has you covered with an indulgent menu that will surely impress your special someone (partner, pal, pet, you name it). These V-Day specials are available to order now to be sent straight to your door in time 2/14, fresh ingredients and approachable recipe cards included — so saying "I love you" through a home-cooked meal can be both delicious and stress-free, no hard-to-nab restaurant reservation needed.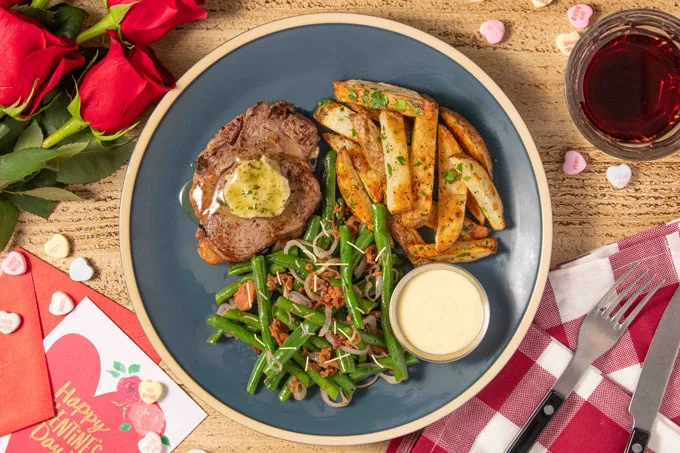 The decadent, easy-to-make recipes include:
Filets Mignon Steak Frites with Truffle Aioli and Parmesan bacon green beans
Spinach and Artichoke Baked Gnocchi with bread crumbs (recipe by Rachael Ray!)
Cranberry Goat Cheese-Stuffed Chicken with roasted Brussels sprouts
Home Chef also has the final course covered with a limited-time dessert duo just for Valentine's Day, which combines a Chocolate Lava Cake and a Red Velvet Cookie Skillet for a sweet and scrumptious end to the special meal.
This Valentine's Day menu is available to order from the menu here, now until noon CT on Friday, February 10. Thanks for the consideration.
Things to Do
Go City
Disclosure: Some of the links below are affiliate links, meaning that at no additional cost to you, I will receive a commission if you click through and make a purchase.
Go City is an awesome way to discover the city's best attractions, tours and experiences, all on one pass. With Go City, you can visit bucket list attractions, enjoy top tours, and discover plenty of hidden gems – all of which are handpicked by local experts. Plus, you can say goodbye to multiple entry fees and paper tickets. It's one price, one pass, and everything you need, right there on your phone.

You'll save far more with Go City compared to buying separate attraction tickets. You control your sightseeing – mix pre-booked activities with other flexible experiences. Just show your pass at each attraction to enter – it's that easy.
Some NYC attractions included are Empire State Building; Top of the Rock Observatory; Edge and more. Find out more here.