Chili's has partnered with Pro Bowl Dallas Running Back Tony Pollard to create a sports memorabilia moment unlike any other – jerseys featuring It's Just Wings Crafted by Chili's sauces like Buffalo, Honey-Chipotle and Nashville Hot that the NFL superstar wore while filming his new Chili's commercials.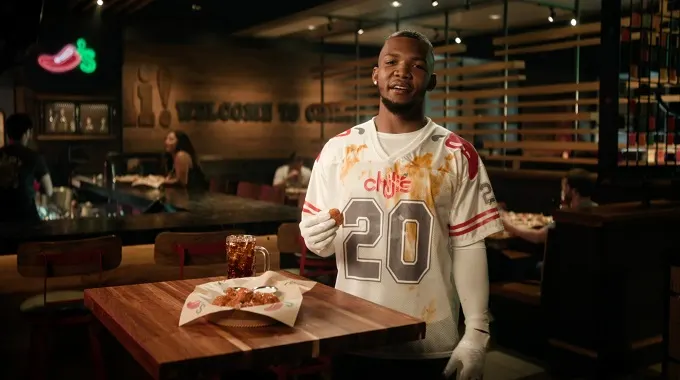 Starting this Monday, Sept. 25, football fans can enter to win one of these iconic jerseys, plus free Boneless Wings, every Monday for the next month.
'Wing Worn' jerseys combine the best parts of football fan culture – the meal and the merch – turning the idea of a highly sought after game-worn jersey into a rare collectible stained with sauce.
Guests enjoying BOGO Boneless Wings at their local Chili's can enter by sharing a picture of the moment on Twitter, using #ChilisWingWornJersey and tagging @chilis.
The giveaway runs for four weeks, concluding when Dallas plays on Monday, Oct. 16.
Of the jerseys available, three feature the iconic sauce stains of Pollard's very own hands from his authentic, wing-eating experience, along with his signature.
The other twelve are 'wing signed' by Pollard – in a variety of the brand's craveable sauces, of course.
Each Wing Worn jersey has been preserved in a frame and comes with an action shot of Pollard enjoying the wings plus a certificate of authenticity.
In addition to the rare jersey, winners will also receive free Boneless Wings during every Monday of football season.
Chili's BOGO Boneless Wing Mondays are available all football season for dine-in, eight-count boneless wings orders.
All day, every Monday! To learn more about Chili's BOGO Boneless Wings promotion and other specials, visit chilis.com/happy-hour.