This Saturday, September 23rd, from 12 pm – 10 pm, Shipyard Festival returns for a one-day, multi-stage festival with tons of live music, a site wide beer garden, vendors, family activities and Car Free Day North Vancouver Zone on Carrie Cates.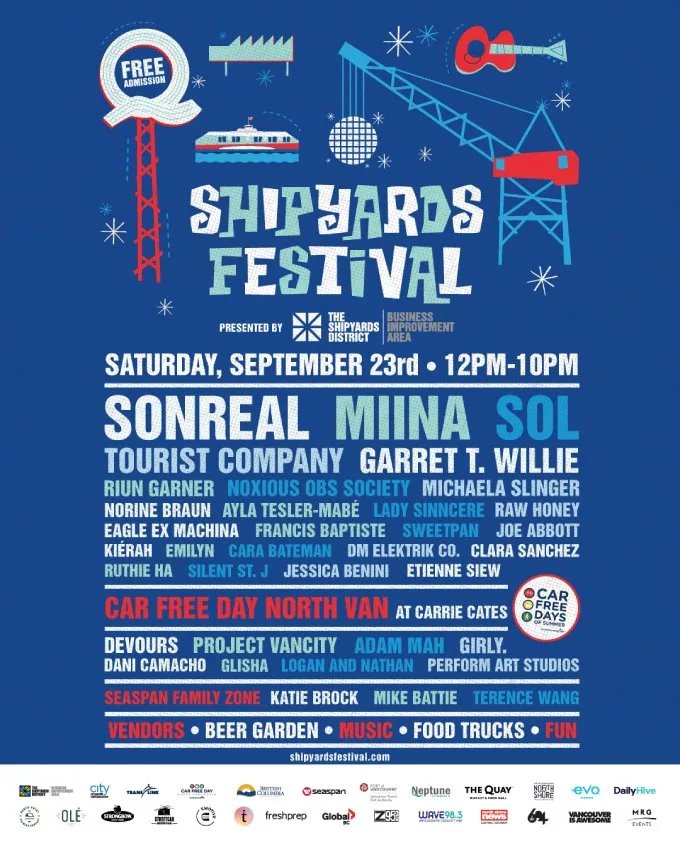 There is something for everyone, so here are a few things you don't want to miss.
Free Live Music
Brought to you by the Shipyards District Business Improvement Area (SDBIA) presented by the City of
North Vancouver, this year's lineup is sure to get you grooving.
Performances by SonReal, Miina, SweetPan, Francis Baptiste, Tourist Company, Riun Garner, Sol, Mike Battie, Kiérah, Joe Abbott, Devours, Michaela Slinger, Garret T. Willie and More.
New Stage Alert
Cates Deck in front of the Polygon Gallery will feature acoustic performances by Etienne Siew, Jessica Benini, Silent St J, Joe Abbott, and Francis Baptiste, all thanks to Vancouver's North Shore.
Car Free Day North Vancouver
Car Free Day North Vancouver presented by TransLink has joined forces with Shipyards Festival once again. Carrie Cates will be transformed into a pedestrian paradise with amazing musicians taking the stage at the bottom of Lonsdale.
Musicians Tourist Company, Devours, Project Vancity, Adam Mah, Dani Camacho, Glisha, and Logan and Nathan will be featured on the Car Free Day Stage at the foot of Lonsdale. Parking is limited, so please consider sustainable transportation methods such as biking, walking or transit.
A FREE bike valet service will be available through BEST Bike Valet provided by TransLink, located in front of Joey Shipyards.
Look for the TransLink buses featuring interactive games and a pledge wall, where you can make your pledge for environmental change.
Check out the Tap in to Win Prize wheel and register your compass card for a chance to win prizes for the next few weeks when taking transit, and at the event at the prize wheel.
Seaspan Family Zone
Fun for all ages.
The Pipe Shop hosts our family zone, where you can find a bounce house, face painting, glitter tattoos, and balloon art. Seaspan will also have a craft station plus performances by Katie Brock, Terence Wang yo-yo champion and juggler extraordinaire Mike Battie.
Food Trucks
Grab some food from our various delicious food trucks. With a variety of choices to choose from whether it's classic Mexican food from Dos Amigos, traditional Thai food from Super Thai Food, a sweet treat from Slavic Rolls, and more.
On top of these tasty food trucks, there are tons of amazing local businesses to explore including Welcome Parlour, Nook, Joey Shipyards, Caffe Artigiano, Raglans, and many more.
More information at shipyardsfestival.com.
Event Details
What: NORTH VANCOUVER'S SHIPYARDS FESTIVAL
Where: Lower Lonsdale, The Shipyards and Carrie Cates in North Vancouver
When: Saturday, September 23, 2023, from NOON – 10PM
Who:
The Commons Stage presented by Lonsdale Quay Market: SonReal, Sol, Garret T. Willie, Noxious Obs Society,
Lady Sinncere, Eagle Ex Machina, Raw Honey, Emilyn, and Cara Bateman
Shipbuilders Square Stagepresented by WAVE 98.3: Miina, Riun Garner, Michaela Slinger, Norine Braun, Ayla Tesler-Mabé, DM Elektrik Co., Ruthie Ha, and Clara Sanchez
Car Free Day Stage presented by TransLink:Tourist Company, Devours, Project Vancity, Adam Mah, Dani Camacho, Glisha, Logan & Nathan, and more to be announced.
SeaspanFamily Stage: Katie Brock, Mike Battie, and Terence Wang
Burrard Dry Dock: Kiérah and Sweetpan
Cates Deck presented by Vancouver's North Shore Tourism Association: Etienne Siew, Jessica Benini, Silent St. J, Joe Abbott, and Francis Baptiste
Road Closure: Wallace Mew's, Victory Ship Way and Carrie Cates & Lower Lonsdale below Esplanade will be closed to the public September 23, 7 am – 11:59 pm. Please plan alternate routes during this time.