After captivating Chicagoland for nearly a century, The Original Rainbow Cone is making history by venturing beyond its roots and opening its first out-of-state franchise at 4414 53rd Ave E, Bradenton, FL 34203.
This milestone marks a significant expansion for the family-owned business, brought to life by passionate entrepreneurs Erica and David Campbell.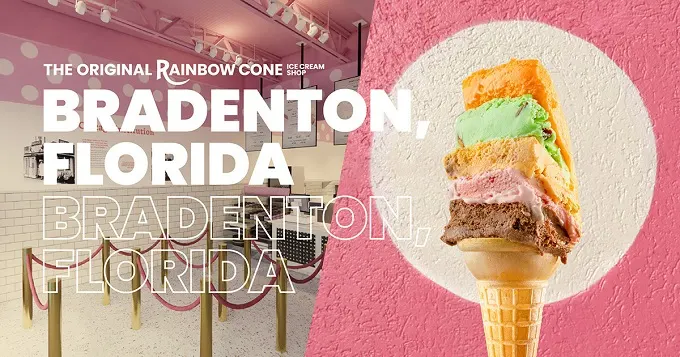 With strong personal connections to the historic brand dating back to its original Western Avenue building, the Campbell family, now third-generation Rainbow Cone customers, embark on a journey to introduce the taste of Chicago's beloved ice cream to the Sunshine State.
Founded in 1926 by "Grandpa Joe" Sapp, the 97-year old Original Rainbow Cone holds a special place in Chicago's culinary landscape and is most famously known for its signature 'Rainbow Cone' which is stacked with five colorful slabs of chocolate, strawberry, Palmer House, pistachio and orange sherbet flavors.
Complementing the one-of-a-kind creation, The Original Rainbow Cone's menu offers an array of sweet delights, encompassing a diverse selection of premium ice cream flavors, made-to-order mini donuts, sundaes, shakes, and ice cream cakes that transform moments into memories.
The official grand opening for the public is scheduled for September 26th at 11am, a day that promises an abundance of festivities, giveaways, promotions, and more.
Rainbow Cone invites the local community to join in the celebration and experience the authentic flavors that have stood the test of time and made it one of Chicago's longest-standing and cherished ice cream destinations.
To make this day even more special, the first 50 people to arrive at the grand opening will receive a free Rainbow Cone, adding an extra layer of sweetness to the festivities.
For more information about The Original Rainbow Cone's Bradenton, FL. location, please visit https://rainbowcone.com/locations/bradenton-florida/