Taco Bell Canada is launching a special advent calendar with festive freebies and awesome offers.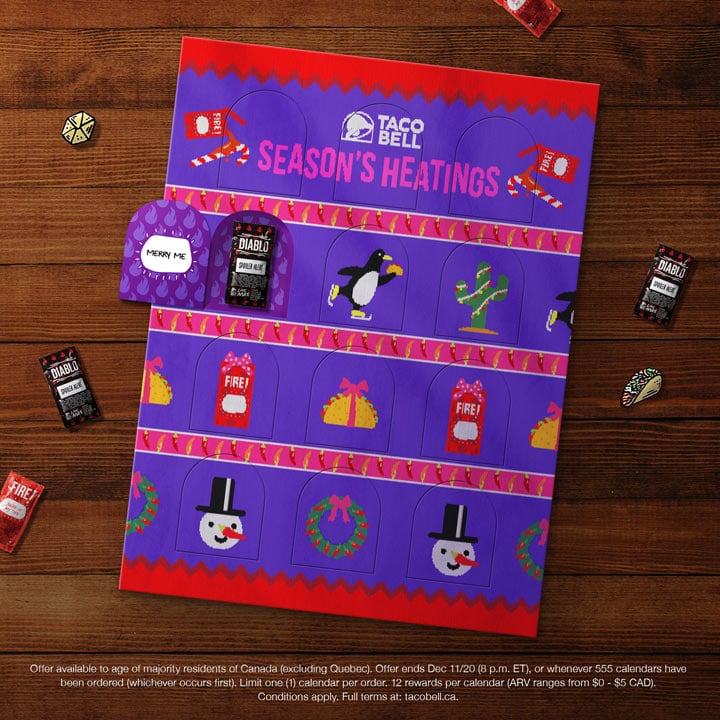 UPDATE: SOLD OUT
This is a freebie that will be available online only starting Monday, November 30 at 10:00 AM ET and there are only 555 advent calendars available. No purchase required.
Visit Tacobell.ca when the offer goes live, follow the on-screen instructions to submit all required information and claim your free advent calendar. Limit of 1 calendar per order.
Offer is available only to residents of Canada (excluding residents of Quebec) who have reached the legal age of majority in their province/territory of residence.
The 12 Days of Heat and Flavour Taco Bell Advent Calendar includes 12 rewards:
5 x Hot Sauce Package
3 x Taco Bell Pin
$1 CAD off Crunchy Beef Taco – Redeemable December 16, 2020 – December 18, 2020
$2 CAD off Doritos Locos Taco – Redeemable December 19, 2020 – December 21, 2020
$3 CAD off Fries Supreme – Redeemable December 22, 2020 – December 24, 2020
5 CAD off Crunchy Taco Party Pack – Redeemable December 25, 2020 – January 1, 2021
The $1 off Crunchy Beef Taco, $2 off Doritos Locos Taco and $3 Fries Supreme are redeemable on Uber Eats.com, The Uber Eats app, or in-store at participating Taco Bell locations across Canada (excluding Quebec).
All applicable taxes and fees still apply when placing an order with Uber Eats. Limit one per customer, per visit or per order with Uber Eats.