Summerlicious 2022 Toronto takes place at various Greater Toronto restaurants from August 12 to 28, 2022.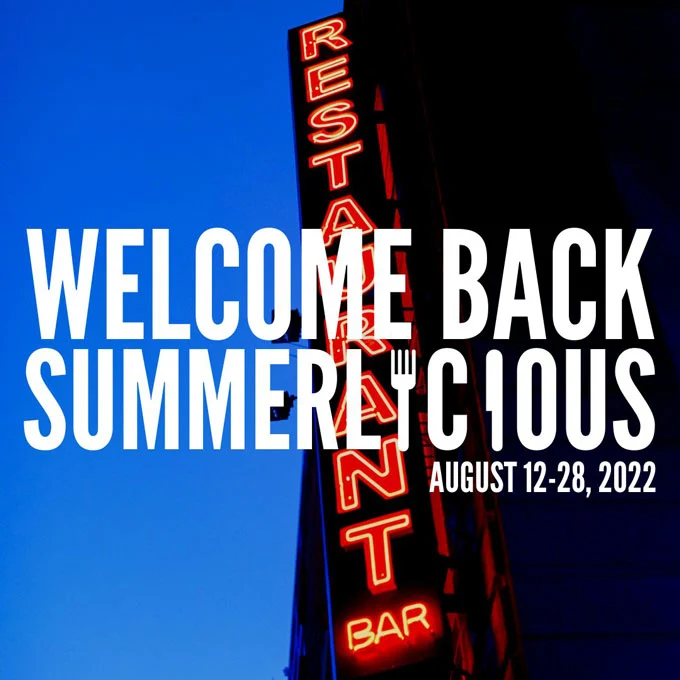 Enjoy three-course prix fixe menus at more than 200 participating restaurants at six price points for lunch or dinner.
Things to know about Summerlicious 2022 Toronto
Lunch prix-fixe prices are $20, $27, $34, $41, $48 and $55.
Dinner prix-fixe prices are $25, $35, $45, $55, $65 and $75.
All menu prices are per person unless otherwise indicated. Tax and gratuity are not included.
Days and hours of operation vary by restaurant. Please check the operating hours of the individual restaurants when making your plans.
Some participating restaurants do not offer a lunch prix fixe menu on Saturday or Sunday. Contact the restaurants to inquire.
Some restaurants only offer a brunch menu on weekends and do not participate in the Summerlicious lunch promotion on Saturday or Sunday.
Reservations are recommended wherever possible.
Menus are subject to change without notice based on product availability.
Many, but not all, participating restaurants will be offering their standard menus as well. Check with the individual restaurant to confirm.
If you are unable to keep your reservation for any reason, please be considerate and cancel as soon as possible to give other diners and the restaurant the opportunity to fill those seats.
Please check with the individual restaurants in advance to inquire if they can modify certain items on their Baton Rouge Restaurant Week 2022 menu to accommodate dietary restrictions.
Post your meals on social media and tag with #LiciousTO.
Please refer to https://www.toronto.ca/explore-enjoy/festivals-events/summerlicious/ for complete details.
Participating Restaurants
Please refer to https://www.toronto.ca/explore-enjoy/festivals-events/summerlicious/ for up-to-date list on participating restaurants.
3030 x Young Animal
7 Numbers Eglinton
Aanch Modernistic Indian Cuisine
Adega
Amano Italian Kitchen
Amano Trattoria
Amsterdam Barrel House
Aria Ristorante
Arisu Korean BBQ & Sushi
Art of BBQ Smokehouse + Bar
Atai Bistro
AVIV Immigrant Kitchen
Azure Restaurant & Bar
Babel
Babel
Bangkok Garden
Banu
Banu
Bar Bacan
Bar St. Lo
Bar'kada
Beaumont Kitchen
Bella Vista Trattoria
Bhojan Alley
Biagio Ristorante
Biff's Bistro
Birroteca
Bistro
Blackburn Social House
Bloom Restaurant
Blu Ristorante
Boukan
Bowl of Karma
Brownes Bistro
Butter Chicken Factory
Cactus Club Cafe
California Restaurant
Canteen
Cantina Mercatto
Capocaccia Trattoria
Casa Barcelona
Casa Manila
Chiado
Chop Steakhouse & Bar
Chowpatty Culture
Cibo Wine Bar Yonge
Clandestina Mexican Grill and Bar
Clay Restaurant
Coppi
Crystal Thani
Cucina di Paisano
Delhi Bistro
Detroit Pizzeria
District Restaurant & Bar
Diwan
Duke Of Cornwall
Duke Of Kent
Duke Of York
Eisenbergs Sandwich Co.
Estiatorio Volos
Flame Food+Design
Floga Estiatorio
Florentia
Fonda Lola
Free Times Cafe
Gamberoni
Gamberoni
Gatsby By Windsor Arms
Gatto Pizza
Goa Indian Farm Kitchen
Granite Brewery and Restaurant
Green Basil
Hey Lucy Cafe
Hibachi
Holts Cafe Yorkdale
Hotel Ocho Bar and Restaurant
Hothouse Restaurant & Bar
Il CovoIl
Indian Spice Room
Indian Street Food Co.
Insomnia
iSLAS Filipino BBQ & Bar
John's Fish & Chips
Joni Restaurant
Joy on Avenue
Jump
Kathmandu Restaurant
King Street Social
King Taps
Koshaa Fine Indian Cuisine
Kothur Indian Cuisine
Krystos Modern Greek Cuisine
La Bartola
La Bruschetta
La Fenice Tuscan Chophouse
La Piazza
La Pizza e La Pasta
La Vegan Ethiopian & Eritrean Restaurant
Lai Wah Heen
Le Papillon on Front
Lee Restaurant
Lena
Lobster Burger Bar
Lucia Trattoria
Luma
Mademoiselle Raw Bar + Grill
Maezo Indian Cuisine
Mannat
Maple Leaf Tavern
Marbl
Mastros Restorante Italiano
Matagali
Megas
MeNami Restaurant
Mengrai Thai Restaurant
Meza Resto Bar
Michael's On Simcoe
MIDI Bistro
Miku
Milagro Cantina
Miller Tavern Downtown
Minami Restaurant
Mira Restaurant
Miss Fu In Chengdu (Downtown)
Mother Tongue
Mumbaikar Indian Restaurant & Bar
Nami Japanese Restaurant
Noce
Nord Bistro
Nuna Kitchen & Bar
Nusa Dua Kitchen and Bar (N2)
Olio Grille
Oliver & Bonacini Cafe Grill
Oretta King
Oyster Mine
Pai Uptown
Papyrus
Parcheggio
Peter Pan Bistro
Petros82
Piano Piano
Piccolo Piano Pizzeria
Popa Burmese Kitchen
Pukka
Pulcinella Ristorante Italiano
Queen of Persia
R&D
Rabbit! Rabbit! Rabbit!
Reign Restaurant + Bar
Rivoli
Rosalinda
Ruth's Chris Steak House
Sap
Sash Restaurant + Wine Bar
Sassafraz
Sempre Pizza Pasta
Shinyi Handmade Dumplings
Shook
Signatures
Smokeshow BBQ and Brew
Soula's Modern Greek Cuisine
Stages
STK Steakhouse
Tapas at Embrujo
Taudos Restaurant
Terrace Restaurant
The Arkadia House
The Aviary
The Blake House
The Carbon Bar
The Chefs' House
The Met Dining Room
The Monkey Bar & Grill
The Oakwood Hardware Food and Drink
The Oxley
The Queen & Beaver Public House
The Rabbit Hole
The Real Jerk Restaurant
The Shore Club
The Sultans Tent & Cafe Moroc
Tom Yum Restaurant and Wine Bar
Trattoria Milano
Trios Bistro
Union Chicken
Union Social Eatery Yonge
Valens
Venga Cucina
Vos Restaurante Argentino
Wildfire
Wish
Wood House BBQ
Yang's Braised Chicken Rice
Ye Skewers Hot Pot
Yunshang Rice Noodle
Z Bar & Grille
Restaurant Menu Highlights
Here are a few Summerlicious restaurant menus that caught our eye.
iSLAS Filipino BBQ & Bar
iSLAS Filipino BBQ & Bar is offering a $25 dinner. Located in the heart of Parkdale, iSLAS features dishes inspired by the specialties of the Philippines.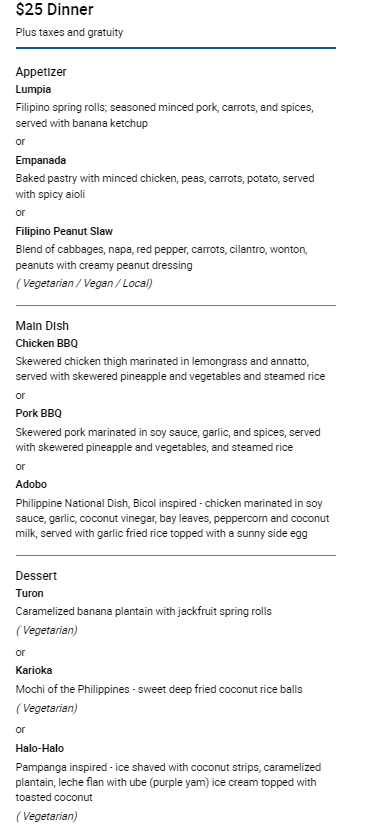 Indian Street Food Co.
Indian Street Food Co is a tribute to the fading, old Indian coffee shops of Delhi and Mumbai with their robust flavours, innovative food, constantly turning fans, wicker chairs, sepia Bollywood portraits and most of all, welcoming attitude towards all.
They are offering a $27 lunch and $35 dinner menu.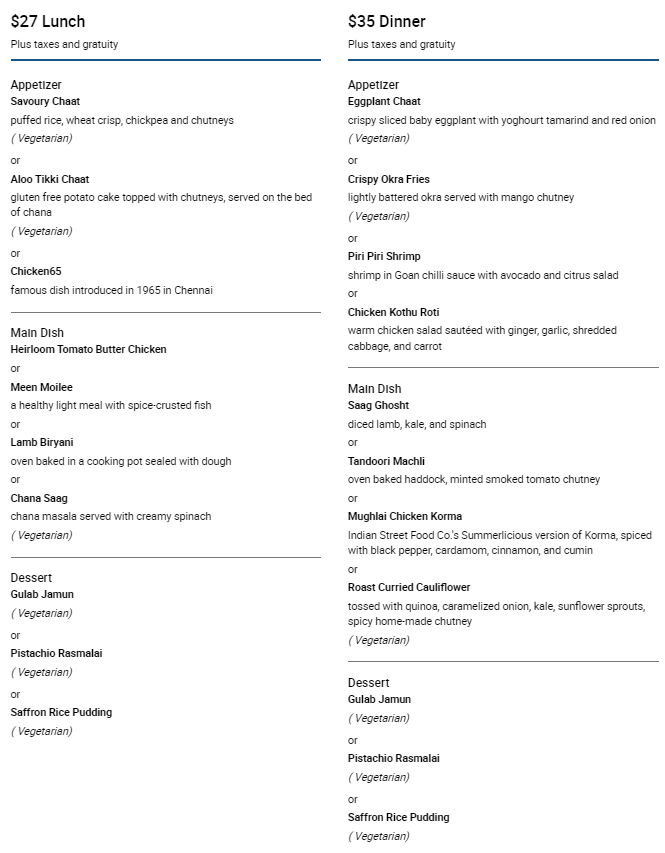 Amsterdam Barrel House
Amsterdam Barrel House is midtown Toronto's neighbourhood gem with two sprawling patios and where carefully curated "from scratch" North American comfort food meets a best in class beer portfolio and a top notch wine and cocktail list.
They are offering a $34 lunch and $45 dinner menu.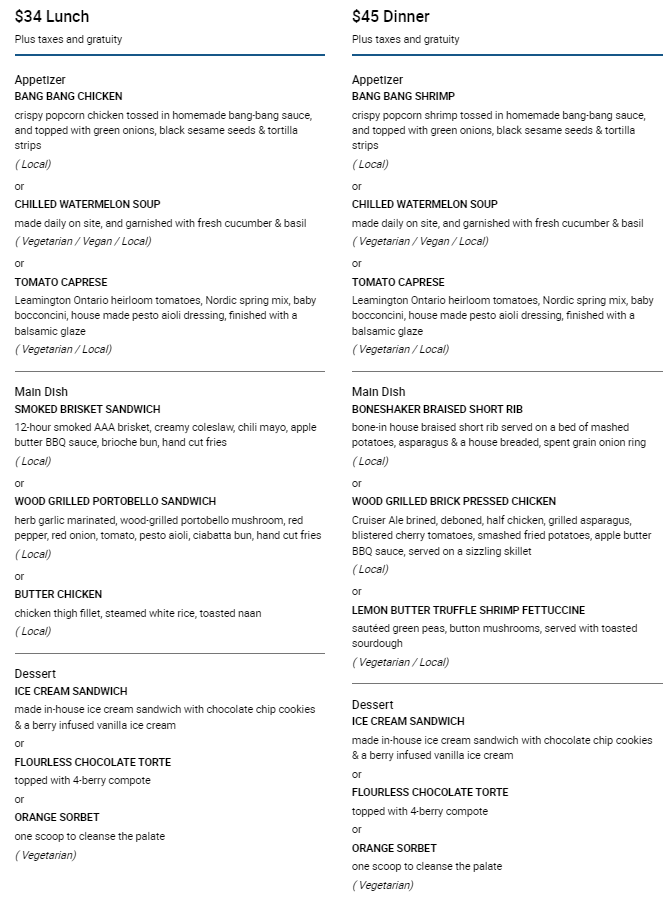 Granite Brewery and Restaurant
Open since 1991, Granite Brewery and Restaurant is a family owned and operated business located at the corner of Eglinton Avenue East and Mount Pleasant Road.
The Granite Brewery features fine casual dining with an award winning brewery on site, a comfortable dining atmosphere with two outdoor patios, and free parking.
They are offering a $27 lunch and $35 dinner menu.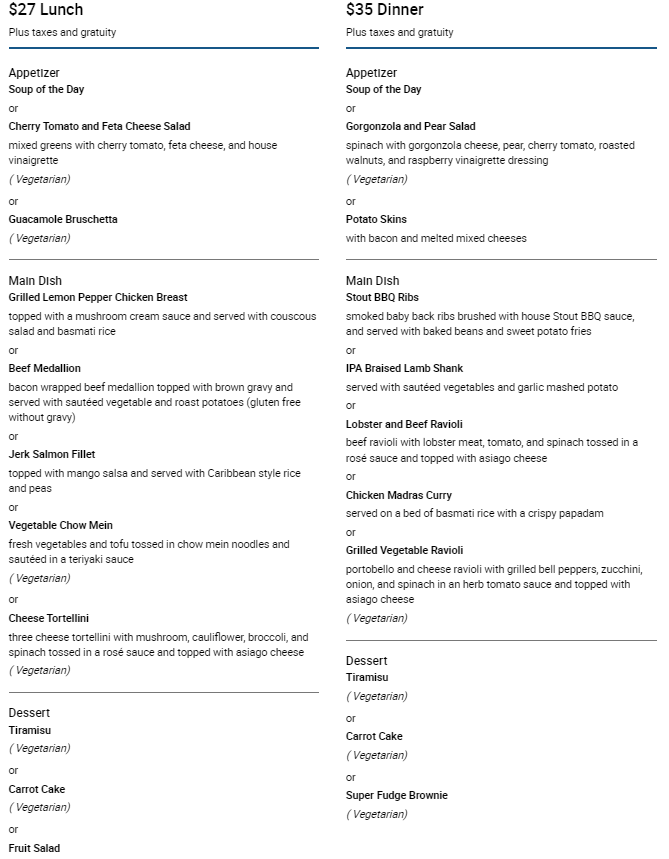 Smokeshow BBQ and Brew
At Smokeshow BBQ and Brew, a completely open space with smoky charcoal walls and warm lighting, wooden high-top tables, and a renovated long bar with dark marble top, along with a live rock vibe, all set the mood for enjoying delicious saucy, smoked barbecue and a memorable experience. The menu includes 14-hour smoked brisket, ribs, chicken, sausage and wings, all paired with a great selection of regular and craft & IPA beers, fine wines and cocktails.
They are offering a $45 dinner menu for Summerlicious 2022.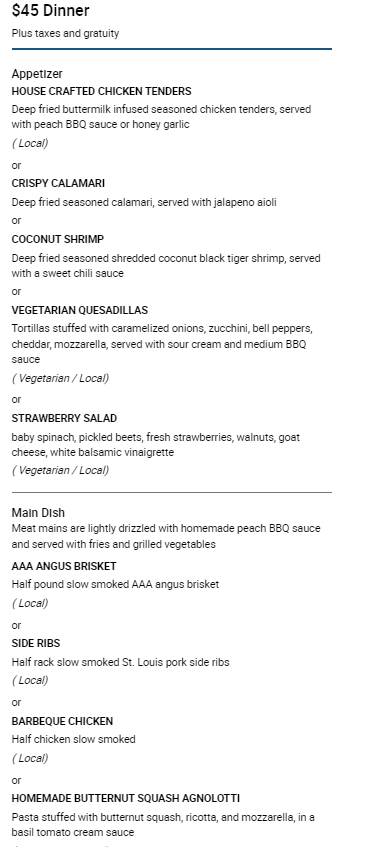 Florentia
Florentia is an authentic Italian trattoria that specializes in homemade breads, pasta, pizza, roasted meats and fish, and desserts, prepared daily using fresh, seasonal Ontario produce and a selection of fish from the Mediterranean.
They are offering a $45 dinner menu.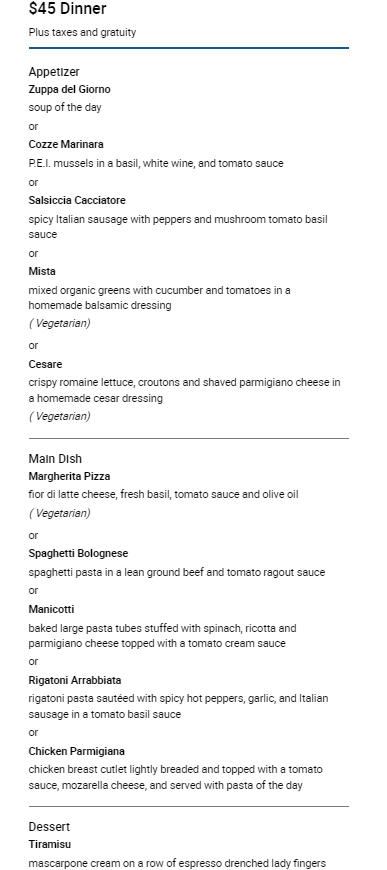 Pai Uptown
Pai Uptown brings the magic of northern Thailand to Toronto with Chef Nuit Regular's authentic northern Thai cuisine and a warm, inviting atmosphere
They are offering a $34 lunch and $45 dinner menu.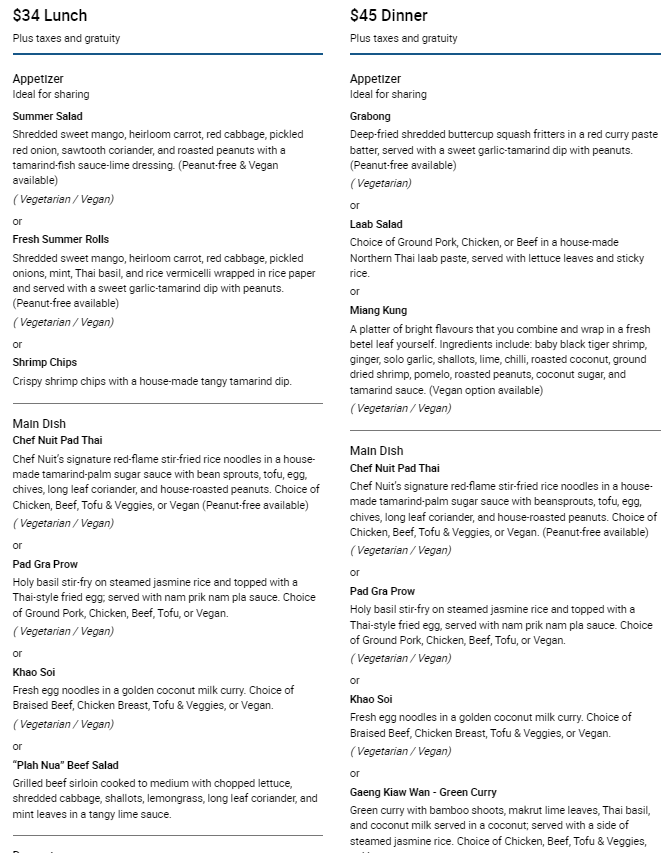 Bar Bacan
Bar Bacan is offering a $20 lunch and $25 dinner.
They arew a female-led, LGBTQ+ friendly family business that strives to have each and every guest feel welcome in their "home" while nourishing their hearts and stomachs with everlasting memories. Everything on Bacan's menu is homemade from scratch and is designed to bring out authentic Argentine and Venezuelan flavours using local ingredients. Gluten-free and vegan options are available.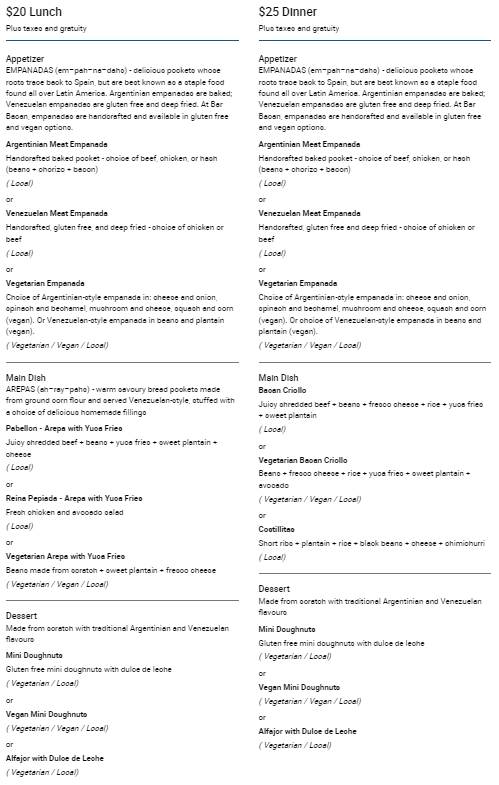 Cibo Wine Bar Yonge
Cibo Wine Bar Yonge is offering a $34 lunch and $45 dinner menu.
This Italian restaurant and wine bar, created by the Liberty Entertainment Group, offers traditional Italian fare in a relaxed and inviting atmosphere. The menu offers guests a true taste of Italian cuisine, featuring both traditional classics and modern staples.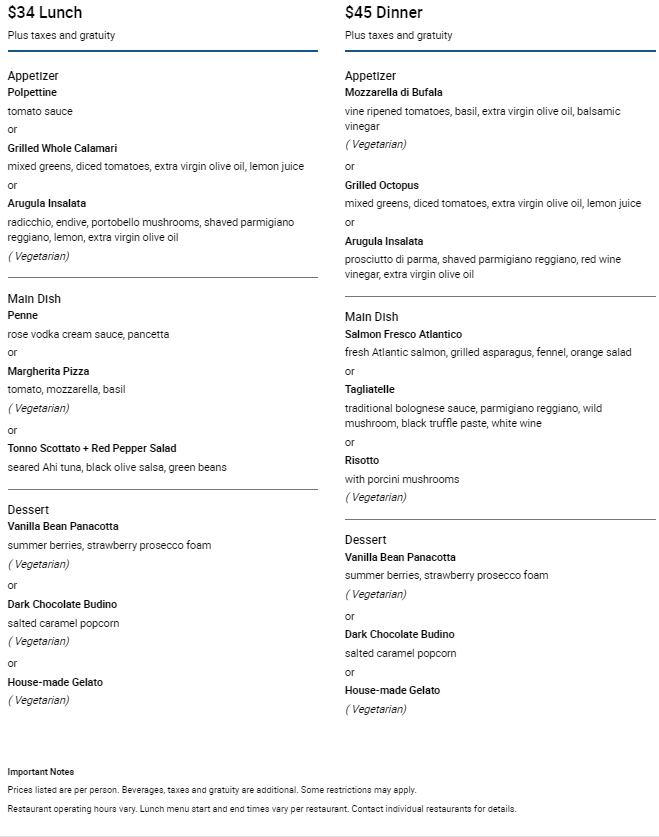 Duke Of Kent
Duke Of Kent is offering a $34 lunch and $45 dinner menu.
The Duke of Kent has been part of Toronto's midtown community for over 40 years. The friendly attentive staff at the Kent are eager to make patrons feel at home. Located on Yonge, steps north of Eglinton, the Kent is a cozy retreat for neighbourhood residents and first timers alike.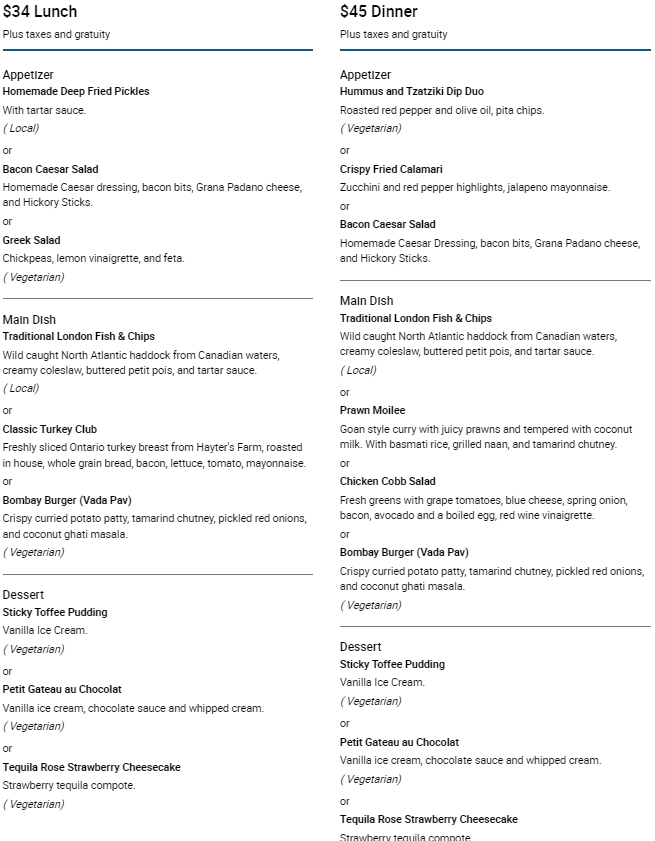 Oyster Mine
Oyster Mine is offering a $55 menu.
At Oyster Mine, guests can experience upscale dining in a relaxed, modern interior and enjoy a selection of the finest rotating oyster menu and a variety of sea and land dishes paired with creative cocktails.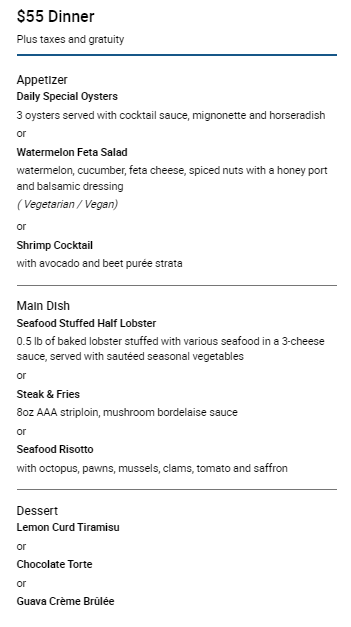 Gamberoni
Gamberoni is offering a $55 dinner menu.
Specializing in veal, seafood, and pasta, Gamberoni has been bringing a taste of Italy to Yonge Street since 1986.
Gamberoni is family owned, and offers a relaxed atmosphere with red checkered table cloths and classic Italian cuisine.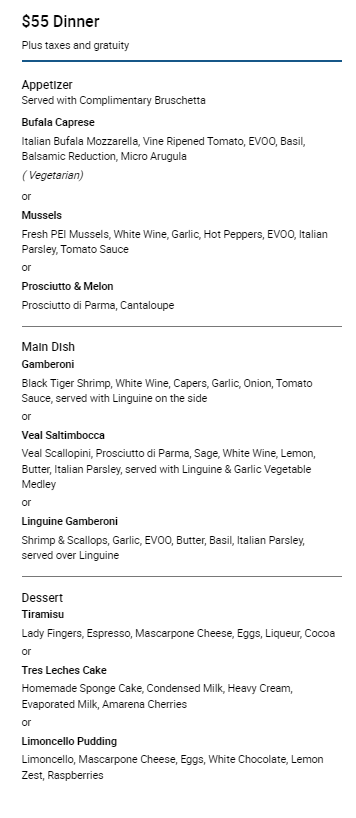 The Good son
The Good son is offering a $34 lunch and $45 dinner menu for Summerlicious 2022.
The Good Son's menu has been designed for guests to share plates, in an effort to create a convivial and social dining experience.
The wood-fire pizzas are a cross between Roma and Neapolitan styles cooked in a wood-burning M.A.M pizza oven imported from Italy which yields a crust that is thin but sturdy.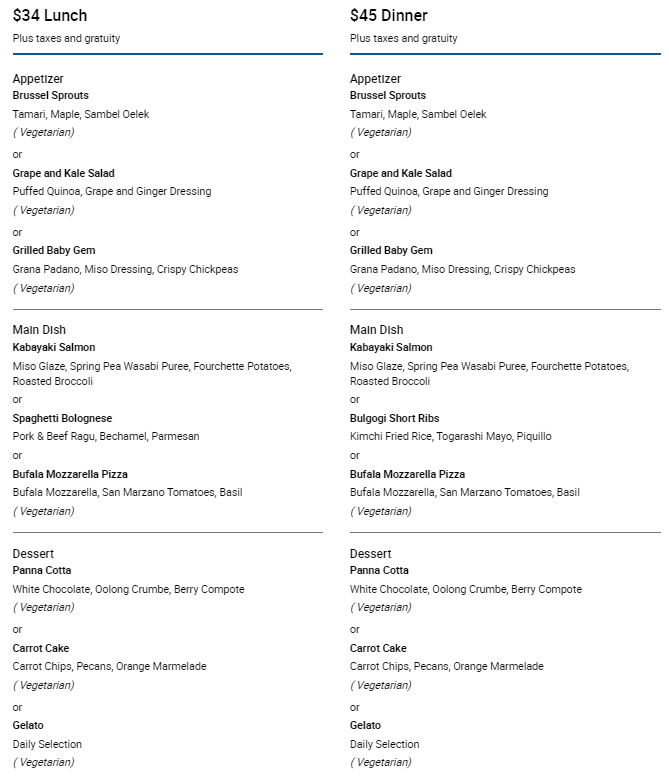 The Monkey Bar & Grill
The Monkey Bar & Grill is offering a $45 dinner menu.
A favourite North Toronto neighbourhood restaurant, The Monkey Bar offers a contemporary bistro menu designed and prepared by proprietor and Chef Richard Fox-Revett. Everything is prepared in-house, from seafood, meat, and pasta dishes, from soup to nuts, and even the hand-cranked ice cream. The extensive wine list features new and old world wines by the glass, half litre and bottle. The atmosphere is warm and inviting, and the service is knowledgeable and friendly.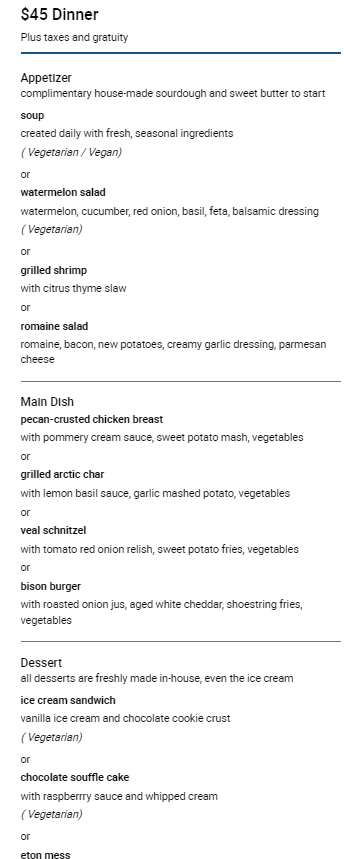 Rivoli
Rivoli is offering a $27 lunch and $35 dinner menu.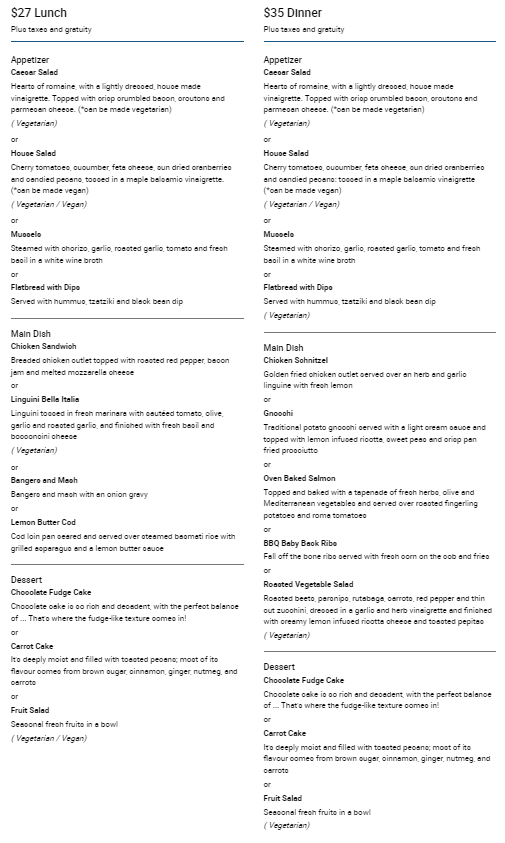 Pulcinella Ristorante Italiano
Pulcinella Ristorante Italiano is offering a $55 dinner menu.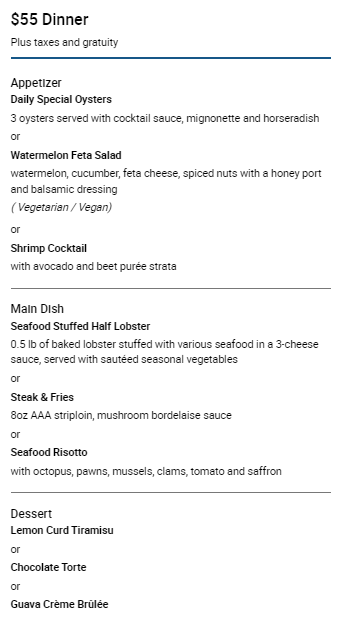 Yunshang Rice Noodle
Yunshang Rice Noodle is offering a $20 lunch and $25 dinner menu.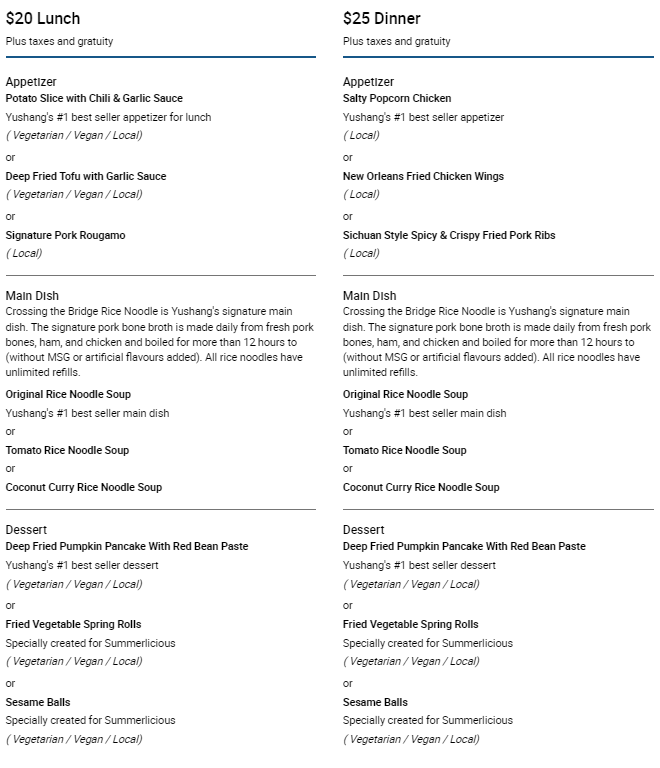 Coppi
Coppi is offering a $45 dinner menu.
An intrinsic part of the Lawrence Park community, they have welcomed businesses, family, and friends in Toronto for the last two decades.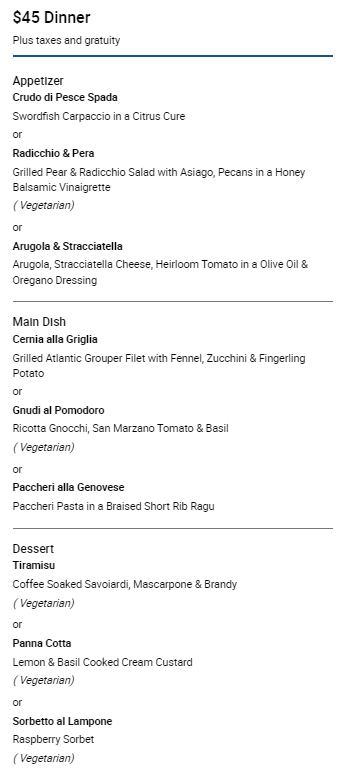 Diwan
Diwan is offering a $41 lunch and $55 dinner menu.
Diwan, located at the Aga Khan Museum, offers innovative approaches to Middle Eastern, North African, and South Asian cuisines, special dishes inspired by the culinary traditions of cultures featured in Aga Khan Museum exhibitions, and an ambience that blends 18th-century decorative art with contemporary design and comfort.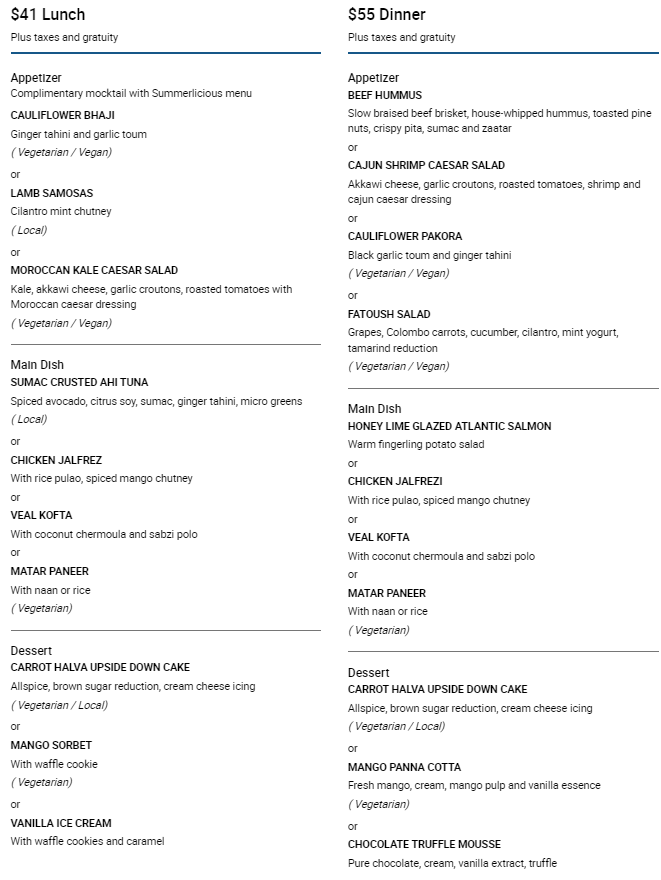 Babel
A recent addition to York Mills Shopping Centre, Babel is a welcoming neighbourhood restaurant serving delicious, creative and colourful Mediterranean fare.
Babel's menus are centred around the use of the kitchen's 12-foot hearth, featuring meat, fish and vegetables cooked over an open flame.
They are offering a $34 lunch and $45 dinner.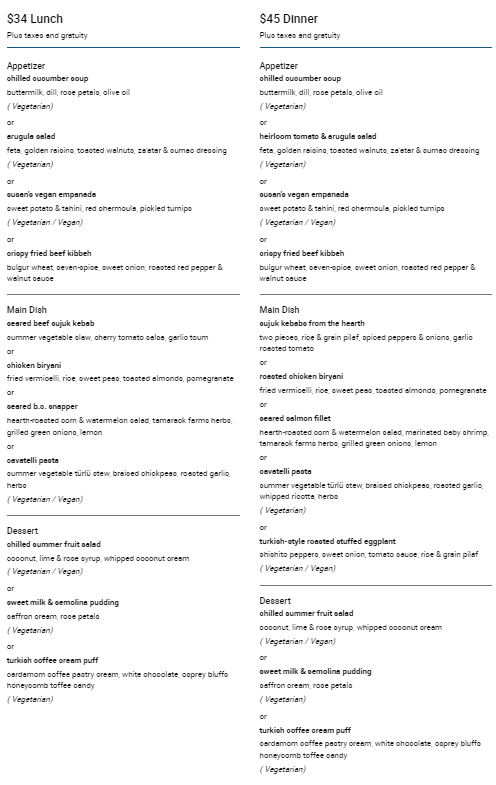 Holts Cafe Yorkdale
Holts Café Yorkdale celebrates contemporary Canadian cuisine that is focused on sustainability, quality-driven ingredients, locality, and seasonality. The menu pays homage to Holts Café classics and staples with a fresh and inviting approach, served in a refined, contemporary environment.
They are offering a $41 lunch.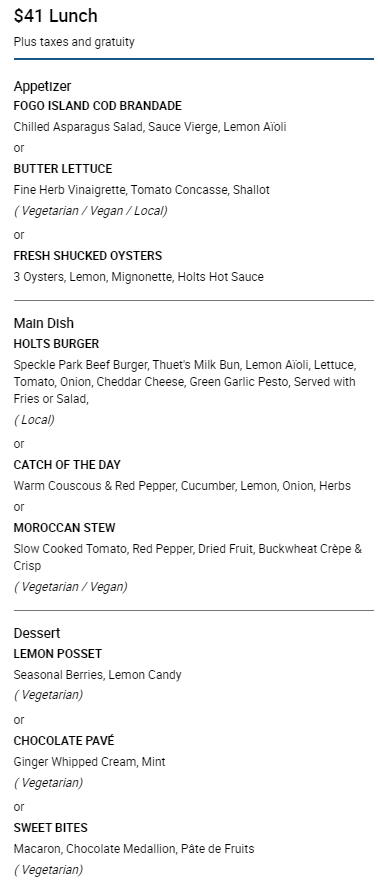 7 Numbers Eglinton
7 Numbers Eglinton is offering a $35 dinner.
Union Social Eatery Yonge
Union Social Eatery, located in the Yonge & St. Clair area, is the union of a casual restaurant and a lively neighbourhood gathering spot.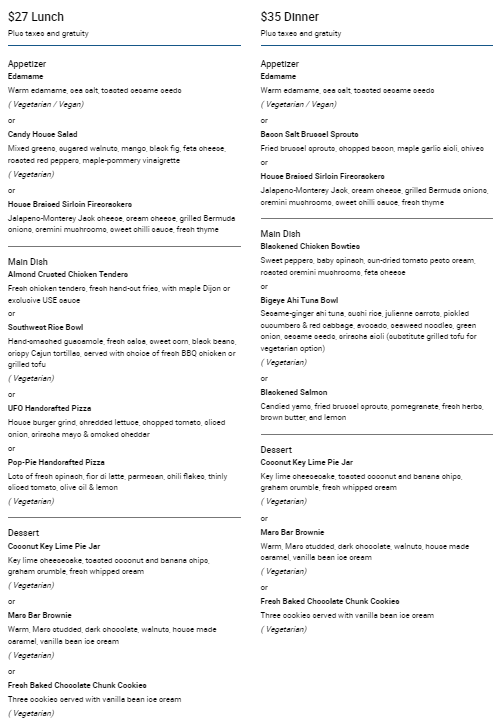 MIDI Bistro
MIDI Bistro is offering a $34 lunch and $45 dinner.
Located near the Art Gallery of Ontario (AGO), MIDI Bistro offers a perfect combination of Mediterranean light fare and classic Southern French bistro cuisine, in a relaxed and unpretentious European atmosphere. The menu is simply and deliciously complemented by a selection of wines, mainly from Languedoc and Rhone Valley regions.
R&D
R&D is offering a $45 dinner.
Led by Chef Eric Chong, R&D is a bold and modern restaurant in the heart of Toronto's iconic Chinatown. Inspired by his childhood in Canada and his grandfather's dim sum, Chef Eric brings a youthful and rebellious passion to R&D. The menu offers an eclectic variety of modern Canadian Asian cuisine and handcrafted cocktails, while the space buzzes with urban energy and a 90s R&B soundtrack.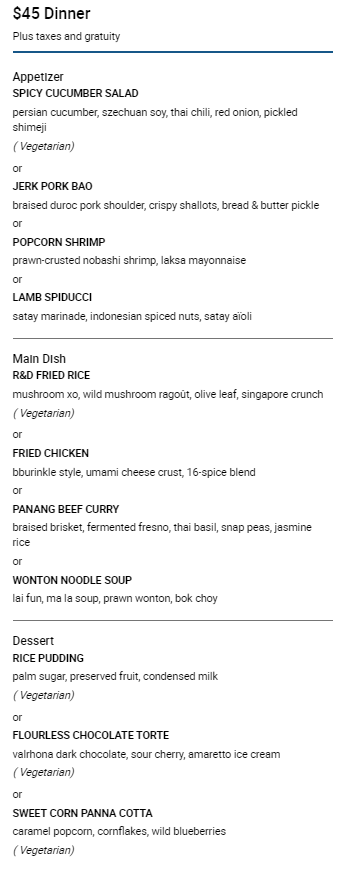 Liu Yi Shou Hotpot Downtown
Liu Yi Shou Hotpot Downtown is offering a $27 lunch.
Founded in 2000, Liuyishou Hotpot has grown from a single location on a small street in Chongqing, China to over 1,200 locations worldwide. Chinese hotpot has become immensely popular around the world given its interactive nature. Carefully selected ingredients, such as premium marbled beef, wild mushrooms, seasonal greens, and other specialty foods, are cooked in broth, at your own table.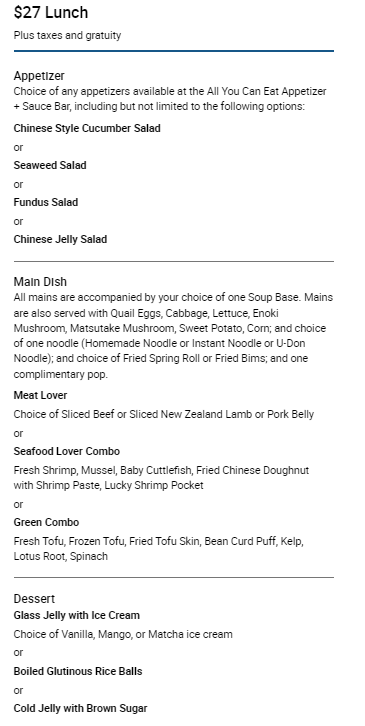 Rivoli
Rivoli is offering a $27 lunch and $34 dinner.
Established in 1982 and earning the reputation as one of Canada's hippest music clubs, The Rivoli continues as a music venue, bar and restaurant. The restaurant serves high quality and fresh comfort food that is sure to keep guests returning!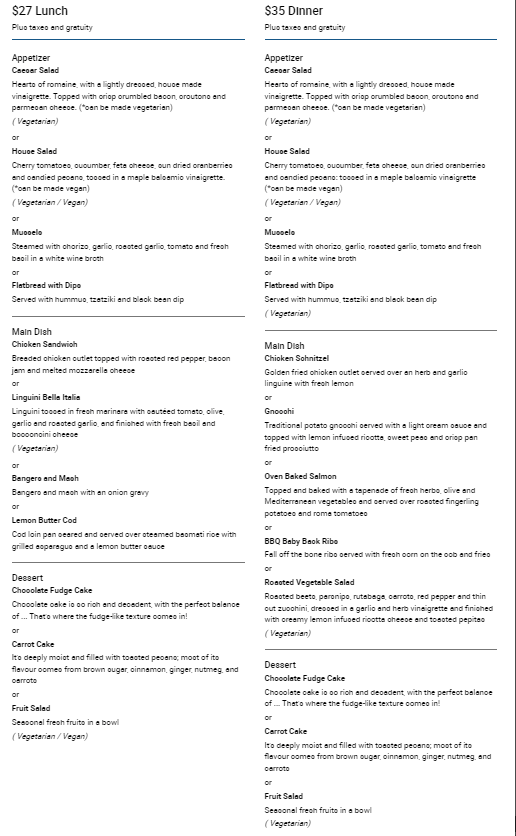 Hotel Ocho Bar and Restaurant
Hotel Ocho Bar and Restaurant is offering a $34 lunch and $45 dinner.
A quiet gem, tucked away on the south side of Chinatown with gourmet comfort food, unbeatable drink specials and a laid back vibe. The restaurant offers a fantastic spot to gather with colleagues, friends and family alike to enjoy the summertime patio or exposed brick interior with large windows.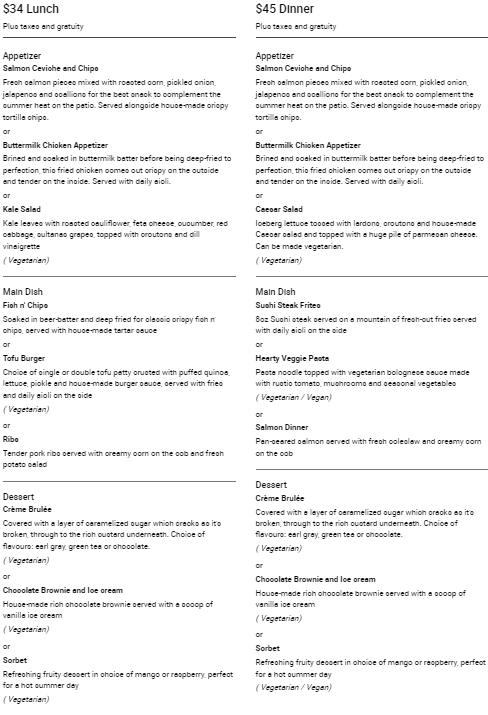 Flame Food+Design
Flame Food+Design is offering a $48 lunch and $65 dinner.
Although known as a restaurant, Flame Food + Design aims to share the contributions of thousands of years of Anatolian culture, music and design, with the desire to present a total experience while sharing traditional Ottoman recipes, mezzes, vegetable dishes, and charcoal grilled kebabs. Flame Food + Design is a project where passions about life come together.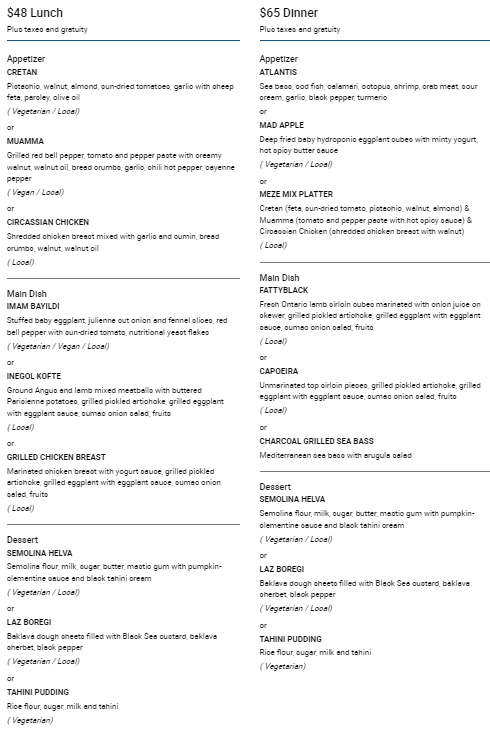 Venga Cucina
Venga Cucina is offering a $45 dinner. Venga Cucina's Gino has perfected the craft of the roman-style flatbread pizzas – the pinsa romana – and is one of only two certified masters in all of Canada to offer authentic pinsa romana at his restaurant. The pinsa is heralded for its crunchy exterior, its light and airy pockets in the center, and its digestibility, all due to a select blend of cereal flours and high hydration.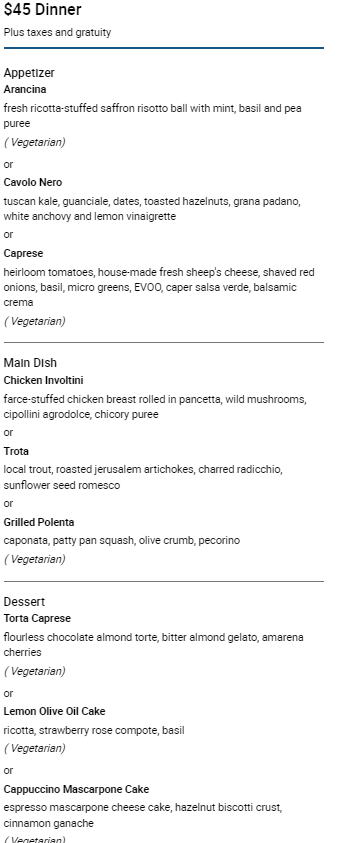 Clay Restaurant
Clay Restaurant is offering a $41 lunch.
An original in-house restaurant at Gardiner Museum. Clay offers seasonal menus of fresh, local fare, inspired design that's deeply connected to the Museum's ceramic focus, and a seamless continuation of the impeccable service clients have come to expect from the museum.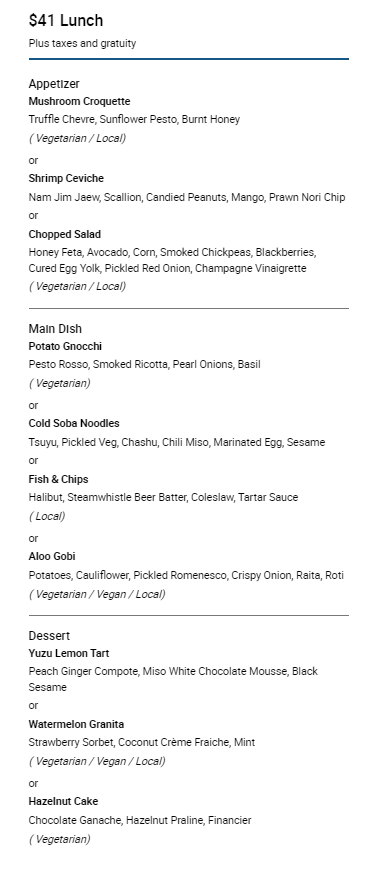 Gatsby By Windsor Arms
Gatsby By Windsor Arms is offering a $48 lunch and $65 dinner.
Gatsby by Windsor Arms was created to satisfy the needs and comforts of travelers and local Torontonians alike. Gatsby features a new menu full of delectable foods and carries a premium international wine selection.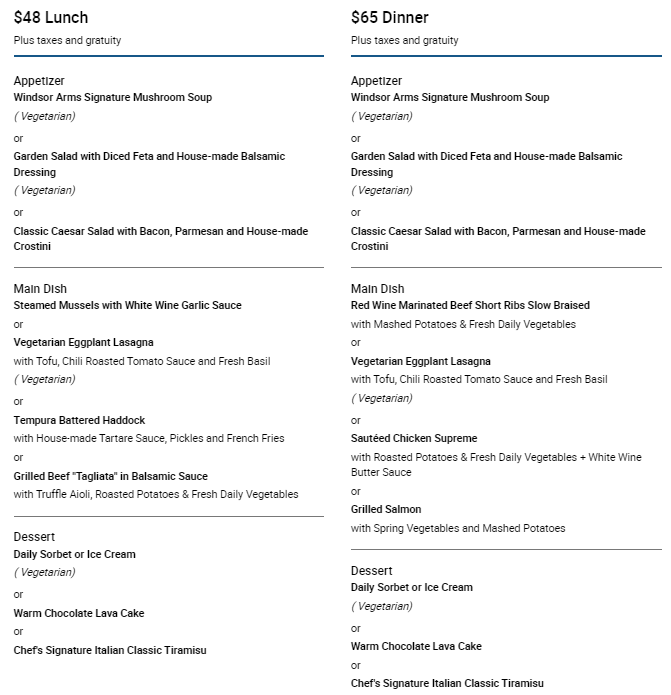 Signatures
Signatures is offering a $34 lunch and $45 dinner.
An ambiance of warmth and elegance welcomes guests to Signatures Restaurant. The daily menu is inspired by high quality fresh Canadian produce, meat and fish and is artfully prepared by a talented culinary team led by Chef Emmett Brett. An expert team is always happy to help with the perfect wine or cocktail pairing.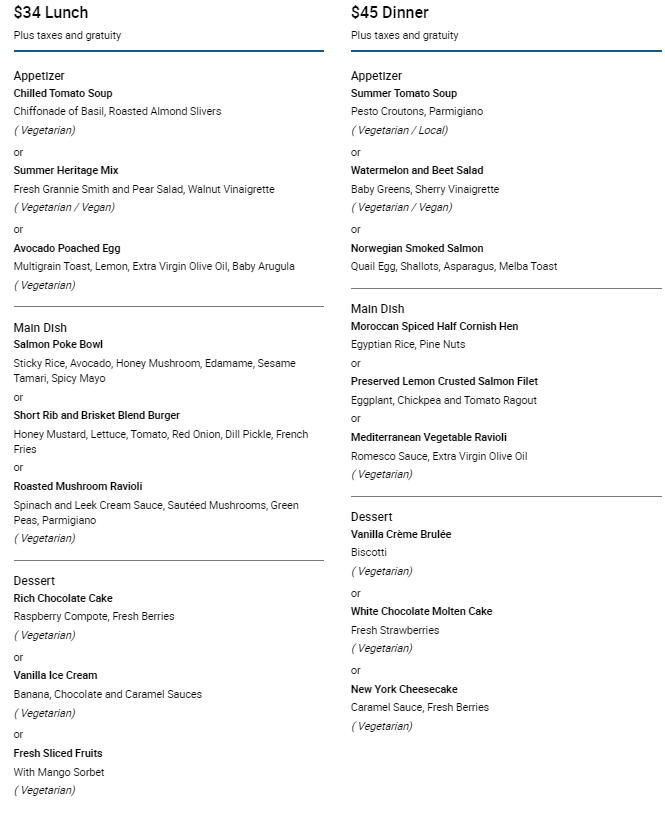 Joni Restaurant
Joni Restaurant is offering a $55 lunch and $75 dinner.
Joni is a culinary destination influenced by the spirit of Toronto's vibrant arts and culture scene. Situated in the heart of the iconic Park Hyatt Toronto, Joni features recognizable yet elevated fare, with reinterpreted classic cocktails and a thoughtfully curated selection of wine to complement the menu.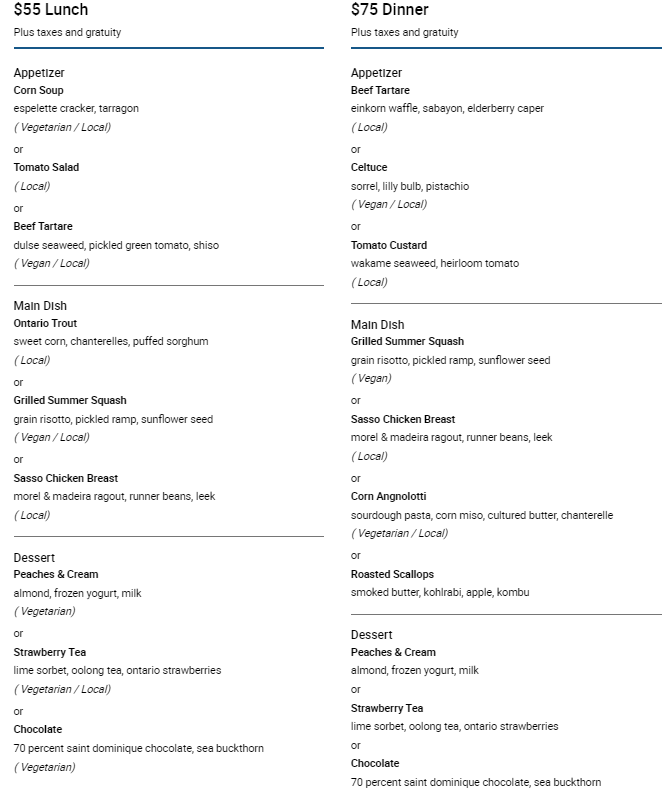 Wish
Wish is offering a $27 lunch and $35 dinner.
For more than 20 years, this Yonge and Bloor gem nestled on the corner of Charles Street, has been serving comfortable but chic eats in a casual, elegant environment that is unpretentious but offers a high standard in atmosphere and quality of food. Enjoy delicious and trendy cuisine indoors or on Wish's well known patio which transports one to Miami.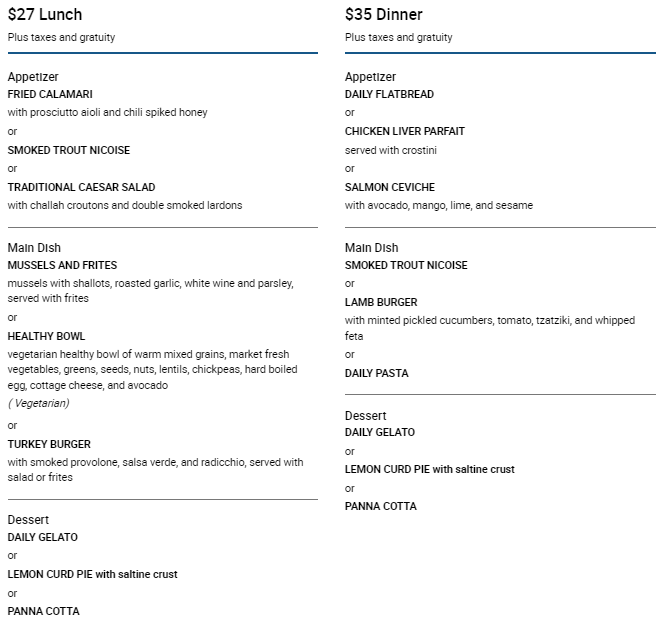 Birroteca
Birroteca is offering a $27 lunch and $35 dinner.
Located on the concourse level, Birroteca has partnered with Indie Alehouse, a pioneer in the Toronto craft beer scene, as their in-house brewery. Birroteca by Indie Alehouse features several beers exclusive to Eataly, rotating flavours inspired by seasonal ingredients, and collaborations with Ontario-based brewers. To pair, Birroteca chefs prepare a variety of Italian dishes to enjoy with a craft beer in hand.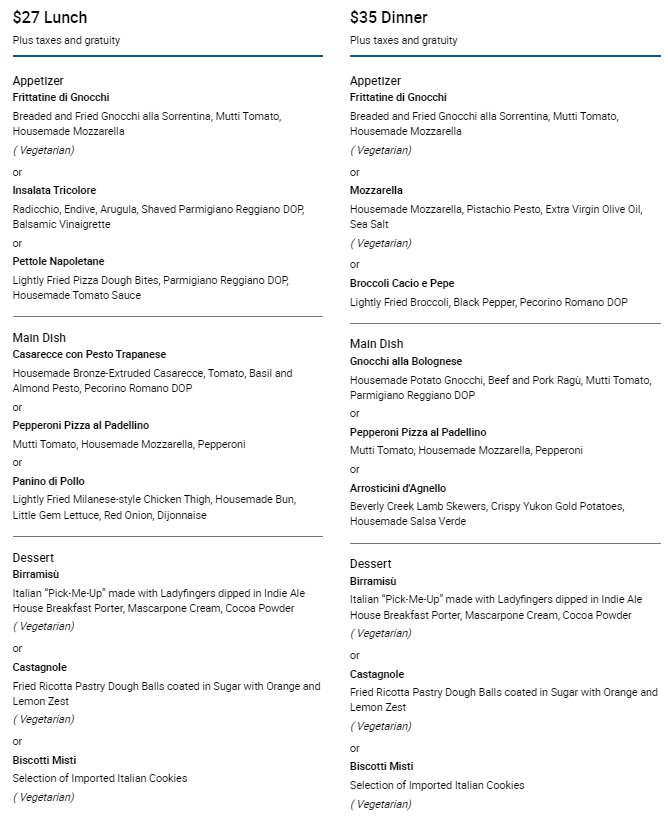 Trattoria Milano
Trattoria Milano is offering a $48 lunch and $65 dinner.
Take a trip to the vibrant atmosphere of mid-century Milano without ever leaving Toronto at Trattoria Milano, a new restaurant inspired by Italy's style capital. Enjoy elevated Milanese dishes and the rich, traditional cuisine of this Northern Italian city, as well as a complete menu of classic pasta dishes, risotti, salads, and more, paired with regional wines and hand-crafted cocktails.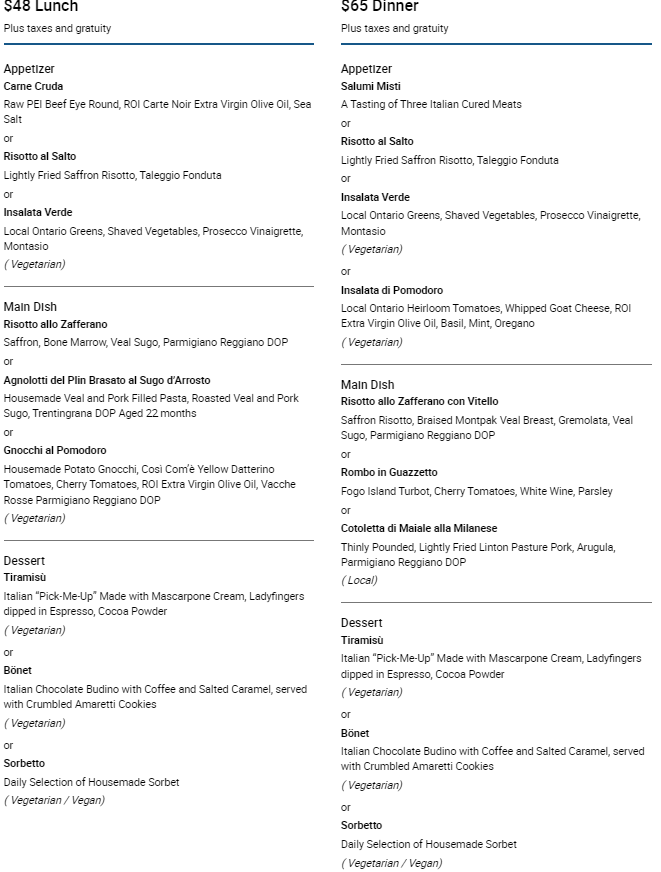 Tapas at Embrujo
Tapas at Embrujo brings the tastes and sounds of Spain to Toronto, featuring authentic paella and Spanish tapas classics, accompanied by weekly traditional Spanish Flamenco entertainment brought in from Spain.
They are offering a $27 lunch and $35 dinner.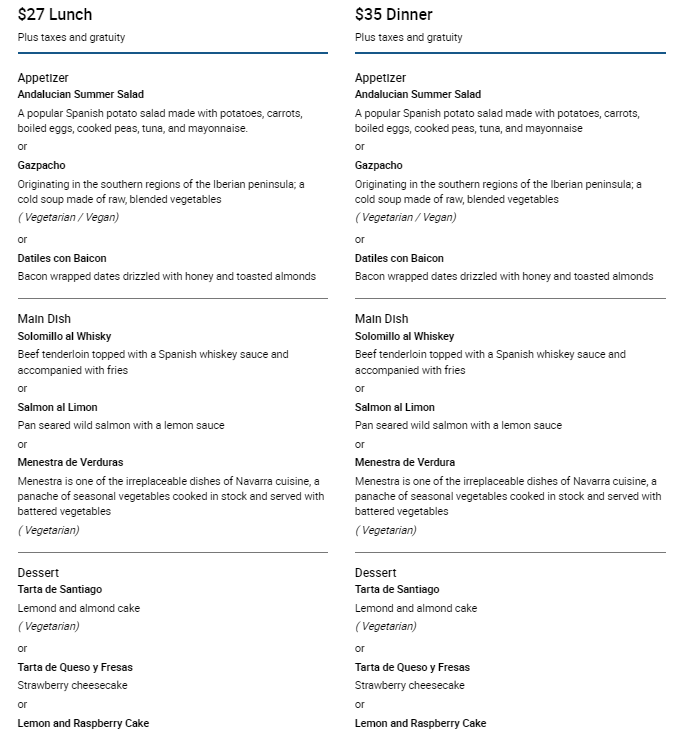 Papyrus
Papyrus features popular Egyptian dishes, handcrafted in-house, using authentic and traditional recipes and the finest ingredients.
They are offering a $35 dinner.

Megas
A staple on the Danforth, Megas Restaurant has been serving delicious, authentic Greek and Mediterranean cuisine for over 20 years.
They are offering a $41 lunch and $55 dinner.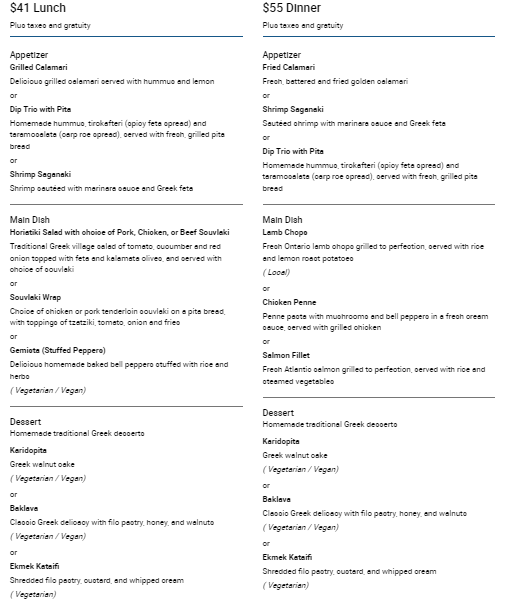 Soula's Modern Greek Cuisine
Soula's Modern Greek Cuisine is offering a $27 lunch and $35 dinner.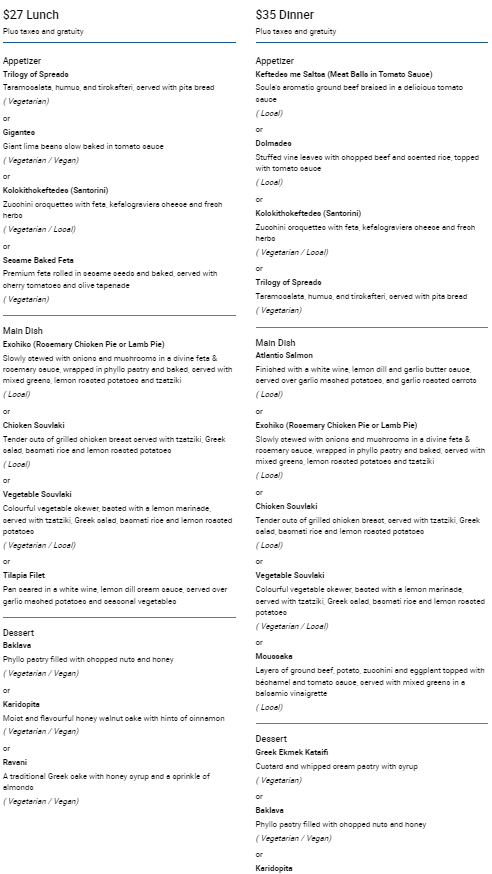 Detroit Pizzeria
Detroit Pizzeria is offering a $20 lunch and $25 dinner.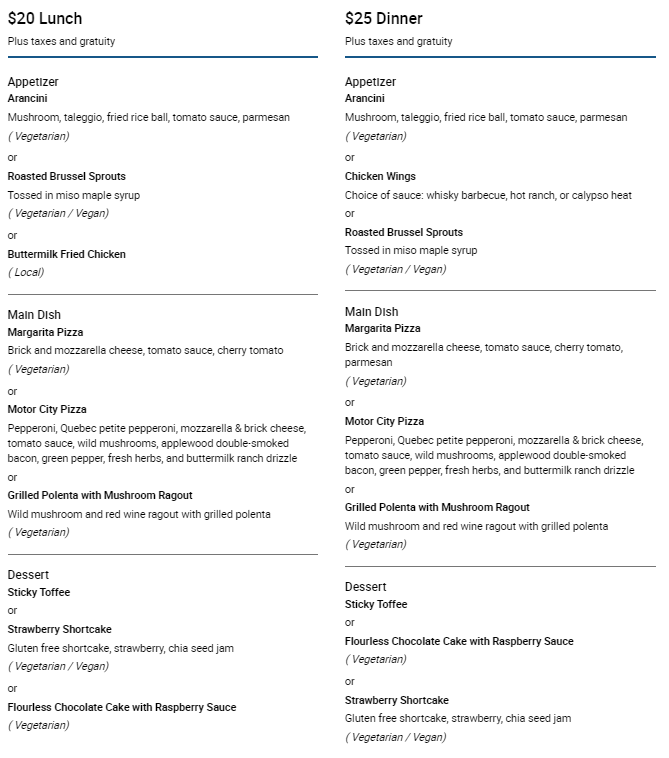 Nord Bistro
Nord Bistro is offering a $45 dinner.