Panera Bread announced the introduction of Crunch Time Ordering: the ultimate one-swipe ordering option on the Panera app.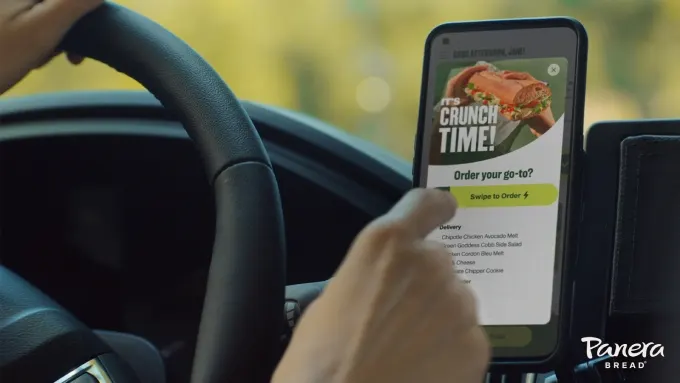 Panera knows that many of its guests are always on the go and for those stressful, busy moments where mealtimes creep up on them, Crunch Time Ordering is there to solve their dinnertime dilemma.
This new feature is among the first in the industry that allows guests to have their favorite meals pre-programmed to be ordered at a set date and time with just a single swipe.
The new, free feature was designed to remove the thinking and unnecessary steps out of dinner crunch time and is available exclusively for MyPanera members on the Panera iOS app.
By simply swiping once on the Panera app, customers can quickly place their favorite stored Crunch Time order for pickup or delivery.
Whether in a rush during their lunch break or trying to have a family meal in between school and soccer practice, Crunch Time Ordering is here to ensure that customers can order their Panera favorites quickly and easily.
With the Panera app, customers have the added benefit of personalized recommendations tailored to their preferences and when they are pressed for time.
The integration of Crunch Time Ordering into the Panera app allows customers to choose the Crunch Time that makes sense for their individual schedule, ensuring that their orders are prepared and ready when they need them.
How it works:
Favorite your go-to meals: Add your regular Panera order as a favorite in the iOS app – just select your favorite soup, salad, sandwich, Value Duet or You Pick 2 combo – or even new Stacked Toasted Baguettes.
Schedule and select your "Crunch Time": Panera will remind you to place your order at the busiest times in your schedule.
Swipe, eat, enjoy, repeat: When you receive the notification, you can solve Crunch Time with one swipe in the app and have your Panera meal prepared for pickup or delivery when you need it most.
Looking for a new go-to order? Try new Stacked Toasted Baguettes
Panera has recently launched an extension to their popular Toasted Baguette sandwich platform – Stacked Toasted Baguettes.
Now with added protein with the addition of smoked, pulled chicken, Stacked Toasted Baguettes are another hearty option packed with generous flavor on top of Panera's signature French Baguette.
Stacked Toasted Baguettes are available in three varieties, including the Chicken & Pepperoni Mozzarella Melt, Chicken Green Goddess Caprese Melt and the Chicken Cordon Bleu Melt.
To join MyPanera and set up your Crunch Time order, download the Panera app or visit PaneraBread.com for more information.