Immerse yourself in the ultimate Orange County vacation by exploring hot spots that the locals don't want you to know about.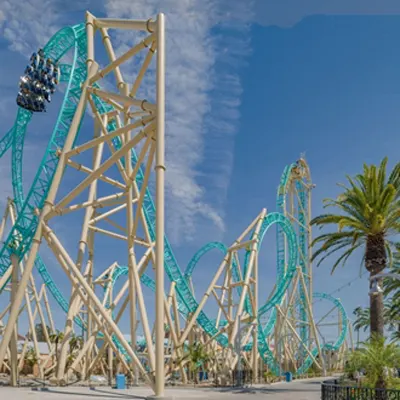 This bucket list has something for everyone from cruising scenic harbors, hiking to breath-taking vistas and getting sworn in as a pirate to discovering hidden restaurants and splashing around one of the longest water park lazy rivers.
1) Drop 96 Degrees on California's First Dive Coaster, HangTime
Enjoy over 30 exhilarating rides including the famous Timber Mountain Log Ride, visit the loveable Snoopy and the Peanuts Gang at Camp Snoopy and pan for gold at the only authentic 1880's Ghost Town at Knott's Berry Farm in Buena Park.
2) Be a VIP at the West Coast's Largest Shopping Center
South Coast Plaza is Southern California's premier shopping destination and home to over 250 boutiques, personal shopping services and upscale amenities.
3) Hike Past Ancient Oak Groves
Irvine Open Space Preserve invites visitors to hike past ancient oak and sycamore groves and rough rock outcrops in Bommer Canyon; conquer the three-mile Orchard Hills loop for a breath-taking vista from Loma Ridge that consumes the coastal ridge; and explore Irvine's southern wilderness via the Quail Hill Trail, the only trail that allows dogs.
4) Cheer on Your Favorite Knight
At Medieval Times Dinner and Tournament in Buena Park, visitors are transported back in time to an era of jousting, sword fighting, brave knights and a meal fit for a king.
You might recognize the dinner show from several television shows and feature films including the 1996 movie, Cable Guy with Jim Carrey and Matthew Broderick.
5) Check Out the World's Largest Surfboard
Huntington Beach offers 10 miles of uninterrupted coastline and an International Surfing Museum.
The free museum is home to a 42-foot surfboard that holds the Guinness World Record as the 'World's Largest Surfboard' and an artifact exhibit honoring Hawaiian surfer, Eddie Aikau.
6) Explore OC's Best Museum
At the Richard Nixon Library and Museum, history buffs can step aboard Marine One, the presidential helicopter that traveled the world with Nixon as well as Kennedy, Johnson and Ford.
Visitors to the museum will also find an exact replica of the White House East Room, Nixon's childhood home and the memorial sites of the President and First Lady.
7) Graduate from Skipper School
Secret tip: After riding the Jungle Cruise at Disneyland, ask the skipper for a map as you disembark.
The maps are given to sailors who complete skipper school by making animal noises from some of the creatures that are seen along the ride.
8) Salute the Martini Flag and Enjoy the Sunset
Every evening since the 1930's the bugle is sounded and the "martini flag" is raised at 5pm to signal the end of a work day and time to relax at The Beachcomber Café. Located on Crystal Cove Beach, the restaurant offers outdoor patio seating for watching spectacular sunsets and dolphins playing in the waves.
9) Sing-along to Dueling Pianos
Buena Park's newest hot spot is the Beach Boulevard Club featuring dueling pianos and elegant cocktails.
Step through the entrance of this classy speakeasy lounge and get transported to the prohibition days of the 1920s.
As you mix and mingle with your friends, enjoy the smooth soundtrack of the club's talented pianists.
10) Brave 63-foot Waterslides on Old Man Falls
Knott's Soak City, a 13-acre California beach themed waterpark in Buena Park, features one of the longest lazy rivers in the country, a rolling wave pool, dozens of waterslides and kid's splash area.
11) Get Sworn in as a Pirate
At Pirates Dinner Adventure in Buena Park, Captain Sebastian the Black is seeking new recruits for his crew.
Young landlubbers to the "World's Most Interactive Dinner Show" may be called aboard to take the pirate's oath and join the crew on their adventure.
12) Dine Aboard A Floating Restaurant
Well-known for their delicious brunch and dinner cruises, Hornblower Cruises also offers a one and a half hour Sights & Sip Cruise during the Summer.
The scenic boat ride in Newport Beach includes complimentary appetizers, music and cash bar.
13) Uncover the Hidden Door to a 1920's Speakeasy
The Anaheim Packing House is a foodie's paradise, with a collection of unique restaurants, outdoor activities and live music.
Hungry patrons will find fresh seafood, made-to-order popsicles, gourmet grilled cheeses and authentic southern food.
Want a refreshing cocktail?
Well, you'll have to find it first. Behind a non-discreet wall of sake barrels with a small black rabbit on it lies a speakeasy appropriately named, the Blind Rabbit.
14) Eat at Yelp's #1 Restaurant in the USA
The award-winning Porto's Bakery & Cafe serves up delectable pastries, savory sandwiches, specialty beverages and their famous potato balls.
The family-owned business still uses many of the original recipes that they brought with them from Cuba in 1963
With a rich Southern California history, Porto's Buena Park is one of just four locations and the only one in Orange County.
15) Devour Deep Fried Food
Visitors can enjoy over 150 annual events, live concerts and the world-famous OC Fair, one of the largest fairs in the United States.
In addition to it's seasonal offerings, the center is also home to Centennial Farms, Pacific Amphitheater and Veterans Hall, offering interactive exhibits for adults and kids alike.