Here is our roundup of top NYC Labor Day Weekend dining and happenings for Saturday, September 2; Sunday, September 3; and Monday, September 4.
Experience Passa Passa: A Night of Dancehall at Schimanski
Get lost in the rhythm at Schimanski (54 N.11st.) during Passa Passa: A Night of Dancehall party on Friday, September 1st.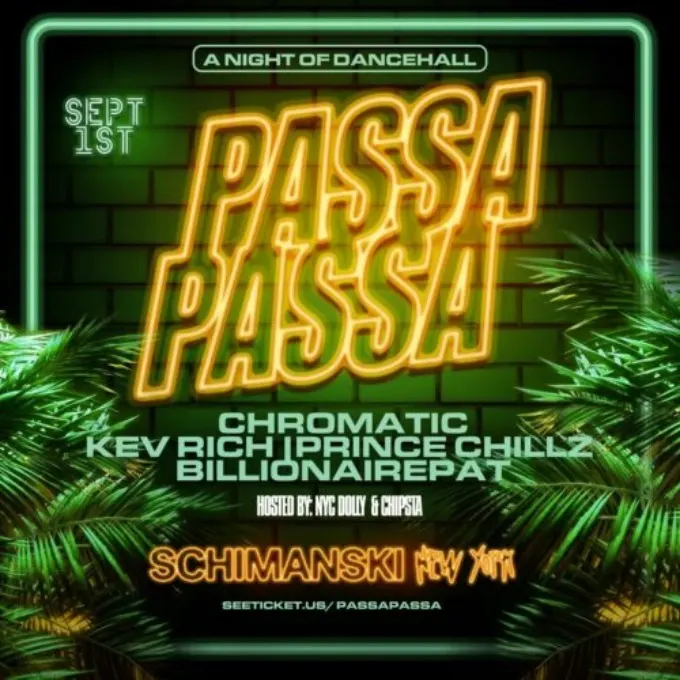 The exciting evening, hosted by NYC Dolly & Chipsta, will include the greatest Dancehall hits and a high-energy lineup.
Guests will jam to music from Chromatic, Kev Rich, Prince Chillz and Billionaire Pat on the dancefloor all night long.
For more information or to purchase GA tickets, priced at $30, visit https://wl.seetickets.us/event/Passa-Passa:-A-Night-of-Dancehall/562588?afflky=Schimanski
Jam to Cloonee Live at Somewhere Nowhere
Dance the night away at Somewhere Nowhere when Forest Döwn Under presents a live set from CLOONEE on Saturday, September 2nd.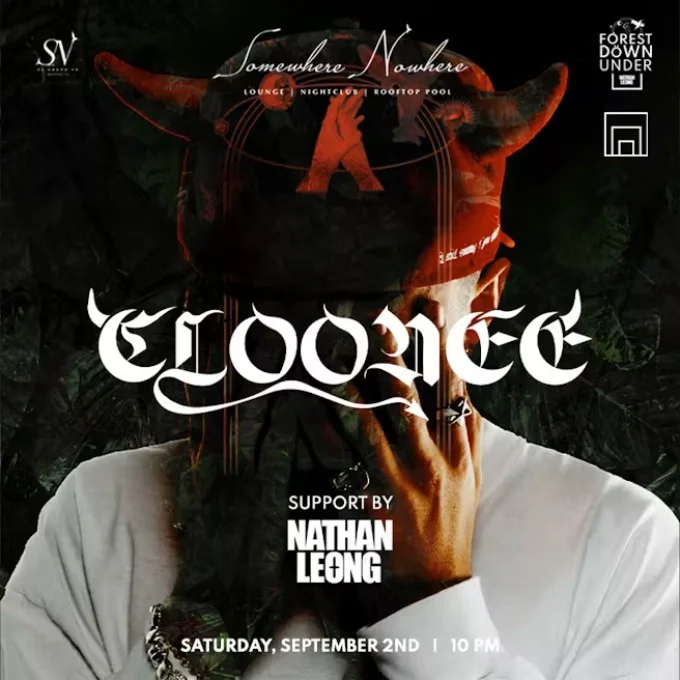 Starting at 10 p.m.
Cloonee alongside Nathan Leong will supply endless tunes for the crowd to enjoy until late night.
Guests can grab popular cocktails at the full-service bar, take the dancefloor for a spin, and enjoy sky-high city views.
Tickets for this event begin at $188 and can be found by visiting, https://www.sevenrooms.com/events/somewherenowhere.
Live Music from 3LAU at Nebula
Witness a live performance from 3LAU at Nebula (135 W 41st St.) on Sunday, September 3rd.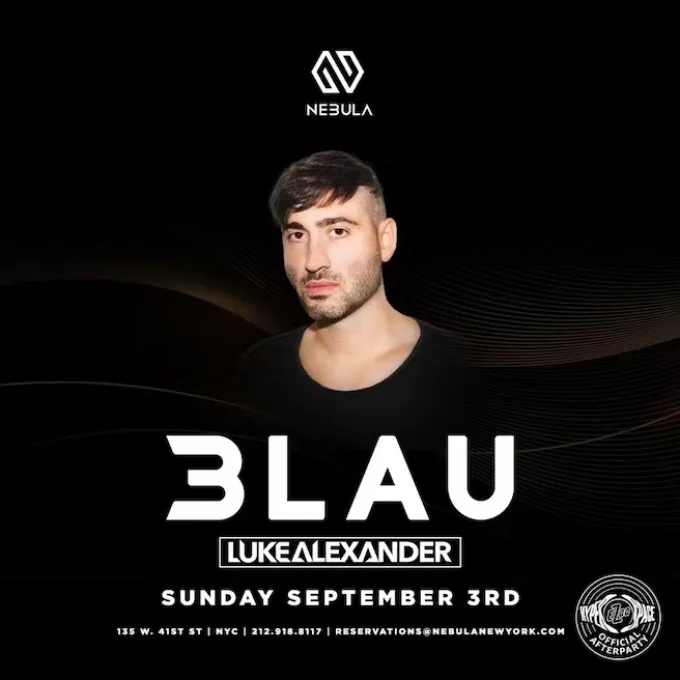 The American DJ and electronic dance music producer, Luke Alexander, known for hits like "Better With You", will spin a special set for guests until late night.
Jam to all of 3LAU's best tracks during this official E-Zoo afterparty while the full-service bar serves up classic cocktails and brews for purchase.
Tickets for this 21+ event begin at $50 and doors open at 11pm.
For more information or to purchase tickets visit, https://nebulanewyork.com/
Bar Marseille
Dive into the world of Bar Marseille at 190 Beach 69th St in Rockaways, where weekends turn into vibrant Rosé Pétanque celebrations.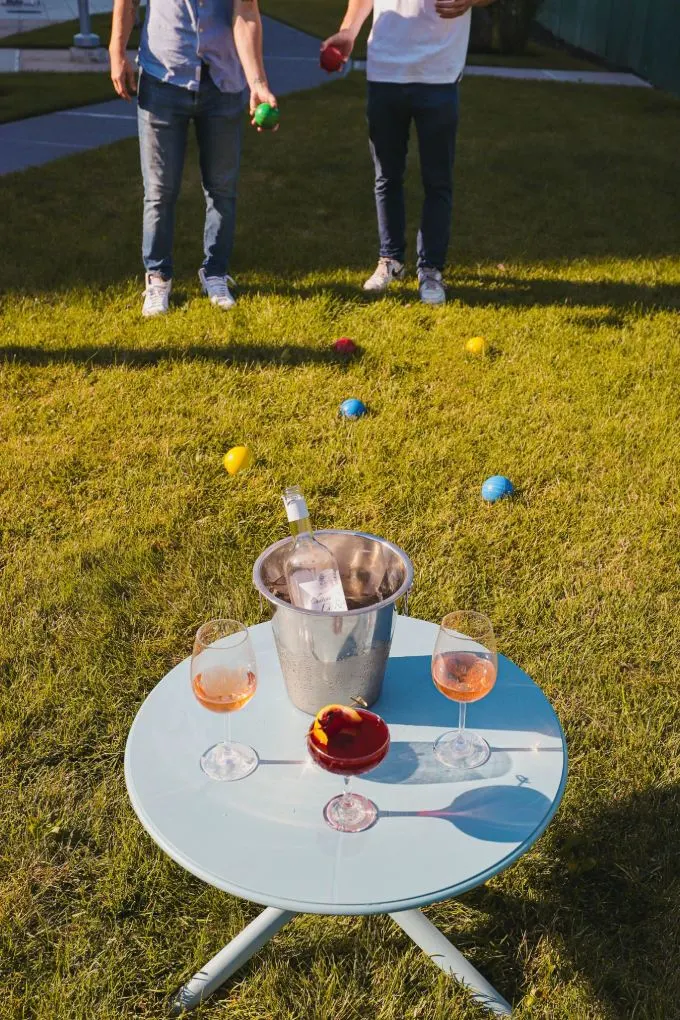 That Friday, Saturday, and Sunday on Labor Day Weekend from open until 6 p.m., experience the essence of leisure with a $60 special that treats you to a bottle of exquisite French rosé complete with an ice bucket and a game of Pétanque on the sun-kissed lawn outside the restaurant.
Lobster & Rose Soiree
Lobster & Rose Soiree is set to return to The Standard, East Village's outdoor dining space The Garden for NYC Labor Day weekend featuring seafood, sips, and hopefully the perfect sun to send off summer.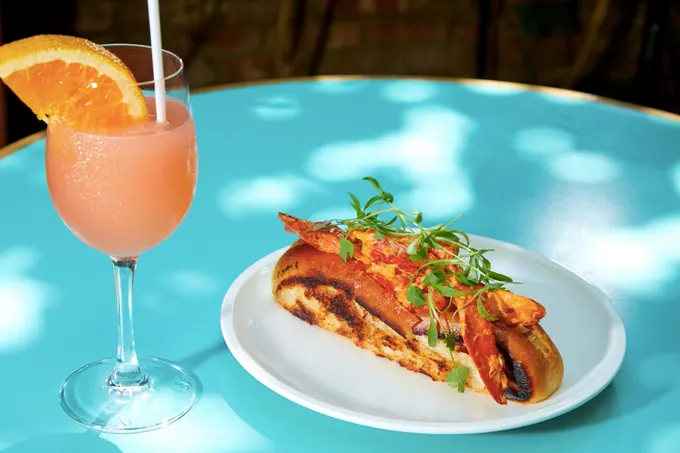 Following last year's inaugural event, the Lobster & Rose Soiree is back with a lavish menu that matches The Garden's lush backdrop. Choose between your choice of Lobster Rolls and sides and top it off with a bottle of wine that will be listed at 25% off.
Make the weekend even more memorable by booking a room at the hotel through their new room special, An East Side Summer. Unlock extra low rates for Standard Queen rooms available through Labor Day, be one of the first to experience the newly-designed rooms debuted this month, and receive two complimentary spritzes, summer cocktails, or froses in The Garden.
Nar
The newly opened Nar in the Flatiron District, was conceptualized by partners Andy E. Arkun, Erhan Bahceci, and Zeynep Tansung.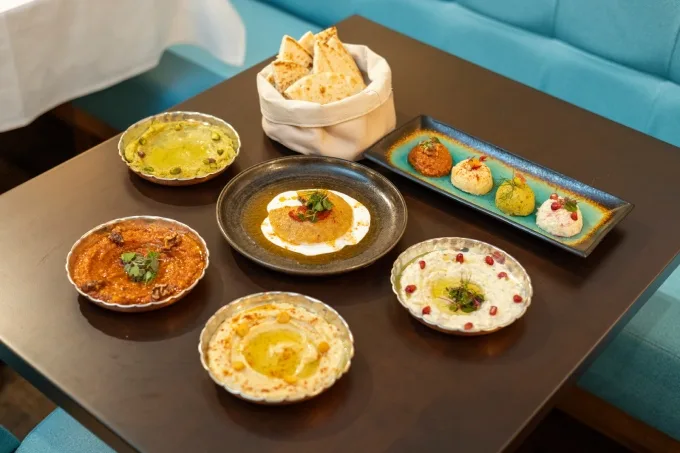 They have assembled a team of Turkish chefs to execute a menu of reimagined regional Turkish dishes using produce sourced from the Union Square Farmers Market, and proteins from Amish Country in Pennsylvania to serve clean, organic, halal-certified food.
The experience begins with a Meze Sampler: Babaganoush, made with eggplant, yogurt, garlic, and tahini; Hummus; Pistachio Dip, made with olive oil, tulum cheese and goat cheese; and Muhammara, made of walnuts, tomato, and pomegranate molasses; followed by cold and hot appetizers as well as signature main courses.
Also available is beverage program that is cohesive with the cuisine, using all house made juices and syrups and a Wine Program with more than 100 selections, focusing on Mediterranean producers.
Nar will be open for dinner NYC Labor Day Weekend Saturday from 5 pm – 12 am, and on Sunday and Monday from 5 pm – 11 pm. Reservations can be made via Resy.
Nomad Girl
Nomad Girl, a recently opened, modern, stylish, Milanese-style restaurant is an all-day eatery serving breakfast, lunch, brunch and dinner.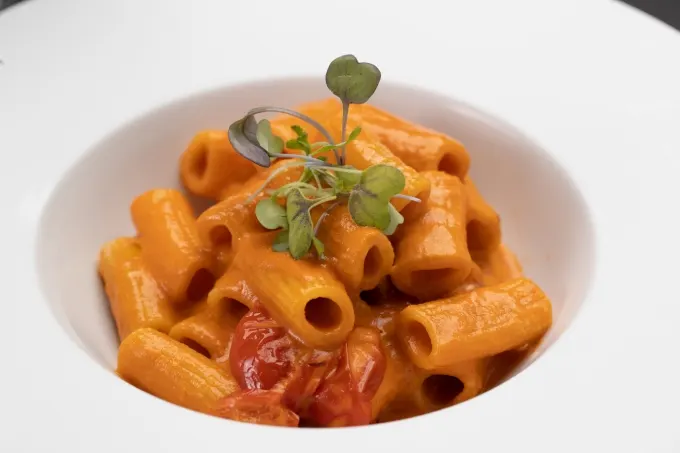 With its chic interior design and outdoor Piazza seating, it feels like you are dining in Milan.
Nomad Girl's unfussy Italian cuisine gives attention to high quality organic ingredients.
The coffee program is a stand-out.
The experience begins in the morning with small-batch Dell'Aria Coffee, the first Italian Coffee Roaster in New York City, pulled through an Astoria Tempesta—the official espresso machine of the World Barista Championship.
Additionally, Nomad Girl serves a selection of piadinas, a rustic Italian sandwich made on flatbread flown directly from Italy.
The Beverage Program features an international and well-balanced wine selection with a curated list of new and old-world wines as well as a cocktail bar serving the classics, with specialties such as a Negroni, an Italian cocktail that will make you feel like you are in Milan and an Espresso Martini made using Dell'Aria espresso.
Nomad Girl will be open for brunch Saturday and Sunday from 10 am – 3 pm and dinner 5:30 pm – 2:30 am (Saturday) and 5:30 – 12 am (Sunday).
The restaurant will be open Monday for breakfast from 7:30 am – 11 am, lunch from 11 am – 5 pm and dinner from 5:30 pm – 1 am.
Reservations can be made via OpenTable.
The Highlight Room
A stylish garden in the sky floating 16 stories above the Lower East Side, The Highlight Room is a glamorous all-season rooftop bar that evokes a 19th-century garden, with foliage swaying from the ceiling and a majestic tree spreading its branches across the room.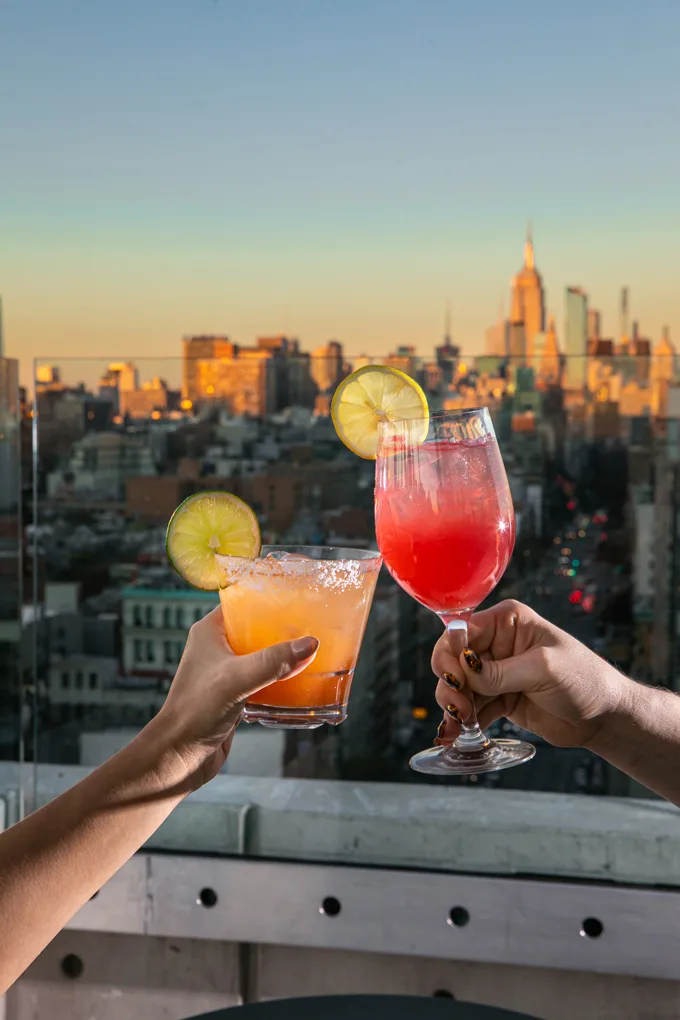 On Labor Day weekend, sip on specialty cocktails and enjoy commanding views of the New York skyline and unique vantage points of the bridges and the Empire State Building.
The Highlight Room has a wide cocktail and culinary program. Signature and famed items include Crispy Burrata Sticks, Sweet Potato Waffle Fries, and more along with the Golden Hour Spritz, Dolly Lava, Shiso Pretty cocktail offerings.
aRoqa
aRoqa, Chelsea's Michelin-recognized modern Indian restaurant that specializes in small plates with fanciful presentation, has recently launched a new cocktail menu from Beverage Director Prasad Pawar (Michelin-Starred Vestry by Shaun Hergatt), perfect for brunch and dinner celebrations during the long weekend.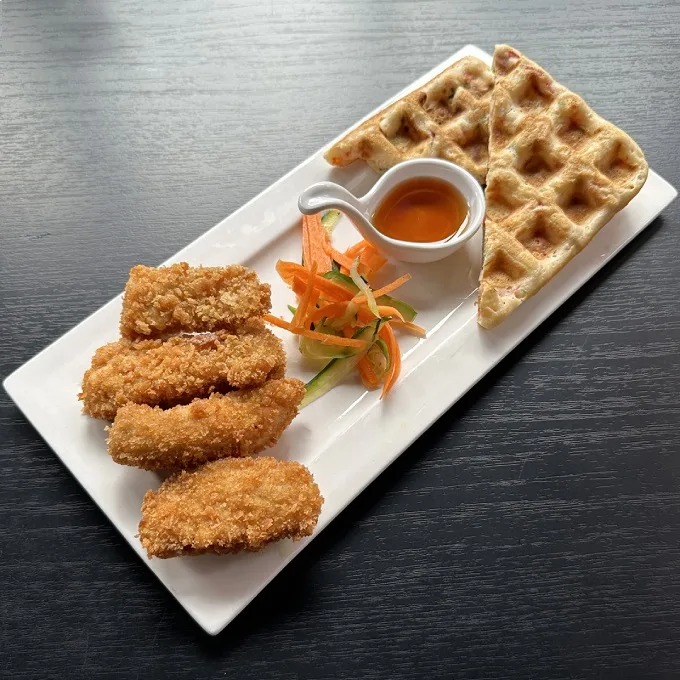 Additionally, for brunch-goers, the restaurant has added healthier options like Ragi, or "finger millets," with ragi flour, lentils, rice crepes served with sambhar "lentil and tomato soup," with a side of coconut kaffir lime chutney and sundried tomato chutney; and Khichdi —a gluten-free, vegan, vegetarian, and dairy free option— made with whole millet, lentil and rice tempered with crispy brown onions and side of cilantro chutney and plain yogurt.
To pair with these and other signature brunch or dinner items from aRoqa's menus, highlights of their new, Indian-inspired cocktails which utilize spices and herbs uncommonly used in American cocktails.
Each creation implements all house-made juices and syrups, showcasing fragrant and aromatic options that complement dishes emanating similar spices and flavor profiles.
aRoqa will be open on Saturday and Sunday for brunch from 11 am – 3 pm and for dinner from 5 pm – 10:30 pm (Saturday)and 5 pm – 9:30 pm (Sunday), but closed on Monday, 9/4.
Reservations can be made via OpenTable.
Magic Hour Rooftop Bar & Lounge
Perched 18 floors above the city, Magic Hour Rooftop Bar & Lounge is New York City's largest indoor + outdoor all-season rooftop bar and lounge featuring an "urban amusement park" concept with over-the-top cocktails, bites, unlimited rooftop views, and pink photo moments throughout the space.
For a limited time only, dive into the brand-new Pink Bunny Beach located on our renowned bunny putt-putt golf course including pink lifeguard chairs, beach balls galore, and much more. Pink Bunny Beach is open now till September 17th.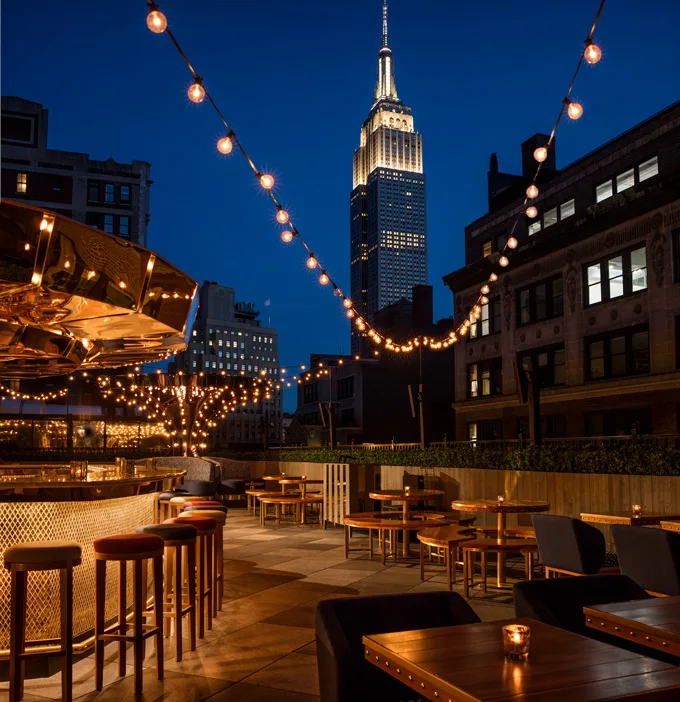 Experience pink lifeguard chairs, pink sand, beach balls galore, marvel at surfboards, and accent signage all complemented by a larger-than-life human-sized doll box that allows guests to capture unforgettable moments and bask in the perfect beachy atmosphere.
noreetuh
noreetuh, the Michelin-recognized Modern Hawaiian restaurant from Chef/Partner Chung Chow (Per Se, Lincoln Restaurant) has something for diners of all backgrounds – especially those who like to try new things such as SPAM and Hawaiian-style fried chicken.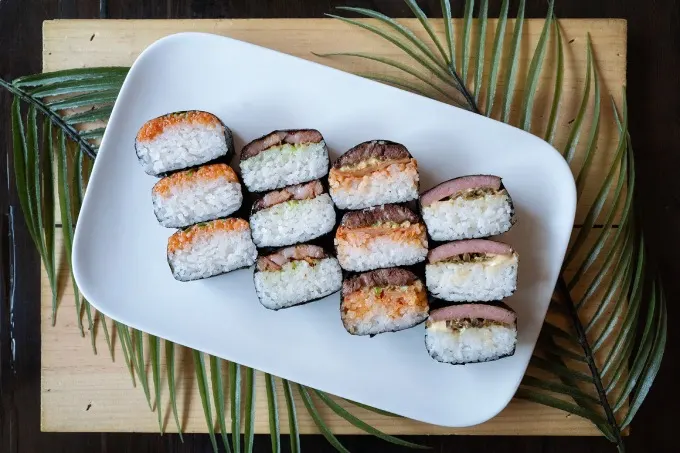 The dishes are well portioned and come at a very approachable price point.
Brunch and dinner-goers can choose to order meals or use the extensive menu to create a sort of Hawaiian-style tapas experience.
noreetuh's wine list curated by Managing Partner Jin Ahn (Per Se, Jungsik), has been awarded Wine Spectator's Best Award of Excellence three years in a row and perfectly complements the cuisine.
Also available is a just-launched selection of artisanal cocktails that feature unique twists on Hawaiian-inspired and re-imagined tiki cocktails to broaden the restaurant's appeal and ensure there are food and beverage options for every diner.
noreetuh will be open for brunch on NYC Labor Day Weekend Saturday and Sunday from 11:30 am – 2:30 pm and for dinner from 5 pm – 10:30 pm (Saturday) and 5 pm – 9:30 pm (Sunday), but closed on Monday, 9/4.
Reservations can be made via Resy.
Hortus NYC
Hortus NYC emphasizes a design-forward atmosphere and menu of carefully curated dishes from Executive Chef Geo Park, who most recently worked at Michelin-starred Jua before being named Hortus NYC's Executive Chef.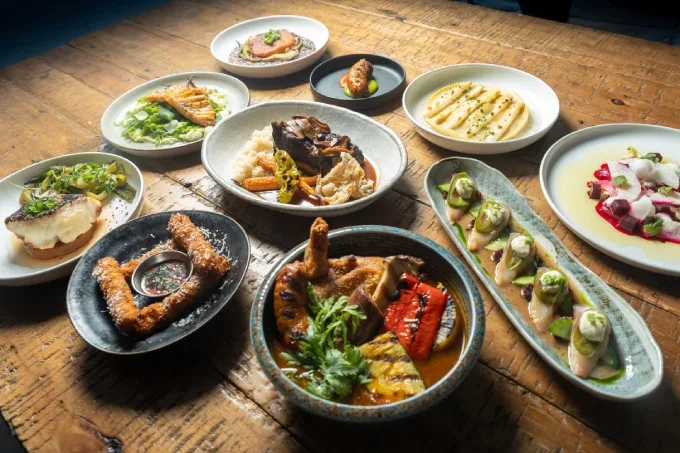 Chef Park seamlessly blends the flavors of China, Japan, Korea, and Southeast Asia with subtle European twists to take guests on a culinary journey at an approachable price point.
On the restaurant's second level, Hortus NYC features a glass-enclosed hidden garden oasis that creates the perfect environment to celebrate the holiday weekend.
The cuisine pairs perfectly with the extensive wine program and low-ABV, Soju-based cocktail program curated by Managing Partner Suhum Jang (Daniel, Jungsik).
Hortus NYC will be open on NYC Labor Day Weekend Saturday, Sunday, and Monday for lunch from 11:30 am – 3:30 pm and for dinner from 5:30 pm – 11 pm (Saturday) and 5:30 pm – 10:30 pm (Sunday and Monday).
Reservations can be made via OpenTable.
Restaurant Yuu
Recently-opened Restaurant Yuu in Greenpoint, Brooklyn from Executive Chef-Owner Yuu Shimano (three-Michelin-starred Restaurant Guy Savoy in Paris, MIFUNE New York) serves an innovative 15-course French omakase tasting menu imbued with Japanese ingredients and cooking techniques.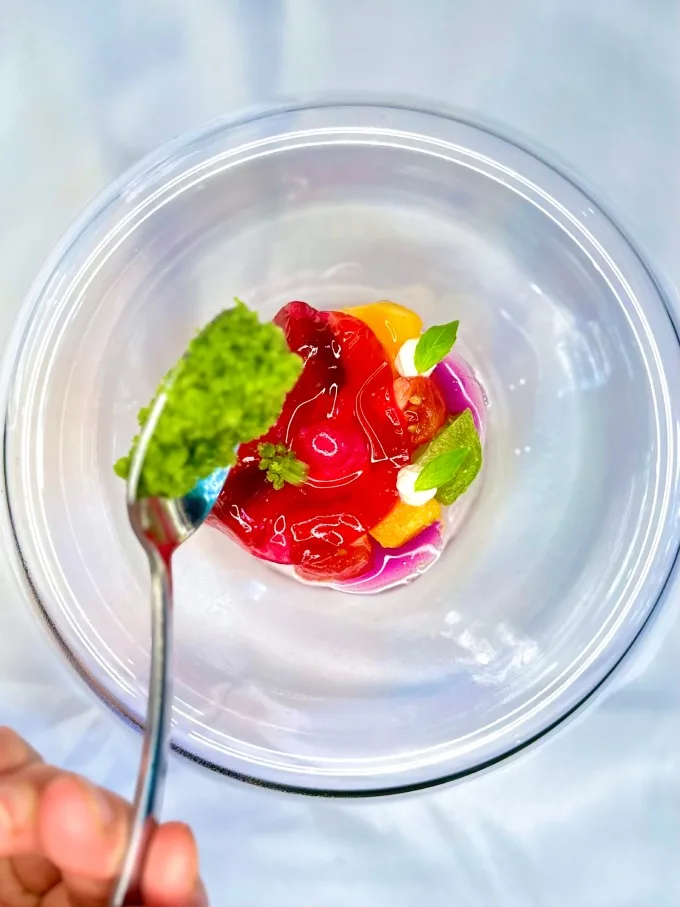 While the cuisine is influenced by that of France and Japan, Chef Yuu and his team have created a dining experience unlike any other in New York City.
It begins with a curtain draped over the restaurant's grand open kitchen as guests are seated at a black marble L-shaped chef's tasting counter.
The curtain rises to reveal the culinary team of Chef de Cuisine Shuji Furukawa (previously Executive Chef of The Gallery by Odo), Pastry Chef Masaki Takahashi (two-Michelin-starred Narisawa in Tokyo), and Chef Yuu working in unison to plate the first course, adding an air of theatrics.
After the final course, guests are escorted to the parlor areas to complete the experience with Chef Masaki's eye-catching beautifully designed mignardise creations and digestifs.
The cuisine is supplemented by the Wine and Sake Program curated by newly-appointed Sommelier Alex Chung (formerly of three-Michelin-starred Benu and Tokyo's three-Michelin-starred Nyhonryori Ryugin) and General Manager Akio Matsumoto (three-Michelin-starred L'Effervescence in Tokyo) which offers a combination of traditional wines by legacy producers and a vast selection of more progressive wines from small producers and growers.
Guests can opt for a standard Wine and Sake pairing for an additional $230 per person, a premium Noble Wine and Sake pairing that features innovative and progressive selections that elevate the cuisine and match each dish conceptually for $378, or a Non-Alcoholic Tea pairing built to surprise and delight guests for $120.
Just-launched is an eight-seat wine and cheese bar adjacent to the chef's tasting counter set to serve wine and sake by the glass curated by new sommelier Alex Chung as well as a Japanese whisky selection.
Accompanying the beverages is a well-curated selection of cheeses that will include a 26-month Comte, Chabichou, and Mimolette.
The cheese is served as a selection of 3 cuts or as part of a Grand Cheese Plate to go along with Donut Peach Jam and Dry Fruit Bread made in house daily by Executive Pastry Chef Masaki Takahashi.
Restaurant Yuu will be open on NYC Labor Day Weekend Saturday for dinner with a seating at 6 pm. Reservations can be made via Tock.
Jungsik
At Internationally acclaimed La Liste Top 1000-recognized and two-Michelin-starred Jungsik one can treat themself to a very special holiday weekend Dinner.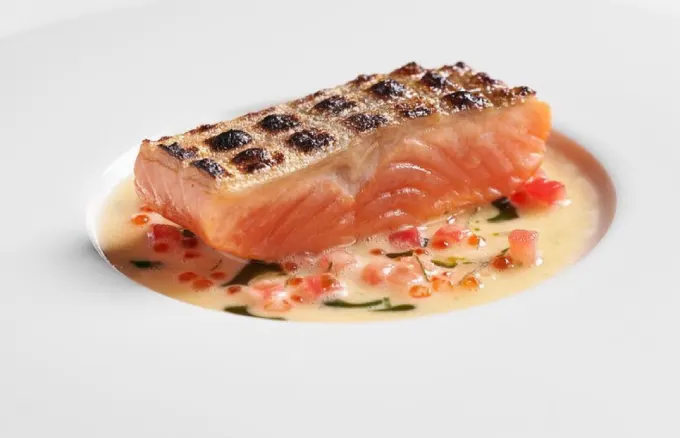 The restaurant was the first to introduce New Korean cuisine to New York City, and after a decade in operation, Jungsik continues to plate elegant and imaginative dishes that pack immense, almost unexpected flavor into every bite of their signature nine-course tasting menu under the guidance of Executive Chef Daeik Kim and Executive Pastry Chef Yoonjung Oh (Aquavit).
The staff is ultra-friendly, and Wine Director Cameron Dellinger (Aldo Sohm Wine Bar, Le Bernadin) is quick to recommend a bespoke wine pairing for each course from the well-curated wine list which encompasses a mix of classics as well as lesser-known fun, food-friendly wines; the entire team takes great pride in ensuring the experience is memorable for all guests and watching their faces light up each time a new dish is served.
The Signature Menu is priced at $295 per person with the option to add a standard wine pairing for $200, or a luxurious premium wine pairing for $500 with wines that include Moët & Chandon "Dom Pérignon" Brut 2013, Egon Müller Riesling Spätlese "Scharzhofberger" Mosel 2020, and Opus One Bordeaux Blend Napa Valley 2018.
Also offered are a la carte selections at Jungsik's bar, with menu staples like Sea Urchin Bibimbap and Galbi as well as the full, award-winning wine list and artisanal cocktails available. Kindly view the full menu here.
Jungsik will be open on NYC Labor Day Weekend Saturday and Sunday, for dinner from 5 pm – 9 pm.
Reservations can be made via Tock.
PJ Bernstein
PJ Bernstein, the Jewish delicatessen and full-service restaurant onthe Upper East Side continues to be a popular destination for locals and celebrities who have an appetite for towering pastrami sandwiches and homemade soups.
Their Catering and Party Menu is perfect for those looking to nosh on some hearty sandwiches for the long holiday weekend with options for anywhere from 10 – 20 people.
Starters include classic salad options such as Potato, Macaroni, or Cucumber Salad, among others, and customers can also lean with healthier options like PJ's Vegetable Platter, served with carrots, peppers, cauliflower, broccoli, cherry tomatoes, celery sticks, and house-made onion dip; and the Whitefish Platter served with an assortment of bagels, cream cheese, olives, Bermuda onions, tomatoes, and fresh lemon.
Cold Cut Platters are prepared with three and a half to five pounds of select meats as well as Eli's Bread house dressing, and pickles.
Then for the main event and those looking to dive into some of NYC's best pastrami, brisket, and corned beef, PJ's Famous Sandwich Platters come with either 12 jumbo sandwiches and five pounds of a choice of side salad, and 20 Jumbo sandwiches and seven pounds of a choice of side salad.
PJ Bernstein is open on NYC Labor Day Weekend Saturday, Sunday, and Monday for sit down dining from 9 am – 7 pm (Saturday and Sunday) and from 12 pm – 7 pm (Monday), with takeout and delivery ordering available Saturday and Sunday from 8 am – 7:30 pm, and 12 pm – 7:30 pm on Monday.
Blu on the Hudson
The recently opened Blu on the Hudson, a 30,000-square-foot modern American restaurant with sweeping views of the Manhattan skyline brings a New York City-style dining experience to the waterfront in Weehawken, New Jersey.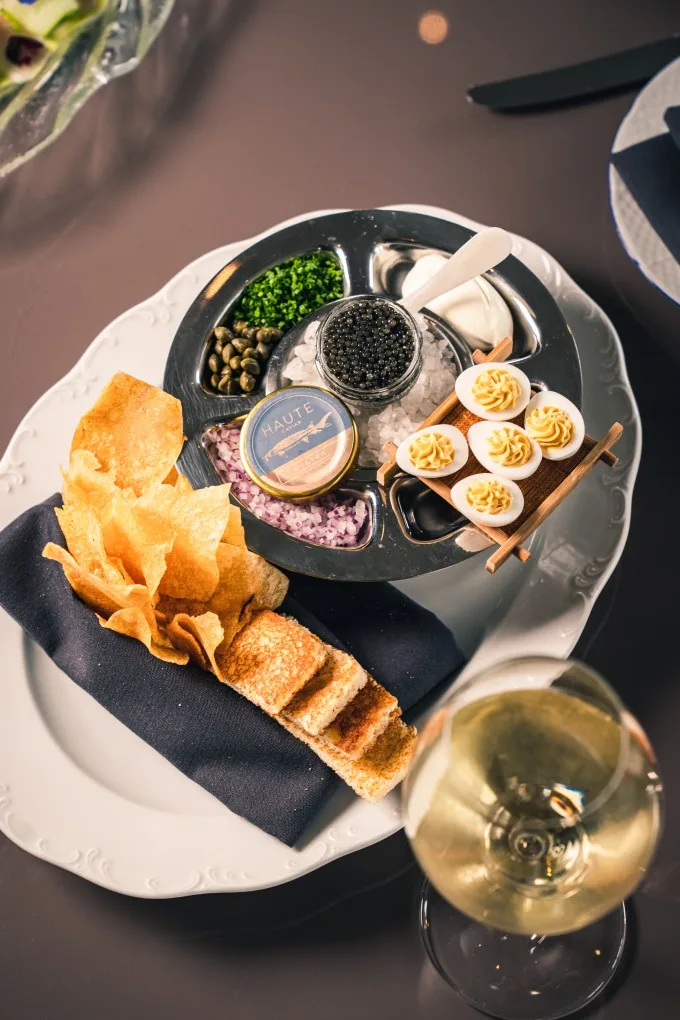 Available for weekend brunch-goers and those seeking a holiday weekend dinner, the restaurant offers a bold seafood-centric menu by Executive Chef J.C. Ortega accented by a top-flight steak program, homemade pasta, a one-of-a-kind cocktail program, and soon-to-come rooftop event space.
Blu on the Hudson is just minutes away from Hoboken and Jersey City by Light Rail, and a picturesque six-minute NY Waterway ferry ride from Manhattan.
To accompany the brunch and dinner menus, the restaurant offers a Beverage Program by Beverage Director Jeremy Le Blanche (formerly of Thyme Bar, The Gibson, German Gymnasium), who has worked at the best cocktail bars around the world.
Jeremy substitutes fussy ingredients in favor of theatrical presentations.
Additionally, Blu on the Hudson offers a Wine Program, designed by Sommelier Adam Greer, which features a global wine list, with strengths in Bordeaux and Burgundy.
It also includes a robust selection of wines by the glass, five sparkling, eight white and 12 red selections.
Blu on the Hudson will be open for NYC Labor Day weekend on Saturday and Sunday for brunch from 11:30 am – 3:30 pm and for dinner from 5 pm – 1 am (Saturday), 5 pm – 10 pm (Sunday) and will be open on Monday with their "Social Hour" from 2 pm – 6 pm, with $11 premium cocktails, and the full dinner menu available from 1 pm – 9 pm.
Reservations can be made via OpenTable.