Here's a Mother's Day Boise 2021 guide covering special menus for brunch, lunch, and dinner. Mother's Day 2021 is happening on May 9.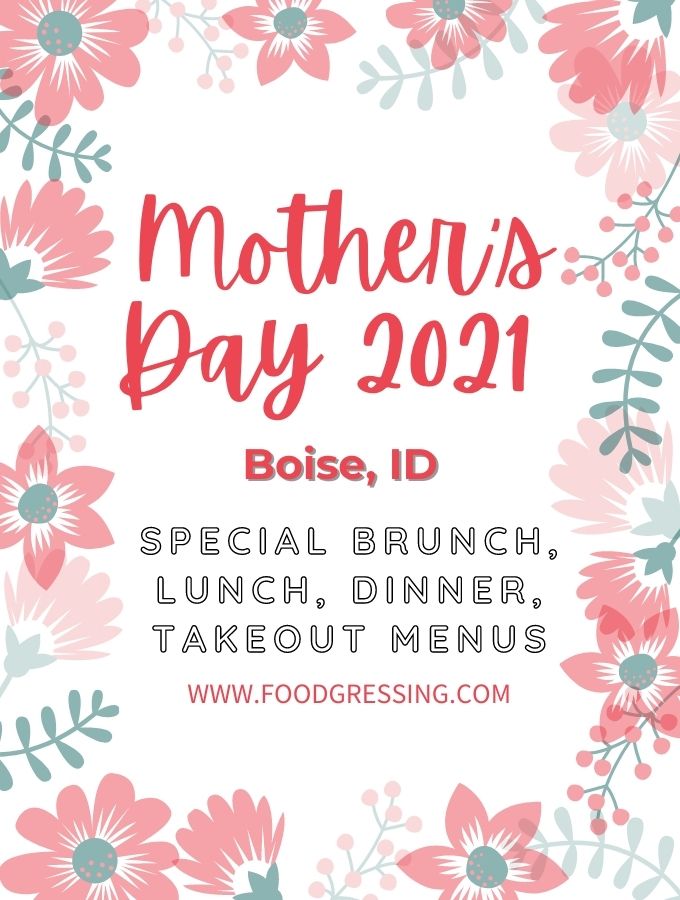 This list is updated as information becomes available. Please reach out to me [email protected] or @foodgressing on social media (Instagram, Facebook, Twitter, TikTok) for any suggestions.
Any support to local businesses is appreciated in these times. Holiday celebrations can take on different forms from traditional, fusion to modern.
Please use this list as an inspiration for ideas on how to put together your own Mother's Day celebration.
If you like this post, please share with your friends and family. This would help support the website and for me to continue doing these roundups.
Mother's Day Boise 2021 restaurant/catering offerings
Chandlers Steakhouse
Chandlers Steakhouse is opening early at 2 PM on May 9 and serving a 4 Course Prix Fixe Menu priced at $60 per person + Tax & Gratuity. Featuring Live Music, Prime Steaks and Jet Fresh Seafood.
Richards
Richards is offering their regular menu with specials on May 9.
Portneuf Grille & Lounge at the Riverside Inn
Portneuf Grille & Lounge at the Riverside Inn (Lava Hot Springs) is offering a Prix Fixe Mother's day dinner from 5 PM -9 PM on May 9. Reservations are highly recommended as their intimate restaurant seats 36 people. Price per person is $65 plus tax, beverages and gratuity.
Kona Grill
Kona Grill is offering a Roses & Rosé Brunch & Dinner; featuring $7.99 Whispering Angel & Chandon Brut Rosé, and a Rose for every Mom.
Mother's Day quotes to make your mama smile
We all know moms are everything and rely on moms for love and support daily. There's so much to say to them, so here are the best Mother's Day quotes to make your mama smile.
About Mothers's Day
Have you ever wondered how Mother's Day came to be? Perhaps you are looking for some ideas on the perfect gesture for the maternal figure in your life? Check out my general Mother's Day 2021 guide.
Free Mother's Day Cards
If you're looking to send an Easter greeting card, check out Canva.com (referral link) for free Mother's Day card templates and start designing.
I have been using Canva for years and if you're new to Canva, please feel free to use my Canva referral link to sign up for free.
It's a great graphic design platform used to create social media graphics, presentations, posters, documents and other visual content.