In this Mooncakes Toronto 2022 post, I cover some places where you can buy mooncakes locally from the classic to the unique flavours.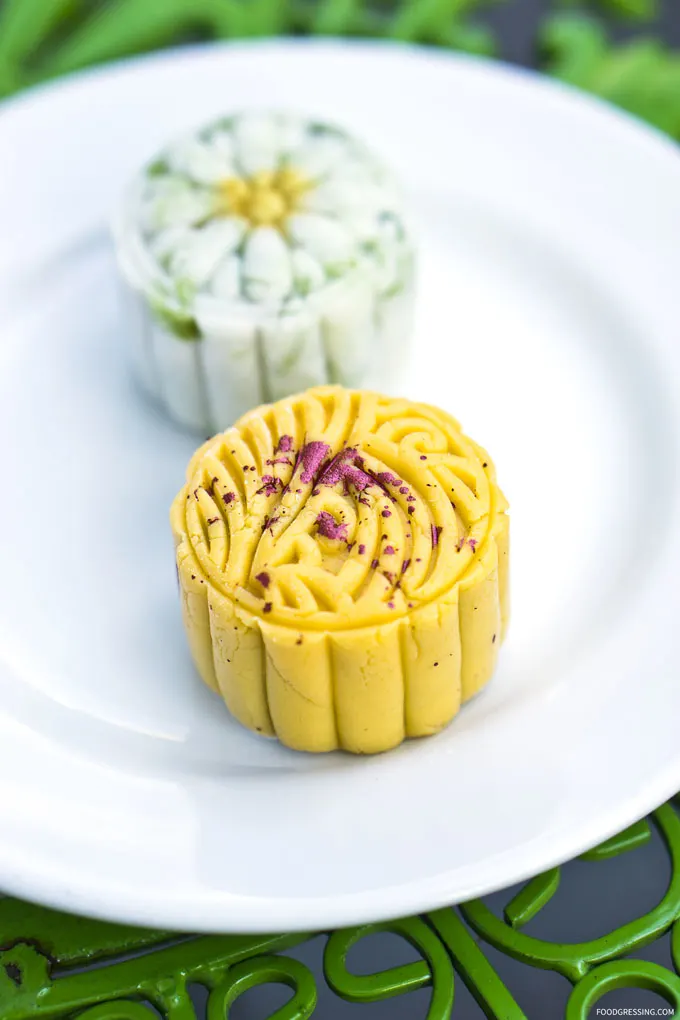 As summer fades away and the leaves turn brown, it's that wonderful time of year to gather and give thanks under the Harvest moon.
Mid-Autumn Festival 2022 is a harvest festival celebrated in Chinese culture and some people compare it to North American Thanksgiving.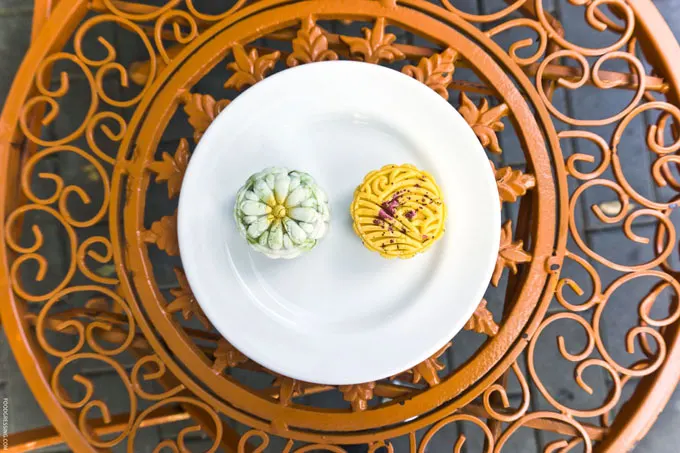 This year, Mid-Autumn Festival 2022 falls on Saturday, September 10, 2022.
The most iconic food associated with the Mid-Autumn festival is mooncake.
The mooncake is stuffed traditionally with red bean paste, fruit, egg yolk, nuts or lotus seed paste.
However, there have been more unique and creative fillings in modern times.
Its round shape symbolizes "unity" or "reunion" and best wishes.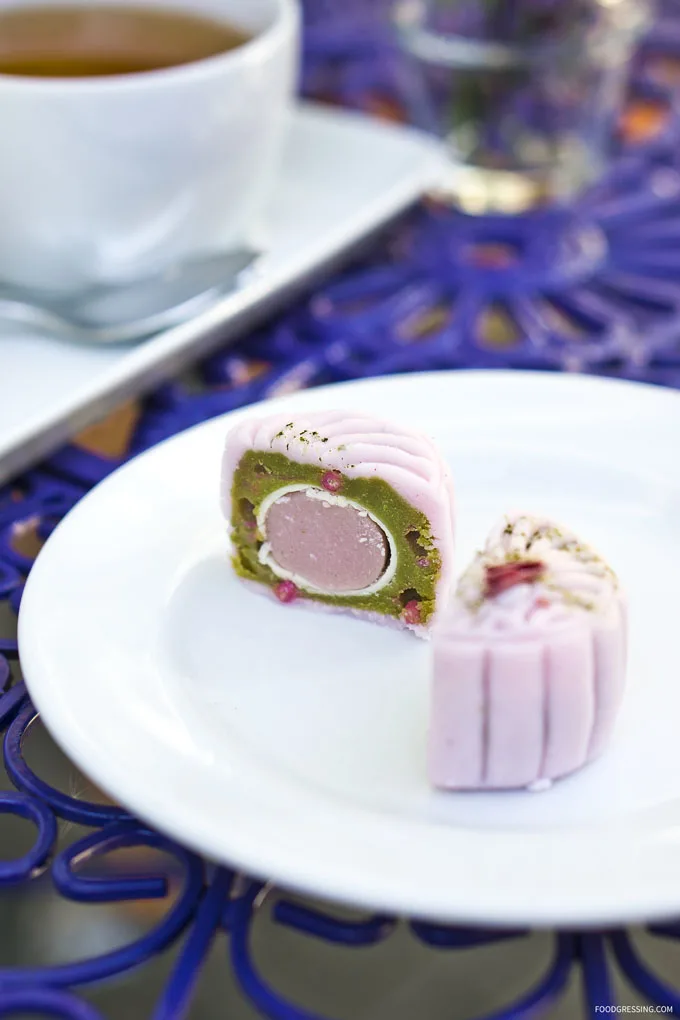 In general, you can find mooncakes sold at Chinese bakeries and supermarkets.
From the traditional to the modern and unique, here are a few specific places to find Mooncakes Toronto 2022 for your Mid-Autumn Festival 2022 celebration.
This Mooncakes Toronto 2022 list is updated as more information becomes available. Please contact me at [email protected] or @foodgressing on social media to be featured.
Bake Code
Bake Code offers the following mooncake flavours sold as a Gift Set of 2 ($19) or 6 ($62).
Matcha Red Bean Molten Moon Cake
Matcha-infused outer skin + Red Bean Paste + Molten Egg Yolk Filling
Taro Molten Egg Moon Cake
Taro Infused Outer Skin brushed in Silver + Taro Paste + Molten Egg Yolk Filling
Black Sesame Molten Egg Moon Cake
Black Sesame infused Outer skin brushed in Gold + Black Sesame Paste + Molten Egg Yolk Filling
Original White Lotus Molten Moon Cake
White Lotus Paste + Molten Egg Yolk Filling
Hazelnut Chocolate Moon Cake
Custard Paste + Hazelnut Chocolate Filling + Roasted Hazelnut Crumbs
Double Salted Egg Moon Cake
Custard Paste + Salted Egg Yolk Filling, Baked Salted Egg Crumbs
Savorology Artisan Bakery
Savorology is offering Lava Custard Mooncake (6 pieces for $65) and Durian Custard Mooncake (6 pieces for $68).
T&T Supermarket
T&T Supermarkets imports mooncakes from Asia including brands like The Peninsula Hotels, Hang Heung, Wing Wah and so forth.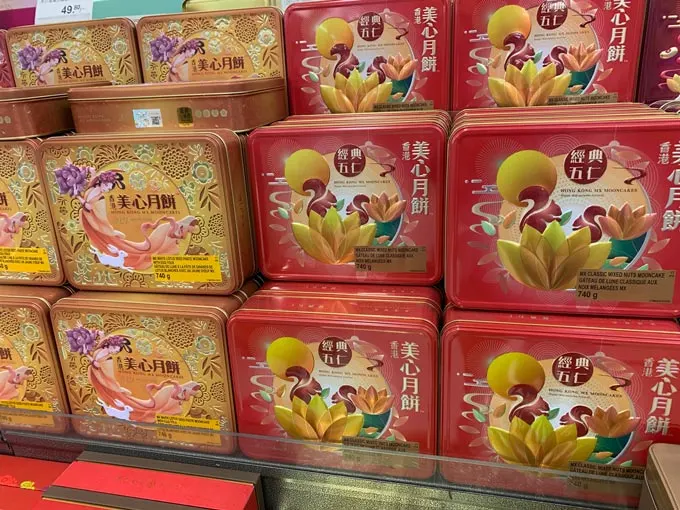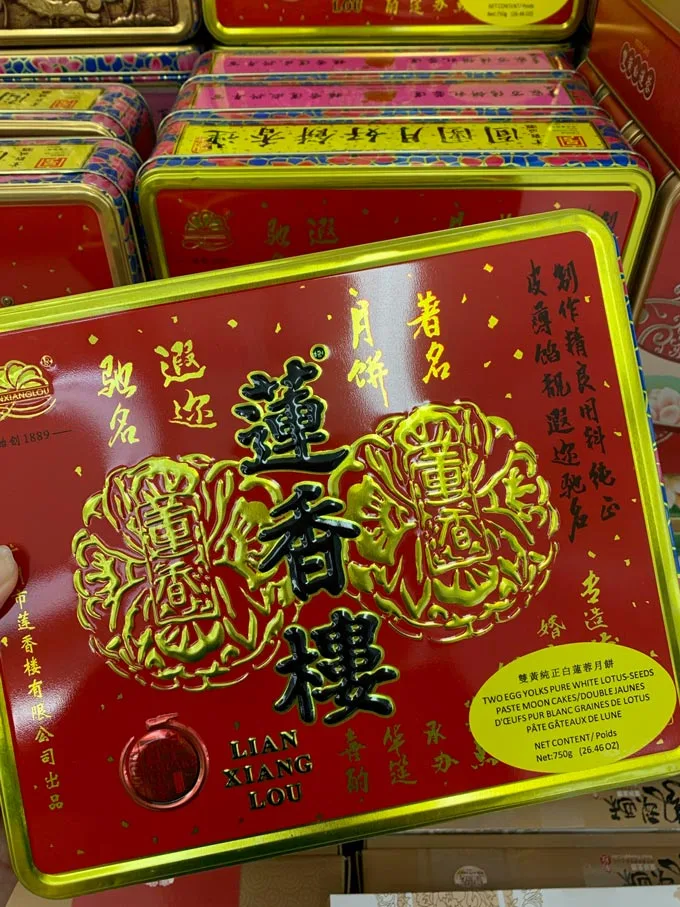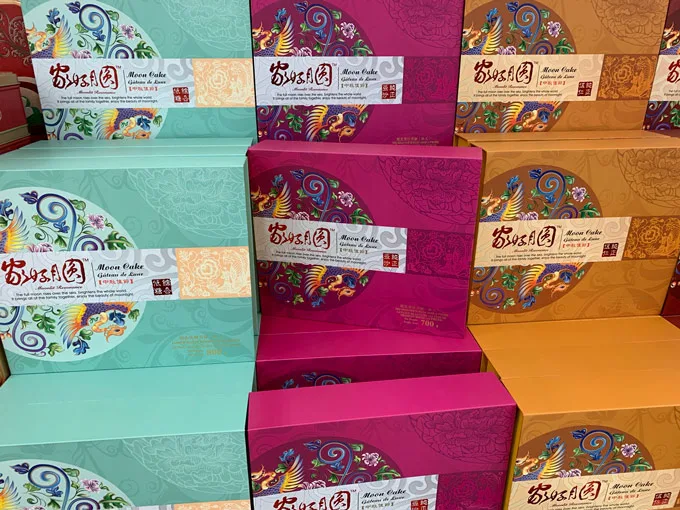 T&T also have their own branded mooncakes.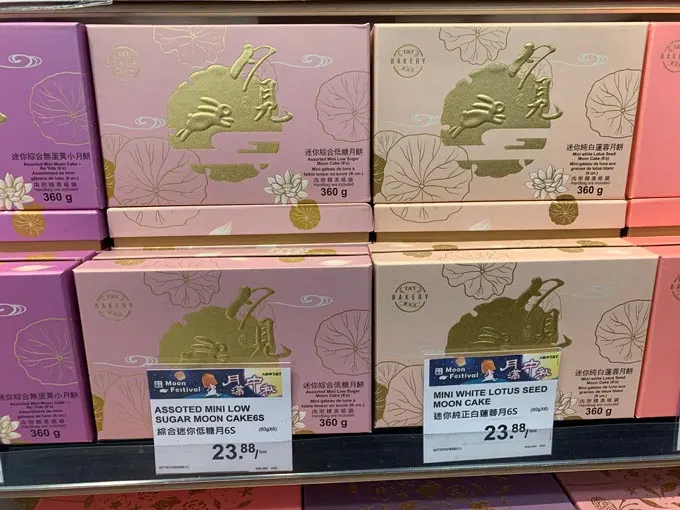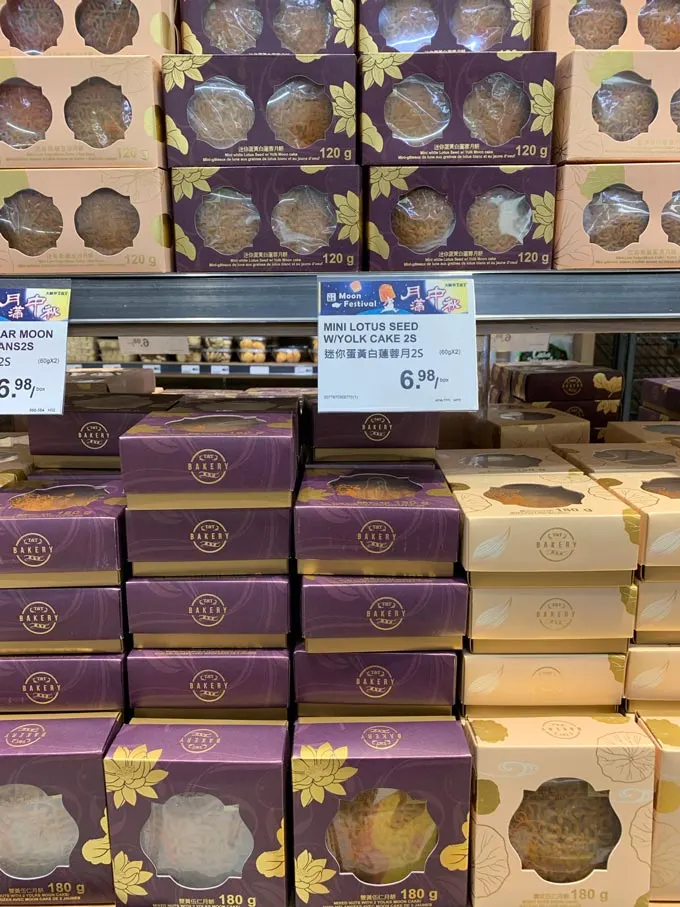 Wai Tack Kee Fine Foods
Wai Tack Kee Fine Foods offers freshly baked mooncakes in these varieties:
Red Bean Paste With Walnuts
Lotus Seed With Yolk
Red Dates Paste with Walnuts
Mixed Nuts with Walnuts
Mixed Nuts with Ham
Jade Rabbit Mooncake
Piggy Mooncake
They make all of their own filling paste, and hand wrap all Mooncakes which are then delicately stamped out.
DM them on Instagram to order at www.instagram.com/waitackkee.
Saint Germain Bakery
Saint Germain Bakery is another local bakery chain that offers mooncakes Toronto 2022.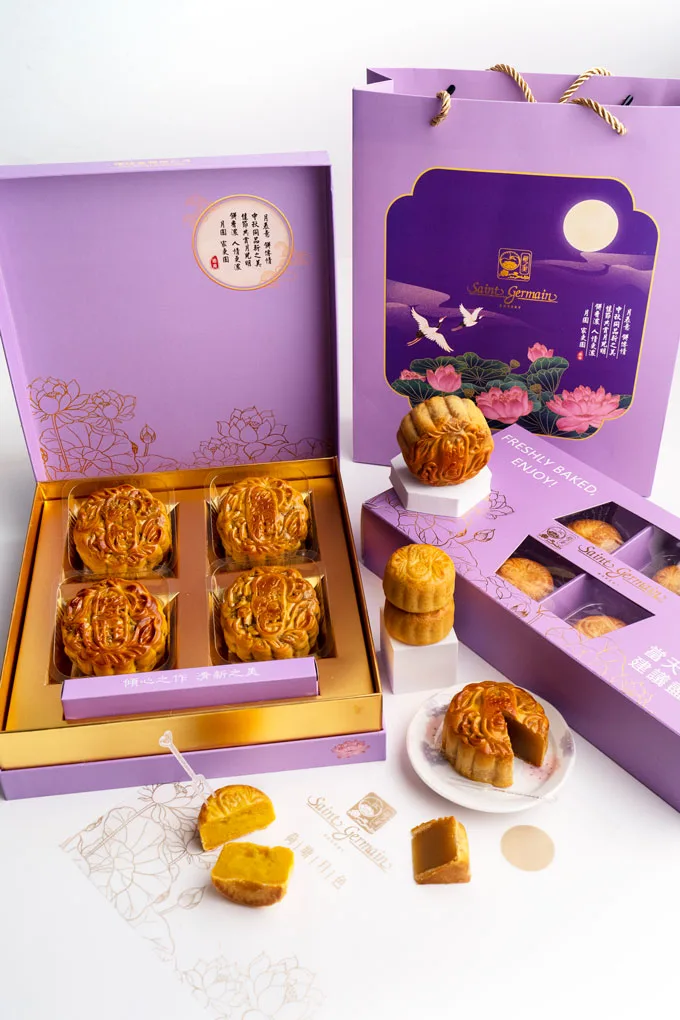 Their lineup includes:
Lava Salted Yolk Custard Mooncake
Salted Egg Yolk Custard Mooncake
Double Yolks White Lotus Seed Paste Mooncake
Double Yolks With Lotus Seed Paste Mooncake
Pure White Lotus Seed Paste Mooncake
Dried Scallop Chinese Cured Ham And Mixed Nuts
Durian Snowy Mooncake
Bakery Patisserie Gateau
Bakery Patisserie Gateau (2 locations – 6464 Yonge St. #122 and 3229 Hwy 7 East, #B8) offers mooncakes.
TWG Tea Canada
TWG Tea Canada is offering the Immortal Moon Tea Mooncake Collection with the following flavours:
Constellation: This iconic signature of the mid-autumn festival holds within a golden crust a smooth and elegant brown lotus filling infused with Singapore Breakfast Tea, a scattering of roasted melon seeds and an embedded salted egg yolk heart. A timeless favourite.
Blossom: Encased in a sumptuous baked crust infused with Bain de Roses Tea, this TWG Tea mooncake boasts a rich and smooth lychee white lotus paste. A harmony of fruits and flowers.
Ruby: Adorned in a perfectly baked ruby red crust, this exclusive TWG Tea mooncake reveals a smooth and delicate white lotus paste infused with Milk Oolong. A beautiful union of flavours.
Harvest: Concealed in a perfectly baked golden-brown crust, this exquisite mooncake encases a Pu-Erh infused white lotus paste which envelopes a tangy almond and passion fruit purée.
TWG mooncakes can be shipped across Canada.
Lady M Canada
Lady M Confections is offering a 2022 Glowing Lights Mooncake Gift Set to celebrate Mid-Autumn Festival.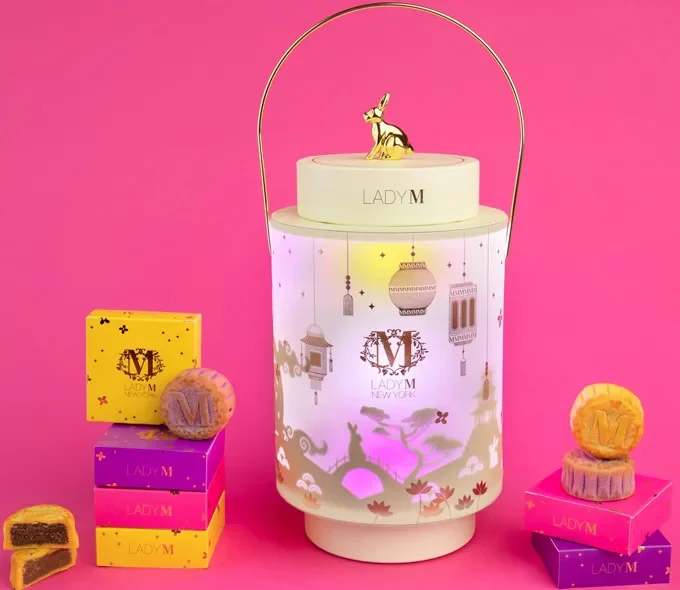 The glow of this year's limited-edition spinning lantern illuminates an intricate, hidden moonlit scene while the luxurious golden handle and exquisite foil details celebrate the elegance of this beloved holiday.
Atop the lantern sits a lucky golden rabbit, symbolizing the annual celebration of the full moon and abundant autumn harvest.
Lifting the golden rabbit charm reveals a tower of Lady M's famous miniature mooncakes, made in collaboration with Kee Wah Bakery.
Inside, the Gift Set includes two each of three unique mooncake flavors along with a gift bag, custom greeting card and envelope.
This year, the luxuriously adorned set features three decadent flavors – Earl Grey Mooncake, a fan-favorite tea flavor wrapped in a golden mooncake shell; Caramel Coffee Mooncake, a bold and rich coffee flavor meets classic mooncake pastry with a hint of caramel; and Purple Yam Custard Mooncake, a soft purple yam custard wrapped in a buttery pastry shell, vibrant in both color and flavor.
You might also like: