Lady M Confections, home of the world famous Mille Crêpes, unveiled its much-anticipated 2022 Glowing Lights Mooncake Gift Set to celebrate Mid-Autumn Festival.

The glow of this year's limited-edition spinning lantern illuminates an intricate, hidden moonlit scene while the luxurious golden handle and exquisite foil details celebrate the elegance of this beloved holiday.
Atop the lantern sits a lucky golden rabbit, symbolizing the annual celebration of the full moon and abundant autumn harvest.
Lifting the golden rabbit charm reveals a tower of Lady M's famous miniature mooncakes, made in collaboration with Kee Wah Bakery.
Inside, the Gift Set includes two each of three unique mooncake flavors along with a gift bag, custom greeting card and envelope.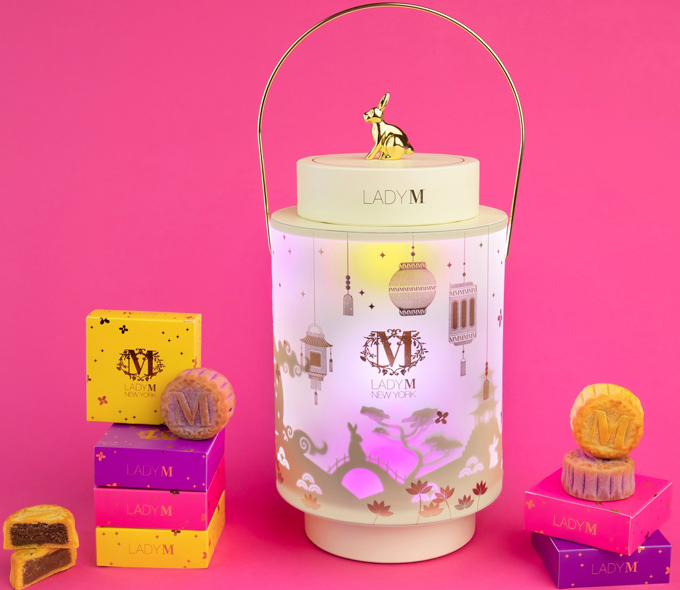 This year, the luxuriously adorned set features three decadent flavors – Earl Grey Mooncake, a fan-favorite tea flavor wrapped in a golden mooncake shell; Caramel Coffee Mooncake, a bold and rich coffee flavor meets classic mooncake pastry with a hint of caramel; and Purple Yam Custard Mooncake, a soft purple yam custard wrapped in a buttery pastry shell, vibrant in both color and flavor.
Also available this year is the Glowing Lights Mooncake Bundle featuring two limited-edition Mille Crêpes offerings.
In addition to the collectable gift set with six miniature mooncakes and a spinning lantern that glows, Lady M is presenting the opportunity to bundle and save with the fan-favorite Purple Yam "Ube" Mille Crêpes or the brand-new Jasmine Calamansi Mille Crêpes ($180).
Lady M's 2022 Glowing Lights Mooncake Gift Set is centered around the gathering of friends, family, and loved ones, the most important part of Mid-Autumn celebrations.
The finest gift this season is packaged in a custom Lady M shopping bag, complete with a greeting card and envelope ($78).
Lady M Unveils Mid-Autumn Festival 2022 gift sets and bundles will be available in U.S. and Canada boutiques starting August 12, 2022, and online at LadyM.com and LadyM.ca starting July 25, 2022.