Aside from food, something that I feel like I know a lot about is wearing eyeglasses.  I've had prescription glasses since I was 6 and I've probably gone through more than 20 pairs throughout my lifetime.  Recently, I was approached by GlassesShop.com, an online eyeglasses retailer, to review their service.  I had experience ordering glasses online with a local company, so I was eager to see how eyewear from GlassesShop.com compared.
Disclosure:  I was provided a complimentary pair of glasses for this review.  All opinions are my own.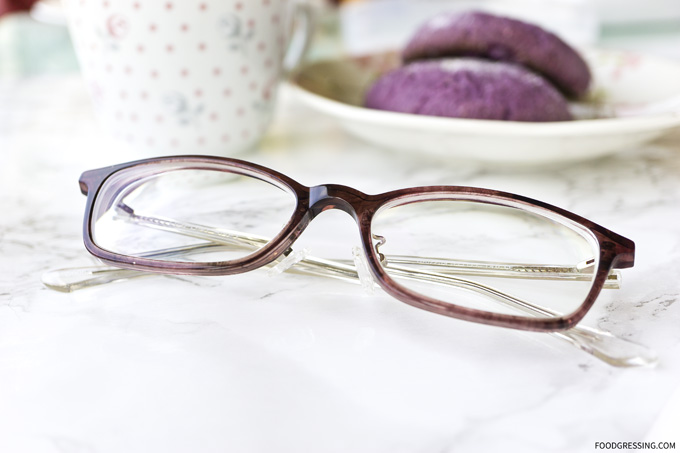 How to Order from GlassesShop.com
Before you make your order, be sure to have an up-to-date prescription.  The process of ordering from GlassesShop.com is simple.  Their site is easy to navigate and the eyewear is sorted by gender, lense type, frame type, material and overall shape.  The dimensions of each frame are listed so that you can choose one that best suits your face.  I knew the dimensions of my current frame so I knew what would work.  Furthermore, I found the frame styles offered at GlassesShop.com to be current.  I went with the Blanche Oval – Purple/Clear which is a full frame that is oval in shape and made of acetate.
After you have selected your frame, you will need to enter your usage (single, multifocal, fashion), prescription, lens type and coatings package.  For my glasses, I had a distance-single vision, clear lenses with the premium coatings package (1.67 high-index, anti-scratch, anti-reflective, UV).  The final price was $102.80 USD ($29.95 for frame and $72.85 for lenses) which is a great deal.  I've paid locally over $300 CAD for a pair in the past.  The products from GlassesShop.com are manufactured in China hence the lower cost.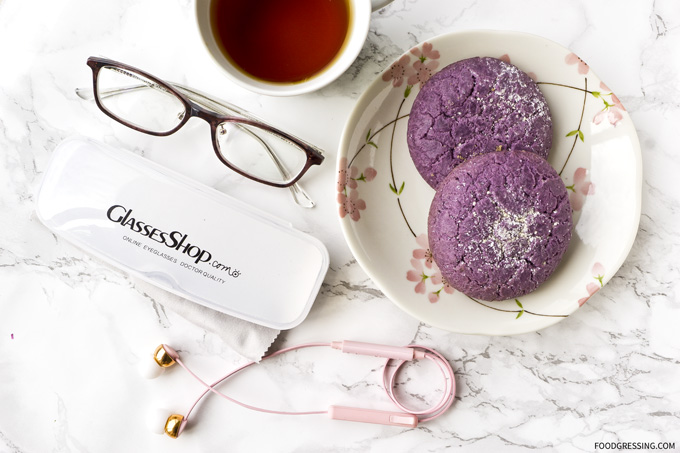 When I received the glasses, they came in a study cardboard box which fit into my mail box.  Inside were the glasses I ordered along with a clear case and lens cloth.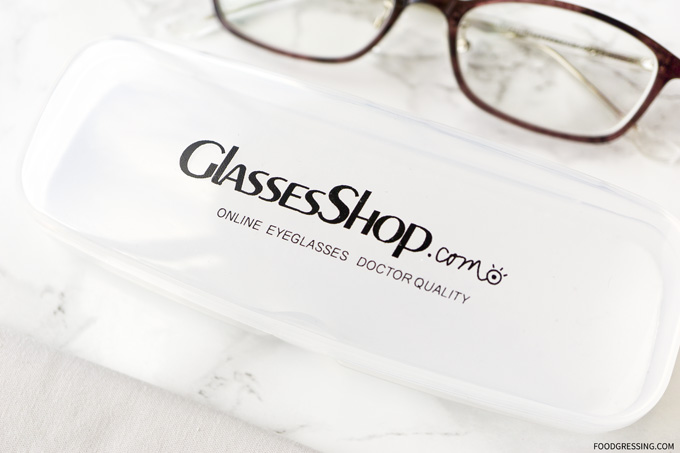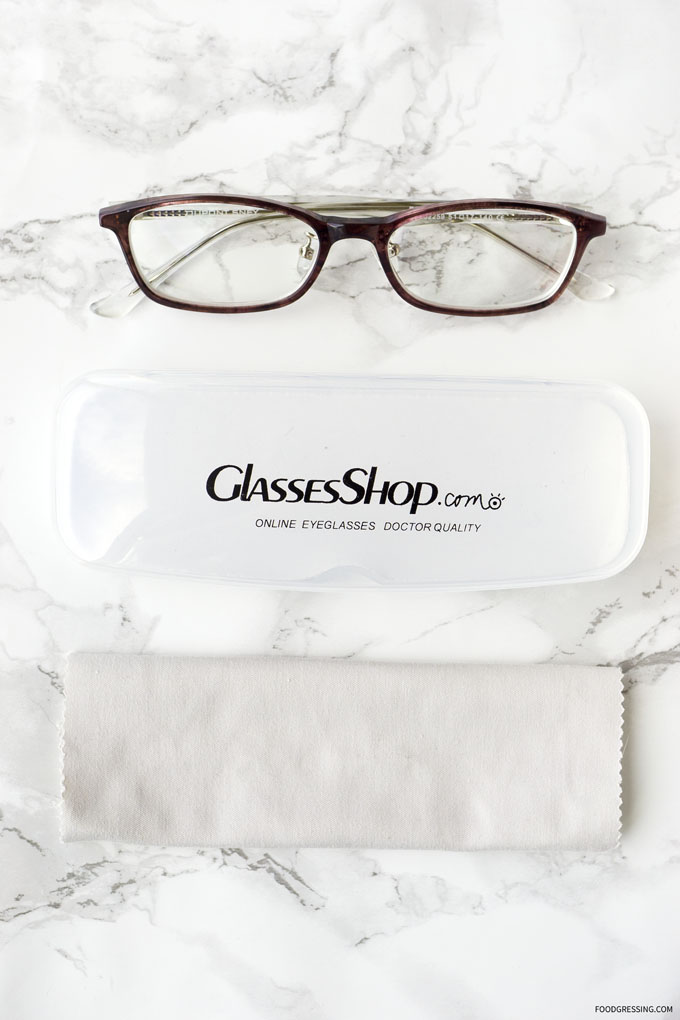 I chose this particular pair because it is hard to find a plastic (rather than metal) frame that comes with nosepads.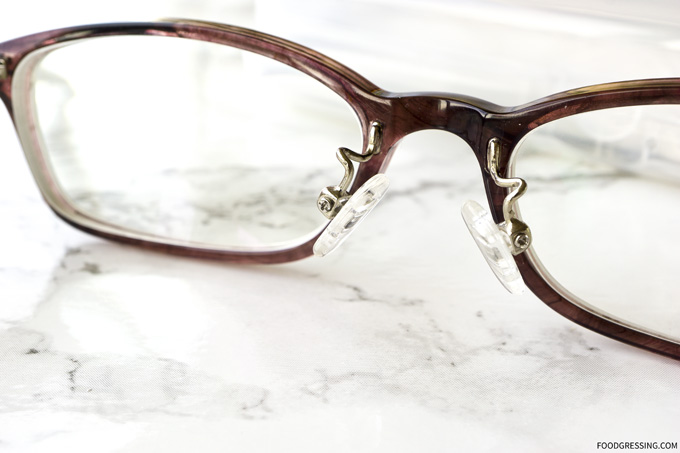 Remember I mentioned that my prescription is "high?"  Well, I was impressed with how thin the lenses were to meet the needs of my high prescription.  Furthermore, because my prescription is high, I am very sensitive to any improperly made lenses.  Basically, I wouldn't be able to see.  But guess what?  The ones by GlassesShop.com were correct and I had no issues seeing with them.  The glasses were overall very lightweight and comfortable to wear.  I have been wearing them since I received them and so far so good.   No issues with them snapping during wear or during cleaning.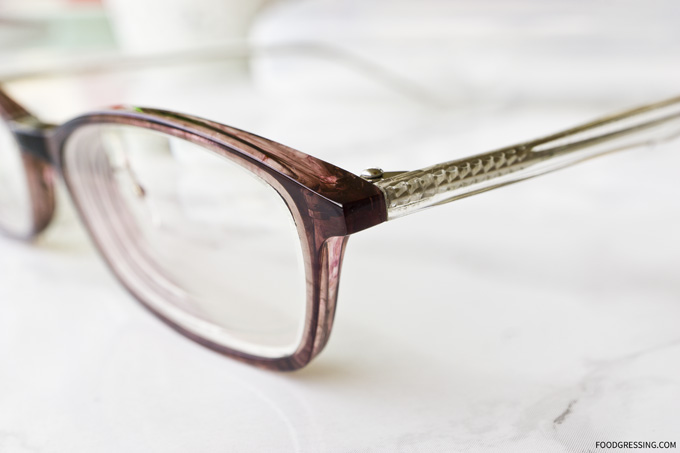 Bottom Line
I was overall satisfied with the fit, quality and pricing of the prescription glasses from GlassesShop.com.  And because of their reasonable prices, you would be able to buy more than one pair for the same cost of one pair locally.  Thanks to GlassesShop.com, Foodgressing.com readers can use the code GSHOT50 to enjoy 50% off on eyeglasses and sunglasses with free lenses (sale frames excluded).  They also offer prescription sunglasses so with the summer season approaching you might just consider getting a pair.