Hot summer days will get an extra cool start as First Watch introduces new specialty iced coffees to its permanent breakfast, brunch and lunch menu nationwide.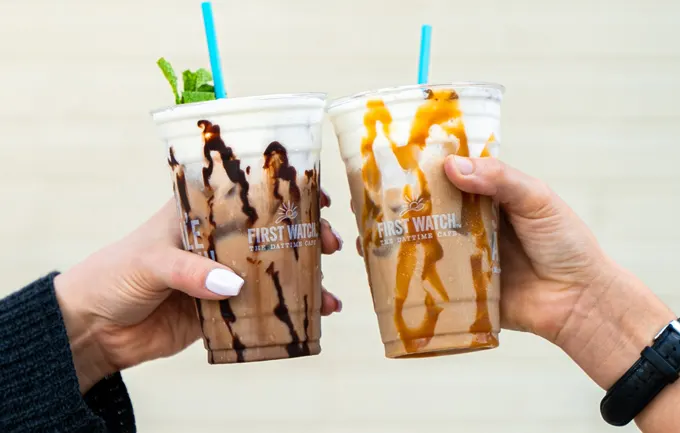 The two iced coffees, Mint Mocha and Honey Caramel Crunch, feature Ghirardelli dark chocolate chips, toffee crumbles, honey, and sweet cream cold foam.
Five limited-time offerings also join the summer seasonal menu, including the fan-favorite Watermelon Wake-Up juice, now through August 13.
First Watch's two specialty iced coffees permanently join its full menu, available for pickup, delivery and dine-in service:
Mint Mocha – Chocolate and fresh mint topped with a sweet cream cold foam and mini Ghirardelli® dark chocolate chips.
Honey Caramel Crunch – Salted caramel and honey topped with a sweet cream cold foam and toffee crumbles.
The concept's new seasonal menu offerings are available nationwide* through August 13 and include:
Strawberry Tres Leches French Toast – Thick-cut, custard-dipped challah bread griddled and topped with fresh strawberries, sweetened condensed milk, warm dulce de leche, whipped cream and spiced gingerbread cookie crumbles and lightly dusted with powdered cinnamon sugar.
Carnitas Breakfast Tostadas – Savory hand-pulled carnitas, Cheddar and Monterey Jack, seasoned black beans and two basted cage-free eggs atop two crispy corn tostadas and topped with white queso, fresh sliced avocado and house-made roasted corn salsa. Garnished with house-pickled red onions, cilantro and a lime wedge. Served with a cup of fresh fruit sprinkled with Tajín seasoning.
Lone Star Brisket Hash – Smoked, hand-pulled brisket and house-pickled sweet peppers in a potato hash, topped with two cage-free eggs any style, Cheddar and Monterey Jack, fresh smashed avocado, house-made pico de gallo, chipotle aioli and scallions. Served with two warm wheat-corn tortillas.
With this menu, First Watch is also unveiling its take on a southern classic – cornbread – marking the first time the restaurant has introduced a shareable option during summer to join its signature Million Dollar Bacon.
Bacon Cheddar Cornbread – Freshly baked cornbread with Cheddar and Monterey Jack, bacon and scallions. Topped with house-whipped honey butter.
From the Juice Bar:
Watermelon Wake-Up – Watermelon, pineapple, lime and mint.
First Watch's new specialties are the latest in its revolving seasonal menu, which follows the sun to source the highest quality ingredients, wherever and whenever they are in season, five times a year.
These flavorful, limited-time offerings are available to order alongside its robust menu of breakfast, brunch, and lunch favorites at locations nationwide.
First Watch is open for breakfast, brunch and lunch seven days a week from 7 a.m. until 2:30 p.m. for pickup, delivery, and dine-in service.
For more information about First Watch, its seasonal menu offerings or to find the nearest location, visit firstwatch.com.