Here's a roundup of Father's Day Vancouver 2022 celebration ideas featuring special menus by local restaurants for Father's Day brunch, Father's Day lunch, Father's Day dinner plus desserts and treats.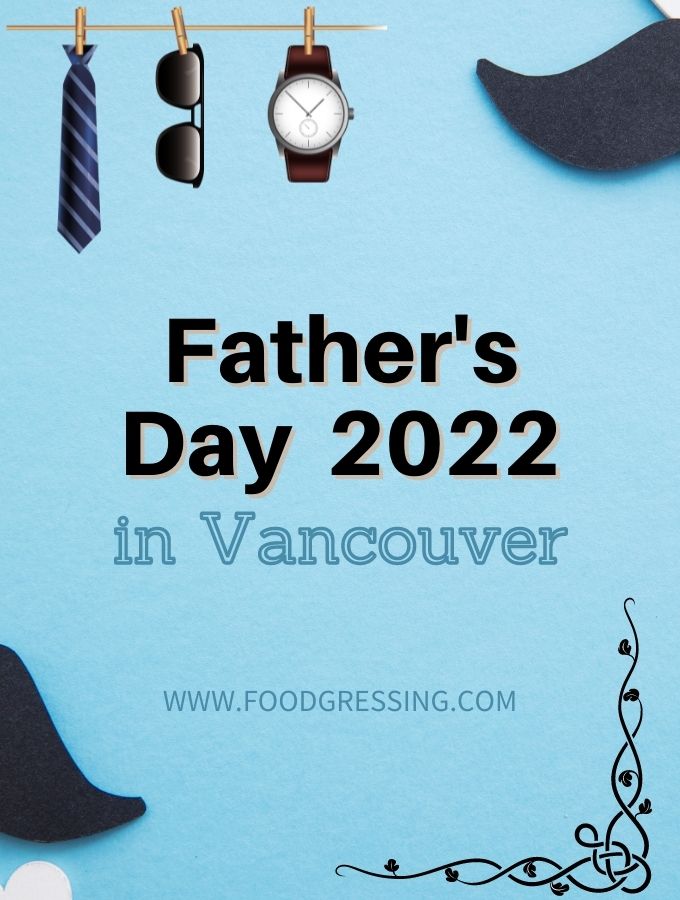 Father's Day is Sunday is June 19, 2022.
Please reach out to me [email protected] or @foodgressing on social media if you are a restaurant that wants to be featured. Provide all the details of your holiday offering in your message. For faster processing, please provide a ready to copy and paste excerpt in paragraph form in a similar format to the restaurants featured below.
This list is not exhaustive and is updated as information becomes available. I try to feature as much as I can but certainly this is not all that is out there. If your favorite restaurant is not on the list, contact them to see what they are offering.
Father's Day Vancouver 2022: Brunch, Lunch, Dinner, Restaurants
Railtown Catering
This Father's Day, Railtown Catering presents a southern-inspired Father's Day BBQ feast that's sure to impress. Chef and Co-owner, Dan Olson and his team's passionate pursuit of perfecting the art of barbeque is no secret; they've built a loyal following locally with their Summer Tailgate BBQ Series. They've lovingly put the same hours into this package, brining, basting and slow cooking an assortment of premium proteins. This effortless family-style package comes completely cooked; simply follow instructions to reheat and serve.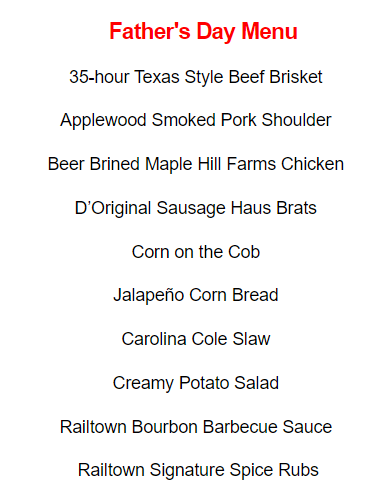 The Father's Day package generously feeds four people and is available for $199.00.
Those serving a bigger crowd or hungry for leftovers can add additional sides and proteins such as the Memphis Style Baby Back Ribs ($45.00, serves four). For vegans, the team will have a variety of Beyond Meat sausages available ($18.00, two sausages).
Southern style desserts include a Chocolate Peanut Butter Pie ($38.00) and a seasonal Strawberry Shortcake ($38.00). A collection of beer and wine will also be available to add on to orders.
All orders must be placed by 10:00 am on Wednesday, June 15. Packages will be available for pickup at Railtown Cafe's flagship location, 397 Railway Street in Vancouver, on Saturday, June 18 and Sunday, June 19, from 11:00 am – 3:00 pm. Delivery will be available throughout the Lower Mainland for an additional charge.
Buttermere
Buttermere Patisserie has created two 6-inch fruit tarts focusing on a couple select flavours often found in Taiwan's fruit bounty: guava and Fuyu persimmon. Tropical fruit tarts like no other, this Father's Day collection is an ode to, owner and head pastry chef, Jamie Tung's fond memories of summer fruit.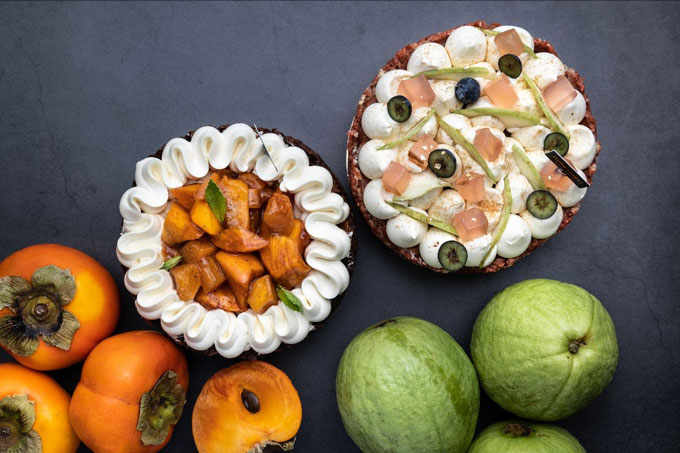 Available for preorder on Buttermere Patisserie's website, these Fathers Day tarts are available June 6th to 17th starting at $65 for pick up at Torafuku (958 Main Street) or delivery.
Glowbal Restaurant
Glowbal Restaurant is offering a Father's Day Brunch menu on June 18 and 19 from 10:30 am – 2 pm.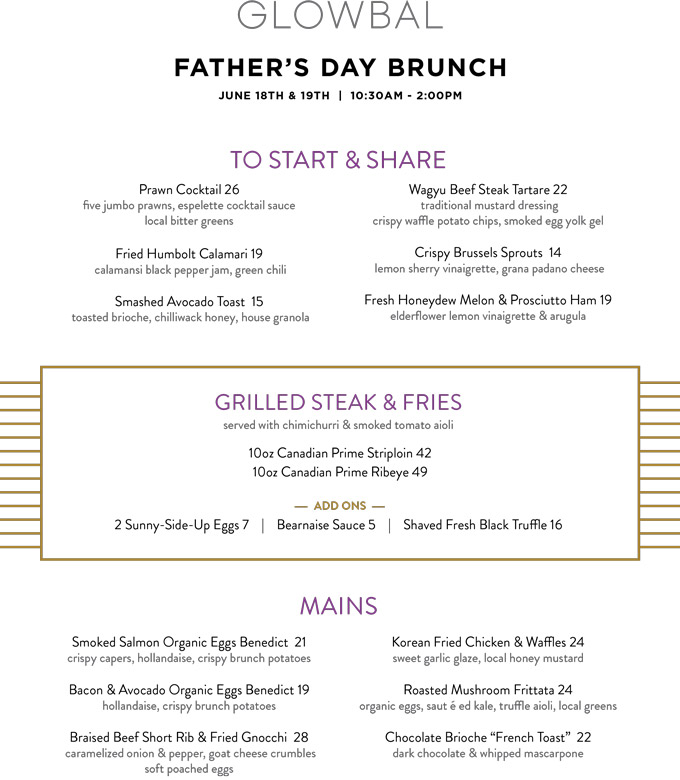 Trattoria
Trattoria is offering a Father's Day platter available for dine-in, pickup or takeout at all locations (Kitsilano, Park Royal, Burnaby).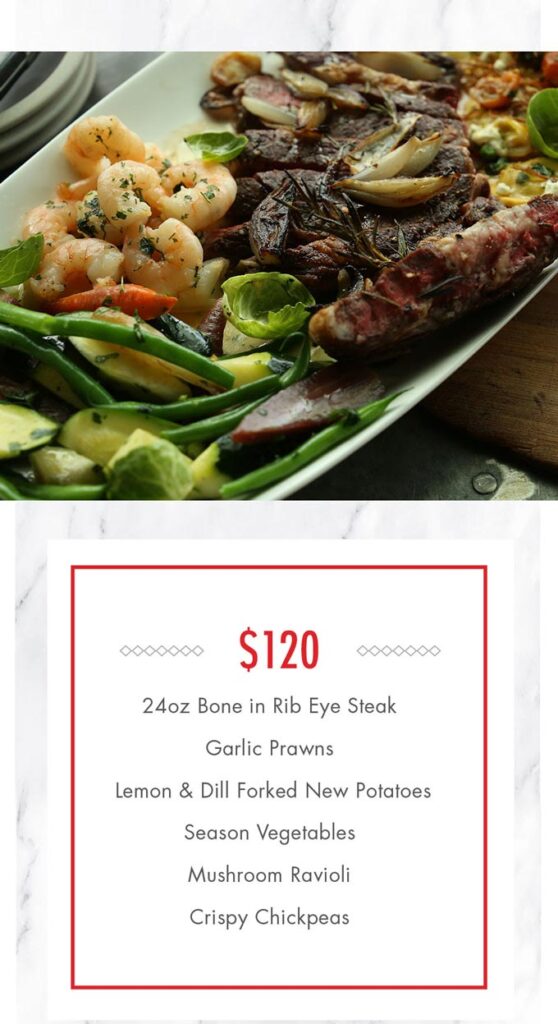 Honey Salt @ Parq Vancouver
Surf and Turf For Dad – 12oz 63 Acres NY Striploin, broiled Nova Scotia Lobster Tail, smoked mashed potato, grilled asparagus, peppercorn jus for $72 and feature wine: Prisoner "Unshackled" for 6oz- $19 Btl- $82. All specials are available on Saturday June 18 and Sunday June 19 5PM until close.
Pat Quinn
Pat Quinn's Restaurant (Tsawwassen) is offering a Father's Day Brunch Buffet on June 19 from 10:30 am – 2:30 pm. Adults $48, Seniors $38, Children $23.50.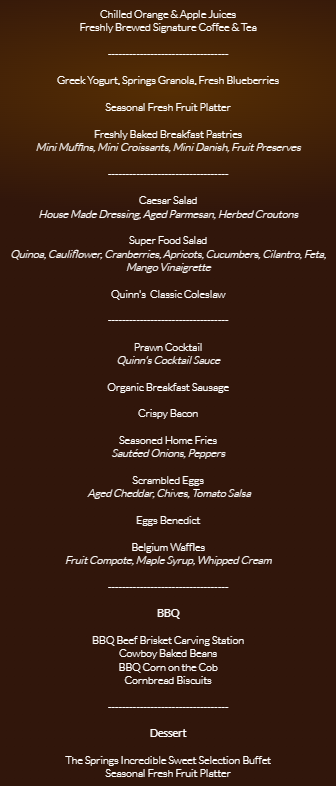 Potluck Hawker Eatery
Celebrate Father's Day this year with Potluck's Signature Fried Chicken & Other Great Stuff Bucket. $175 – feeds 4 -5.
8 pieces salted egg yolk fried drums
8 fish sauce caramelized wings
1 rack of sambal BBQ pork ribs
Filipino Spaghetti or Spaghetti Kee Mao
Truffled Malaysian Shaker Fries
Spicy Watermelon Salad
Golden Mantou with Ube Condensed Milk
2 L jug of Thai Milk Tea
Smoke and Bones
Smoke and Bones (North Vancouver) is taking preorders on June 19. Some of the items they are offering include:
BBQ Family Style Meal: Creamy Coleslaw, Potato Salad, Pitt Beans, Pickles, White Bread, Cornbread, & House Rub Fries Smoked Pork Ribs, Famous Angus Beef Brisket, Slo Pulled Pork, BBQ Chicken and Sausage
Slo Smoked Pulled Pork
Texas Beef Brisket
Meaty Pork Ribs
The Duke's Rib Mac n Cheese
Black + Blue
Black + Blue is offering a Dad's Day BBQ At Home Kit ($360). Preorder by June 15 then pickup order on June 19 between 11 am – 4 pm.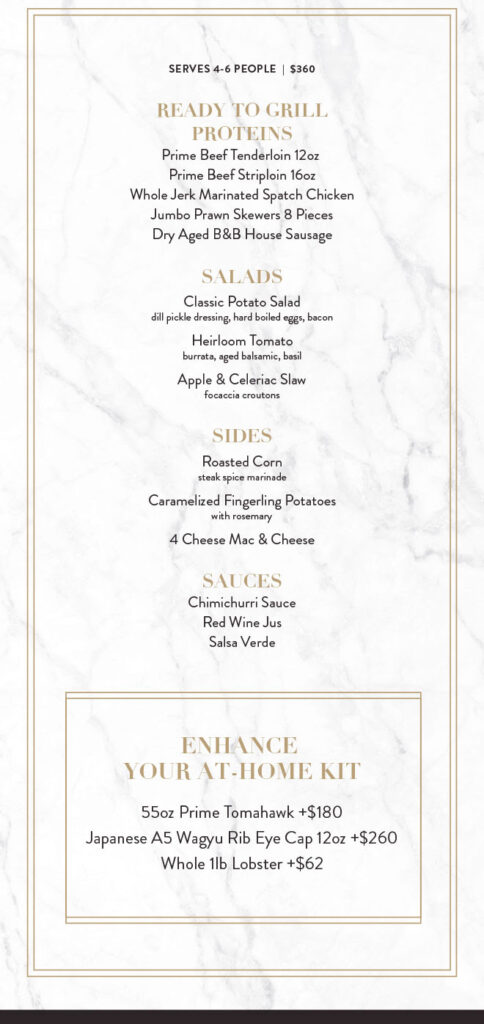 Pacific Institute of Culinary Arts
The culinary team at the Pacific Institute of Culinary Arts (PICA) will showcase spring's finest from local fields, farms and fisheries by featuring an exclusive Father's Day Vancouver 2022 Spring Tasting Menu at its Blue Hat Bistro on Saturday, June 18.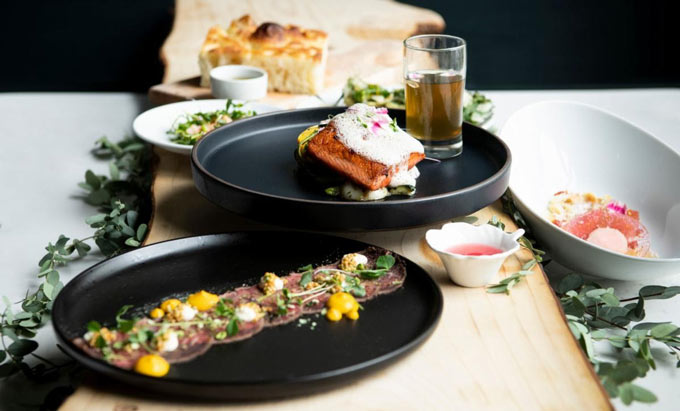 A select number of tickets to the dinner — a six-course gourmet affair envisioned, prepared and plated by PICA Chef-Instructors Dave Letford and Camila Takahashi and their top students — are available for $115 per person inclusive of taxes and gratuity online. Guests can also pre-order bottles of 2018 Zanatta Pinot Nero and 2020 Sea Star Ortega for the table as well.
The menu features an array of dishes that conjure up the fresh flavours of the season and spotlight BC's bounty of seafood thanks to fresh catches such as Wild BC Spot Prawns and Pacific King Salmon that will be provided to the PICA kitchen the day of the dinner by its neighbours at Fisherman's Wharf.
Check back later as more offerings are added to this list.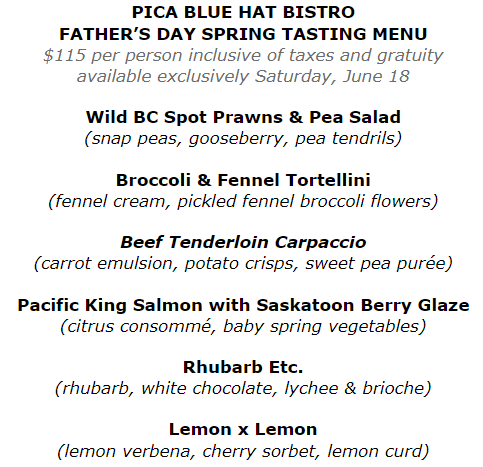 Acqua Restaurant + Bar
Acqua Restaurant + Bar (Burnaby) is offering a Father's Day Buffet and Grill on June 19 with seatings at 10:30 am & 1:00 pm. Priced at $39 per adult, $19.50 per child 6-12 and free for 5 and under.
Featuring a live grilling station and all-you-can-eat buffet & live music, and outdoor patio (weather permitting).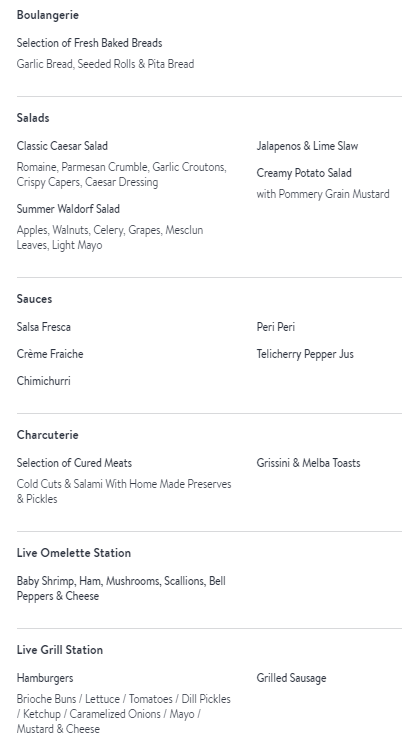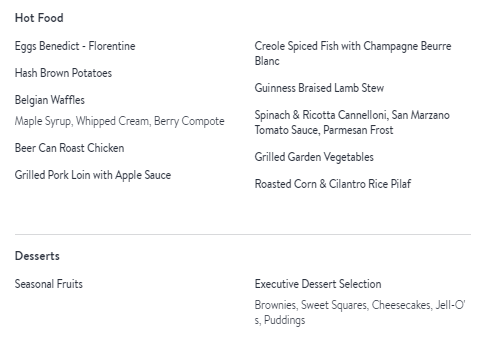 The Wild Fig – Executive Plaza Hotel Coquitlam
The Wild Fig – Executive Plaza Hotel Coquitlam is taking reservations for Father's Day brunch buffet on June 19. Priced at $39 per person plus taxes and gratuity, $21 per child ages 6-12 plus taxes and gratuity, ang kids under five complimentary.
Featuring a carousel feast every sunday and Live Omelet station.
They also take reservations for Father's Day Ayce BBQ Buffet Evening & Live Music on June 19. Priced at $39 per person.

Fable Diner, Fable Diner & Bar and Fable Kitchen
All three locations of Fable family will be celebrating Father's Day all weekend on Saturday June 18 and Sunday June 19, enjoy Prohibition Brunch for $27.50 per person from 9AM to 2:30PM, this includes choice of coffee or tea, choice of one of most popular entrees along with choice of a beverage (Caesar, mimosa, milkshakes, juice or cocktails). Brunch also comes with a fresh baked muffin or scone and a sweet treat to finish off. Reservations are recommended. PLUS, every dad will receive a $20 Gift Card to use for their next visit.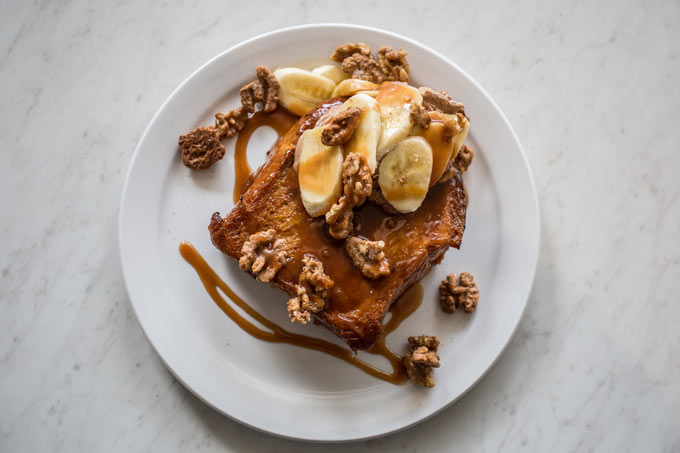 The Teahouse
Celebrate Father's Day Vancouver 2022 with a special cocktail feature at The Teahouse: The Smoke and Oak ($16) with rye, lavender syrup, lemon juice, honey, scotch. And the restaurant will be open for brunch on Saturday and Sunday from 11AM to 2PM, enjoy brunch feature: Lobster Eggs Benny along with guests' favourites like freshly baked croissants and house-made seasonal jam, Salmon Latkes (classic potato latke, smoke salmon, poached eggs, hollandaise, tomato & arugula salad) and more!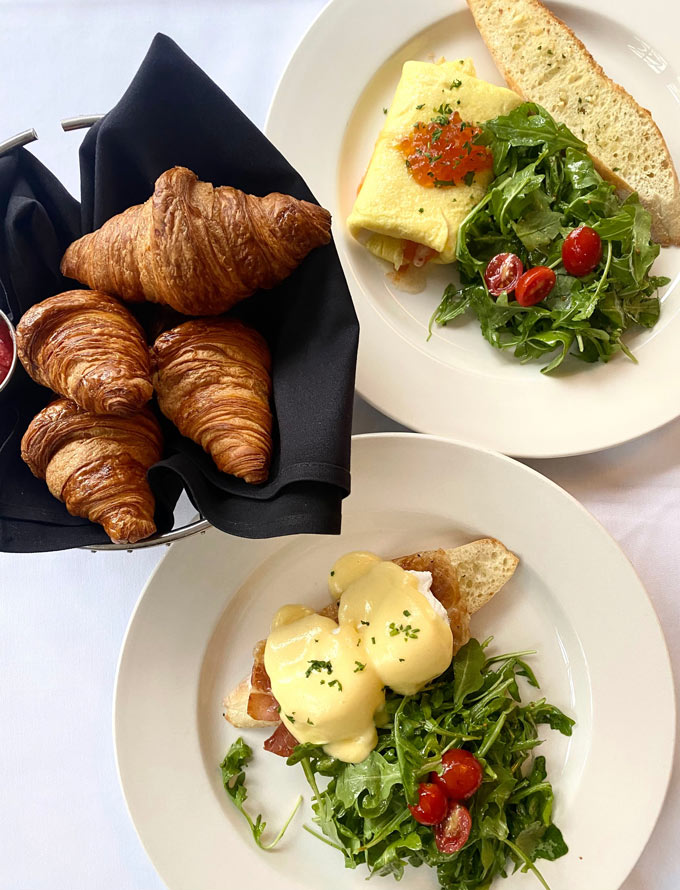 Seasons in the Park
Seasons will be featuring a Surf and Turf special and Prime Rib Dinner (slow roasted Prime Rib & Yorkshire pudding for $39) on Father's Day, in addition, enjoy Father's Day cocktail feature: Empress Bramble with chambord, empress gin, lemon juice, simple syrup for $16.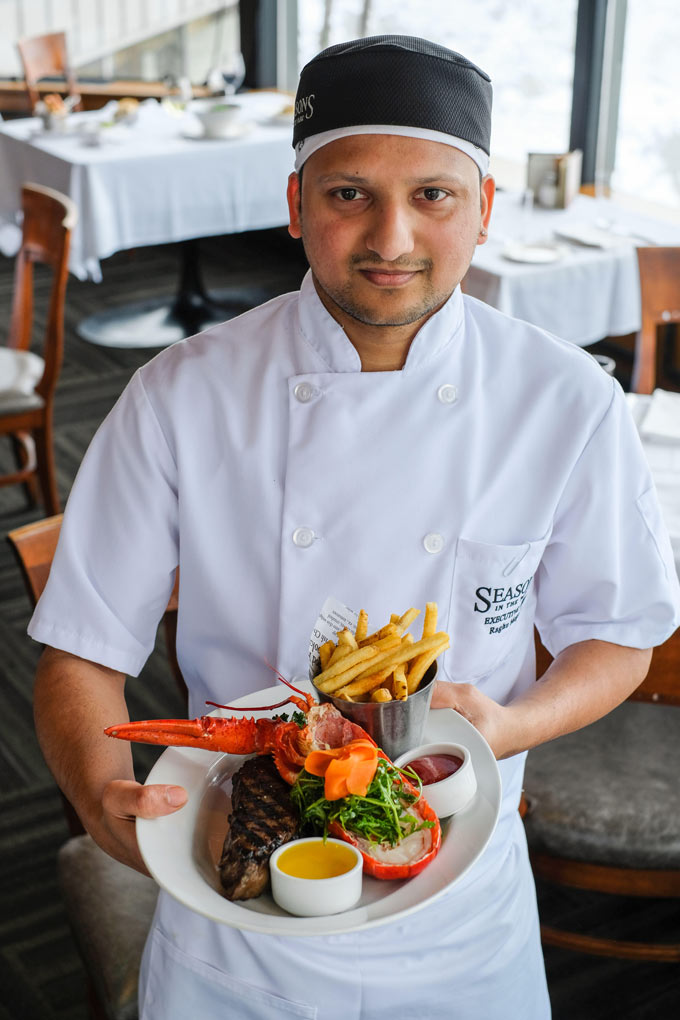 Tractor at Home
Just in time for Father's Day, summer cookouts and gatherings at the beach with friends, Vancouver-based prepared meal delivery service Tractor At Home is launching a brand-new online Tractor Summer Grilling Menu.
Featuring a range of locally sourced proteins, healthy comfort classics, handmade sauces and all the fixings with enough delicious food to satisfy two hungry adults, every one of Tractor At Home's Summer Grilling Menu options comes ready to grill and enjoy at al-fresco feasts of all sorts.
Fanny Bay Oyster Bar
For Father's Day, Chef Tommy Shorthouse and his culinary team will help guests give the special fathers and father figures in their lives their due by offering a Salmon Wellington Feast for Four for $150 (or $37.50 per guest) plus tax and gratuity. Available exclusively for dinner service on Saturday, June 18 and Sunday, June 19, the centrepiece of each feast is a Spring Salmon topped with Dungeness Crab, Seaweed and Mushrooms Duxelles, wrapped in Spinach and Pastry, cooked to order and cut tableside.
As Father's Day services on Saturday, June 18 and Sunday, June 19 are expected to book quickly, reservations are highly recommended. All Salmon Wellington Father's Day Feasts for Four must be pre-ordered in advance by calling Fanny Bay at 778-379-9510 or online via OpenTable.
C|PRIME Modern Italian Steak and Wine
Celebrate Father's Day at C Prime with a Prime Rib Feature – 14oz Slow Roasted Prime Rib, Crispy Yorkshire pudding, Truffled Mash Potatoes, Wine Braised Shallots, Honey Glazed Heirloom Carrots and au jus for $65 (limited quantities) available for dinner on Friday 17th, Saturday 18th and Sunday 19th. Reservations are available online.
Winston
Chef Douglas Lee at Winston is featuring a Father's Day special: BBQ Beef Ribs with fermented red bean curd, chillies and scallions for $20, perfect to satisfy every dad's craving for beef ribs.
H2 Kitchen + Bar
H2 Kitchen + Bar at The Westin Bayshore is hosting a Special Father's Day Dinner.
The restaurant's Sunday Supper Series kicks off on Sunday, June 19, with the following three-course menu available from 4pm to 10pm.
Grilled Baby Romaine Heart Salad
Roasted Garlic and Parmesan Dressing, Sourdough Croutons
Smoked CAB Prime Rib Carvery
Crushed Red-Skinned Potatoes, Bayshore Honey-Glazed Carrots, Roasted Brussels Sprouts, Yorkshire Pudding, Red Wine Jus, Horseradish
Sticky Toffee Pudding
Warm Caramel, Vanilla Bean Gelato
The Father's Day Sunday Supper Series menu is priced at $62 per person (prime rib is available à la carte for $42 per person). Father's Day reservations here.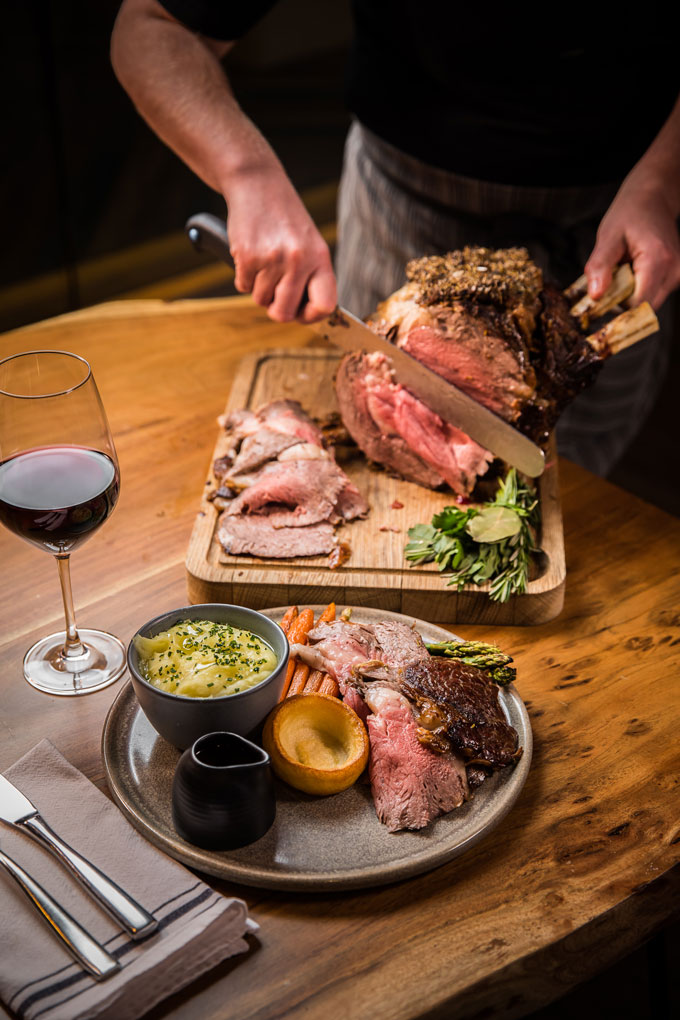 Dads can complement their special meal with one of the sophisticated new cocktails created by our premium bartenders. Working Class Traditions is inspired by a secret 100-year-old southern tradition, blending peanut-infused Bulleit bourbon with cola and salted peanuts. The Smoked Apricot Old Fashioned is a rich and sultry combination of Bulleit bourbon, apricot, Demerara, bitters and black tea.
Ask for Luigi
Sit-down to a family-style meal with your famiglia this Father's Day weekend and enjoy Ask for Luigi's seasonal dishes, perfect for welcoming in the first of summer's produce. On feature is Roasted Bone Marrow, with summer black truffles, morels, herb and breadcrumb gremolata, served with toasted focaccia, and Birra-Braised Short Ribs on a bed of fregola sarda, roasted corn, guanciale and summer black truffle.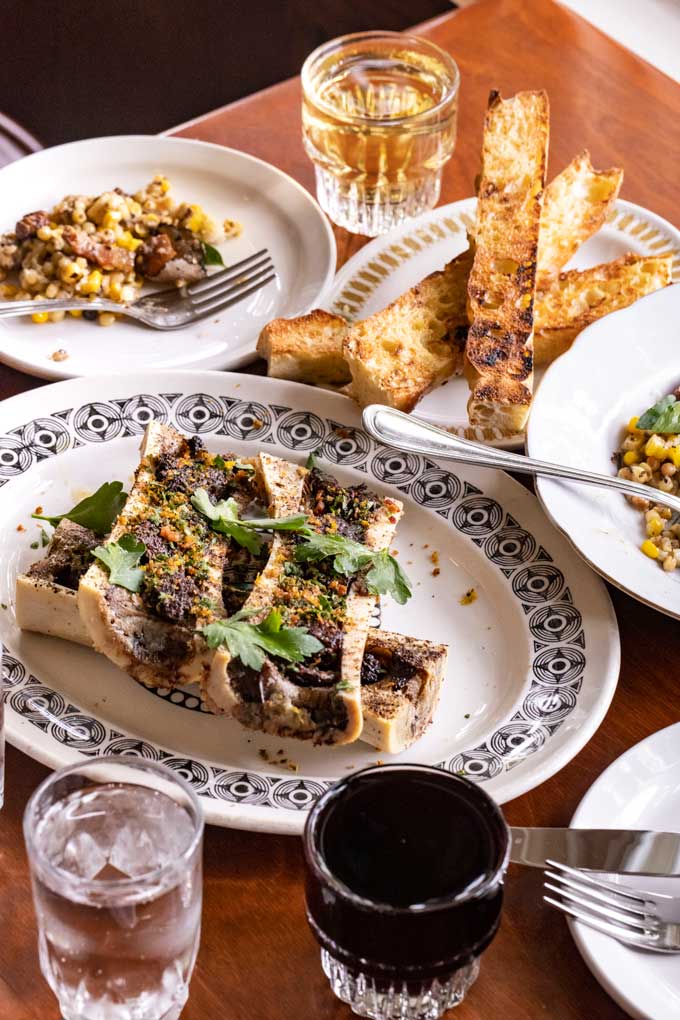 Bacaro
Escape to Venice-inspired Bacaro this weekend and enjoy a special three-course Father's Day Vancouver 2022 menu showcasing the best of British Columbia's seasonal and local ingredients. Start off with Wagyu Beef and Foie Gras Terrine, Truffle Burrata, followed by Morel Tagliolini and finish off the savoury side of dinner with Arrosto di Costolette (roasted dry-aged prime rib with seasonal sides).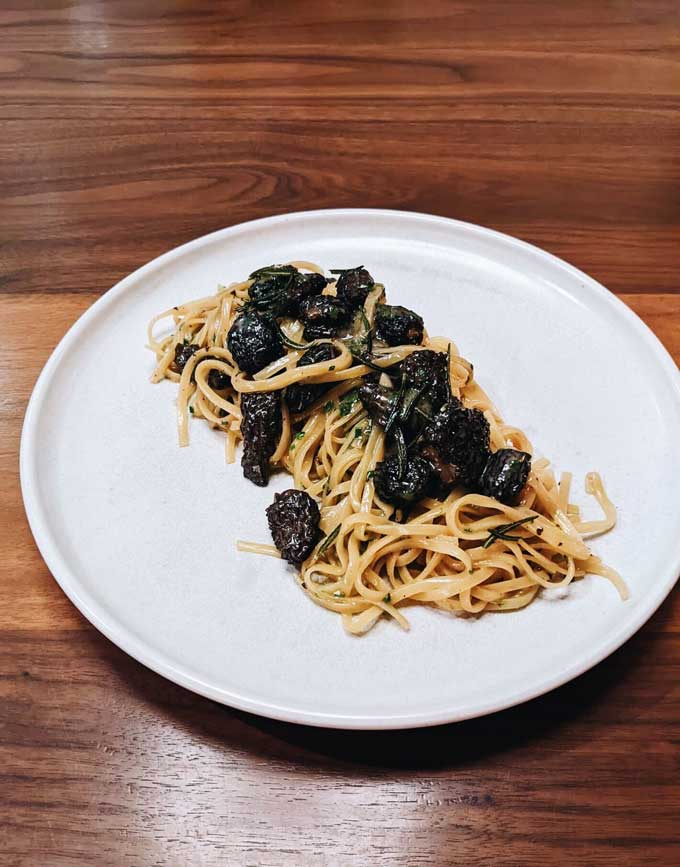 Carlino
Carlino's famous Brunch Board is back – Father's Day style, and includes a selection of sweet and savoury items, including hanger steak; scrambled eggs with cheddar; rosemary potatoes; Nutella waffles topped with bananas foster; cornetti and fresh fruit. Additional specialty Father's Day brunch features include Carlino's Breakfast Burger and Insalata di Farro.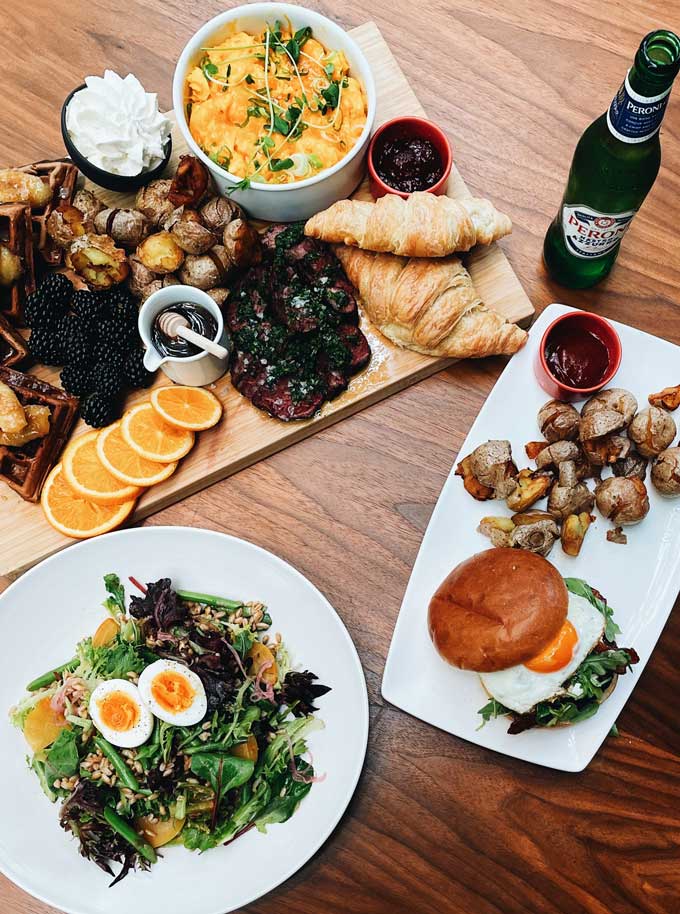 Farina a Legna
Taking Dad on a hike or North Shore adventure this weekend? Stop by Farina a Legna to refuel for lunch or dinner and enjoy a duo of limited-time features, including Cioppino (steamed clams and mussels in a tomato broth) and a Meat Lover's Pizza.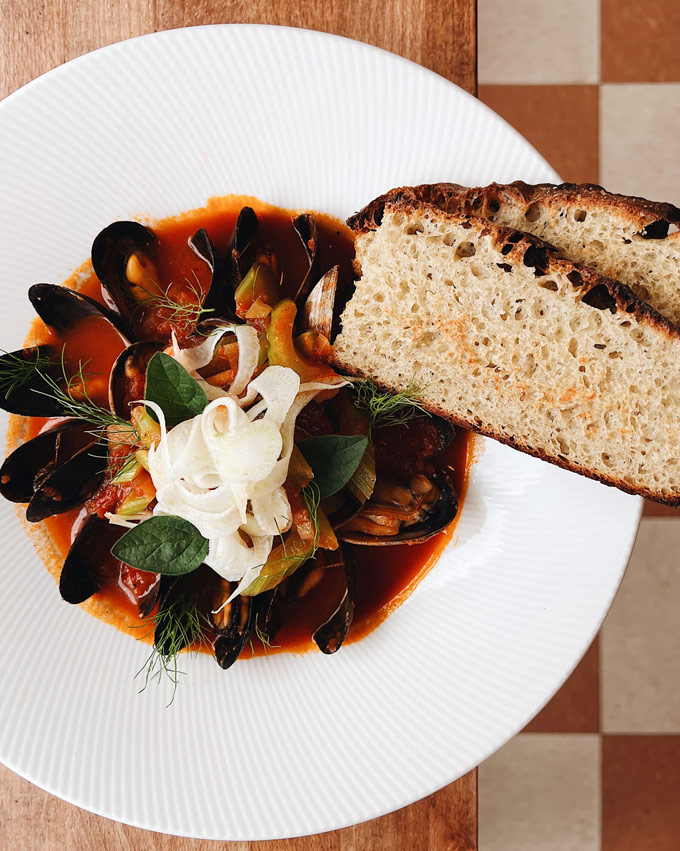 Giovane Caffe and Di Beppe
If Dad has a sweet tooth, treat him to an order of house-made Zeppoles, a deep-fried Italian fritter that's filled with a decadent pastry cream and topped with a dusting of powdered sugar, typically enjoyed in Italy during the Festival of St. Joseph when Italians take time to celebrate fathers everywhere. Available at Giovane Caffè and Di Beppe.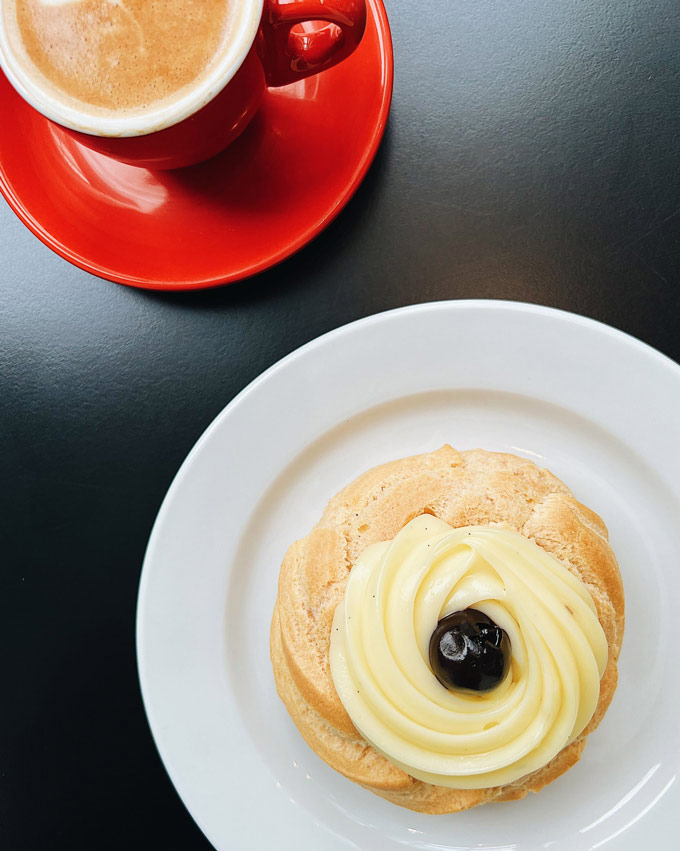 Pourhouse
Celebrate Dad at Pourhouse, recently named Canada's Best Restaurant Bar by Canada's 100Best. Enjoy a special performance by The Poorboy Trio on Sunday, June 19 at 7:00 p.m. along with their featured steak and cocktail pairing all weekend long: a 10 oz Ribeye Steak, served with tallow butter and overnight onions and a St. Remy Old Fashioned. Pourhouse will also be donating $1 from the sale of each Old Fashioned to Big Brothers of Greater Vancouver.
ARC Restaurant
ARC Restaurant at Fairmont Waterfront is taking reservations for Father's day brunch on June 19 from 10:30 am to 1:30 pm. Priced at $65 per person.
Order as many of Chef Michael Pagnacco's unlimited tasting plates with pop can tackle, featuring dishes such as Beef Shortrib Poutine, Liege Waffles, Migas Breakfast Tacos, and the infamous Ooey Gooey Skillet.
Gift Ideas
Stanley Park Brewing
Stanley Park Brewing has 3 great Father's Day Vancouver 2022 options: a private shopping experience at Filson, the perfect Dad Pack beer bundle or the Dad Pack for the whiskey-loving dad in your life!
Private shopping experience at Filson
There will be beer tasting with Head Brewer, Bennie Dingemans from the Stanley Park Restaurant & Brewpub, along with food pairings from Head Chef, Nathan Taylor. Accompanied with live music by Jonas Wilson. This is a free event. Sign up is necessary as there are limited spots available.
Complimentary gift with purchase, and 20% discount off event purchases.

Thursday, June 9, 2022
Time Slot: 5pm-6pm & 6pm-7pm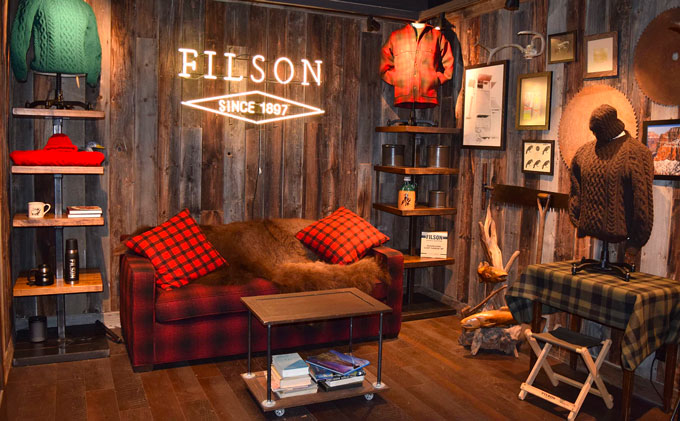 Bundles for the beer or whiskey-loving dad in your life. Featuring a selection of beers including a Stanley Park Brewing glass with coasters, all boxed up ready for gift giving. If you're tired of always gifting Dad a new pair of socks, shop our Father's Day beer gift packs. Full of fun non-sock options. Each pack features:
Stanley Park Brewing Glass
2x Laser-engraved wooden coasters
A selection of Stanley Park Beers

The $35 dollar pack includes 1 of each of these Stanley Park Brewing favourites: 1897 Amber Ale, Windstorm West Coast Pale Ale, The Captain Hazy IPA, Trail Hopper IPA
The $45 pack includes 2 tall cans of the Secret Cellar Imperial Stout, perfect for the whiskey-loving Dad!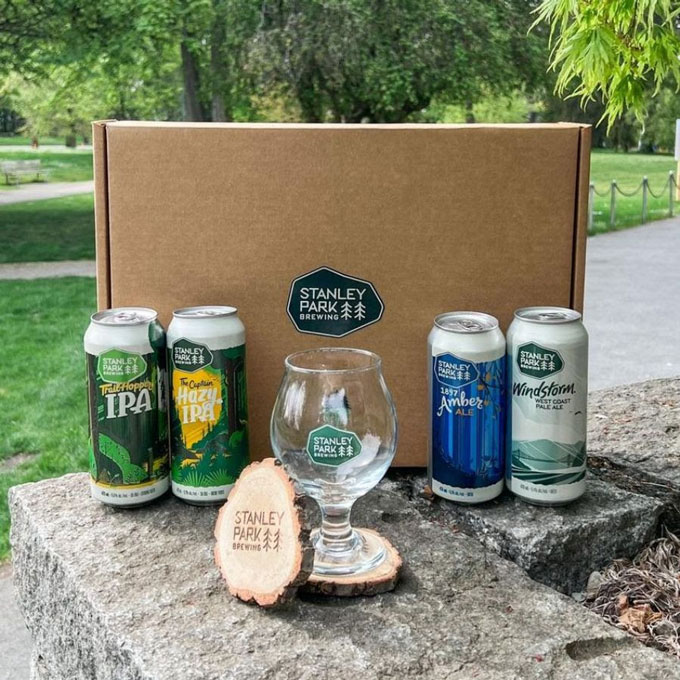 Juke Fried Chicken and MUMGRY
Just in time for Father's Day Vancouver 2022, Juke Fried Chicken and MUMGRY have launched their flavourful, tangy and nutty collaboration, Who's Your Zaddy?! Peanut BBQ Sauce. More than a year in the making, this taste-good, feel-good barbecue sauce partnership between two Vancouver local, independent, Black-owned businesses supports children and youth in the community, with $1 from each bottle sold donated to Big Brothers of Greater Vancouver.