Here's a roundup of Father's Day NYC 2022 celebration ideas featuring special menus by local restaurants for Father's Day brunch, Father's Day lunch, Father's Day dinner plus desserts and treats.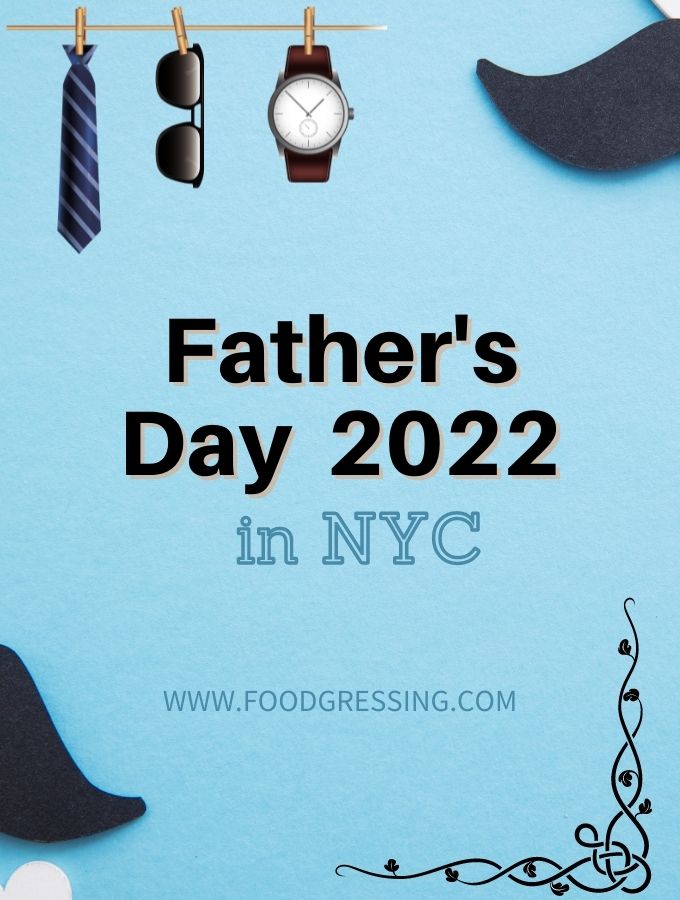 Father's Day is Sunday is June 19, 2022.
Please reach out to me [email protected] or @foodgressing on social media if you are a restaurant that wants to be featured. Provide all the details of your holiday offering in your message. For faster processing, please provide a ready to copy and paste excerpt in paragraph form in a similar format to the restaurants featured below.
This list is not exhaustive and is updated as information becomes available. I try to feature as much as I can but certainly this is not all that is out there. If your favorite restaurant is not on the list, contact them to see what they are offering.
Father's Day NYC 2022: Brunch, Lunch, Dinner, Restaurants
Filé Gumbo Bar
Filé Gumbo Bar, which recently opened in Tribeca, is a unique concept and vision of Executive Chef/Owner Eric McCree.The restaurant is a Cajun-Creole Gumbo Bar. It is designed as an educational feast of the subtleties of Cajun and Creole food, with the signature dish of gumbo. McCree has harnessed a unique style of serving gumbo, utilizing a steam kettle cooking system. The bar will feature two gumbo chefs, each operating four steam kettles, featuring customizable gumbo entrees made to order.
This Father's Day, Filé Gumbo Bar honors fathers with a special of: a choice of gumbo with a beer and a signature dessert specially priced at $45 for lunch from 11 am – 3 pm and dinner from 4 pm – 10:30 pm.
El Cartel Tapas Bar and Restaurant
El Cartel Tapas Bar and Restaurant, a family-owned and operated restaurant rooted in Colombian cuisine and culture which has just opened in Hell's Kitchen, will be offering an array of specials for Father's Day from 2 pm – 9 pm, priced from $45 – $50. For Tapas, choose from a choice of three tostones topped with guacamole and garlic butter shrimp, or a Shrimp Cocktail. Entrees include a choice of either Skirt Steak, topped with creamy sauce containing shrimp, mussels, clams, scallops, octopus, and calamar, served with fried sweet plantains and buttery mashed potatoes; Chicken Breast, drenched in a passion fruit sauce served with yellow rice and steamed vegetables; or Striped Bass topped with shrimp cream, served with coconut rice and asparagus. For dessert, dad can choose between a Sweet Plantain topped with melted mozzarella and drizzled in guava sauce or a Tres Leches Cake. Beverage is not included in the price.
El Cartel's beverage program offers Frozen Sangria with a white wine or rosé base in such flavors as Blackberry, Passionfruit, Tamarind, and Guava, as well as a selection of imported and domestic beer by the bottle headlined by Aguila, the top selling beer in Colombia. The restaurant also features a selection of wine and champagne by the glass and by the bottle.
Jaz
Jaz, located in Hell's Kitchen, serves a British interpretation of Northern Indian fare and will be offering a three-course prix-fixe Father's Day menu for $45.
Highlights from this menu include first course options like: Lasuni Gobi, cauliflower florets batter-fried with garlic sauce; anda Tandoori Platter (+$7), with chicken tikka, ginger chicken, and sheikh kebab. Second course options such as Achari Chicken; Lamb Shank (+$10), cooked in the Tandoor oven with garlic and Indian spices; and Palek Paneer, cottage cheese simmered in pureed spinach, ginger, garlic, and herbs. And for dessert, dad can enjoy classic Indian sweets such as Gulab Jamun and kulfi ice cream.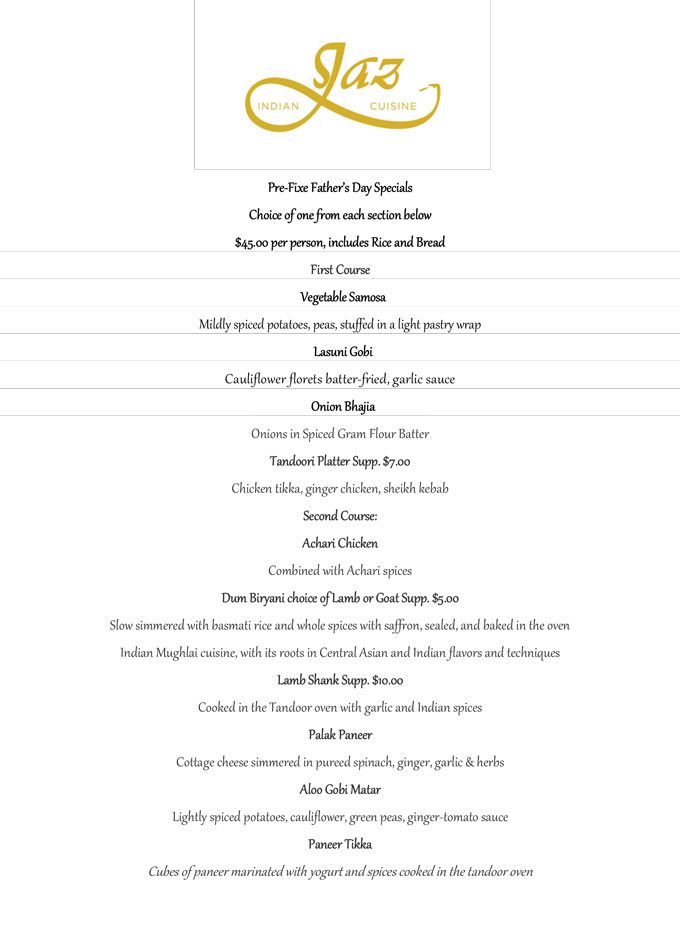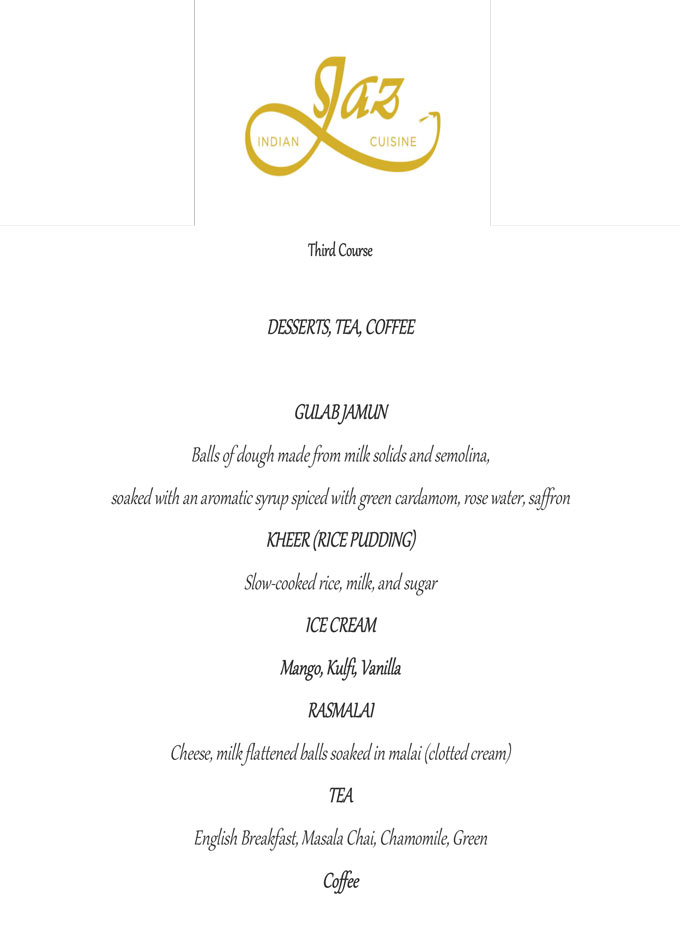 Tasca
For Dad's looking to enjoy a Latin-style brunch, the Upper West Side's Tasca offers a combination of flavors from Spain, Cuba, the Dominican Republic, and Puerto Rico. After brunch, stroll with dad through Central Park to take in views of the blooming Cherry Blossoms only a few blocks away. Tasca offers a two-course prix-fixe brunch menu for $25 with a choice of an appetizer and an entrée, as well as the option for—bottomless red sangria at an additional $15 (for 90 minutes)—or add a premium Bloody Mary or Cava Mimosa for an additional $10. Highlights from the brunch menu include: Huevos Gitanos, baked Gypsy eggs, potatoes, spinach, chorizo, Serrano ham, pepper & onion, and tomato sofrito; Pastelon de Cangrejo, lump crab meat, sweet plantain pastelon, light egg covering, criollo sauce; and Torrija, Spanish style French toast, flambe sweet plantains, Seville orange maple syrup, bacon.
Tasca offers spacious seating for both indoor and outdoor dining with their brunch menu available from 12 pm – 3pm and dinner menu available from 3 pm – 10 pm for Father's Day.
aRoqa
aRoqa, Chelsea's Michelin-recognized Indian restaurant that specializes in small plates with fanciful presentation and imaginative craft cocktails offers Father's Day brunchgoers a unique option with menu items inspired by Indian breakfast like Vada Pav, sliders made of spiced tomatoes battered with chickpea flour and served on pav bread with tamarind and mint chutney; and Indian Masala Omelette,onion, tomatoes, green chilies, fresh chopped coriander served with toast and baby potatoes. Brunch is available on Father's Day from 11 am – 3 pm and dinner is available from 5 pm – 9:30 pm.
Mollusca
Bring dad to the just-opened Mollusca in the Meatpacking District to enjoy an elegant seafood-centric menu, including an extensive raw bar and mussels in 35 unique varieties of sauces like Condensed Milk and Wasabi, Banana and M&M's, and Cacio e Pepe before window-shopping at Hermes and Christian Louboutin, among others. Mollusca's interior design matches the glamour of the Meatpacking District as hand-blown glass chandeliers anchor the dining room in shapes reminiscent of jellyfish and cast waves eliciting a deep-sea feel. The restaurant is furnished with custom made leather and velvet seating. Mollusca will be open on Father's Day for dinner from 3 pm – 9 pm.
Jungsik
La Liste Top-1000 Restaurants-recognized and two-Michelin-starred Jungsik, one can treat Dad to a very special Father's Day Dinner, available from 5 pm – 9 pm, either by experiencing the signature seven-course menu or enjoying an a la carte experience at the bar that features such staples as Sea Urchin Bibimbap and Iberico conceptualized by Internationally renowned Chef/Owner Jung Sik Yim.
Limani New York
Open on Father's Day from 3 pm – 10 pm, Limani New York's a la carte menu will be available for those gathering with family and friends. Whole fish selections from Limani New York's raw bar—like the irresistibly flaky and buttery Branzino, which is encased in salt and served tableside; and the Head-On Carabineiros from Spain—are perfect for sharing with the whole table and serve as healthier, leaner options with beach season right around the corner. The restaurant also offers an extensive global wine list and refreshing, Greek-inspired cocktails like the Mediterranean Mule with Figenza Fig vodka, pomegranate juice, fresh lime juice, topped with ginger beer, and served over ice.
If dad prefers outdoor dining, Limani New York offers a bird's-eye view of Rockefeller Center to take in the picturesque sights and ideal for a little people watching. Or, indoor dining provides views of a beautiful blue infinity pool, where a fish mobile gives the illusion of twirling overhead.
Emmy Squared Pizza
Emmy Squared Pizza, the award-winning neighborhood pizza and burger restaurant, announces a new collaboration with acclaimed Chef Marcus Samuelsson in celebration of Father's Day.
Beginning June 15 and available until mid-July, Emmy Squared Pizza menus will feature The Streetbird, a delectable twist on the restaurant's traditional Detroit-style pizza reflecting Chef Samuelsson's soulful flavors and passion for one of America's favorite foods – hot & spicy fried chicken.
The Streetbird is a Detroit-style pizza topped with julienned collard greens, calabrian chili, crispy chicken, pecorino cheese and Chef Marcus' signature Streetbird Honey
The Streetbird is available until mid-July at all Emmy Squared locations throughout the U.S. This one-of-a-kind pizza collaboration is part of an ongoing series of specialty pizzas designed by notable personalities that launched last month.
8282
8282, located on the Lower East Side,focuses on serving elevated modern Korean cuisine in a casual setting. The restaurant is owned by the affianced couple, previously owners of Pado, Chef Bong Le Jo (Perry St, Dovetail and Kissaki) and Jee Kim, who makes frequent trips to Seoul to ensure 8282's menu remains authentic. The menu is divided into two categories: small plates called Anju, which means food you eat with alcohol in Korean, and larger shared plates named Banju, meaning alcohol paired with good food. The inventive and playful dishes are complimented by a wide selection of premium Soju as well as craft cocktails. 8282 has a fun atmosphere and sharable plates that families can enjoy with dad and will be open on Father's Day Sunday from 5:30 pm – 10:30 pm.
Honest
Honest, which recently opened in the West Village, serves vegetarian Indian street food made from the freshest ingredients that are never frozen and made to order. The restaurant will be open on Father's Day from 12 pm – 10 pm with authentic vegetarian dishes available including their signature Bhaji Pav, a vegetable curry with a potato base and spices served with buttered dinner rolls—the pav—baked fresh in Honest's bakery in New Jersey; and Pulav, vegetables and basmati rice cooked in butter with aromatic herbs and spices. Honest also serves Indo-Chinese dishes like Paneer Chili Gravy, cottage cheese tossed with peppers and onions in Indo-Chinese sauces; and Szechuan Noodles. After dining in, you can go for a stroll on the beautiful cherry blossom-lined streets of the West Village or take it to go to enjoy a Father's Day picnic at the Hudson River Greenway.
Hortus NYC
Hortus NYC, the fashion-forward Michelin-recognized Modern Asian restaurant in NoMad has recently released a spring menu that highlights flavors from China, Japan, Korea and Southeast Asia that will take dad on a culinary journey at an approachable price point. On the restaurant's second level, Hortus NYC features a hidden garden that creates the perfect environment for Father's Day lunch, served from 11:30 am – 3:30 pm, or dinner from 5:30 – 11 pm.
noreetuh
noreetuh, the Michelin-recognized Modern Hawaiian restaurant from Chef/Partner Chung Chow (Per Se, Lincoln Restaurant) has something for everyone – especially those who like to try new things such as SPAM and Hawaiian-style fried chicken. Brunch will be served on Father's Day from 11:30 am – 2:30 pm, and the full menu is available. The dishes are well portioned and come at a very approachable price point. Brunch-goes can choose to order meals or use the extensive menu to create a sort of Hawaiian-style tapas experience. noreetuh's award winning wine list, curated by Managing Partner Jin Ahn (Per Se, Jungsik),was recently featured at the Wine Spectator Top-100 Symposium and perfectly complements the cuisine and For those who prefer to bring their own wine, noreetuh will waive its corkage fee on Father's Day as the corkage fee is waived every Sunday.
Eddie V's Prime Seafood
Unique for Father's Day, Eddie V's is serving an 11-ounce Snake River Farms Gold Label Wagyu Strip Steak, available exclusively in-restaurant. A limited supply of Eddie V's single barrel select Blanton's Bourbon will also be available as an enhancement. As an added benefit for bourbon enthusiasts, Dad will receive the highly sought after collectible Blanton's topper by request, while supplies last. Eddie V's will be open early for Father's Day, from 12 p.m. to 8 p.m., with live music in the V Lounge from 4 p.m. to 8 p.m.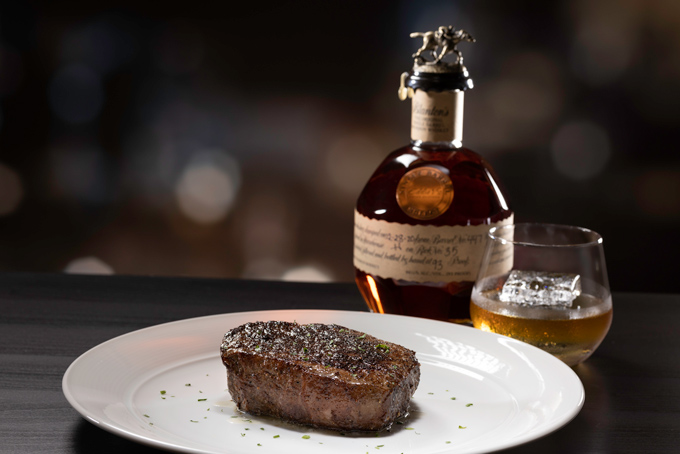 Seasons 52
Seasons 52 is offering Green Box, a balanced three-course Father's Day dinner to go. Each box is freshly prepared, serves four to six and is under 595 calories per serving. Boxes include choice of a Whole Side of Cedar-Plank Roasted Salmon or Wood-Grilled Beef Tenderloin, which comes with salad, choice of two sides and Mini Indulgences. In addition, the regular menu is available in-restaurant for guests who would rather celebrate Dad in the dining room. Green Box orders must be placed 24 hours in advance.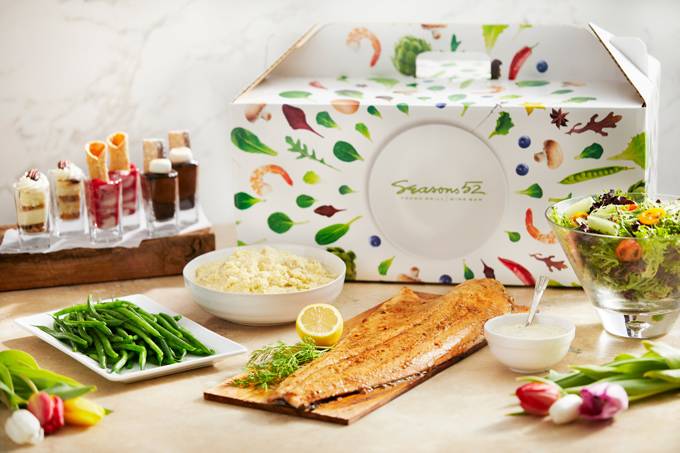 Valerie
Just a few blocks from Bryant Park, hidden between skyscrapers, is Valerie; an expansive venue reflecting the best of the Golden Age. Guests are greeted by a sense of nostalgia, upbeat ambiance and a smile – and, the largest gin library in the city. With over 40 gins on the menu from North America, Europe, South America and Asia Pacific, Valerie is a true haven for gin-lovers. Menu highlights include smoked crispy duck wings, 36 hour braised beef short rib, summer ceviche, a rotating selection of oysters, and so much more.
Bar Chiecchetti
Within Motto Chelsea, a recently opened lifestyle destination in the iconic Chelsea neighborhood, is Bar Chiecchetti, a new restaurant, craft bar and lounge designed and operated by Fabio Viviani, Bravo's "Top Chef" Fan Favorite. Bar Cicchetti is a contemporary eatery that offers seasonally inspired menu items, as well as craft beer and cocktails. From Shrimp Camicia, Wagyu Steaks and Porcini Mushrooms, Roasted Whole Chicken with Corn Stuffing, Ricotta Gnocchi with Oxtail Sugo, Crudos, Mediterranean Lobster Ravioli, 24-hour Braised Octopus with Fava Beans, Meatballs and Ricotta with Tomato Sugo, the menu features elevated takes on some of Chef Fabio's favorite comfort food classics.
The Capital Grille
The Capital Grille is helping guests treat Dad to an at-home luxury cookout with The Capital Butcher, offering a selection of uncooked signature cuts of steak, hand-carved daily and dry-aged in-house for 18-24 days. You can order steaks à la carte or choose from an assortment of Steak Grille Boxes that come with four steaks, proprietary seasoning and a gift of Signature Steak Sauce. Box options include Dry Aged Bone-in NY Strip, Bone-in Prime Ribeye, or a combination of the two. You can enjoy alongside signature accompaniments, such as Lobster Mac 'N Cheese or Sam's Mashed Potatoes. In addition, the regular dinner menu is available all day in the restaurant's dining room with suggestions for Dad such as Porcini Rubbed Bone-In Ribeye with 15-Year Aged Balsamic, Bone-In Kona Crusted Dry Aged NY Strip with Shallot Butter and the 22-ounce Bone-In Ribeye.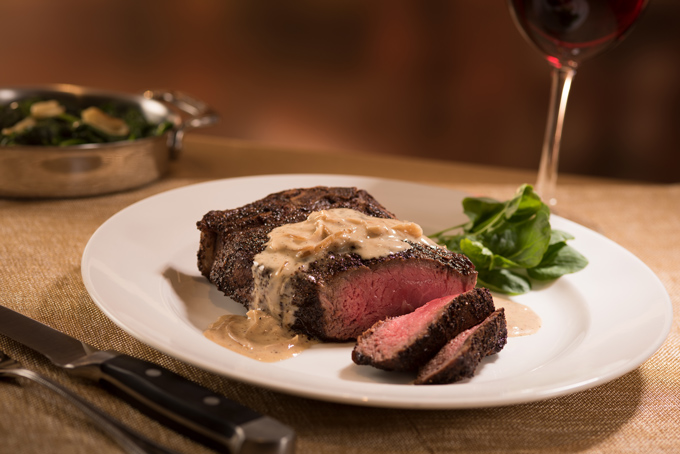 Yard House
This Father's Day, go the extra yard and treat Dad to a crisp, refreshing draft beer from Yard House. From a fleet of taps featuring more than 100 craft and local brews, Dad's pour-of-choice goes hand-in-hand with a robust menu of favorites, like the new bone-in Korean Ribeye, sweet soy marinated and served with chili garlic fries.
HOWM Cocina & Cocktails
HOWM Cocina & Cocktails is taking reservations for Drag Daddies Brunch on June 19 from 12 to 2 pm. Celebrate Juneteenth and Father's Day with your favorite Drag Kings, Things and Artists at HOWM's Drag Daddies Brunch! Hosted by Themme Heals from 12 to 2 pm with performances from special guests Klondyke and Jantina and beats by DJ Sailor Malice. Special pre-fixe menu paired with our Rainbow Rita Menu! View the menu at howm.link/slaymenu 10% of profits will be donated to Color of Change.
Essex
Essex is taking reservations for Father's Day brunch on June 19. The menu includes choice of entree with 1-1/2 hours of Bacon Bloody Mortys & Beer Manmosas as well as classic brunch cocktails ($42.95). Special 2-hour package for parties of 8 or more ($52.95). An a la carte brunch is also available ($25.95). Reserve indoor or covered outdoor seating.
At-home celebration ideas
WoodSpoon
WoodSpoon is a community-based marketplace that connects local chefs with customers craving homemade food. Customers can order for immediate delivery or schedule ahead on WoodSpoon's mobile app with quick, reliable delivery service from the chef's kitchen to their doorstep. WoodSpoon creates opportunity for talented cooks around the city to turn their passion and skills into a business with each chef offering their own unique story and flavor. For Father's Day, users will receive $15 off when they enter the promo code "CelebrateDad" at checkout.
ICHIRAN
For those wishing to celebrate at home with dad, ICHIRAN offers a take-home ramen kit.
ICHIRAN, the world's leading expert in Tonkotsu ramen, has made their famous ramen more attainable for busy families by offering both delivery and their take-home ramen kit. Each kit features three servings of individually packed noodles, a dried broth and original spicy red seasoning. The team at ICHIRAN is committed to providing the most authentic and quality flavor Tonkotsu ramen experience using the finest ingredients, masterful techniques, and family secret preparations by gifted artisans. The ramen kits, available on their website, allow you to enjoy their renowned restaurant quality ramen at home.
Staycation Idea
Concorde Hotel New York
The Concorde Hotel New York, a boutique four-star luxury hotel nestled in the Park Avenue Plaza district, is the ideal hotel for a Father's Day staycation. The hotel boasts comforting and tranquil rooms with unobstructed North-South views of the Manhattan skyline, and some of the most spacious bathrooms in New York. As each floor only has up to four rooms, guests are provided with a private, residential feel. The Concorde Hotel New York is located within walking distance of Central Park, the Museum of Modern Art, and Rockefeller Center, as well as major subway lines to make transportation to each corner of the city a breeze. While staying at the hotel, one can enjoy outdoor dancing at the Lincoln Center, the Father's Day Mets Game, or a walk down the East River Park, among other fun spring activities to do in The Big Apple.
Check back later as more offerings are added to this list.