Here's a look at Father's Day Fort Lauderdale 2023 featuring special offerings by restaurants and businesses.
Father's Day is Sunday, June 18, 2023.
Please reach out to me [email protected] if you are a restaurant/business that wants to be featured. Provide all the details of your holiday offering in your message. For faster processing, please provide a ready to copy and paste excerpt in paragraph form in a similar format to the restaurants featured below.
This list is not exhaustive and is updated as information becomes available. I try to feature as much as I can but certainly this is not all that is out there. If your favorite restaurant is not on the list, contact them to see what they are offering.
Father's Day Fort Lauderdale 2023: Restaurant Special Menus
Fleming's Steakhouse
Fleming's Prime Steakhouse & Wine Bar is celebrating Father's Day's Weekend from June 16-19. There are four different surf and turf entrées to choose from on their 3-course Father's Day menu this year – a 35oz USDA Prime Tomahawk & North Atlantic Lobster Tail ($140 per guest), a 20oz USDA Prime Bone-In Ribeye & North Atlantic Lobster Tail or their tender Filet Mignon with either Crab-Stuffed Shrimp Scampi or Lobster Tail Scampi. The 3-course menu starts includes choice of salad and dessert.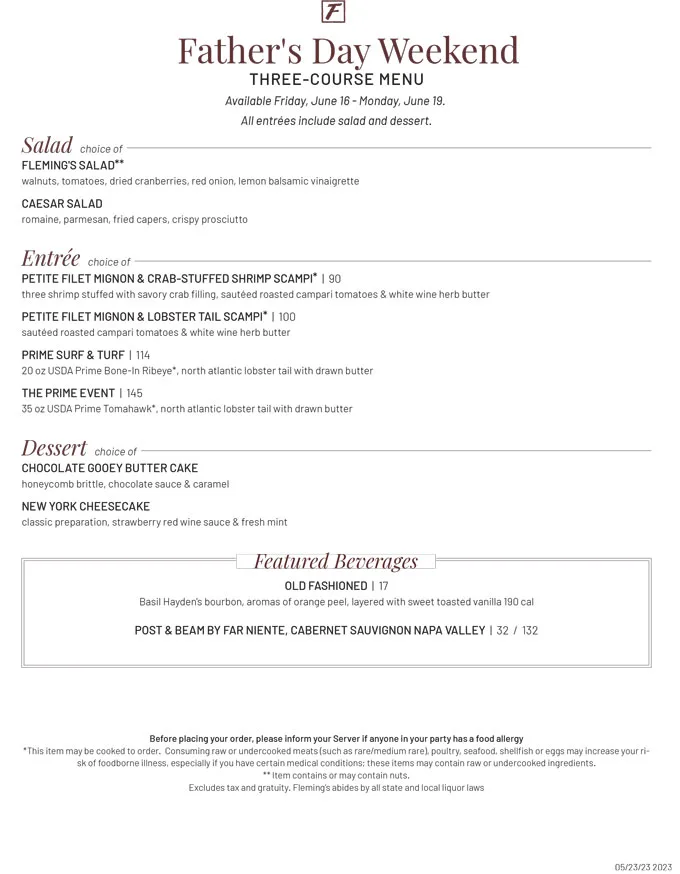 Fleming's is also featuring its Signature Old Fashioned cocktail for $16. Full dinner menu and 3-course children's menu are also available. All locations will open early at 2 PM on Saturday, June 17 and 12 PM on Sunday, June 18.
Want to gift Dad a night out instead? Buy him a $100 gift card until June 18 and earn a $20 e-bonus card (bonus card valid June 19-August 20).
DUNE by Laurent Tourondel
DUNE by Laurent Tourondel is hosting a fantastic oceanside Father's Day Brunch and Dinner on Sunday, June 18.
Celebrate the super men in your life, oceanside, at one of South Florida's most elegant and relaxing dining destinations, helmed by globally renowned Chef Laurent Tourondel.
Guests can enjoy a variety of delicious Father's Day specials such as Wagyu Beef Tartar, Prime Delmonico Ribeye, and a Dark Chocolate Cigar in addition to regular brunch and dinner offerings.
The drink special will be a classic Old Fashioned, cherrywood smoked with Macallan 12-year sherry oak, Montenegro amaro & demerara, orange bitters, and a burnt candied orange garnish.
A live musical performance by Will Bridges Entertainment will take place during dinner from 6pm to 9pm.
Descriptions of food specials can be found here:
Appetizer: Wagyu Beef Tartar | Porcini aioli, crispy wild mushrooms, summer truffles, Sullivan Street Bakery country bread
Entrée: Prime Delmonico Ribeye 16oz | Black garlic marinade, pomme puree, fresh horseradish, roasted tomato, caramelized pearl onions, LT steak sauce
Dessert: Dark Chocolate Cigar | Chocolate mousse, White chocolate gelato ashtray
Matchbox – Sawgrass Mills – Las Olas
Matchbox (Sawgrass Mills, Las Olas) is offering a Father's Day brunch on June 17-19. They are offering ribeye. grilled or cajun style and topped with two poached eggs, hollandaise sauce, and a side of crispy brunch potatoes.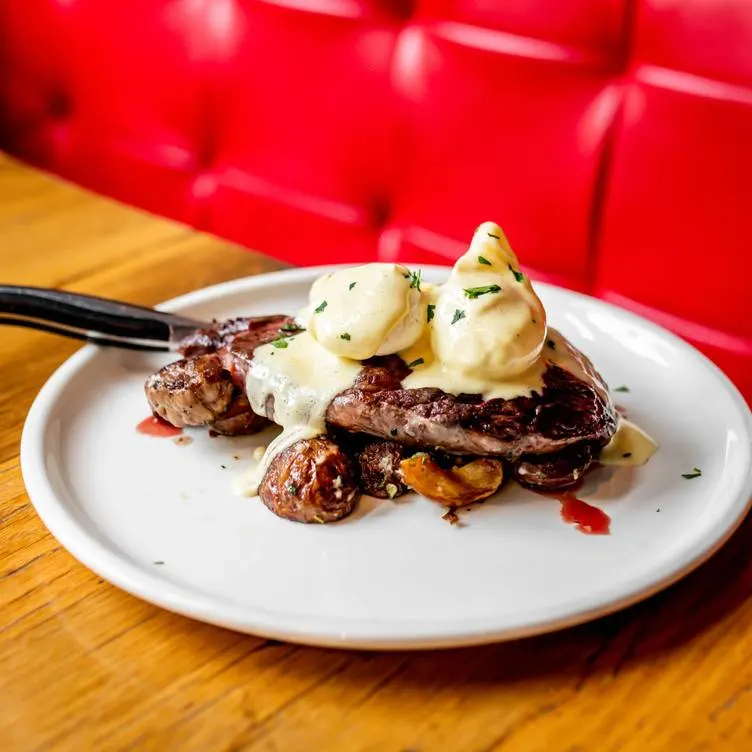 Ten Palms Restaurant
Ten Palms Restaurant (Hallandale Beach) is offering a Father's Day buffet on June 18. Priced at $65 per person.
La Vie Lebanese Restaurant
La Vie Lebanese Restaurant (Pompano Beach) is offering a Father's Day 3-course menu on June 18. Priced at $60 per person.
Marriott Fort Lauderdale Airport
Marriott Fort Lauderdale Airport is offering a "Meal of the Day," crafted exclusively for him, showcasing their culinary expertise and love for fathers. Indulge in a 3-course meal paired with a local Mango IPA beer, guaranteed to tantalize your taste buds.
In addition to our exceptional food offerings, they invite you to explore their extensive wine list, signature cocktails, and crafted beers, perfect for raising a toast to fatherhood. Whether dad prefers a fine wine or a bold beer, our selection has something to suit every palate.
With a relaxed and inviting atmosphere, their venue is the ideal setting to bond, laugh, and create cherished memories with your dad. Special "Meal of the Day" Price: $29.95*
Dune by Jean- Georges Vongerichten
Dune by Jean- Georges Vongerichten (Paradise Island) is offering a Father's Day brunch on June 18. Priced at $165 per adult and $73 per child ages 5-12.
Casa Sensei
Casa Sensei, the popular Pan-Asian, Latin-fusion dining destination along the Las Olas waterfront, is ready to host dads and their families this Father's Day. In honor of the holiday, all dads can enjoy the restaurant's bottomless draft beer special during the Rock N Roll Brunch and dinner. Taking place from 11:30 a.m. to 4 p.m. on Sunday, brunch features a contemporary twist to traditional comfort food with dishes like Wagyu Steak and Eggs ($36) and Togarashi Fried Chicken and Waffles ($22). Guests visiting for dinner can choose from an assortment of Latin bites, small plates, dim sum, noodles, dishes and sushi. Don't miss out on reserving a dinner cruise with Riverfront Gondola Tours.
La Fuga at Kimpton Shorebreak Fort Lauderdale Beach Resort
Treat dad to some good ol' fashioned poolside BBQ this Father's Day at Kimpton Shorebreak Fort Lauderdale Beach Resort's La Fuga. Chef Mayer and his team will be grilling up a ½ rack of St. Louis ribs topped with a homemade BBQ sauce, a sweet and tangy apple chutney, paired with fries. Dads can also indulge in the Peach BBQ Pulled Pork Sandwich paired with a honey mustard slaw and side of crispy french fries. To top off the Father's Day festivities, every dad will receive a free apron to take home.
Cooper's Hawk Winery & Restaurants
The ideal experience for a wine-loving dad is found at Cooper's Hawk Winery & Restaurants. When it comes to wine, Cooper's Hawk knows best. Located on the second level of The Galleria in Fort Lauderdale, the Broward outpost offers a taste of the Napa Valley, perfect for Father's Day. Check out the tasting room for a fun experience. For a sit-down meal, each dish on the menu is listed with a bin number, guiding guests to their selection's best pairing.
Whiskey Neat Cocktail Lounge
Join Whiskey Neat with Dad on Wednesday, June 14, from 7-9:30 p.m. for an unforgettable evening of fine whiskey, camaraderie and exclusive experiences. The cocktail bar proudly presents an extensive collection of over 230 rare whiskeys, making it one of the largest whiskey destinations in South Florida. With the purchase of a $75 ticket, guests will access the Redemption Tasting Table and receive a complimentary bottle of Redemption Whiskey. To make the gift truly unique, guests will receive a personalized engraving on each bottle as a keepsake. Before 9 p.m., enjoy half off the renowned Whiskey Wall. Secure your spot now by purchasing your ticket through Eventbrite.
KAO Bar & Grill
Ignite the flames of flavor and embark on a sizzling culinary journey this Father's Day at KAO Bar & Grill (Hallandale Beach) where the menu is a symphony of cultures, and the BBQ offerings are the glowing embers that bring people together. Gather around the booths and communal seating to indulge in a Churrasco Sandwich special for dads. Otherwise, enjoy Braised Lamb ($37) or Skirt Steak ($33). These mouthwatering dishes embody the warmth and robust flavors of traditional Argentine BBQ, while the tablitas and milanesas add a crispy and flavorful twist to the dining experience.
The Wharf
This Father's Day, look no further than The Wharf for fun activities to do with Dad. The Wharf Miami and Fort Lauderdale are having their weekly Sundays on the River, June 18th open from 12:00 p.m. until late. Take advantage of the Sundays on the River special of $35 Casa Noble Margarita Pitchers from 12:00 p.m. to 4:00 p.m. Bring Dad to soak up the sun, riverfront views, and live music, he is sure to enjoy the delicious food truck grub and celebratory cocktails.
WHEN: Sunday, June 18th from 12:00 p.m. until late
J&J Fresh Kitchen
At J&J Fresh Kitchen in Boca Raton, nothing tastes better than fresh. This Father's Day, treat Dad to something casual yet packed with both flavor and wellness. The health food hot spot brings a twist to farm-to-table cuisine by using 100% locally sourced ingredients, maintaining a low-impact kitchen and crafting its menu with the belief that wellness is not just good for personal health but also the world. Enjoy everything from breakfast quesadillas to lunch wraps, and be sure not to miss out on J&J Fresh Kitchen's signature line of juices and smoothies, either freshly made or bottled at the grab-and-go section alongside homemade honey (which makes a perfect last-minute gift!).
YOT Bar & Kitchen
Celebrate Dad all weekend long at YOT Bar & Kitchen with live music and bottomless brunch inclusive of Mimosas, Bloody Mary's and Rosé! A hidden gem situated in one of the most breathtaking waterfront locations imaginable within the Lauderdale Marine Center, YOT features indoor and expansive outdoor seating, providing nautical vibes, a seafood-forward menu and views of superyachts within the marina. The restaurant's expansive waterfront setting creates the perfect backdrop for indulging in "YOT TA TRY" specialty menu items such as the Fresh Baked Cinnamon Buns, Blackened Mahi Sandwich, Chicken and Waffles Smoked Fish Dip and more. Just a fur dad? Bring fido along, YOT is pet friendly and offers a pup-tastic dog menu!
South Bar & Kitchen
Treat Dad to a special Father's Day dinner at South Bar & Kitchen. Located in Downtown Pompano Beach, the newly opened and already beloved South Bar & Kitchen boasts a heavy Louisiana influence, providing a unique and memorable dining experience for its patrons. With made-from-scratch flavors, spices and marinades offer a lighter, contemporary flair to traditional Southern cuisine there's no doubt Dad won't enjoy. Open to celebrate all-weekend long, the restaurant will offer live music and the opportunity to experience Southern luxury right in the heart of Pompano Beach!
Rivertail
Rivertail is offering a Father's Day brunch on June 18. Their delicious special of the day is a 22oz Delmonico Ribeye, cooked to perfection and served with crispy onions, sunny side-up eggs, flavorful kimchi hash, and a demi-glace.
Lona Cocina Tequileria
Lona Cocina Tequileria is offering a Father's Day brunch on June 18. Priced at $60 per person.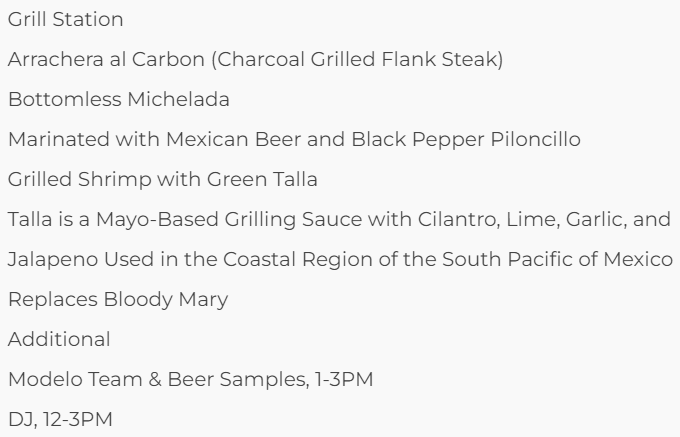 Holly Blue
Holly Blue is offering a Father's Day brunch and dinner on June 18. Brunch is from 11:00 am – 4:00 pm and dinner is from 6:00 pm – 9:00 pm.
Barracuda Seafood and Grill – Deerfield Beach
Barracuda Seafood and Grill – Deerfield Beach is offering a Father's Day special on June 18. Indulge in the vibrant flavors of Brazil as our talented chefs prepare a feast of authentic Brazilian seafood and barbecue dishes. From succulent grilled fish and mouthwatering prawns to perfectly seasoned meats cooked to perfection on the grill.
Déjà Blue Restaurant
Déjà Blue Restaurant (Parkland) is offering a Father's Day brunch and dinner on June 18. Priced at $45 per person. Items include:
dbl burgers
bbq chicken
shrimp skewer
kofta kebabs,
and a selection of fried specialties and sides
additional fees for filet mignon selection
Bonefish Grill
Bonefish Grill is offering a unique surf n' turf menu for Father's Day from June 13 to 18.
Chimichurri Bistro Filet and Shrimp featuringan 8oz seasoned, wood-grilled filet and topped with a chef-crafted Chimichurri paired with five jumbo wood-grilled shrimp and served with two signature sides.
Pair this plate with the new Jefferson's Ocean Old Fashioned stirred with Angostura bitters and a Bordeaux cherry, served over a colossal ice cube.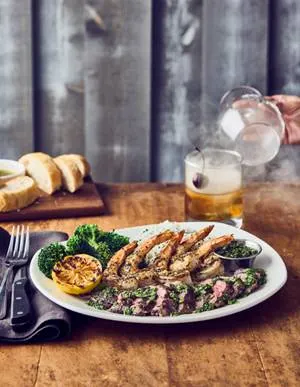 Gift Ideas
Unique Father's Day Gifts
Check out my roundup of Unique Father's Day Gifts on Amazon.
Check back later as more offerings are added.