Delysia Chocolatier is an award-winning artisan chocolate company that uses only the finest quality chocolate from sustainable sources and freshest ingredients to create something unique, something memorable, something remarkable.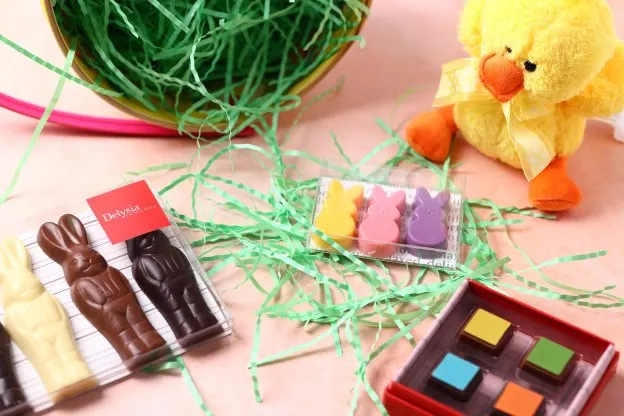 Chef-Owner & Chocolatier Nicole Patel, named a Top Chocolatier in the Americas (2020), handcrafts its creations with the care and attention people savor in every flavorful bite. Delysia Chocolatier.
Based in Austin, TX, Delysia Chocolatier products are available for direct shipping to US and Canada via https://delysia.com/.
Here's a look at Delysia Chocolatier Easter 2022 Collection.
Delysia Chocolatier's Golden Egg
Golden egg molded chocolate – $55.95
A special treasure for their basket
Delight your children this Easter with our newest creation, the 'Golden' egg. Ornately designed and golden in color, this unique piece of chocolatey treasure will add a bit of magic to your Easter egg hunt.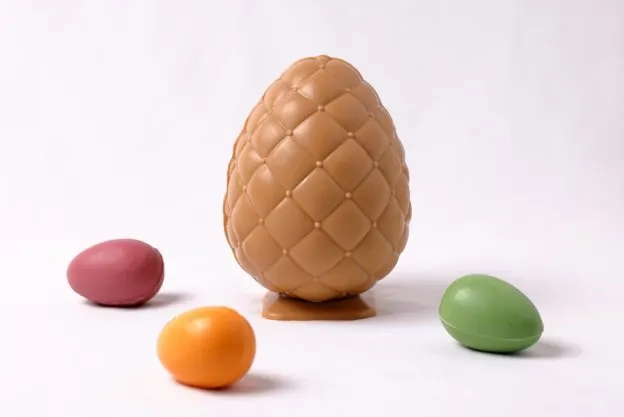 Our handcrafted molded chocolate egg weighs 2.5 pounds and stands 6.5 inches tall, making it an eye-catching centerpiece of the dinner table or the memorable gem of an Easter hunt. The beautiful solid exterior is reminiscent of warm buttery toffee arranged in a delicate pattern. Filling the inside of the egg, discover a salted caramel ganache studded with pieces of crunchy English toffee, all masterfully blended to further elevate the flavors of the gold chocolate exterior. From the warm amber glow of the expertly molded golden chocolate to the luscious ganache awaiting inside, our 'Golden' egg is crafted to infuse your Easter morning with an extra bit of delight.
Handcrafted from the Gold chocolate, the newest coverture creation on the market, Delysia Chocolatier is the first in the United States to handcraft chocolate creations using this new chocolate medium. Pale amber in color, gold chocolate's natural hue is created from caramelized sugars and caramelized milk fat, providing a unique caramel chocolate taste. Its intense, yet balanced flavor provides hints of caramelized chocolate, toffee, butter, cream, and a dash of salt.
Delysia Chocolatier's 16-pc Hoppy Easter Collection of Chocolate Truffles
Hoppy Easter truffle collection, 16pc – $55.95
Indulge in classic Easter desserts
From fresh pints of strawberries to Easter egg hunts and family dinners, it's the time of year to get inspired by the gifts from the carrot patch. Our limited release 16 piece Easter collection features the beloved desserts of a pastel party on a warm spring day.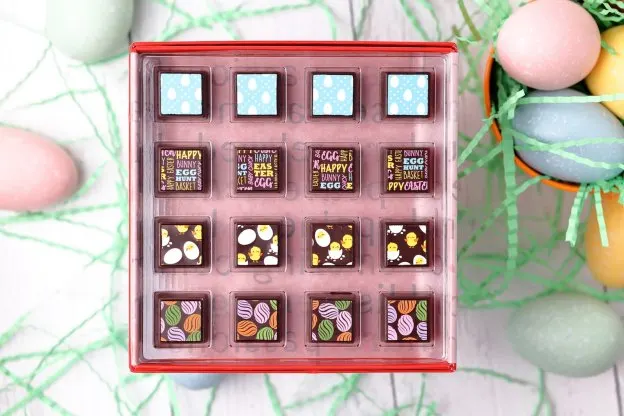 Our Carrot cake truffle features pureed organic carrots blended into silky milk chocolate with a crunch of local pecans and a hint of mulling spices. Experience the deep tart, citrus flavor from our Lemon meringue chocolate truffle, featuring a luscious infusion of white chocolate and fresh lemon. An elegant take on Easter desserts, this special collection is perfect for sharing with family and friends to welcome the sunny days of spring.
Only 50 boxes of the limited edition Hoppy Easter have been crafted for the 2021 season.
This exclusive limited edition 16-piece truffle collection contains:
4 Carrot cake chocolate truffles
4 Lemon meringue chocolate truffles
4 Hot cross buns chocolate truffles
4 Caffe latte turtle chocolate truffles
Delysia Chocolatier's Painted Eggs
Painted chocolate eggs, 6-pack — $35.95 (With chocolate coloring pens!)
A new way to decorate Easter eggs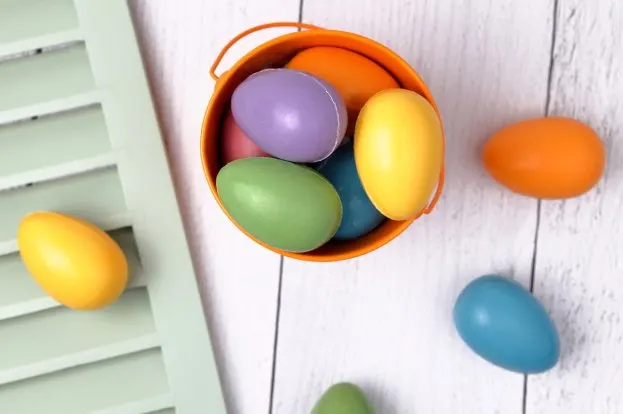 Give the kids a fun and creatively delicious experience with Delysia's Painted chocolate eggs. Just like the real thing, these confectionery delights are infused with vibrant pastel colors, awaiting to be colorfully decorated with chocolate ink pens. Handcrafted from the same fine quality chocolate we use to create our truffles, these chocolate eggs are infused with flavors like the fragrant fruitiness of strawberry creme, the fresh citrus flavor of lemon meringue, and the buttery creaminess of salted caramel. With their springtime colors and flavors, these handcrafted eggs provide your family a unique way to celebrate Easter, equally fun to decorate and delightful to eat.
Set includes 3 chocolate ink pens and 6 painted chocolate eggs in the following flavors:
Strawberry creme (pink)
Cake batter (blue)
Salted caramel (orange)
Apple pie (green)
Lemon meringue (yellow)
Concord grape (purple)
Delysia Chocolatier Painted chocolate eggs pair perfectly with our curated Easter baskets. Both are available for a limited time during the Easter season.